An Italian Job
Martin Ruhe  / The American 
An Italian Job
Martin Ruhe  / The American 
In 2007, the feature film Control earned Best British Independent Film and Best Director Award for Anton Corbijn at the British Independent Film Awards. The film also earned kudos at BAFTA, Cannes and other festivals around the globe.
Control was a sympathetic look at the brief life of Ian Curtis, the talented young leader of the UK band Joy Division who committed suicide at age 23. That film took place mainly in 1970's Macclesfield, in the north of England, and the bleakness of Curtis' world was portrayed by cinematographer Martin Ruhe in evocative black and white.
Corbijn, who is Dutch, also has very successful parallel careers as a stills photographer and a director of visually arresting music videos for bands like U2, Depeche Mode and Coldplay. He met Ruhe through Herbert Grönemeyer, a popular musician in Germany. Ruhe is a native of Germany who studied at the Berlin Film School, and who spent good portions of his career working out of London, including an early stint as a runner at Sammy's and then working with the MoCo rigs at Cell Animation, before earning his stripes as a cinematographer, going on to shoot hundreds of music videos and TV commercials, and a feature credit for Harry Brown, directed by Daniel Barber.
Along with Control, Corbijn and Ruhe have collaborated on many music videos, and the pair teamed up again recently for The American, Focus Features' $20m thriller starring George Clooney, which was filmed in Sweden and Italy. The film is based on the Martin Booth novel, A Very Private Gentleman, with the screenplay written by Rowan Joffe. Clooney plays Jack, a ruthless, master assassin. When a job in Sweden ends more harshly than expected for this American abroad, he vows that his next assignment will be his last. Jack disappears to the Italian countryside, where he holes up in a small town and relishes being away from death for a spell. But…!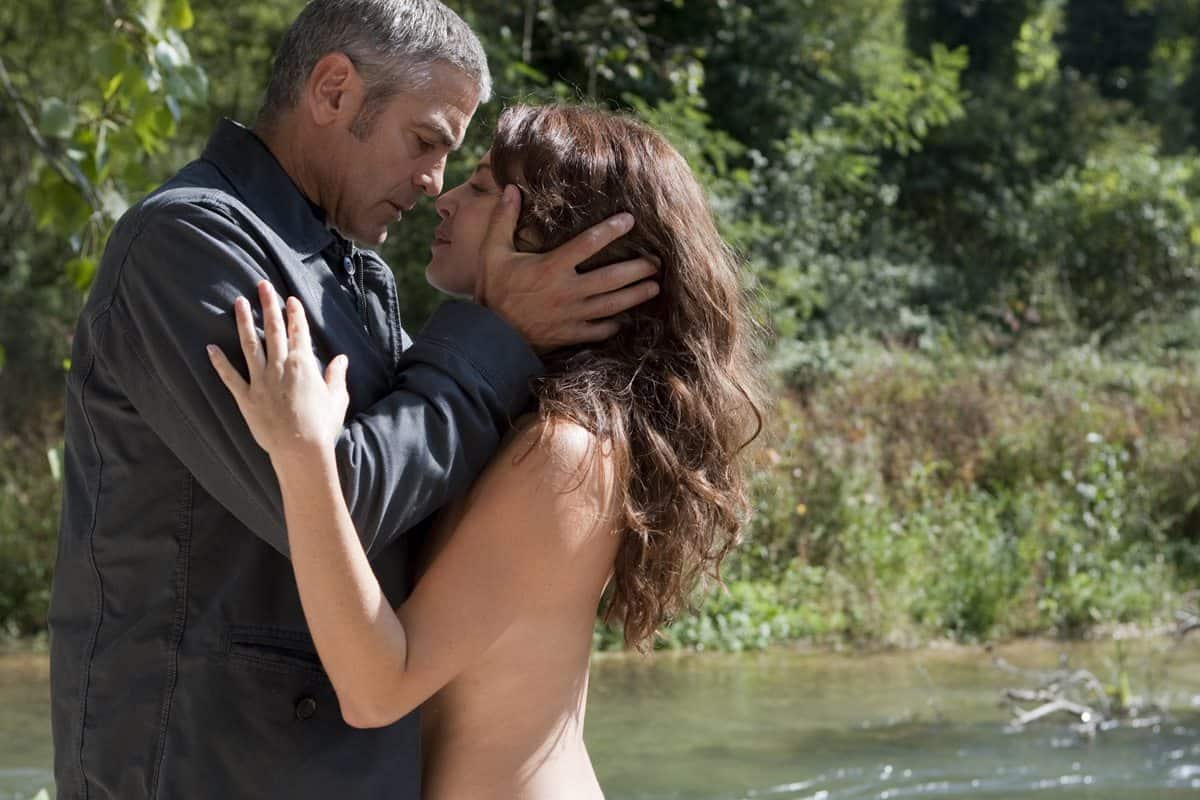 "We both felt that this film was like a classic Western, where someone is trying to turn straight, but cannot escape their past, yet the story is based in a European context," says Ruhe. To zero in on the right approach, Ruhe and Corbijn looked at a number of recent visually interesting films. No Country for Old Men, directed by Joel and Ethan Coen and photographed by Roger Deakins BSC ASC stood out.
"We didn't try to follow that same visual path," Ruhe explains, "but we loved the simplicity, straightness and modesty of that film, and the way they used that particular environment. They never show off, and they never do things just for the sake of doing them. Everything is controlled and straightforward, and quite close to the actors. That's something we really liked."
The choice to shoot The American entirely at actual locations made a huge impact on all subsequent decisions about the look. "We knew that we'd need to take in the places we found and make up our own visual grammar based on those situations, along with the script and the story. So we let the landscapes and locations be our inspirations," says Ruhe. "Many of our locations were old houses in villages in Abruzzo, which have rooms no more than 2 or 3 meters square, and villages like Castel Del Monte and Sulmona high up in the mountains."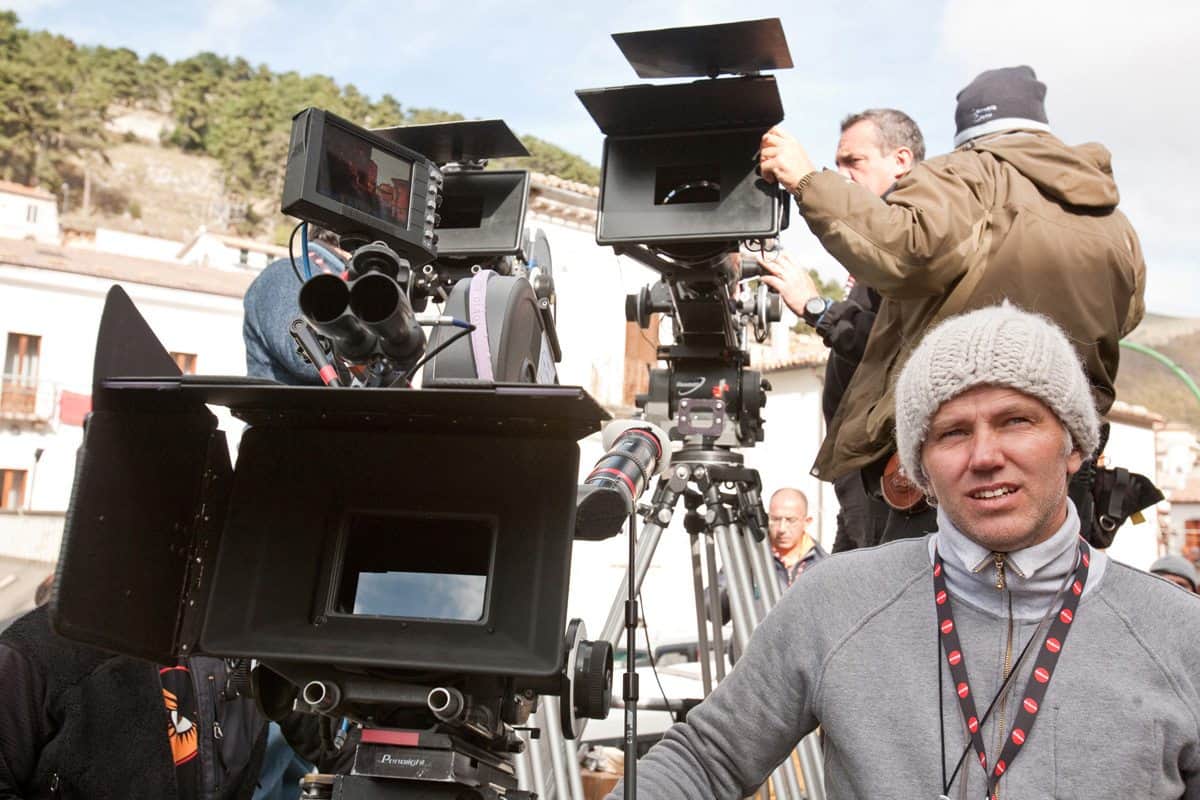 When it came to format and aspect ratio, those tight spaces gave Ruhe pause for thought. But the filmmakers chose to frame the story in a widescreen 2.35:1 aspect ratio using, 3-perf, Super 35mm format. "The tight spaces did make us concerned, but we knew if we worked carefully, we could make them work with the format. But the landscapes in which we were shooting were so beautiful. The Italian portion was filmed in late summer and early autumn, and we wanted to keep that emphasis on landscape that you see in the classic Westerns."
Those autumnal scenes, stand in stark contrast to the portions of the film photographed in Sweden in January, which culminate in a dramatic shoot-out scene on a frozen lake. Clooney is walking with his girlfriend through the frozen, undifferentiated landscape when they are suddenly attacked and the bullets start flying.
To film the frozen lake scene, Ruhe used Kodak Vision3 500T 5219 film. "The sun never gets very high off the horizon in Sweden, especially at that time of year," he says. "We had maybe four hours of daylight. Using the 5219 gave me an additional hour. I initially thought about using lights in the scene, but temperatures were reaching 20-below zero Celsius, so we had to move very quickly. I ended up using as little equipment as possible for speed."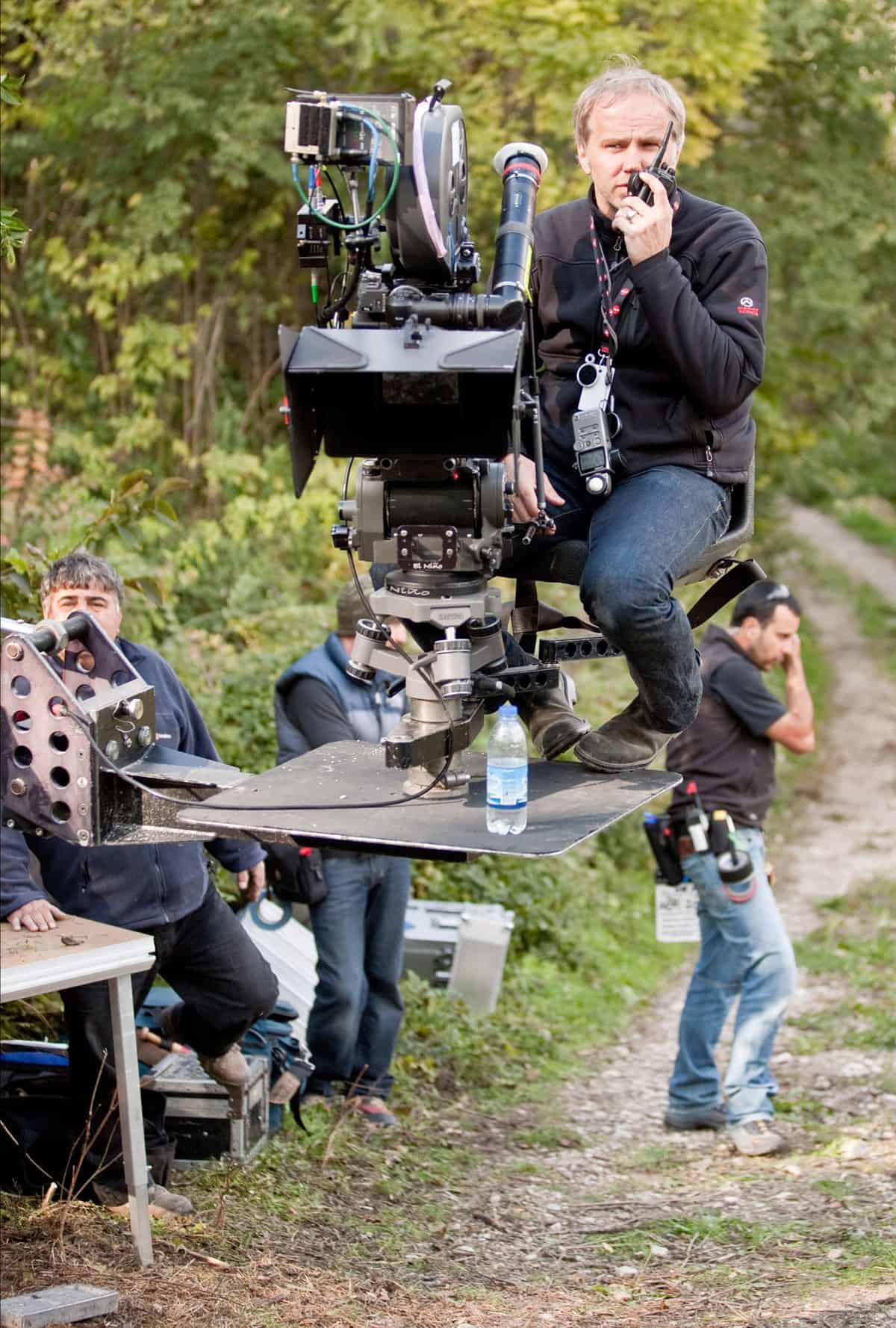 "The beauty is there when it's shot. When we did the digital intermediate at Technicolor in London for The American, we didn't go crazy and apply a big new look. We mainly worked on contrast with the grader there, Asa Shoul, and on making it look even and beautiful."
- Martin Ruhe 
For The American, Ruhe selected ARRICAM Studio and Lite cameras with Cooke S4 lenses, supplied by Panalight. In Italy, he used the 5219 as well as Kodak Vision3 250D 5207 film in some daylight situations. There was a Steadicam operator on hand for part of the shoot and for 2nd unit, in the form of Italian Alex Brambilla, but Ruhe prefers to operate the camera himself when possible.
"Operating is important to me," says Ruhe. "I do a lot of European jobs, and that's how I learned. I'm not used to working with an operator. Also, when you're working with a film eyepiece, it's the best way to see what you have. With a video camera eyepiece, it can be hard to see the finesse in acting or to judge your lighting. But when I'm operating with a good viewfinder, it's direct contact. You can feel what the actor will do and move accordingly. I even find it tough to work with a Steadicam operator sometimes because you have to let go and somebody else does that, but Alex did a great job."
Ruhe says that he and Corbijn never considered a digital format. "I'm not sure where the discussions about different video formats come from," he says. "If you go strictly by quality, handling or which format has the best, most-developed equipment, film is superior. Anton comes from film and he does all his still photography on film. There's no compression and there are no electronics 'fixing' the things you do. It's immediate, we know how it works, and you get on film what you see and experience."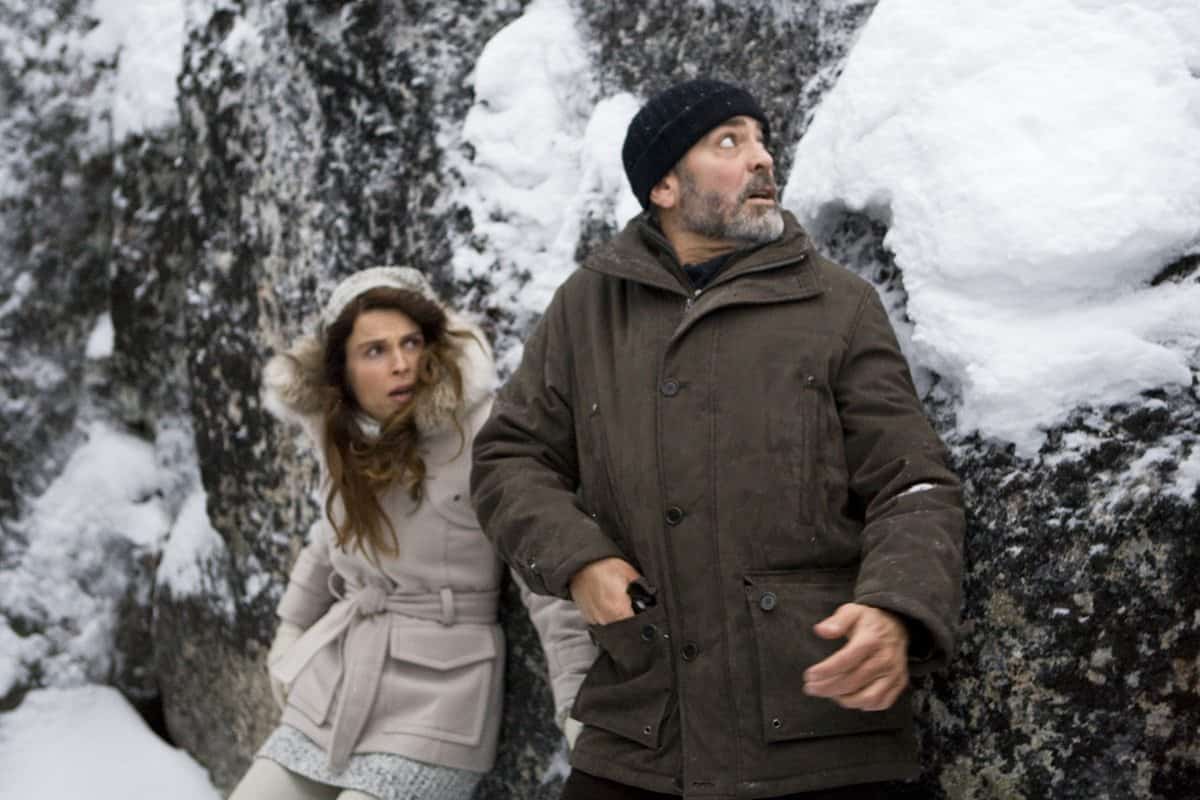 In terms of the colour palatte, Ruhe says, "Compared to the other film Control, that we made together, which was B&W, we used a lot of natural, local colour in The American during the days, but added warm orange tones, greens and deep blues on the evenings and nights to bring out the very European feeling of the film's setting."
Corbijn's aesthetic in the stills world doesn't have a direct impact on Ruhe's images, but there are some parallels. "Anton's photography is very iconic," says Ruhe. "The beauty is there when it's shot. When we did the digital intermediate at Technicolor in London for The American, we didn't go crazy and apply a big new look. We mainly worked on contrast with the grader there, Asa Shoul, and on making it look even and beautiful. Most of the work is done on set. The DI is for continuing what we've done there. You have to be careful not to do too much in DI, as you can quickly fashion the picture out of fashion. DI is more of an extension of what we do, and I love to use it as a tool for things you can't do on set. Sometimes it's hard to do a shadow on set, but it's easy in the DI."
Ruhe goes on to explain that working with a director who is also a photographer makes for an interesting collaboration. "Anton is very specific," he relates. "He has great intuition and sense of framing. He is not very interested in the traditions of filmmaking. If the formula says to place the horizon a third of the way up the frame, he might put it right in the centre. So we might end up centering on things that you usually don't see that way, and it becomes something on its own. I think I'm probably stronger in terms of the craft of storytelling in films, and he is very good at making things his own in his own artistic voice. Just covering the story wouldn't be interesting to him and that's what I like about him. It's not about ego for us, so it adds up in a very nice way. Working with Anton is always a very interesting journey. We talk a lot, and constantly communicate during production."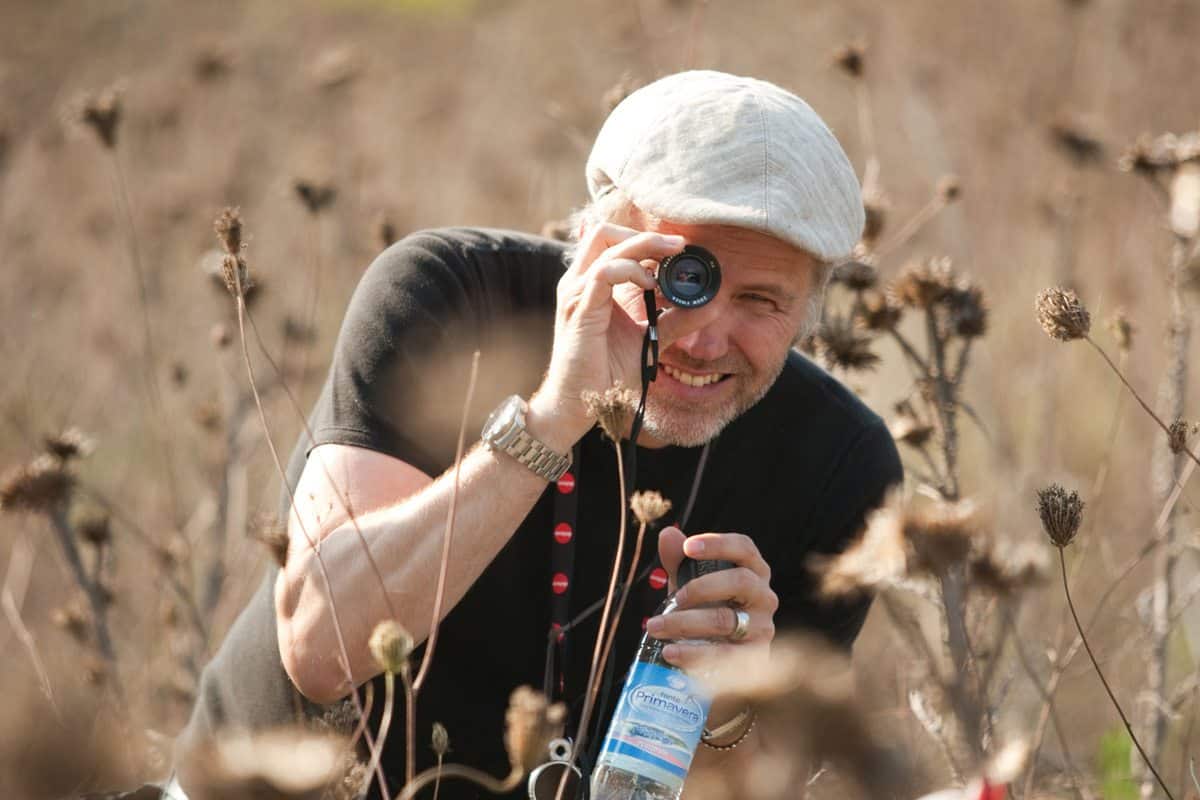 Both filmmakers have a strong visual backgrounds – Corbijn in music videos, Ruhe in commercials and music videos. When asked how his approach differs in each medium, Ruhe replies, "I try to look for commercials that are more narrative, as opposed to just beautiful pictures. Beautiful pictures can be great and doing that can be good training because it teaches you in different directions. You learn when to move fast and be spontaneous, and when something really needs attention. I try to mix it up and be open. But I think I feel strongest when I'm doing stories. I've always seen commercials and music videos more as stations on the way to doing stories for the big screen. Narrative is just so much more profound. There's a chance people will remember a film for years, and if it's a good one, maybe longer."
Ruhe also offers an insight into working one of the industry's biggest stars. "Working with George Clooney was an absolute pleasure. He's very experienced and precise, and naturally knows how to make shots work. So you can set up a steadicam shot and he will come up with ideas about his action and performance. He did most of the pick-ups too – it's always his hand you see in a close-up in this film. Also, he was never far from the set, often watching us lighting, and was always prepared to stand-in. He said this came from years of doing bad TV, when he had to do these things himself. He knows what's required, and really wanted to help. He's a real gentleman."