Golden Years

John Conroy ISC / The Happy Prince

Golden Years

John Conroy ISC / The Happy Prince

All behind the scenes images: © Wilhelm Moser 2018
The Happy Prince , written, directed by and starring, Rupert Everett, relates the final three years in the life of Irish poet and playwright Oscar Wilde.
Following a widely-publicised trial in 1895, Wilde was convicted of "gross indecency" and sentenced to two years' imprisonment. Upon his release from Reading Gaol in 1897, he travelled to Naples, reuniting with his lover Lord Alfred "Bosie" Douglas, before going into exile in France. He died three years later in Paris, aged 46, almost friendless and completely destitute.
It is this period of Wilde's life - his isolation, ill-health and increasing despondence - that Everett chose to focus on for his directorial debut, whilst also donning jowly facial prosthetics to play the role of the once famous, now ruined, star and former toast of high society.
The film was lauded by critics worldwide, with significant praise given to cinematographer John Conroy ISC's evocative use of handheld camera, together with the painterly quality of the red/gold lighting and deep shadows he used to depict the tragic hero.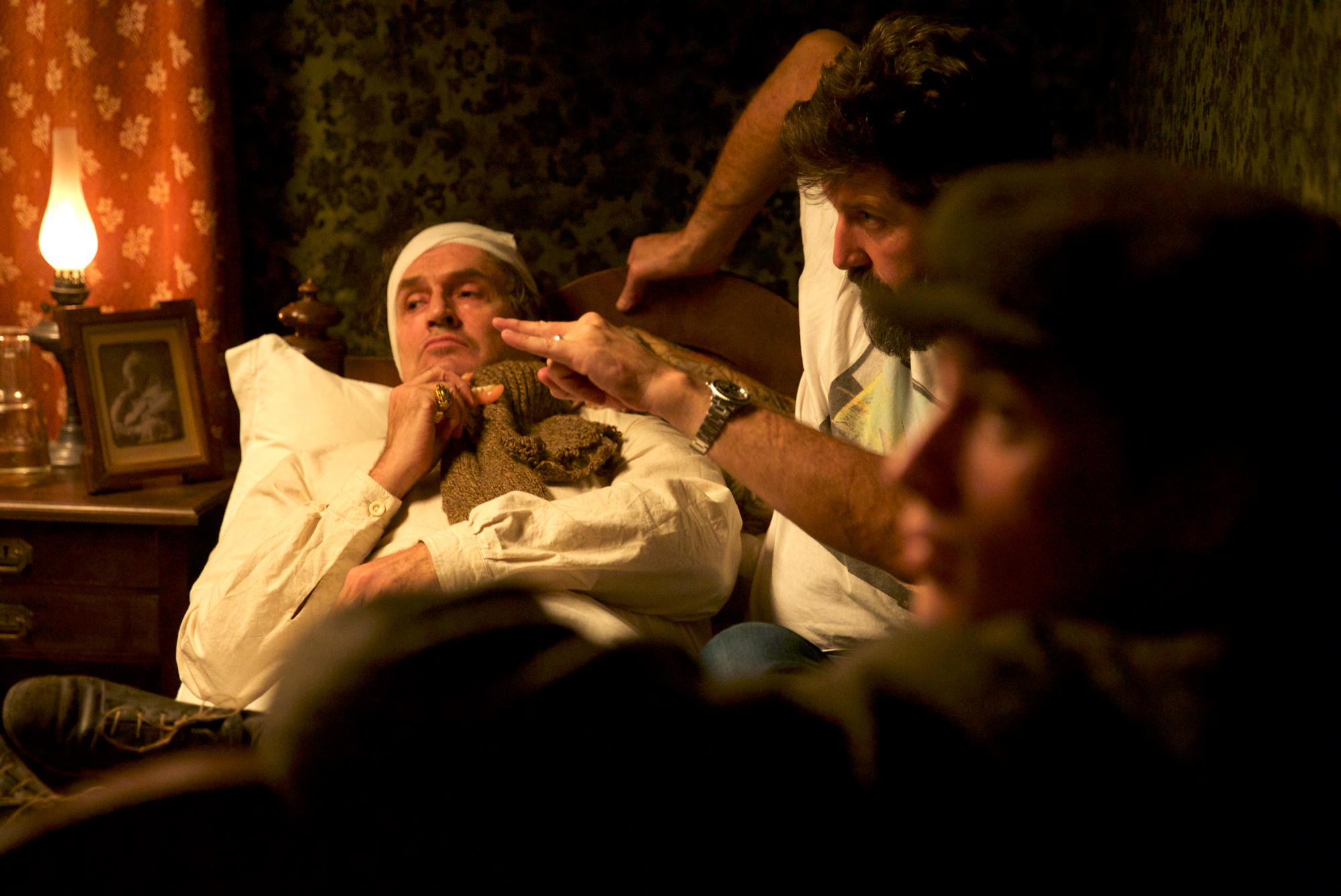 Conroy hails from a film industry family. His father Jack was a busy gaffer before moving on to become a cinematographer, and his uncle Louis and cousin Barry are both well-known gaffers. Conroy himself learned the trade from the inside, working up the ranks from clapper/loader and focus puller before becoming a DP. His credits as a cinematographer include BBC's Luther, for which he was BAFTA and Emmy nominated, ITV's Broadchurch, AMCs The Terror and Idris Elba's directorial debut feature Yardie.
"The Happy Prince was clearly a passion project for Rupert," says Conroy, aware of Everett's lead roles in feature productions of Wilde's An Ideal Husband and The Importance Of Being Earnest, as well as the portrayal of Wilde himself in David Hare's play The Judas Kiss about Wilde's scandal and disgrace at the hands of his young lover Bosie.
"Rupert knew exactly what he wanted - a cinematic period look, that embraced the half-light, the shadows and the darkness, but with a distinctly documentary feel. He had this word, 'nelly', which means 'of impeccably-good taste' and kept saying that he didn't want the results to look too 'nelly'. He had seen my work on Luther (series four) and was keen that his film had the same sort of handheld, visceral energy, following the character, panning between characters, and living in the moment."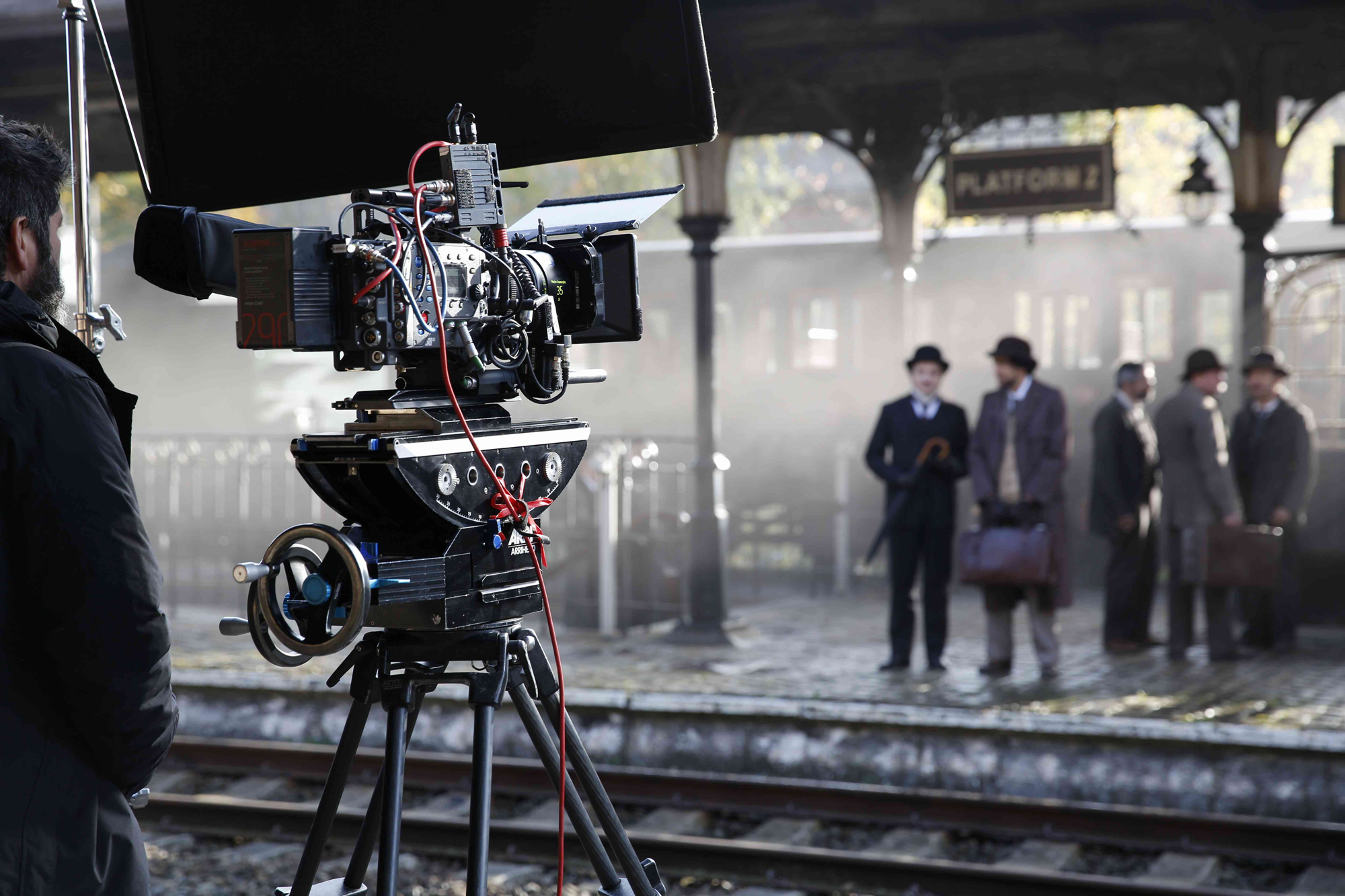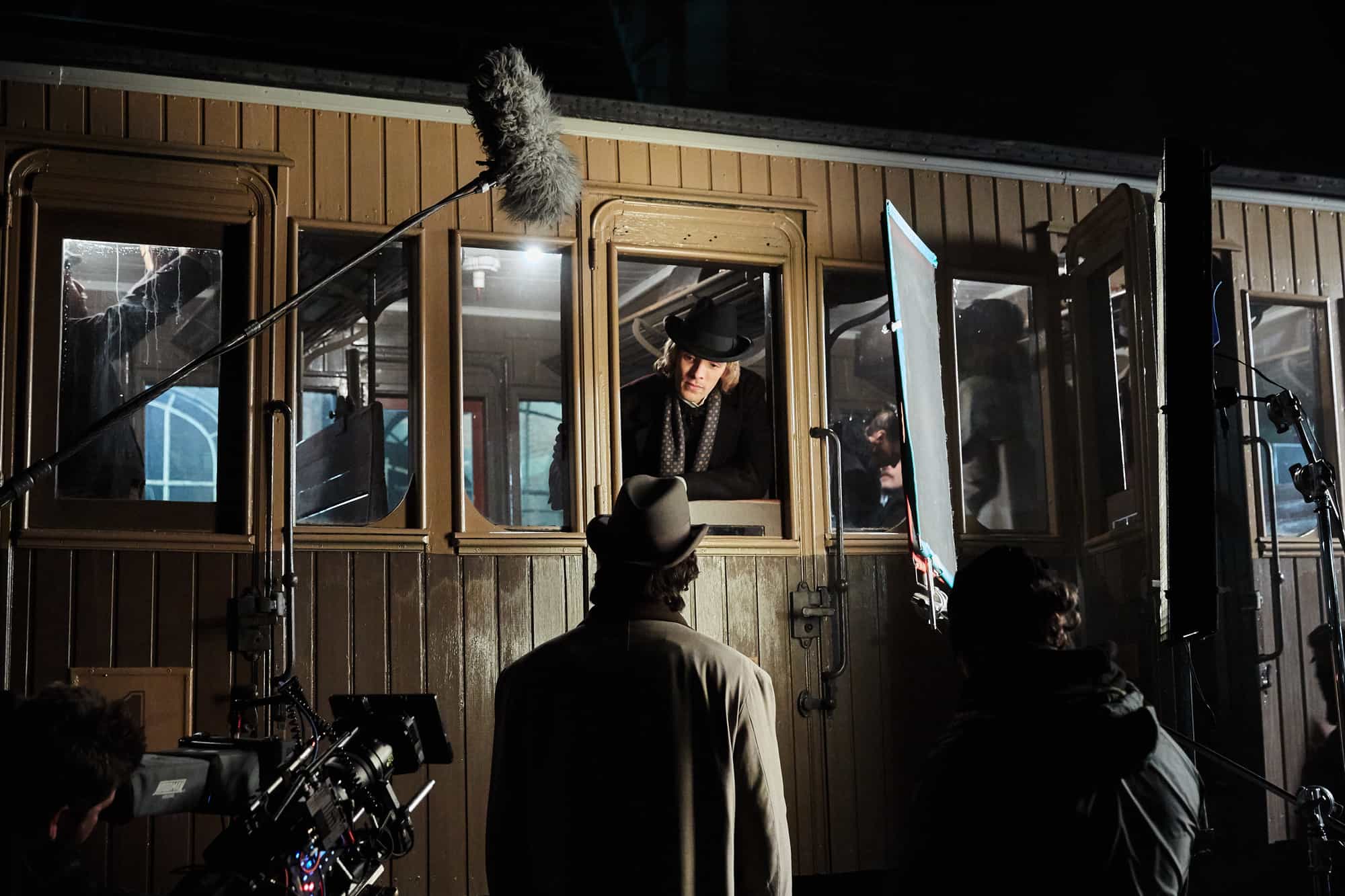 The €12m European co-production shot in Scotland, Germany, Italy, Belgium and France, from mid-September to the end of November 2017, over the course of 45 shooting days. Locations included the River Clyde estuary and Glasgow docks, where Conroy shot The Waverley paddle-steamer. The interior of the Schloss Thurnau, Bavaria, doubled for Wilde's house in Naples, the interior of Reading Gaol and a Parisian hotel bedroom. Exteriors scenes were shot around Naples. Production also encompassed cafés and bars in Brussels, with the Normandy coast, around Deauville/Trouville, used for the beach scenes.
"We did a 12-day recce of the main countries, which was a little hectic, but well worth it as we were able to make extensive plans in advance," says Conroy. "Rupert was highly-aware of the time and budget constraints, and was quite adamant about not over-egging it, keeping things simple. When it comes to cinematography, he's a natural - uncannily aware of the framing of what the camera does and doesn't see."
Conroy turned to ARRI Rental for his lens and camera package, selecting the Alexa Mini to support Everett's handheld remit, for the mainstay of the shoot.
"Rupert was keen on having a widescreen aspect ratio, and I wanted to shoot Anamorphic, but the producers were concerned about the effect that the lens distortion and bokeh might have on the work of the VFX team, as there was quite a lot of clean-up needed to remove modern artefacts, such as TV aerials and satellite dishes.
"But the ARRI Master Anamorphic primes took all of those issues away as they are beautifully crisp and clean, but not too sharp. They have a really nice creaminess and are wonderfully kind on skin too. Furthermore, they are fast and I knew there would be times when we would have to shoot wide open. But when you've got a brilliant focus puller, in this case Ansgar Krajewski, you can do that. Actually, the lenses were so good that I used them on Idris Elba's film Yardie as well."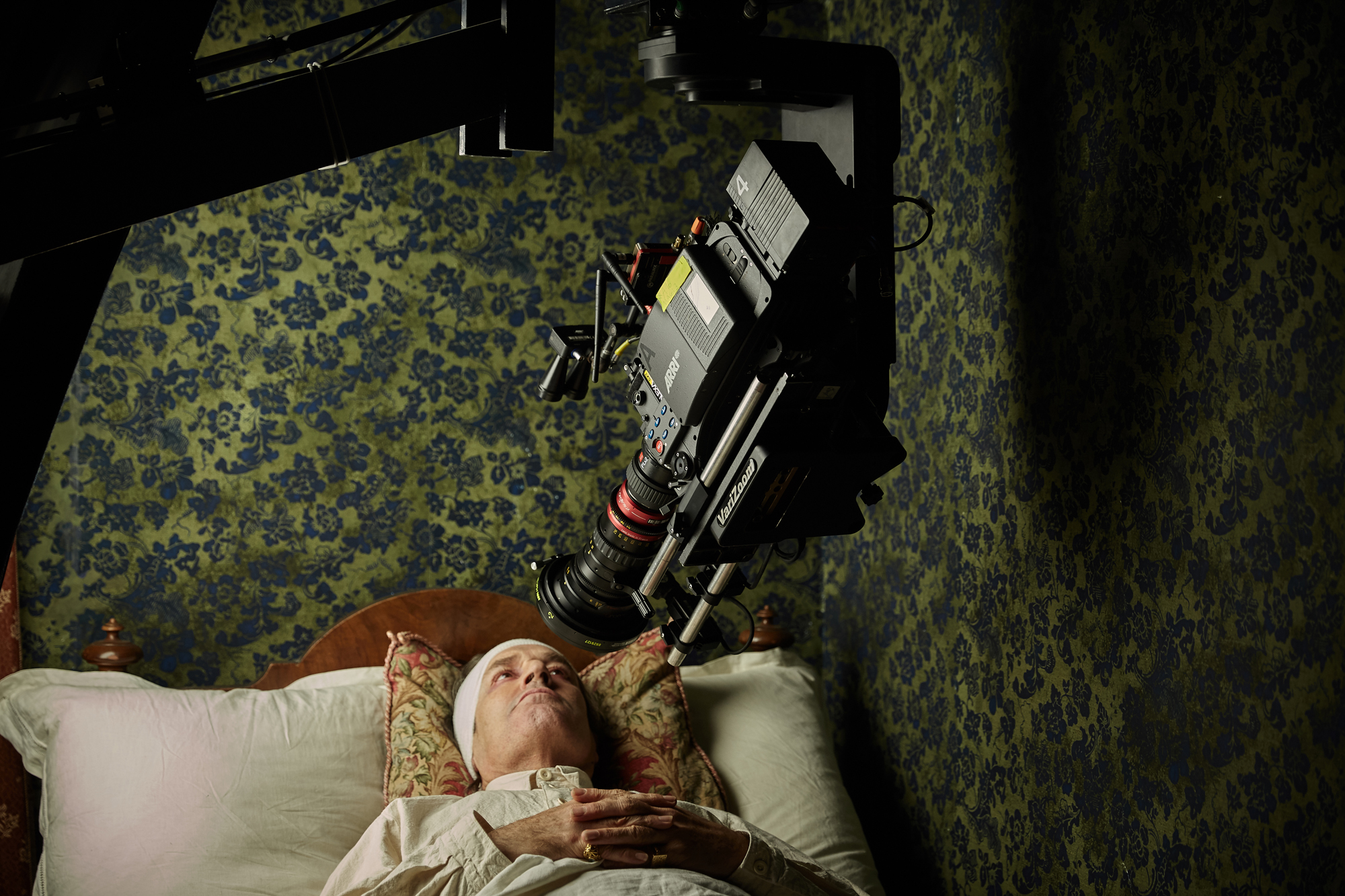 "The softer the source, the better on faces - so we always used a couple of layers of diffusion to soften the LED sources, and constantly checked their colour temperature to make sure the image wasn't green. With a combination of the diffusion and judiciously placed flags, we were able to get a great result."
- John Conroy ISC
ARRI Rental also provided a specially-built telephoto optic - an 800mm Anamorphic lens, fitted with a doubler to make the overall focal length 1,600mm. "I like doing long-lens wides. We had shots of Oscar and Bosie walking along the beach, and I wanted to shoot that from far off, as a compressed wide, as there were some nice cliffs in the background and it brought the actors out a bit more. I operated and had great support from my key grip Rudi Kurth. However, as the vast majority the film was handheld, apart from a small number of crane shots, I felt a bit like Popeye by the time we had finished."
Conroy adds, "We took our truck of ARRI Rental equipment everywhere we went on this film, building our location moves into the schedule. If we were going to Naples we might wrap on a Thursday, so the equipment could be driven there from Germany, and we would fly over and do the prep. Then the gear arrived and we started shooting. Despite the many locations, it all worked very well, and the support from Russell Allen at ARRI Rental in the UK, and Manfred Jahn at ARRI Rental in Munich, was brilliant."
In terms of references for the look, Conroy says he and Everett purposely avoided watching other films about Oscar Wilde, as they did not want to be unduly influenced by them. Their visual inspirations were rather more painterly.
As Conroy explains, "Rupert is one of the most intelligent men I have ever met. He has a great wealth of film and art knowledge. Of course, Caravaggio proved a touchstone, as the lighting in his works is very cinematic. But we also took cues from the shape of the single source lighting in works by Joseph Wright of Derby, most notably 'An Experiment On A Bird In The Air Pump' - one of a number of candlelit scenes he painted during the 1760s. You can see that sort of influence throughout the film, and especially the scene in the bar just before Wilde's death with Reggie Turner (Colin Firth).
"Obviously references are great, and you have them in the back of your head the whole time. But when you are shooting, your biggest reference is time. You might only have 15 minutes to shoot a scene. Then your creative thinking becomes instinctive, and you have to balance that with the need to crack on."
As for the lighting and the colour arc through the film, Conroy says, "When Oscar first travels out to Naples at the beginning of the story, the light and the colours are a bit more vibrant and there's an optimism there. But then when we find him in Paris, it's dark and in the shadows, with just pockets of light, to reflect where he was personally. I used HMI's for daylight and hard backlight, with Dedolight Tungsten Octodomes and LiteMat LEDs for the lighting on interiors and the single-source style we wanted." The lighting package was supplied by Maier Bros., and Conroy's gaffer was Charley Cox.
"As soon as I look at a scene I know exactly how I want to light it," says Conroy. "I'm never there wondering where I want the lights to be. But sometimes it's hard looking into thin air and working out how you are going to get the lights in without the stands getting in the way of the performance or being seen in-camera."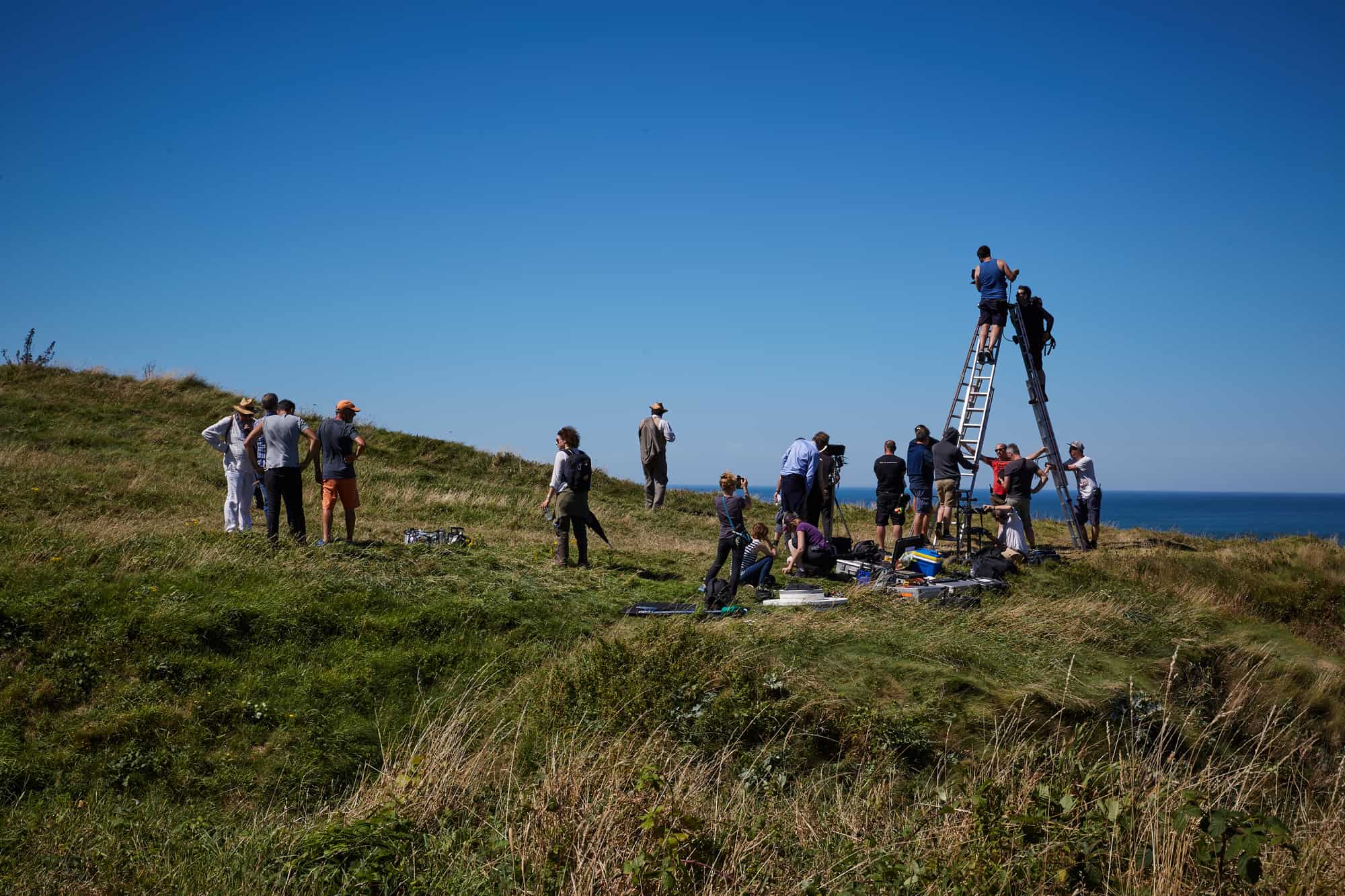 Never was this more true than when shooting the interiors at the Schloss Thurnau, a protected site, due to its historic heritage. "There were a lot of restrictions there. For the scenes in Wilde's villa, such as when they play naked musical chairs, Charley was able to rig two Octodomes from the chandelier hook, and we supplemented the rest with candlelight. It looked just right, and of its time."
However, when it came to lighting faces, Conroy used LEDs for illumination rather than candles or even domestic light bulbs, often the cinematographer's favourites.
"The softer the source, the better on faces," he says, "so we always used a couple of layers of diffusion to soften the LED sources, and constantly checked their colour temperature to make sure the image wasn't green. You always have to be careful on close-ups with wigs and prosthetics too, as the lighting easily picks out the lacing and glue. So, with a combination of the diffusion and judiciously placed flags, we were able to get a great result on Rupert in these situations."
There was one happy accident. The crew was unable to erect a lighting rig for the scene when Wilde enters a church. But, having already studied the daylight, Conroy knew there would be a 15-minute period when the knave would be flooded with natural sunlight. "Working quickly, we managed to shoot four takes. The result looked great, and we were all buzzing afterwards," he remarks.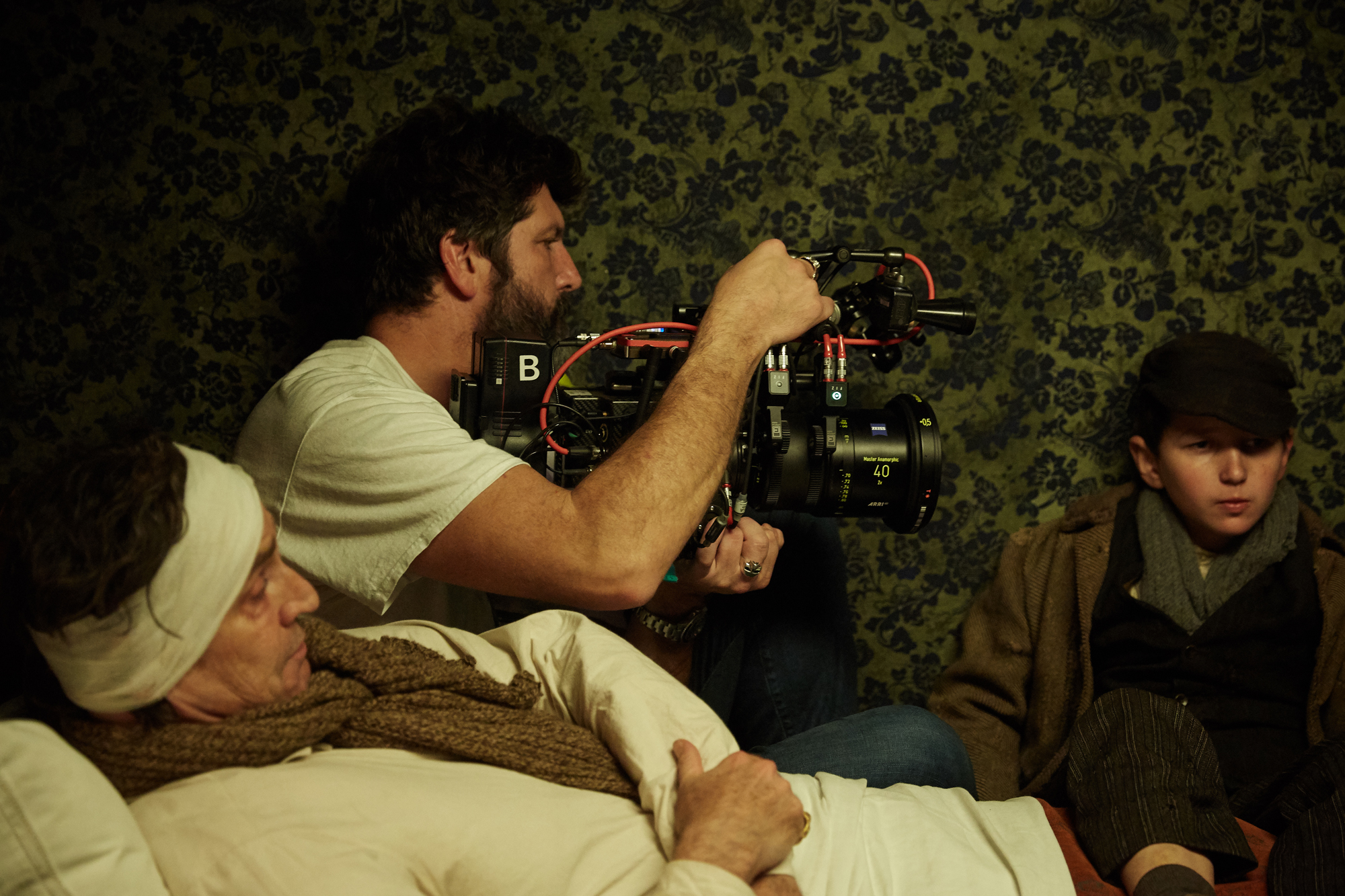 Conroy completed the DI on The Happy Prince with colourist Natalie Maximova at Das Werk in Berlin. "We remained true to the images we had created on-set," says Conroy. "Apart from some subtle colour matching between scenes, toning-down a few highlights that we did not have time to control during production, and adding a modicum of native film grain to give the images a hint of texture, the DI was pretty fast and straightforward."
Overall, Conroy attests to a very enjoyable experience. "The cast were brilliant, with great camaraderie amongst them. And, for all of the pressure that Rupert was under - as the lead and director - it never transferred to the crew or into our daily work. Whilst I am delighted by the result, during the course of the production Rupert and I became great friends, and that's one of the most wonderful things to have come out of this film."