FAITH AND FREEDOM
Renowned for taking risks and making movies with impact, including the 1980 sexually explicit Spetters (Babes) and erotic thriller Basic Instinct (1992), director Paul Verhoeven desires a high level of freedom throughout the creative process whilst allowing his cast and crew the same level of autonomy. The Dutch filmmaker continues to make a lasting impression with the latest production he directed and co-wrote, Benedetta – a true story adapted from Judith C Brown's book Immodest Acts: The Life of a Lesbian Nun in Renaissance Italy. It follows the love affair between two 17th century Italian lesbian nuns who are later punished for their sins by the patriarchal Catholic Church.
The sensuous, coming-of-age melodrama was one of two films lensed by French cinematographer Jeanne Lapoirie AFC (she also shot Catherine Corsini's La Fracture) that appeared in the Official Selection at this year's much-anticipated Cannes Film Festival. Having admired the style of her previous films such as the handheld 120 Beats per Minute (2017) and 16th century period drama Age of Uprising: The Legend of Michael Kohlhaas (2013), Benedetta producer Saïd Ben Saïd felt her creative approach would be appropriate for Verhoeven's period production.
"I was so excited to be asked to shoot a movie directed by a filmmaking legend such as Paul Verhoeven. He's such a great director," says Lapoirie. "It was also a great opportunity to make another period film and when I read the script, I felt it was a very modern way to approach the story taking place in the 17th century. Paul has made a lot of films with women as the main character and this was a very real subject with a very feminist point of view. When we started working together it was quickly apparent that we were a good match."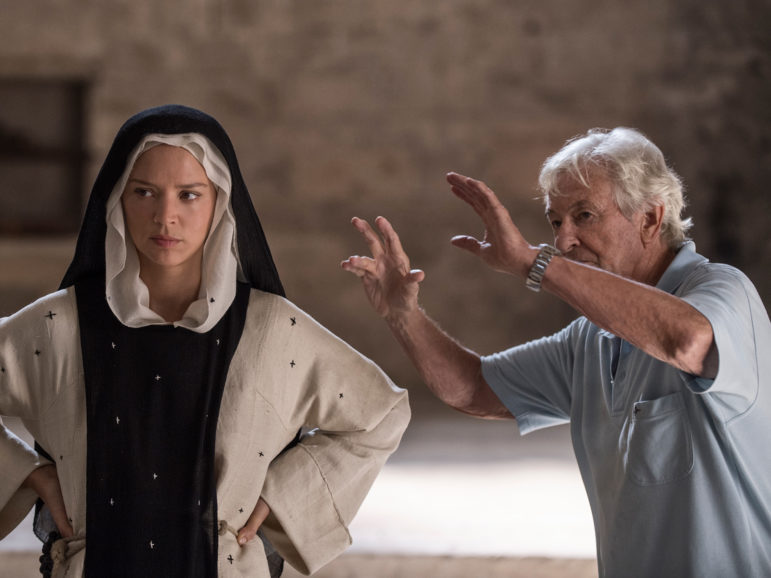 Verhoeven takes time when selecting his collaborators and then gives them a lot of liberty, trusting in their skill and expertise. The director's main technical requirement for Benedetta was for it to be shot with two handheld cameras. Lapoirie revisited all the movies Verhoeven had made to examine how he likes to tell a story and to better understand him as a filmmaker.
"Through conversations during the recces with Paul and production designer Katia Wyszkop, who I had known for a long time, I fleshed out how I would shoot the movie," says Lapoirie. "We discussed how to incorporate candlelight effectively and Paul stressed he didn't want it to be completely lit this way, as in Barry Lyndon 'where you see more of the candle than the actor's face.' He also didn't want too much movement in the scenes as much of the film is set in the calm and still setting of a convent."
Lapoirie referred to the work of artists such as Italian painter Caravaggio and French Baroque painter Georges de La Tour for the candlelit scenes as well as painters Hieronymus Bosch, Pieter Bruegel and Rembrandt for the subjects. Working in unison with Wyszkop, the cinematographer investigated which materials to work with in each filming location.
"We tested which colours to use for the curtains between the convent dormitories and how transparent some of the curtains should be. We also explored the best approach to adopt when shooting stained glass windows," says Lapoirie. "As some of the abbey locations in France looked relatively modern, we positioned another window in front of the more contemporary windows to hide them. Katia also had to create some bigger windows to match the larger windows in the exterior scenes shot in Italy."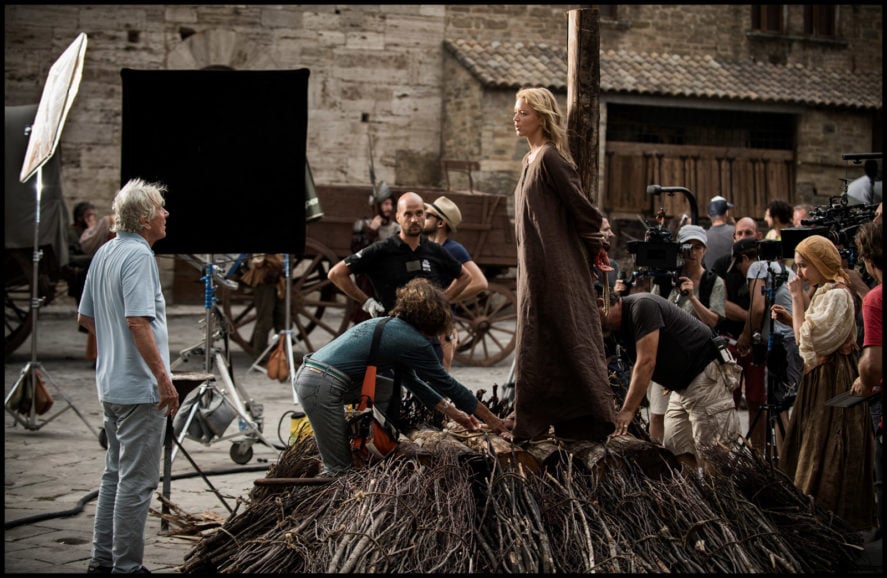 Filmed in the summer of 2018, Benedetta was mainly shot on location, with exterior scenes captured in the powerful Italian sun and interior scenes shot in France. "I would have preferred to shoot the inside of the convents before the exterior sequences, so the sun wasn't as strong for the scenes in Italy, but this didn't fit in with the production schedule.
"In contrast to the bright exterior scenes, the interior segments of the film were darker and had a twilight feeling, partly because the windows in the convent were very small. I liked this visual contrast between the outside and inside. I didn't want to make a period movie with faded pastel colours, so I decided, as I have done on other movies, to create a film full of contrast and colour. The clothes are vibrant and when red appears on screen, it is really intense red."
Verhoeven sought a simplicity in the settings which all locations were chosen to suit. The village square scenes were shot in Bevagna, a small Italian town, with other exteriors filmed in Tuscany. Sequences inside the convent were shot in two abbeys in France – Abbaye du Thoronet and Abbaye de Silvacane. "The suicide scene which sees a nun jump from a church roof was a little more complicated and required us to shoot in three places – the square was in Italy, the roof was in France and then a fake roof was built in Transpastudios in Bry-sur-Marne near Paris and shot against green screen."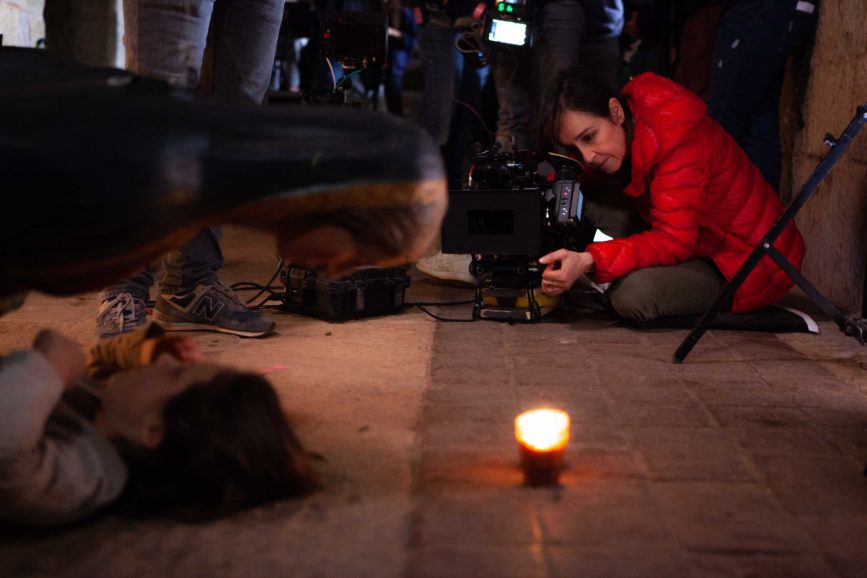 A CLEAR VISION
Lapoirie, who always relies on the same camera and opticals, once again selected ARRI to capture Benedetta. "When I have shot 35mm I always turn to Kodak and it's the same when shooting digitally, I choose ARRI. On this occasion it was the Alexa Mini paired with an Easyrig and ARRI Master Grips for a high level of control. I find the camera organic, and I always like the desaturation of colour in the highlights."
Enjoying shooting with zoom lenses, Angénieux Optimo (28-76 and 45-120) spherical lenses captured Verhoeven's biopic tale of romance and religion. "Even when you go handheld, you can easily work with these zoom lenses because they are so compact, and the results are very bright. I find it so much quicker to make changes on-the-fly and to find the best framing when working with zoom lenses – you just feel freer. I also like the rendering and the material of the image is less defined or sharp than prime lenses." For outside night scenes Lapoirie also used Leitz Summicron prime lenses.
While Lapoirie was given a lot of freedom when lighting scenes, Verhoeven was more prescriptive in his preferred framing. "He created detailed storyboards, so the framing was very precise. Most of the time scenes would be shot with two cameras on the same axis, with one a little closer and then on the few occasions we needed a longer movement we used Steadicam."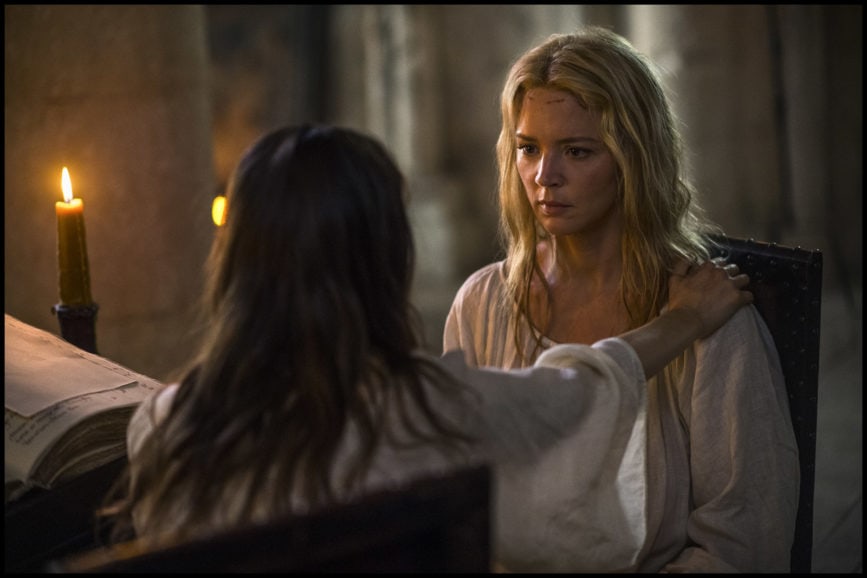 As much of the narrative was based around fixed shots there was often little room to incorporate camera movement. "Often the shots were quite short which was a little strange for me at first because in France we are used to making master shots or continuing the scene for longer. Paul would say 'We are not making a documentary, so I need these two sentences in this shot and then we will cut to another shot'. He was very focused on the timing too and he could tell if something happened a few frames too late. The editing was already very clear in his mind during the shoot."
Having worked with Nicolas Dixmier for 28 years, it was important for the skilled gaffer to be part of Lapoirie's crew on Benedetta to help her navigate a variety of lighting challenges. It was not possible to use as many large towers or cranes as they would have liked when lighting a night-time suicide scene shot on the roof because the ground was not strong enough to support them.
"Instead, we used a drone with LED lights attached to light sequences such as these including one which features a red comet blazing through the sky. It was my first time using drones in this way and it was a great experience – the lights were really compact but powerful so they covered a large area."
Small toy drones with cameras were also used to find the best placement on the towers. "It was the first time we did that but it was very efficient and I think they will repeat it for future movies."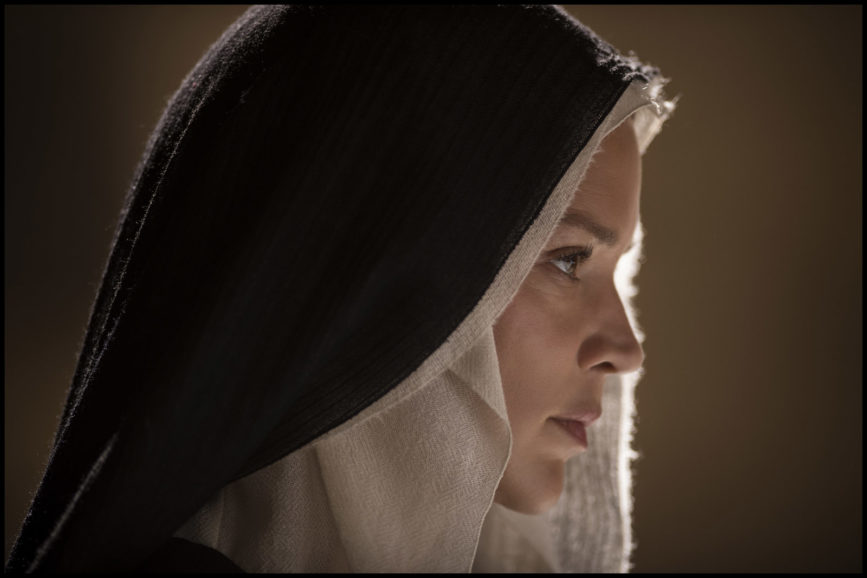 Scenes inside the church were illuminated using large sources such as 18K HMIs outside the windows. "Sometimes we would use the real sun and other times we blocked out the sun and recreated it with the 18K source. For the interior scenes we used a lot of SkyPanels, SL1 MIX from DMG Lumière by Rosco and Chinese Balls. For the night scene in the village square SkyPanels were positioned almost all the way around the square, on a crane or on the top of the buildings. For some exterior night scenes that required fire we used a gas fire hob to create flickering lights and sometimes used real candles for interior scenes."
The most complicated sequences to shoot were those filmed outside in Italy in the summer when the sun moved rapidly. The crew shot for five days using four cameras to capture the final scene of the pyre in the village square. "Paul wanted to shoot in the order of the sequences, and it made it difficult to match the lighting between shots because the sun was on one side of the square in the morning and then the other side in the afternoon. To resolve this, we occasionally built a large frame for a canvas to block the sun. It wasn't always possible to match the shots exactly but luckily a lot of the scenes were at night or inside."
Watching Verhoeven's back catalogue of productions, Lapoirie decided on a warm tone. "His movies often feature a lot of humour. There is a unique kind of stylisation. Paul also doesn't obsess over realism and recreating the period exactly," she says. "I didn't want to go too far down a kitsch route with Benedetta, so I still tried to be as realistic as possible. I also wanted to avoid creating a sad tone, so I decided on warmer and bolder colours with brightness in the highlights."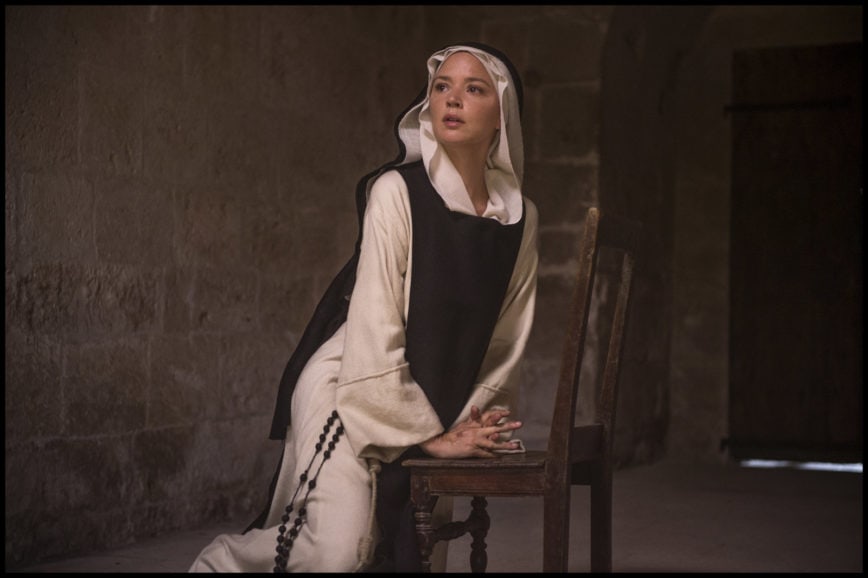 Lapoirie still relies on a treasured LUT created many years ago. "When I shot my first movie as a DP – Les Roseaux Sauvages for André Téchiné – he wanted very strong contrast, so I pushed the development one stop to produce a Kodachrome look with strong yellows and warm skin tones," she says. "Each movie I work on, I try to create a new LUT, but I always return to this one which has the strong colours and contrast and contrast of Kodachrome film stock. The highlights are warm, and the shadows are bluer."
The cinematographer likes to maintain the look established early on throughout the filmmaking process, changing very little in the grade. "Paul trusted in my opinion during the grade when we worked with colourist Serge Antony to refine the look," she says. In contrast, the visual effects element was a more involved process due to the number of scenes shot against green screen.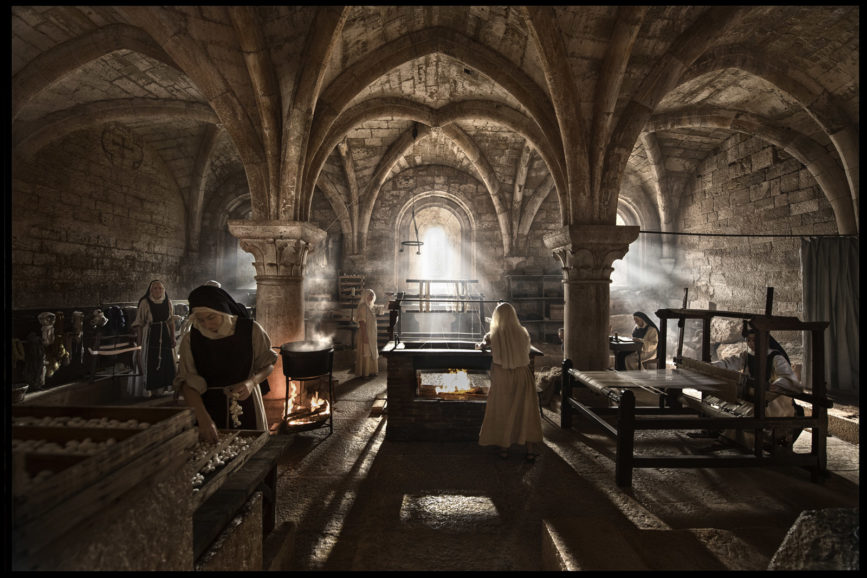 "The visual effects team completely recreated the sky with the comet and the roof in the village square. As a detailed storyboard had been created this meant everything was decided well in advance. We always we had a supervisor – Guillaume Le Gouez from CGEV – on the set which made the process much easier."
In addition to the "extraordinary" experience of working with a director of Verhoeven's calibre, Lapoirie's standout moments from the shoot included capturing the love scenes. "In general, I like to shoot this kind of scene. There is a lot of tension before and then when you shoot it everything becomes easy, and you capture wonderful scenes. In Benedetta, the love scenes are beautiful. I'm so proud of them – the light on the body is sweet and they were filmed in a twilight setting inside the convent. The light was just perfect, creating a wonderful mixture of colours on the skin."