Green Is Good

Spotlight / Green Voltage
Green Is Good

Spotlight / Green Voltage
As one of the great film and TV stars once sang, "It's not easy being green."
And even though Kermit The Frog was not necessarily addressing environmentalism head-on, his attitude of dealing with a huge subject in one's own way, no matter how small, shows that individuals can still make a difference. Which is essentially what the founders of UK hire company Green Voltage did when they decided to bring a range of eco-friendly generators into the European film production market.
David Sinfield and Adam Baker's working relationship goes back further than the founding of Green Voltage earlier this year. Sinfield is a gaffer - and previously electrician - with credits on a variety of feature films going back to 2003, including Batman Begins (2005), Sherlock Holmes (2009), Captain America: The First Avenger (2011), The Huntsman: Winter's War (2016) and Aladdin (2019). Baker's background is in the live events sector, where he worked as a production manager and lighting designer, but he has also operated lighting consoles for feature production.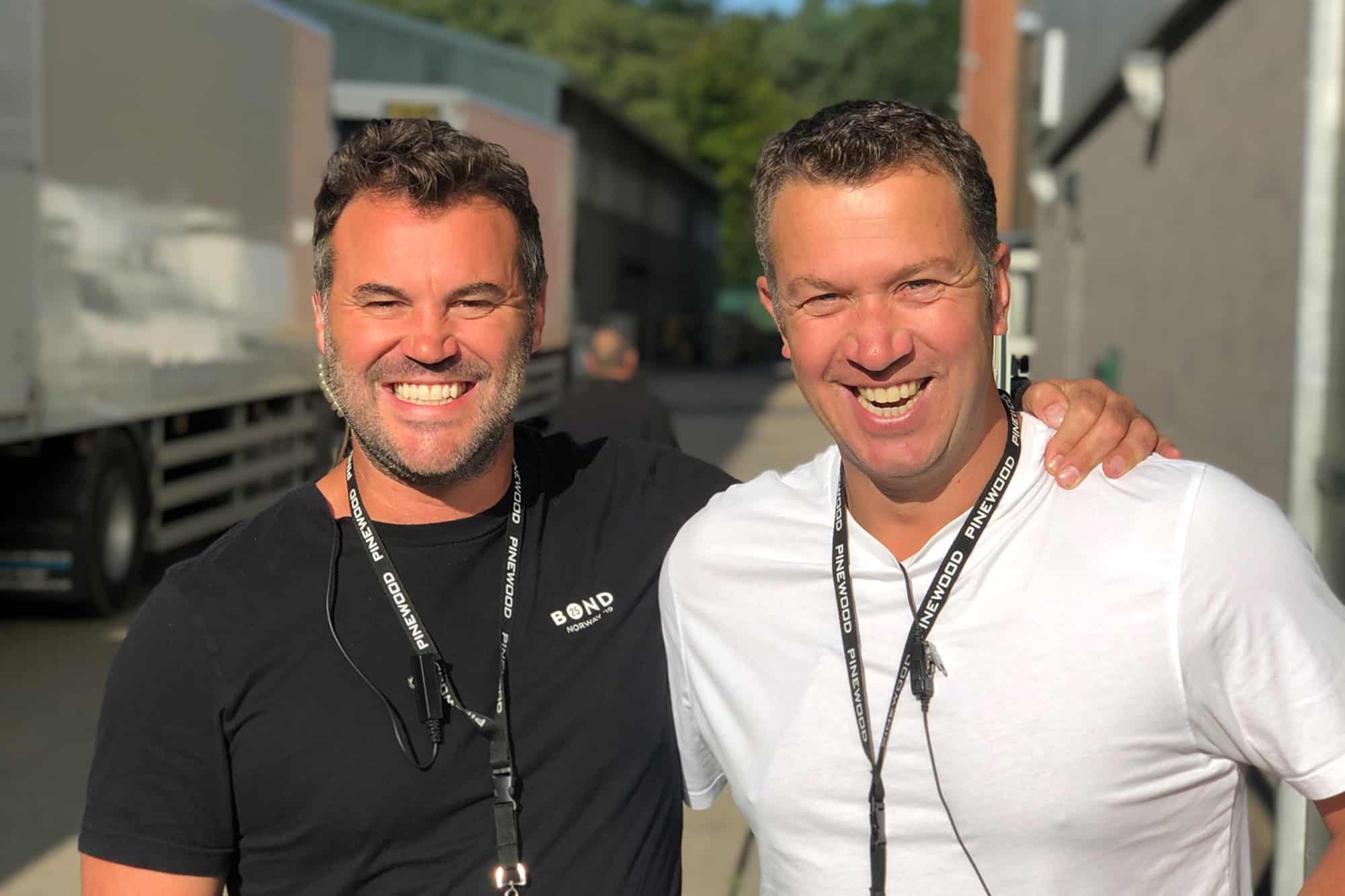 Whilst working together on the set of Wonder Woman 1984 (DP Matthew Jensen ASC) in September 2018, they started talking about the big issue of climate change.
"There had been the shocking announcement that the temperature of the ice caps had risen," Baker recalls. "We talked about that and the fact that the film industry was starting to be very conscious of climate change, particularly in trying to reduce the use of plastics and the amount of waste that was produced, as well as recycling as much as possible."
Baker and Sinfield agreed that LED lamps were providing a greener alternative to the older style of lighting used on films, but what was lacking and just as important, was a better option for power.
"That was especially clear from seeing idle-running generators on stand-by or units powering minimal applications," Baker comments. "We did some investigation into other options and through an old colleague based in Vancouver we heard about a large battery power station called Voltstack, which was challenging the smaller generator market as a silent and clean energy source that could be recharged from renewables."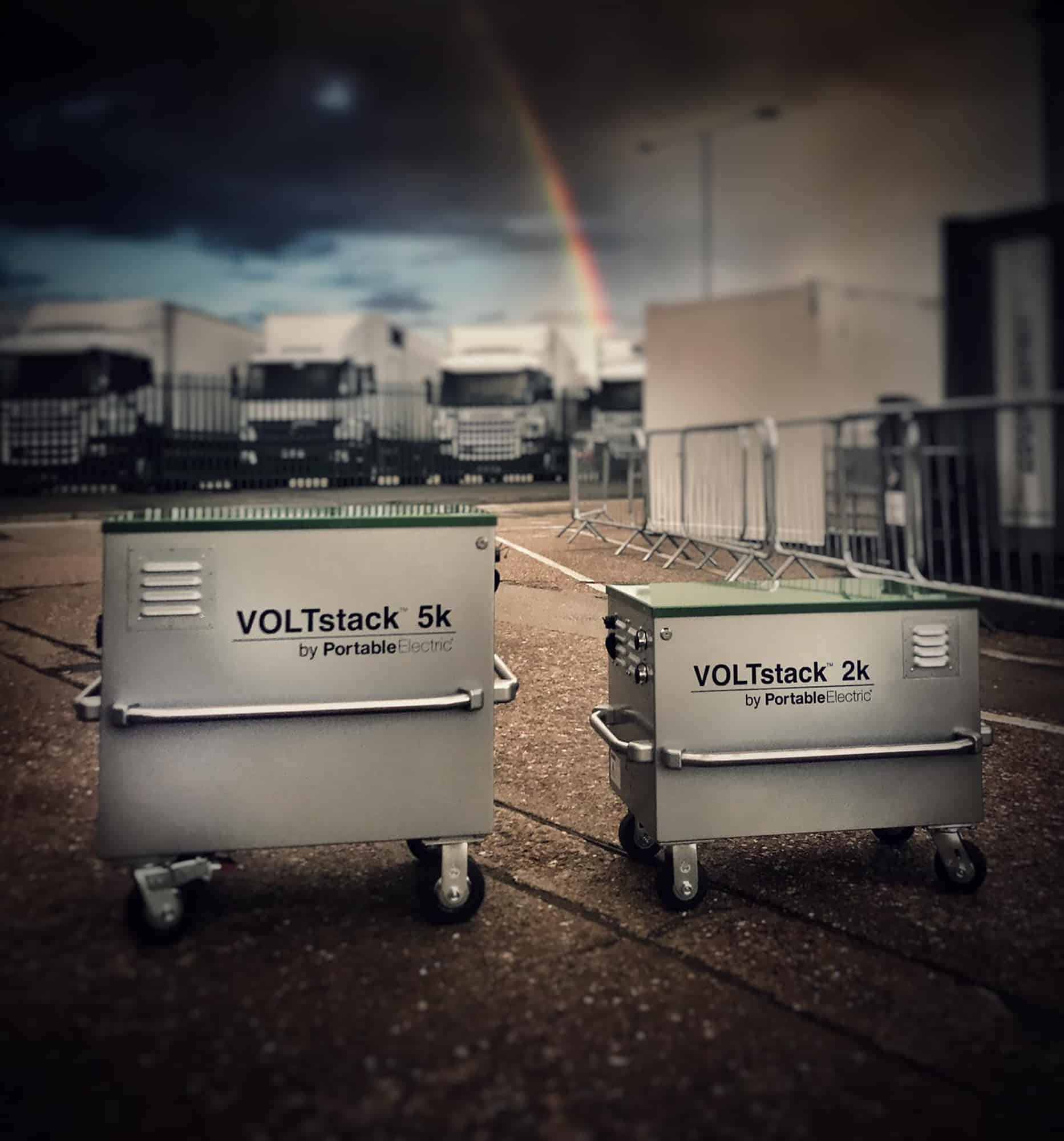 The generator market is worth billions of dollars and is still dominated by diesel models, despite the recognised need to move away from fossil fuels. The Voltstack, designed and manufactured by Portable Electric in Vancouver, had already made inroads into the North American film and TV industry. Baker and Sinfield looked at its features and started to see where it could be used in the equivalent UK and European markets to cut back on the use of emission-producing generators or even replace them entirely.
"The list of potential applications and savings was endless," Baker says. "One was DIT/video Assist after wrapping, which would allow for the main set to be turned off. Others were in the chase vehicle so that the director and camera team could have silent, emission-free power, or instant camera crane power on location or for interiors, such as hotel rooms so there wouldn't be long cable runs to the generator."
Encouraged by this, Baker and Sinfield contacted Portable Electric and agreed a collaboration deal involving conversion of the 2K and 5K Voltstack generators for the UK and European markets. Under this, the first Voltstacks for hire in the UK would be brought in by Green Voltage Limited, a company established by Baker and Sinfield.
"We only invested in a few Voltstacks to test the water because we knew the film industry might be a little slow on the uptake," Baker says. "We also knew we would need to generate a lot of marketing to get heads of department and producers to change their habits. That involved thinking about strategies as how to use this alternative power source and what benefits it would bring both productively and financial, while reducing carbon at the same time."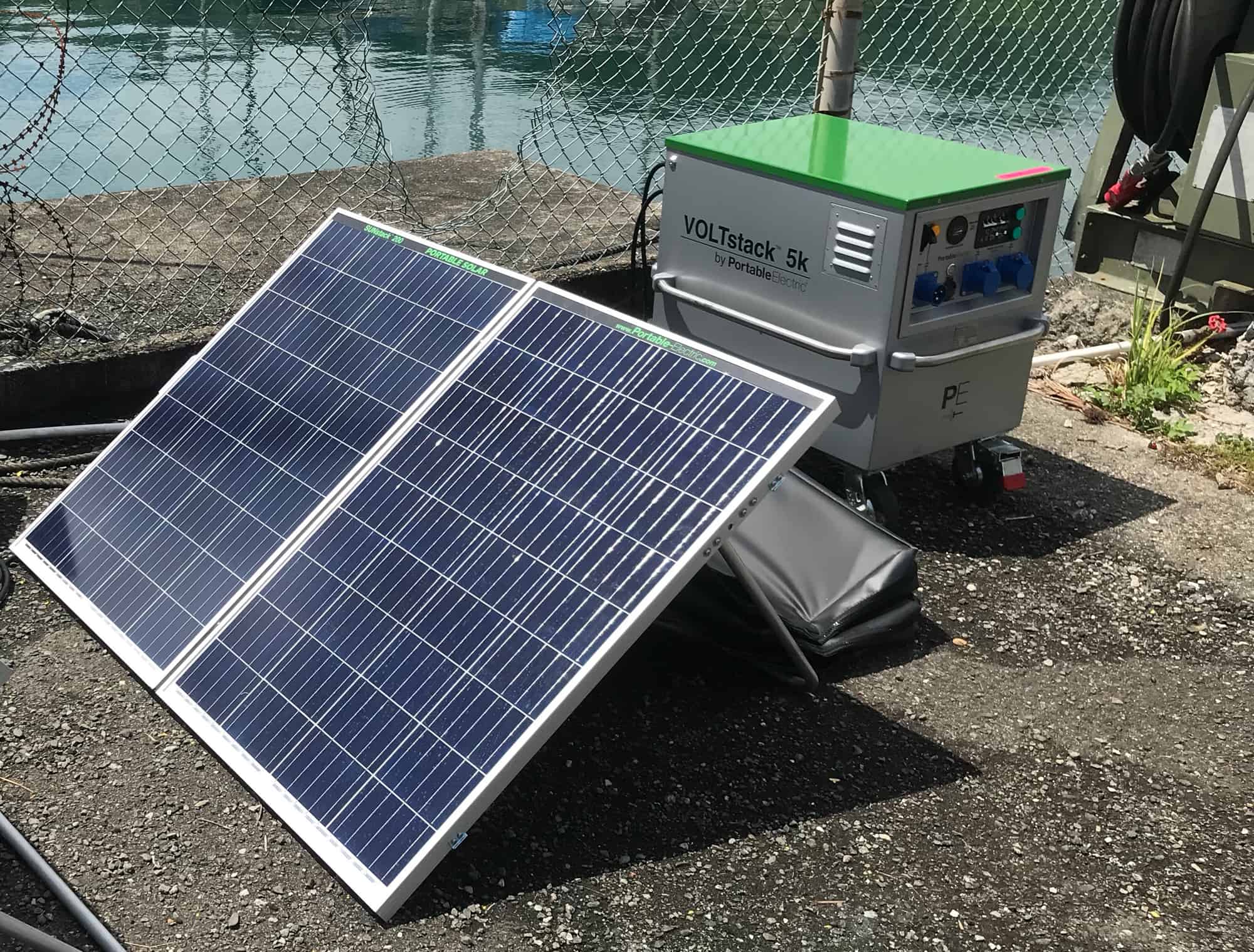 "We've seen the 5K Voltstack power a Brute Force LED Wendy light silently in a residential area and Sky Panel 360s remotely on a boat."
- Adam Baker
Green Voltage was registered as a company on 1 January 2019, and it was exhibiting at the BSC expo in February that proved to be the breakthrough.
"We were surprised and excited at the support and attention we got from not only HoDs, but also the likes of the National Trust, Film London and BAFTA's Albert scheme," Baker explains. "We realised we were going to need more Voltstacks and to make Green Voltage a proper business."
The first Voltstacks went out for hire in March, and by June the rental stock was increased to meet demand. As well as the carbon saving aspect of the generators, Green Voltage has found that the quiet running of the units is another major selling point.
"Voltstacks have been working with some of the best sound recordists in the business," Baker says. "The fact it is silent and does not vibrate has won praise from the likes of Simon Hayes, Chris Monroe and Peter J Devlin."
From the lighting point of view, Baker says the generator provides the juice needed on-set and location: "We've seen the 5K Voltstack power a Brute Force LED Wendy light silently in a residential area and Sky Panel 360s remotely on a boat. We've also had a lot of requests for video assist applications, simply because they can take the power with them and instantly switch-on."
For extra sustainability, Voltstack generators can work in conjunction with Sunstack solar panels as a recharging source.
"Solar power is a big part of making these units more carbon efficient," Baker explains. "When you use a 2K or 5K Voltstack you save 20 to 30kg on every use, because you are not burning fuel to run it, even if you recharge at unit base. If you recharge from a renewable energy source the saving is tripled."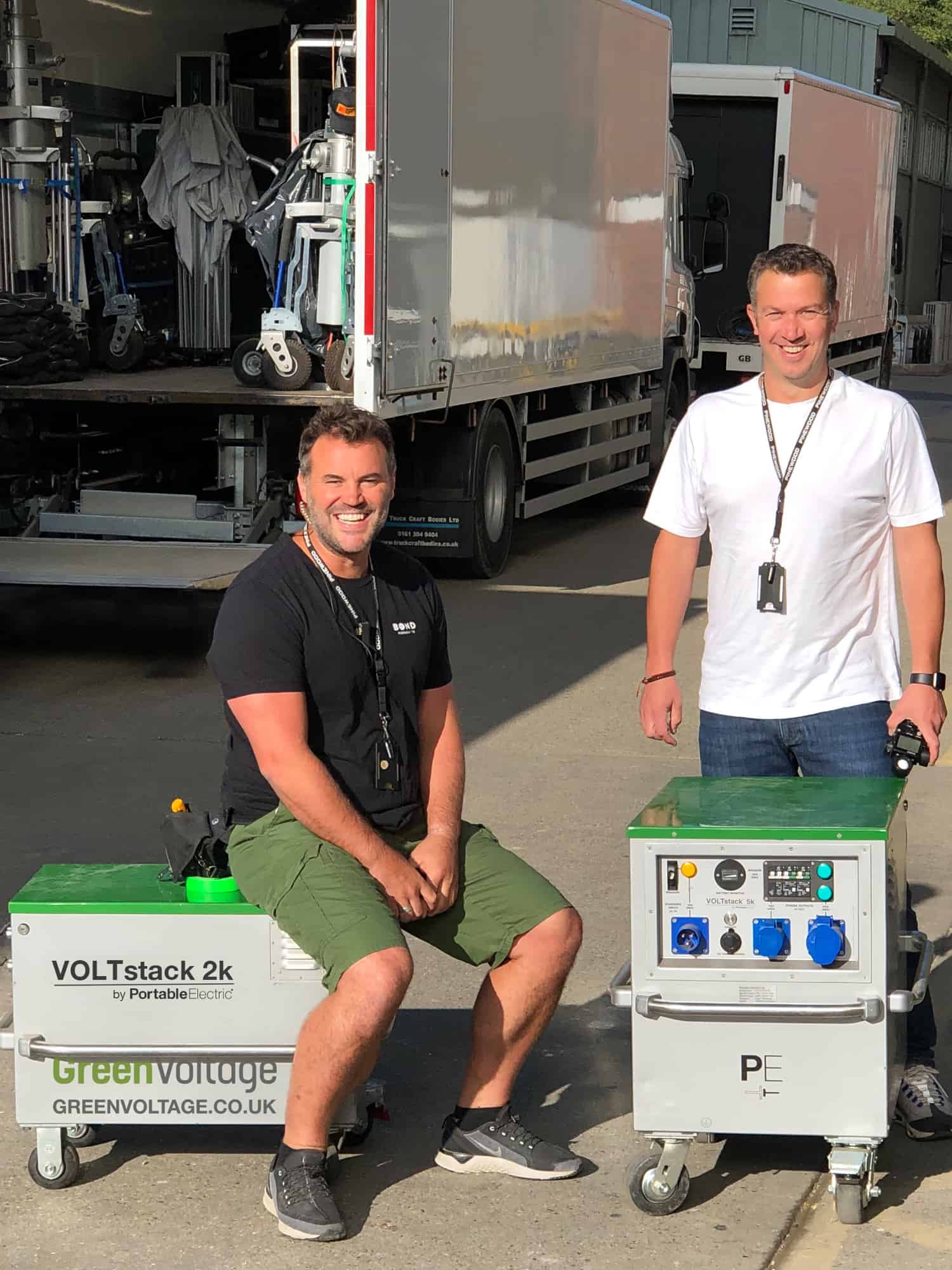 For the future, a new remote controller is due to be launched soon. This will allow a Voltstack to be turned on and off from wherever the operator happens to be. Baker says this will prove handy for people working on cherry pickers and the like. Green Voltage is also looking to bring the 20K by 100kWh model in the UK.
"That will provide another level of applications," concludes Baker, "but the big game changer is the 200K by 600kWh. We've had some interest from the studios and we really hope the UK will lead the charge for change."
Perhaps it is getting easier to be green after all.