Fresh Powder 
Ed Wild / Chalet Girl
Fresh Powder
Ed Wild / Chalet Girl
Ed Wild is a man on the move. He moves side-to-side, from commercial to music video, and up and down from feature to short. Most recently he's been moving up, way up, both in the British film industry and the mountains.
His most recent feature is Chalet Girl, a comedy set in the Alps complete with snowboarding, skiing, skateboarding, snogging and surmounting one's fears. The cast includes Bill Nighy, Brooke Shields, Ed Westwick and Felicity Jones as the lead.
Wild received the script for Chalet Girl whilst on location in South Africa and he'd prepped it overnight on the flight back to London. "I think you need to love the script if you want to do a feature well, and I loved this script," explains Wild.
After that flight he went straight into a meeting with the director, Phil Traill, and came out loving the project even more. "Phil and I really saw eye-to-eye and just really got on well." Traill and Wild both agreed that the look for Chalet Girl should, in Wild's words, be "bright and colorful and crunchy - I wanted strong blacks, nice contrast, but with the soft lighting that makes people look beautiful". Traill was excited with Wild's vision and felt it meshed perfectly with his. "Ed is a super-talented DP and cameraman," states Traill, "and to top it off, his reel included comedy, romance and snowboarding. He also had a lot of specific suggestions for camera movement for a few of the scenes, which was very exciting to hear."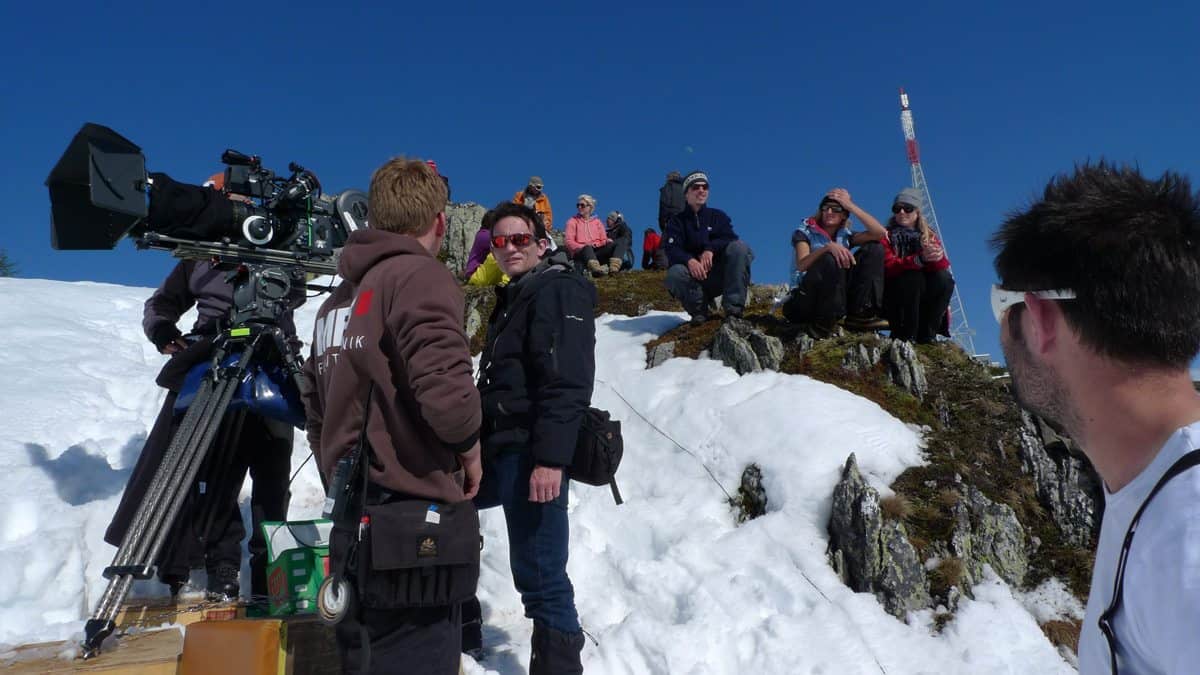 They tested many different film stocks, but the pivotal point for Wild was testing the Kodak Vision2 50D 5201/7201. "It just popped, literally popped all the way through the DI," remembers Wild. "I asked what they'd done and they said nothing." For the test he'd shot Jones in the snow the wrong way – stuck her in the shadows, backlit her – just to see how bad the 50D could go. But, Wild confesses, it withstood even the harshest conditions and still looked incredible.
Wild also used the Vision2 200T 5217/7217 because of its abilities to render tones on the skin. "I wanted everyone to look lovely in this film and the 200T did it for me." Filming on location in Germany in a small chalet proved difficult in many respects, but Wild had no complaints about the way the stock held up. "We had to shoot the whole thing Tungsten because of the size of the chalet, but it worked out great with the 200T. You can play with it so much; you can splash light in and it will bounce around and it just loves it."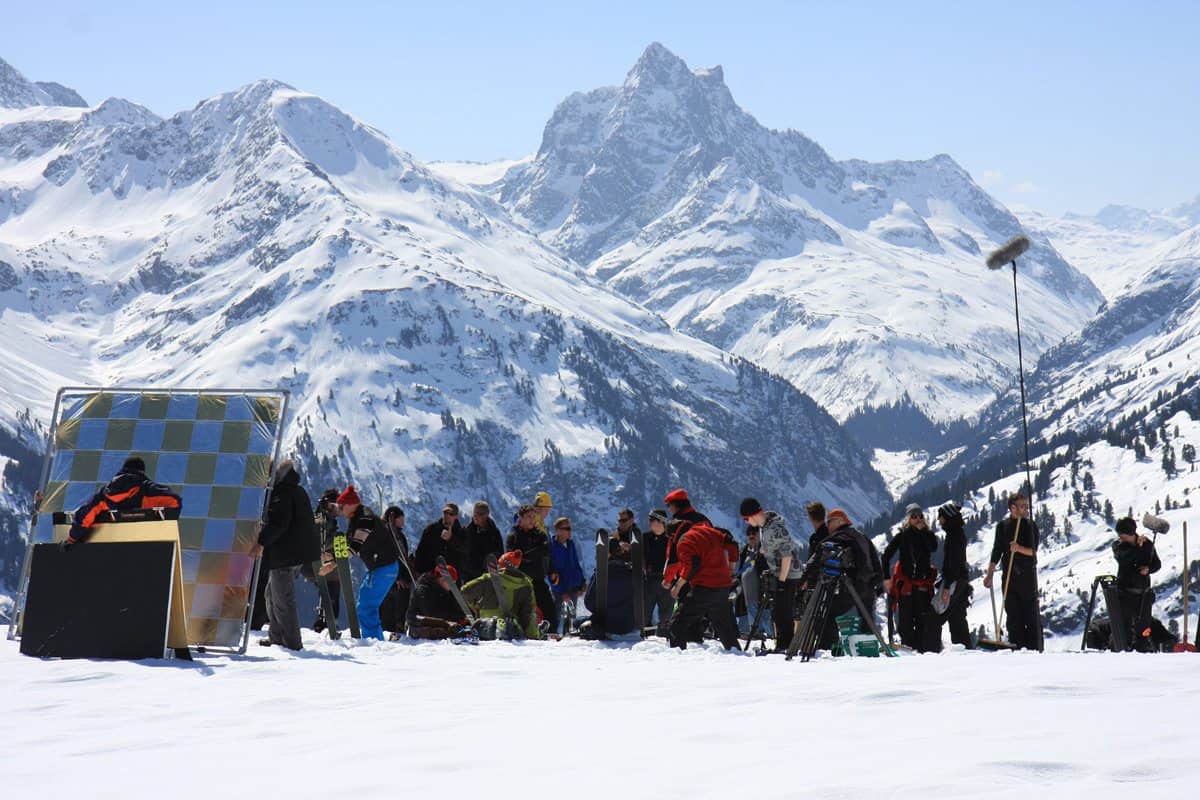 "I wanted strong blacks, nice contrast, but with the soft lighting that makes people look beautiful."
- Ed Wild 
Shooting for Chalet Girl took place entirely on location in southern Germany and western Austria (except for three studio days shot in London). A chalet in the Bavarian Alps in Garmisch-Partenkirchen was the main interiors location and was Wild's most difficult challenge.
"It had the lowest ceilings, the smallest rooms, the tiniest windows," remembers Wild. "On screen it needed to come across as an enormous holiday chalet, and every scene had cables and lights and equipment, sometimes even crew, precariously about to fall into the shot."
 "It was a DP's nightmare, but Ed made it look gorgeous," offers Traill.
Wild used an ARRI LT with Zeiss Ultra Primes, but had an ARRI 235 on hand for, "tossing in a backpack and climbing up a mountain." With such a tight shooting schedule – seven weeks – Wild wasn't able to get all the footage he needed for the film he had in his head, so Jens Hoffmann came on board as a second unit DP.
"There just wasn't enough time for me to get familiarised with these mountains the way I would've needed to," explains Wild. "Jens knows these ranges and knows where to go and how to put the camera in the right spot quickly. He was perfect."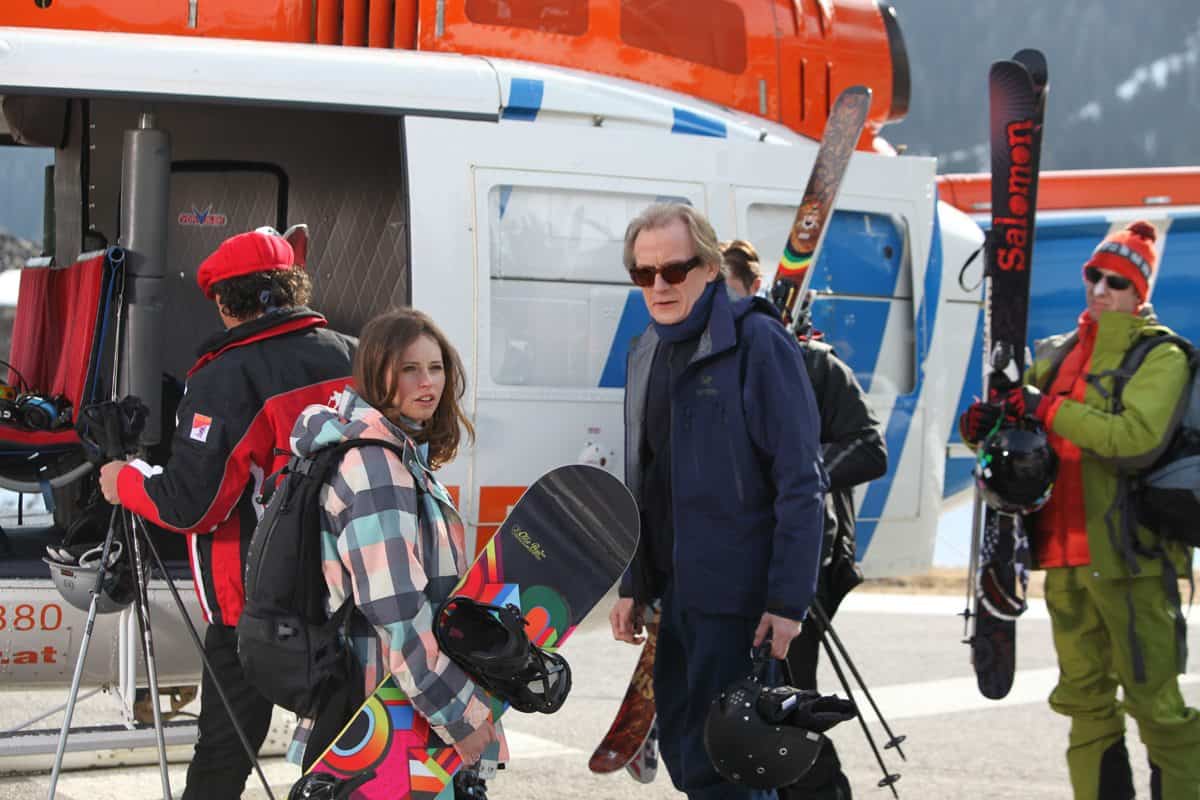 The most obvious challenge Wild foresaw in pre-production was shooting outside in the snow. However, once they'd tested the 50D all Wild's worries melted away. "You could see so far into the highlights and the stock was just stunning," he recalls. "You could even see the little crystals in the snow and yet still got loads of detail on the actors faces."
When it came to coverage, Wild admits that if it weren't for Traill's explicit clarity about what he wanted, they'd have never finished on schedule.
"The only reason we succeeded in our little chalet is because of the type of director that Phil is," Wild testifies. Moving the camera in the chalet involved unpacking a room, getting all the actors out, getting the camera out, moving the lighting around, getting the camera back in, getting the actors back in, and then shooting. "Phil was just brilliant about it though."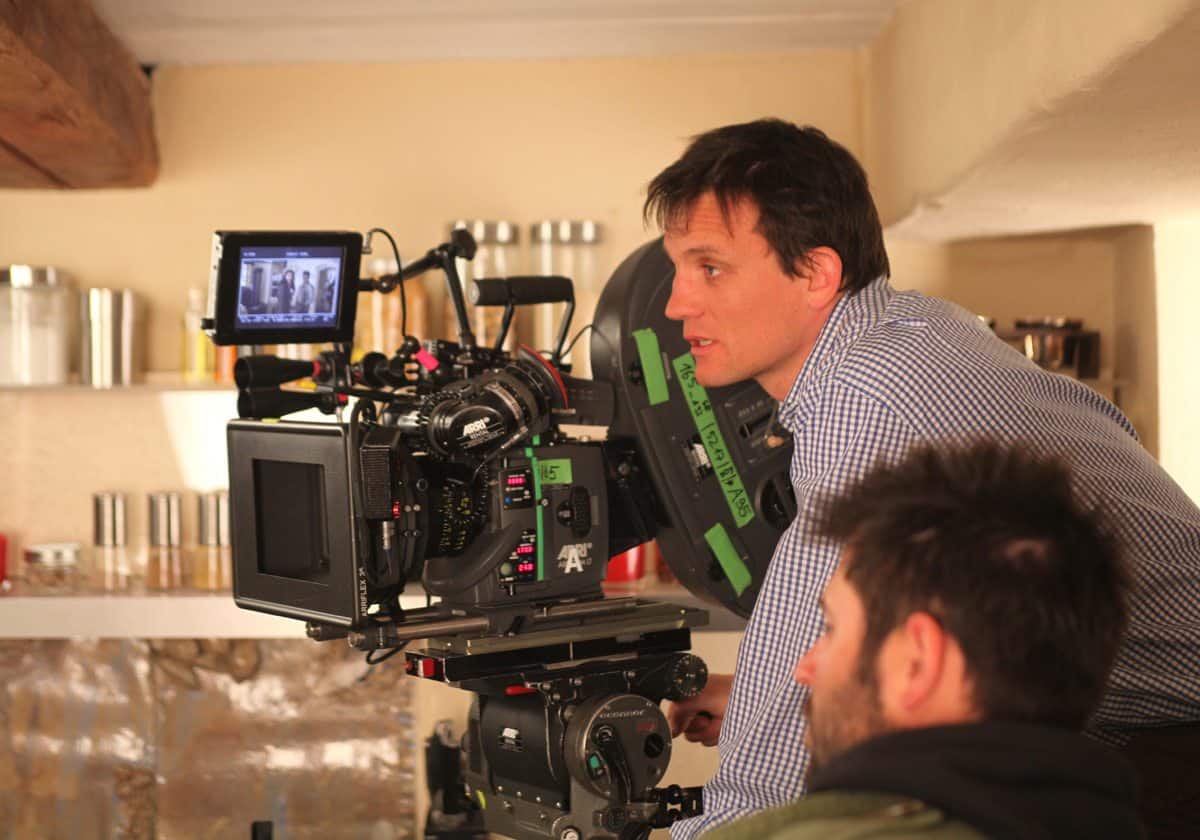 Wild graduated from Imperial College at the University of London with a degree in petroleum engineering and was a full-time rower. A friend who was a focus puller took him on a shoot when he was 23 and he fell instantly in love with cameras. He quit rowing two weeks later and got a job in a camera house in London.
"I drove a lot of vans, cleaned a lot of flight cases and learned the gear," remembers Wild. He began as a loader and then became a focus puller. The first thing he shot was a spot for BBC Radio 4 where he captured people's eyes reacting to what they were listening to on the radio.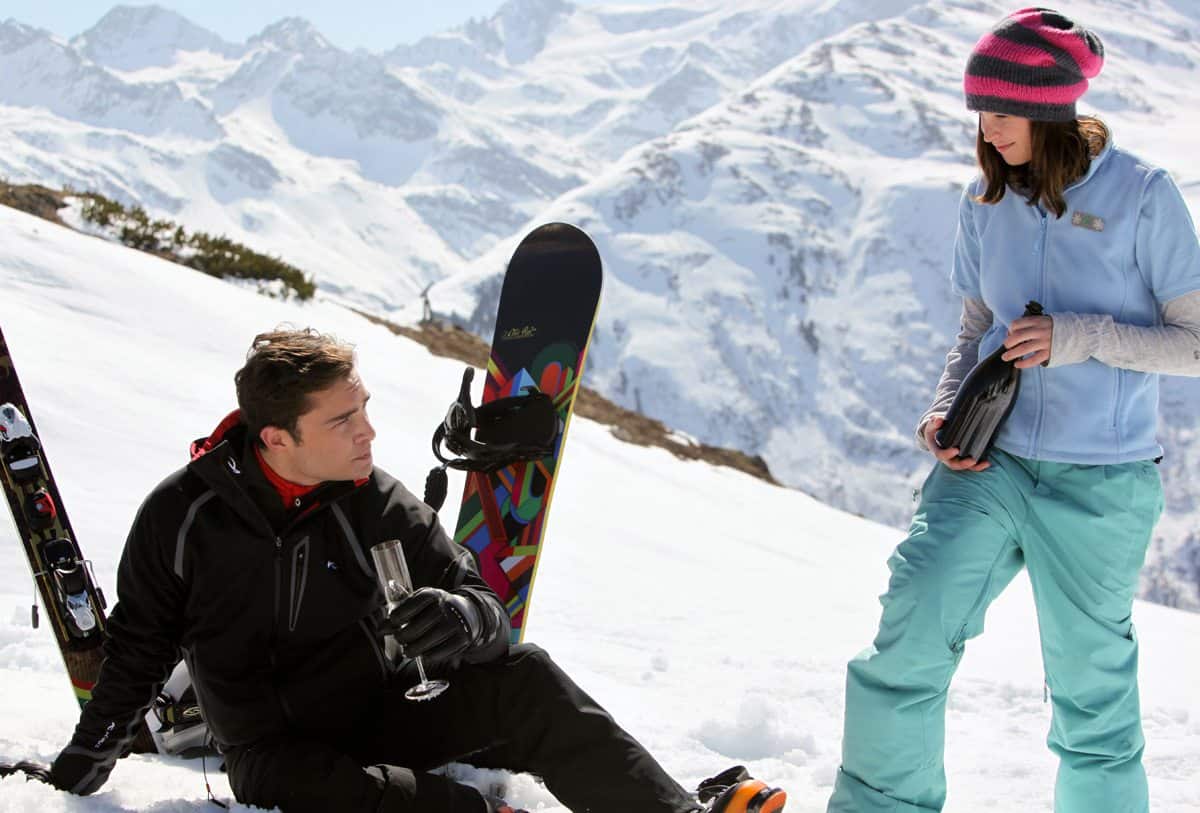 Wild cut his teeth at MTV (Europe & Nordic), on Stylissimo, a fashion-based, youth-oriented show. He'd bought an SR2 16mm camera and shot loads of fashion spots and claims that's where he really started to learn about lighting. Now, Wild dips into every facet of the motion picture industry shooting music videos, documentaries, shorts, commercials and features.
Wild began shooting on Kodak film about a decade ago when he was doing a lot of glossy R&B music videos. He loved the 200T claiming that it was a perfect for beauty shoots, even on 16mm. But he has been using Fuji for most of his 35mm projects since, and confesses that it really just depends on what's right for the job, "It's horses for courses; I've always been open to any stock, and for Chalet Girl, Kodak's grain structure and the way it sees colour was perfect. There's an inherent beauty in film that you can't get in HD."