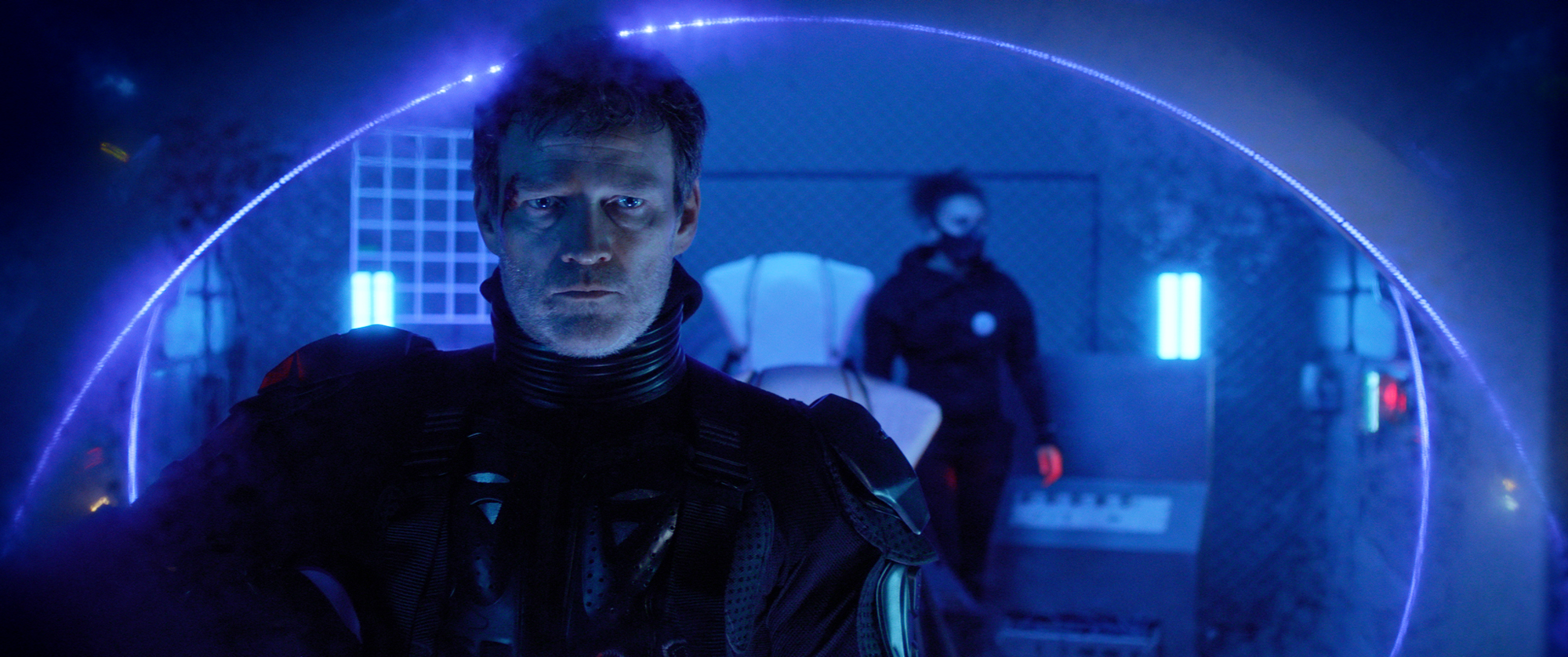 DP George Burt wrote in with details about his work on the low-budget (less than £2m) sci-fi thriller G-LOC. Directed by Tom Paton, it is the story of a young man who has fled from Earth to find a new home on planet Rhea, where the early human settlers have decided they will no longer accept refugees from Earth.
"G-LOC is the fifth movie I've shot for Tom since 2015. Over the last five years we've developed a strong filmmaking partnership, but up to now the films we've made have been micro budget. It's exciting to be able to upscale what we've learnt before. However, the fundamental processes are still the same. Only this time I had more toys to play with.
Tom writes his own scripts, so I'm able to read the first draft and discuss how I can contribute from the cinematic side of things before we go into pre-production. Then I start to create a lighting bible and camera set-ups that give the actors the best platform to perform.
From the start we wanted to build as many small practical lights into the sets as possible. This was key to not only making it feel and look like a working spaceship, but also to avoid huge lighting resets.
For references we watched TV shows like The Expanse and created a visual mood board that feels closer to this universe. Also we took ideas from Mad Max: Fury Road and discussed how George Miller and cinematographer John Seale ACS ASC framed mostly everything centered, and how the action moved either toward or away from the camera.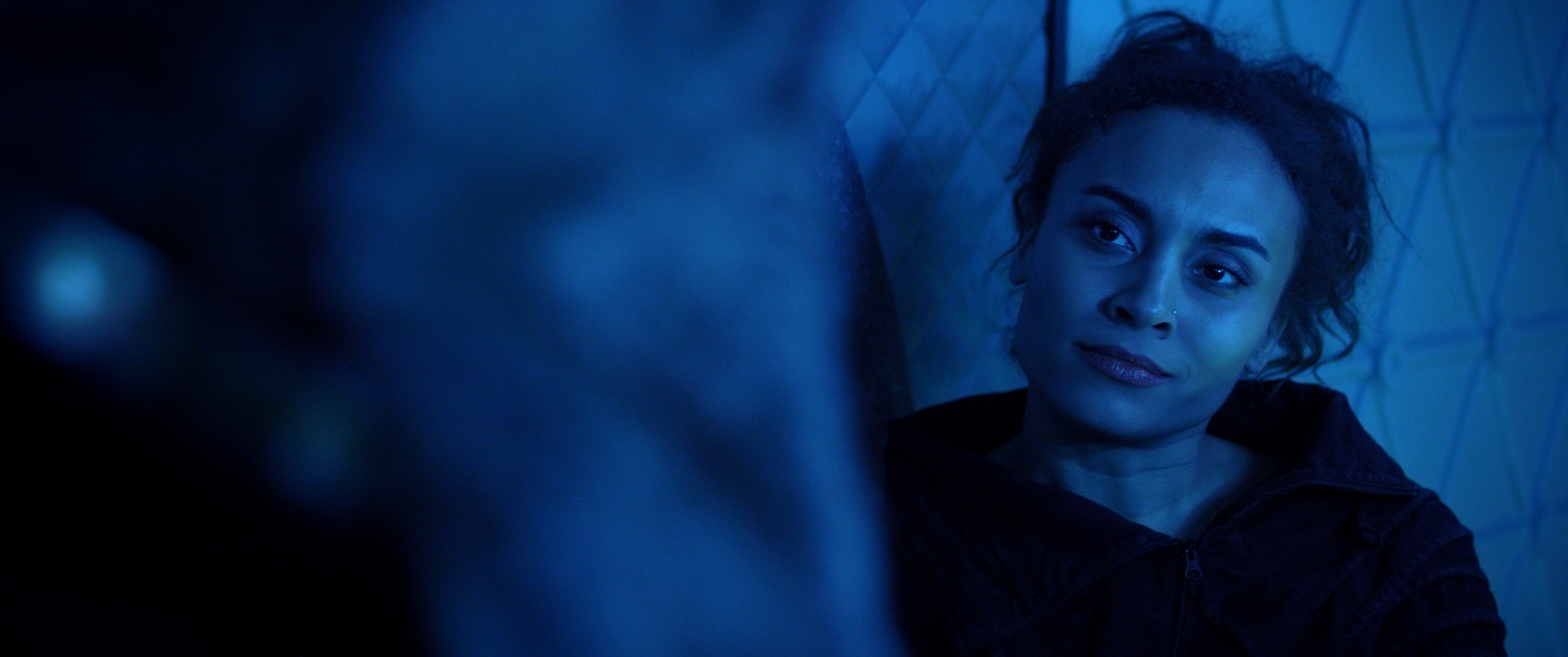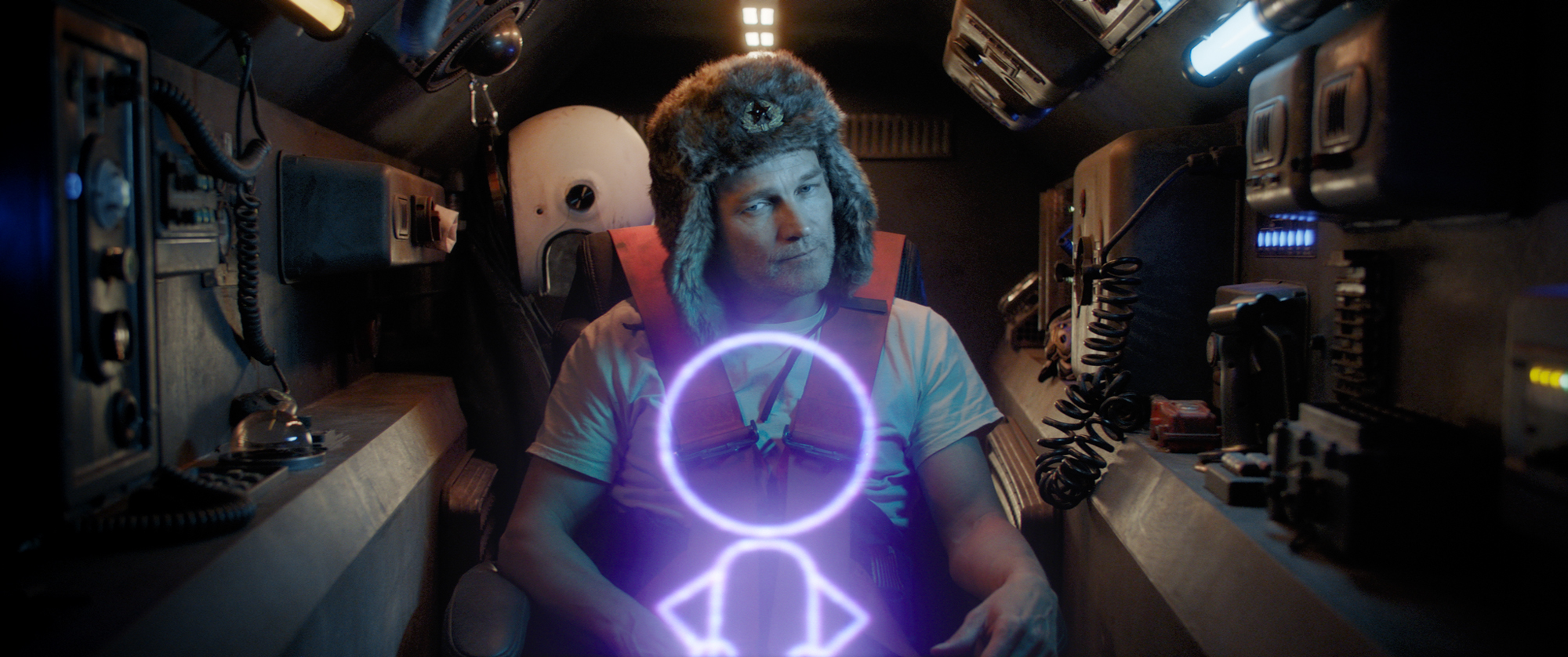 To accentuate the feeling of speed we planned to move the camera in certain ways using different rigs and use carefully-timed dolly moves. Tom requested all the doorways to be shaped like circles, and I added thin LED strips on the inside of the arches to bring them out. We ended up with three rolls of lights that continued to travel throughout the corridors at all times. I designed the lighting to line-up with the symmetry of the sets by running three matching rows of fluorescent tubes along all the corridors and floors. We ended-up using a mixture of Bermuda Blue and Sunset Red for our colour palette.
We shot 2.35:1 on Alexa Mini with Service Vision Scorpio Anamorphics. As we had to shoot the whole feature in three weeks, we would usually start most scenes on the dolly. Once the master wide and spinning head shots were completed we would jump straight into handheld to pick off the mids and close-ups.
We also used a Weaver Steadman 3 axis manual head from Panavision and the F7 head on our PeeWee Chapman dolly. The WS rotates 360-degrees and the F7 can move in ways which you just can't do on a normal tripod. Both were used to give an extra sense of zero gravity. We also ended-up using two leaf blowers to accentuate the G-forces on the face of our actors. That was a lot of fun!
Our gaffer Craig Hudson (aka Monkey) had loads of helpful tricks to create lighting magic. He hid 2K blondes behind a hand-spun, handmade wooden fan blade. The fan created moving shafts of light. Top light shafts were created with a Dedo 400 through a projector lens. Different coloured gels were changed from set to set. Ax1s were attached to the ceilings and, as the ship went in and out of auxiliary modes, they dimmed and changed from blue to flashing red, giving us some serious production value.
The grade was done by Matthew Wingad at Viridian. My superb crew also included: 1st AC Jonny Rhodes, 2nd AC Josh Bloomer and, 3rd AC Zoe Howard; best boy – Adam Murphy; sparks Brain Mclucky and Vicente Vasquez; grip Guy Elliot, and grip assistant Dean King."