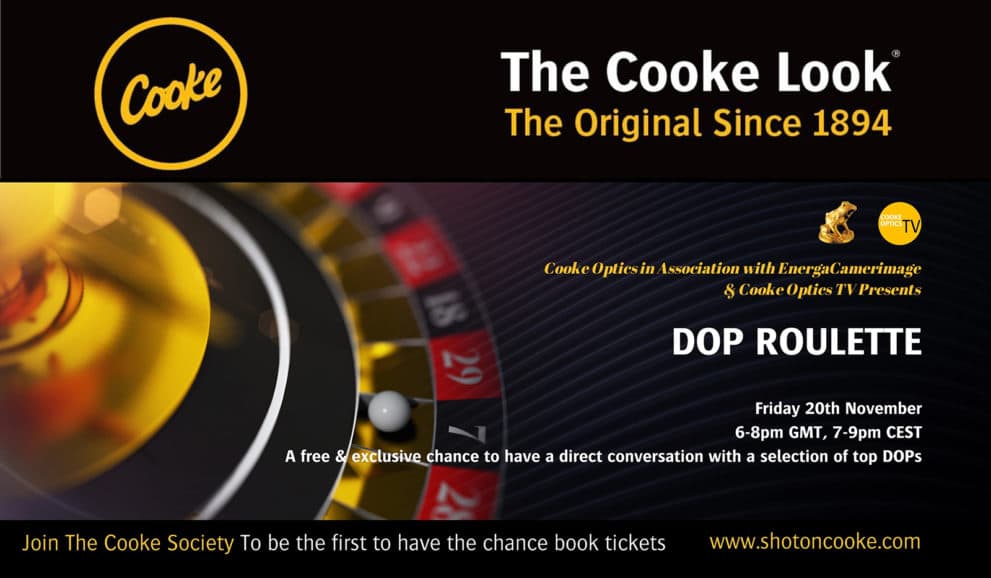 Cooke Optics brings an element of showbiz to virtual Camerimage 2020 by finishing the festival week with a studio-based experiential event called DOP Roulette.
Book a ticket for the event at 6-8pm GMT/7-9pm CST on Friday 20th November and you will meet croupier host, comic actor and impressionist Anil Desai in the Cooke Virtual Casino. After a little banter, Anil will spin the roulette wheel and you will land in a room for a conversation in a small group setting with one of Cooke Optics' DOP guests.
Confirmed DOPs include Lawrence Sher ASC; Dan Mindel ASC BSC SASC; Roberto Schafer AIC ASC; Barry Ackroyd BSC; Anthony Dod Mantle BSC DFF; Rodney Charters ASC; Jess Hall ASC BSC; Patrick Lin and Adam Habib from Pixar Animation Studios; Laurie Rose BSC; Christopher Ross BSC; Christopher Aoun; Geoff Boyle NSC FBKS; Oliver Stapleton BSC; and Nicolaj Bruel who is in the main competition at Camerimage with Roberto Benigni's Pinocchio. More special guests to be announced.
Tickets will be very limited. To be one of the first to be notified join The Cooke Society at www.shotoncooke.com.