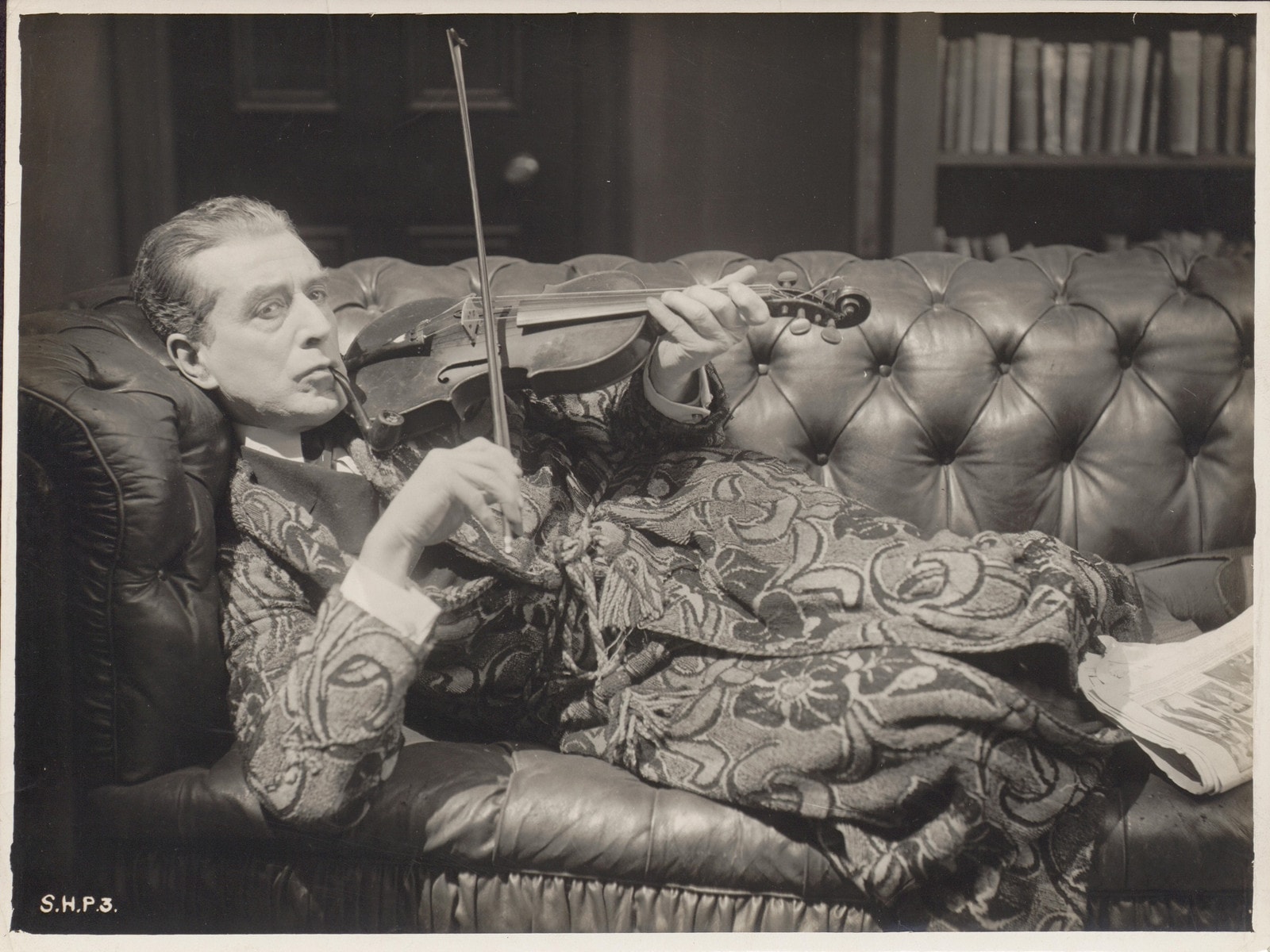 The BFI National Archive and Iron Mountain Entertainment Services (IMES), a division of Iron Mountain Incorporated, the global leader in innovative storage and information management services, announce a major new restoration project to fully restore all of the 1920s silent Stoll Sherlock Holmes film series starring Eille Norwood as the famous sleuth, currently held at the BFI Master Film Store in Warwickshire.
This project launch also marks 100 years since the first serial was originally screened. Once completed, this will be the first time that the entire film series will be seen by audiences in over 100 years.
Support for the digital restoration project has been made possible through Iron Mountain's Living Legacy Initiative, which is Iron Mountain's commitment to preserve and make accessible cultural and historical information and artifacts. Work is being undertaken by experts at the BFI National Archive and is expected to be completed by 2023, to coincide with the centenary of the release of the final serial and feature adaptation of The Sign of Four (1923).
The project reflects BFI and IMES' shared goal to help preserve, and make accessible, our shared cultural and historical legacy for future audiences to engage with globally. This work will involve inspection of surviving print materials and original paper documentation; stills, press books and promotional material from the period, as well as studying Conan Doyle's source material, the stories themselves, to assess what restoration work is needed to reorder and reconstruct the films, including missing intertitles, to help solve this particular Holmesian mystery.
Distinguished stage actor Eille Norwood is remembered for being the most prolific actor ever to play Sherlock Holmes on screen and stage. He portrayed the famous sleuth in 45 two-reelers across 3 serials: The Adventures of Sherlock Holmes (1921), The Further Adventures of Sherlock Holmes (1922) and The Last Adventures of Sherlock Holmes (1923), plus two features, Hound of the Baskervilles (1921) and THE Sign of Four (1923).
In 1923, Norwood returned to the role in a Sherlock Holmes play written specifically for him, 'The Return of Sherlock Holmes', which opened on the West End. The play was acclaimed by public and critics alike and toured the UK and internationally. Norwood still holds the record for having appeared in more Sherlock Holmes films than any other actor connected to the role.
Bryony Dixon, curator of silent film, BFI National Archive said, "There have been a number of silent Sherlock films previously restored, but the scale of this project to restore an important part of the screen Sherlock canon is on another level. The BFI's curators and restoration experts will be donning their deerstalkers and taking up their magnifying glasses in pursuit of bringing the pieces of the puzzle together to solve this particular film mystery. We are delighted that Holmes film fans from across the world will at last be able to enjoy Eille Norwood's performance as the great detective. The restoration is a mammoth undertaking and we are grateful to have the support and commitment from Iron Mountain in helping us realise this project, what an adventure!"
Lance Podell, senior vice president of Iron Mountain entertainment services said, "Sherlock Holmes is one of the most famous literary characters of all time, but he's more than just a character. Sherlock Holmes is an enduring emblem of observation, intelligence and mystery whose tales have enamored fans around the world, including all of us. IMES' mission is to protect and activate precious archives, preserving our collective cultural heritage.  In this way, we are thrilled to work with BFI to support the restoration of the Stoll Pictures Sherlock Holmes film series so that these films can be shared and enjoyed for generations to come."