Magic Lamps

Alan Stewart / Aladdin
Magic Lamps

Alan Stewart / Aladdin
WANT TO READ IT ALL?
Below is only a teaser, and the full interview can be found in the May 2019 issue (93) of British Cinematographer magazine.
If you purchase a year's digital subscription from just £30, or a year's all-inclusive subscription from just £64, you can read the interview in Issue 93 by clicking HERE. You will also receive access to the rest of our extensive back catalogue.
Live-action remakes have become a significant part of Disney's 21st century strategy, just as its beloved animated originals were in decades gone-by.
The 1996 live-action remake of 101 Dalmatians started the trend. Tim Burton's 2010 reimagining of Alice In Wonderland grossed over $1 billion worldwide and, in 2017, Beauty And The Beast went on to earn over $1.26 billion at the worldwide box office, making it the 14th highest grossing film of all-time, and the second-biggest musical ever overall, behind Disney's Frozen (2013).
In 2019, Walt Disney Pictures is releasing no fewer than four more remakes: Dumbo, The Lion King, Lady And The Tramp, which will be launched on the Disney Plus streaming service, and Aladdin.
Directed by Guy Ritchie, co-written by regular Tim Burton collaborator John August, and shot by British cinematographer Alan Stewart, Aladdin is based on Disney's 1992 top-grossing animated film of the same name, which was in turn based upon the eponymous Arabic folktale from One Thousand And One Nights.
The narrative of the new musical fantasy follows Aladdin, a poor but kind-hearted street urchin, who makes ends meet by stealing from the marketplace in Agrabah, a city of mystery and enchantment, located near the Jordan River.
Aladdin's adventures begin when he accidentally meets a young girl, Princess Jasmine, who is being forced into marriage by her wacky yet estranged father, the Sultan. Aladdin's luck suddenly changes when he retrieves a magical lamp from The Cave Of Wonders. What he unwittingly gets is a fun-loving genie who only wishes to have his freedom. But, little do they know that the Sultan's dark and sinister advisor, Grand Vizier Jafar, has his own plans for both Aladdin and the lamp.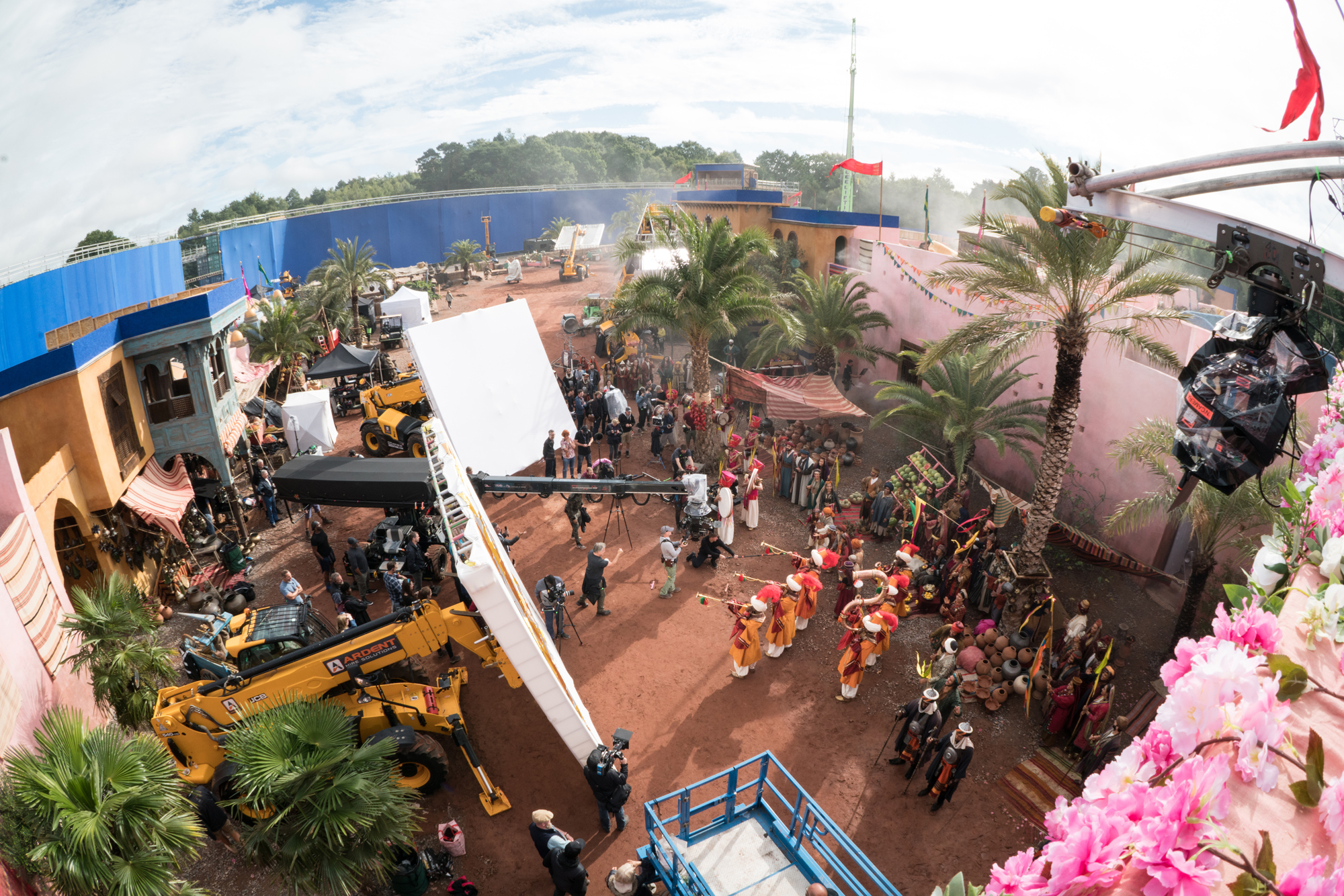 The film stars Mena Massoud in the titular role, alongside Will Smith as the omnipotent Genie, Naomi Scott as Princess Jasmine, Marwan Kenzari as Jafar, with the Sultan played by Navid Negahban.
Stewart's connection with Ritchie reaches back to 1995, when he operated and shot Steadicam on the director's short, The Hardcase (DP Jan Pester), somewhat of a calling card for what would be come Lock, Stock And Two Smoking Barrels (1998, DP Tim Maurice-Jones). The pair kept in touch, and Stewart served as the second unit cinematographer on Sherlock Holmes (2009) and Sherlock Holmes: A Game Of Shadows (2011), both directed by Ritchie, and both shot by DP Philippe Rousselot AFC ASC, and then Ritchie's King Arthur: Legend Of The Sword (2017, DP John Mathieson BSC). Following Aladdin, Stewart then went on to serve as the cinematographer on Ritchie's forthcoming gangster flick, currently titled The Gentlemen.
Interestingly, until shooting Aladdin, the bulk of Stewart's work constituted a regular string of second/VFX unit credits, shooting under the auspices of many leading British and international cinematographers on high-profile movies. Along with his work on the two Sherlock films and King Arthur, these include: Elizabeth: The Golden Age (2007, DP Remi Adefarasin BSC), Inkheart (2008, DP Roger Pratt BSC), Into The Woods (2014, DP Dion Beebe ACS ASC), Spectre (2015, DP Hoyte Van Hoytema FSF NSC ASC), Pan (2015, DP Seamus McGarvey BSC ASC), Allied (2016, DP Don Burgess ASC), Ready Player One (2018, DP Janusz Kaminski ASC), The Commuter (2018, DP Paul Cameron ASC) and Mary Poppins Returns (2018, DP Dion Beebe ACS ASC). Prior to shooting Aladdin, Stewart's credits as cinematographer on a long-form feature stretched as far back as Broken Thread (2007) and Lab Rats (2010).
So did Stewart feel daunted by the prospect of leading the cinematography on a key Hollywood blockbuster?
"I think the second unit work I have done over the years - learning from, and emulating the work of, many brilliant cinematographers, whilst having to make seamless contributions to a wide variety of movie styles and genres - gave me a lot of invaluable experience, and proved great stepping stones," says Stewart.
"Essentially, the challenges and problems are the same in both camps, except as the lead cinematographer the timescales are longer and there are more sets and logistics to deal with. So, although Aladdin represented quite a daunting creative challenge, I was very eager to step-up to the plate when Guy offered me the opportunity to shoot it for him."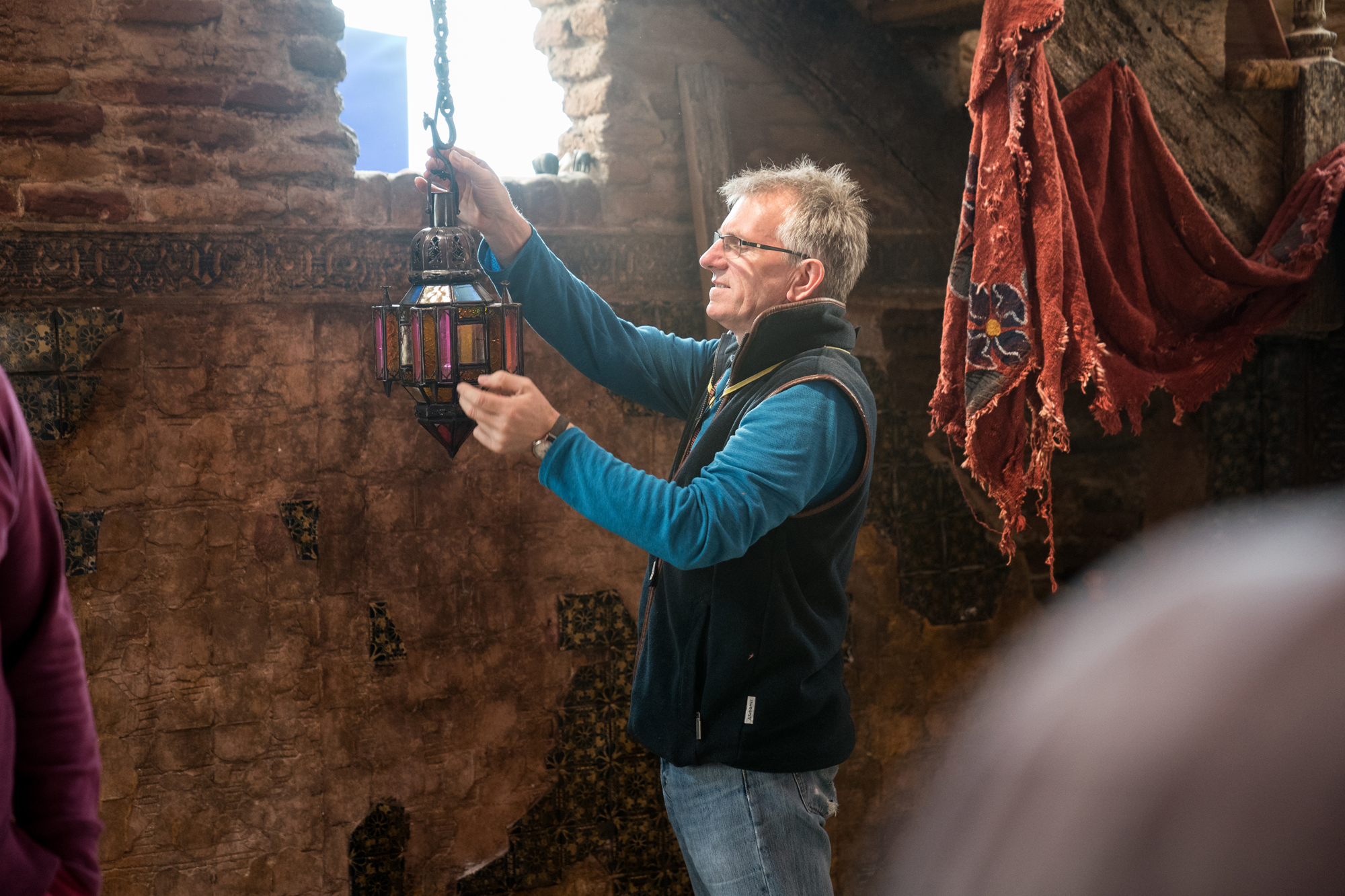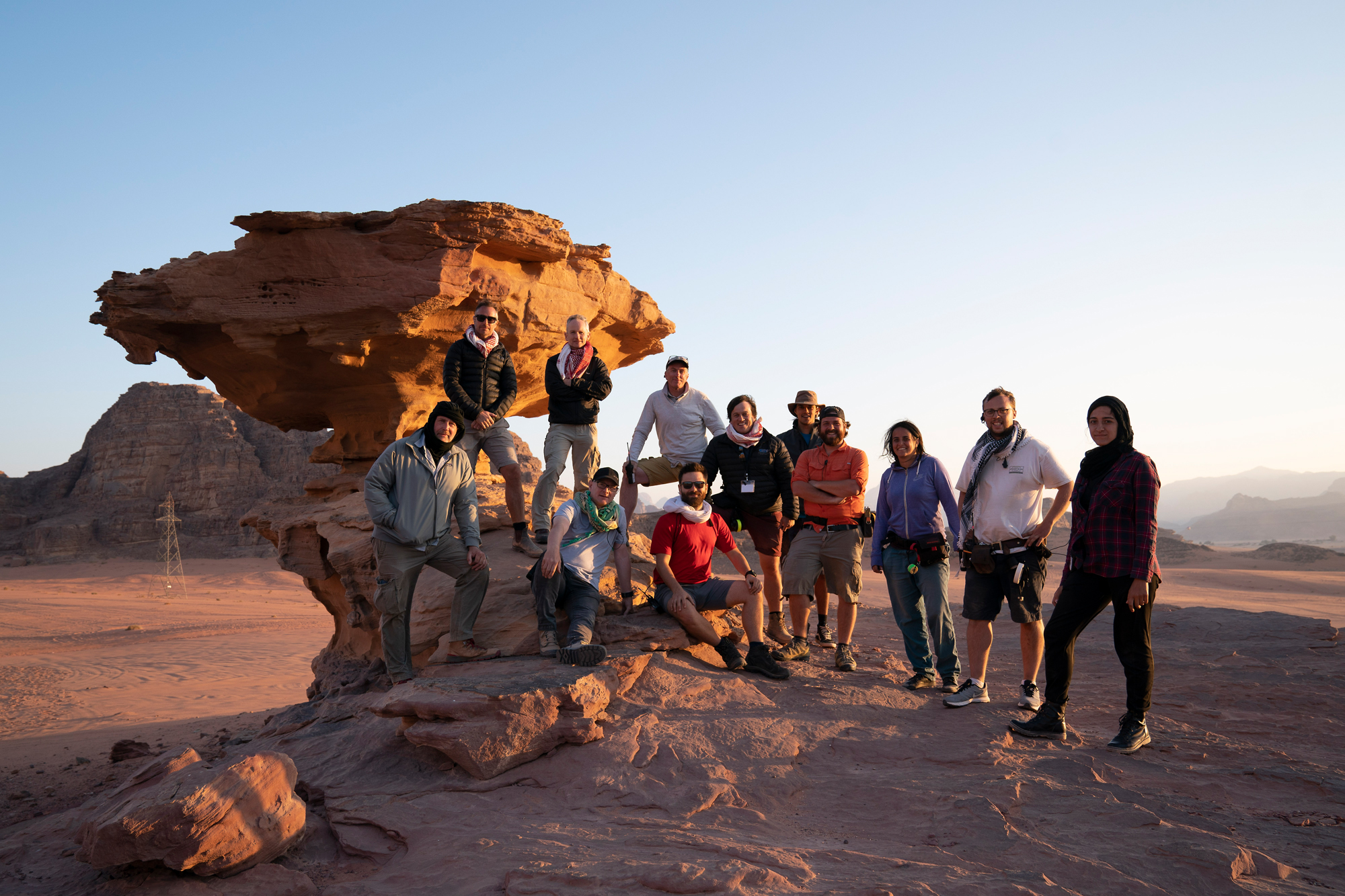 "On one overcast day on the backlot at Longcross, we burned pretty much every lamp we had, around 750kWs, to deliver a mass of hot, desert sunlight between the gaps in buildings and down the alleyways."
- Alan Stewart
Stewart says that whilst he and Ritchie initially had open-minded discussions about the look for Aladdin - including the possibility of extremely crushed and bleached-out desert imagery, inspired by such movies as Black Hawk Down (2001, DP Slawomir Idziak) and Sahara (2005, DP Seamus McGarvey BSC ASC) - the sheer practicality of having to blend a variety of locations in the UK and abroad with interior and exterior stage work, not to mention a host of VFX, led them towards a more streamlined, colourful and energetic visual aesthetic that would suit the Disney style.
The other major initial challenge was where to site the production. "One of the original concepts was that we would shoot the vast majority of the Agrabah city scenes in Morocco, in a hot, desert environment, but cast availability had a direct influence of when and where things were actually done," he explains.
Accordingly, the photography on the movie started with a series of pre-shoot days in late August 2017, of various scenes involving Mena Massoud at the Snozone indoor skiing and snowboarding centre in Milton Keynes, followed by Will Smith in a boat on a bluescreened water-stage at Longcross Studios, Surrey.
Principal photography began in earnest on September 6th at Longcross, before the production moved to the Wadi Rum Desert in Jordan in November for a 15-day stint, taking in the same rocky outcrops that had been used in David Lean's Lawrence Of Arabia (1962, DP Freddie Young BSC ASC), and The Seven Pillars Of Wisdom as the entrance to The Cave Of Wonders. After this, the production reverted to the UK, relocating to Arborfield Studios, near Reading, until the production's conclusion at the end of January 2018.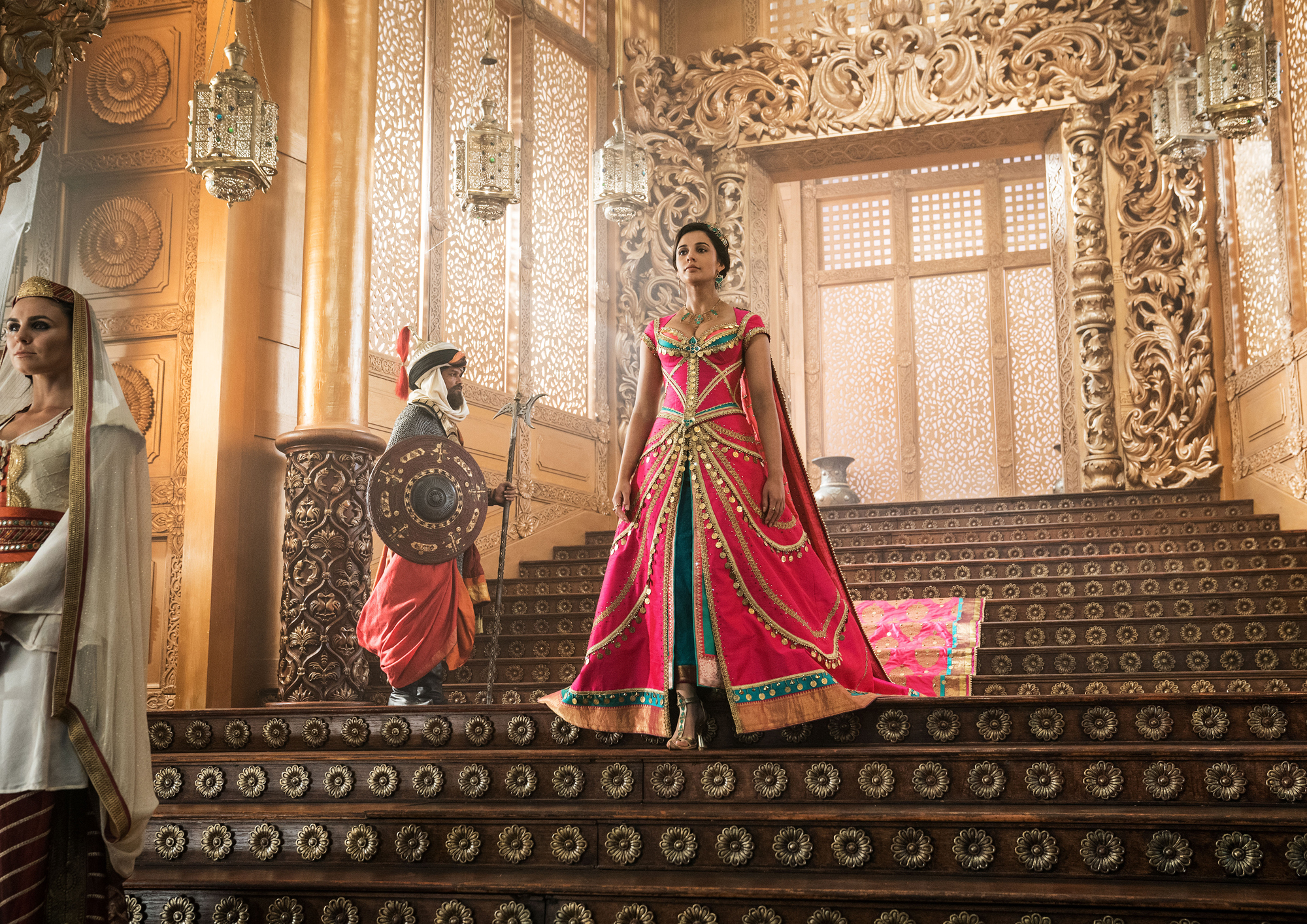 At Longcross the construction crew built a huge U-shaped, bluescreen water stage on a turntable that would help with the optimal positioning of boats and ships in backlight sunshine. The studio's skid-pan backlot saw the build of a huge Agrabah city set, also oriented to maximise the use of the sun as a backlight, where a set-piece song-and-chase scene was shot. Various Palace interiors and gardens, and Aladdin's dilapidated tower were built inside the stages.
Over at Arborfield Studios, producer Kevin De La Noy was instrumental in getting infrastructure put in place to create new stage space for several interior and exterior sets. These were built in readiness for the production's return from Wadi Rum, and included The Cave Of Wonders, Princess Jasmine's bedroom, a dungeon, and additional Agrabah exteriors.
Along with close and on-going collaborations with production designer Gemma Jackson and costume designer Michael Wilkinson, Stewart also convened early-on with colourist Peter Doyle (then at Technicolor, London), plus DIT Francesco Giardiello. They both helped to create an ACES set-to-post colour pipeline with on-set grading capability, as well as calibrated projection theatres for dailies review at Longcross and Arborfield. Additionally, second unit DIT Gastone Ferrante, with whom Stewart had worked previously on the second unit of Mary Poppins Returns, assisted with test material shot in Jordan, and was the DIT on the second unit.
"Essentially, we graded as we went along. Whilst shooting I would perform CDL grades in the DIT tent with Francesco and Gastone. The workflow was set-up such that the CDLs would pass along the image chain, preserving the image that we had graded, and liked, on the day," says Stewart.
READ IT ALL
The full interview can be found in the May 2019 issue (93) of British Cinematographer magazine.
If you purchase a year's digital subscription from just £30, or a year's all-inclusive subscription from just £64, you can read the interview in Issue 93 by clicking HERE. You will also receive access to the rest of our extensive back catalogue.