The life and times, through the films of one of Britain's greatest cinematographers, will be the feature of an illustrated interview and presentation at the Regent Street Cinema, London, on March 7th, writes Nigel Walters BSC.
Chris Menges BSC ASC was awarded the Lifetime Achievement Award at the 2015 Camerimage Festival Of Cinematography. To celebrate his life, the festival published an astonishing book, in effect his autobiography, written with honesty and simplicity by a man respected as much for his humanitarianism as he his for his imagery. Candid, and at times deeply moving, this book is unlike any other published in the magnificent series by Camerimage.
If Oscars could be awarded for documentary cinematography, then Chris Menges would have won many before gracing the interior of any film studio. And this modest man was the winner of Academy Awards for The Killing Fields (1985) and The Mission (1987), with further nominations for Michael Collins (1997) and The Reader (2009). He was also the cinematographer responsible for such iconic gems as Kes (1968) and Local Hero (1983).
The forthcoming presentation will illustrate his extraordinary life – from tales of his documentaries, to his feature films directed by Ken Loach, Bill Forsyth, Stephen Frears, Tony Scott, Franco Rosso, John Mackenzie, Neil Jordan, Roland Joffe, Roy Battersby, Andrei Konchalovsky, Jim Sheridan, Sean Penn, Tommy Lee Jones, Richard Eyre Stephen Daldry and others.
As director on A World Apart (1988, winner of Cannes Grand Jury Prize and NY Film Critics Circle) his cinematographer was Peter Bizou. Later collaborators were Ivan Strasburg, Ashley Rowe and Barry Ackroyd.
This review offers a fleeting glimpse of Chris' journey in his attempt to make sense of the world through observation and cinematography. His documentary experience from the age of 22 on World In Action would appear to have influenced his thinking, approach and philosophy on life. It certainly resulted in enduring images on every film he has ever photographed.
Director Jim Sheridan wrote after completing The Boxer: "Chris embodied the soul of the documentary filmmaker who had been lost in the jungle for almost a year and who persisted, but always looked under the surface to find a deeper truth. He bathes the scene in a glowing reality that you can touch. The idea of a man seeking peace inside and out."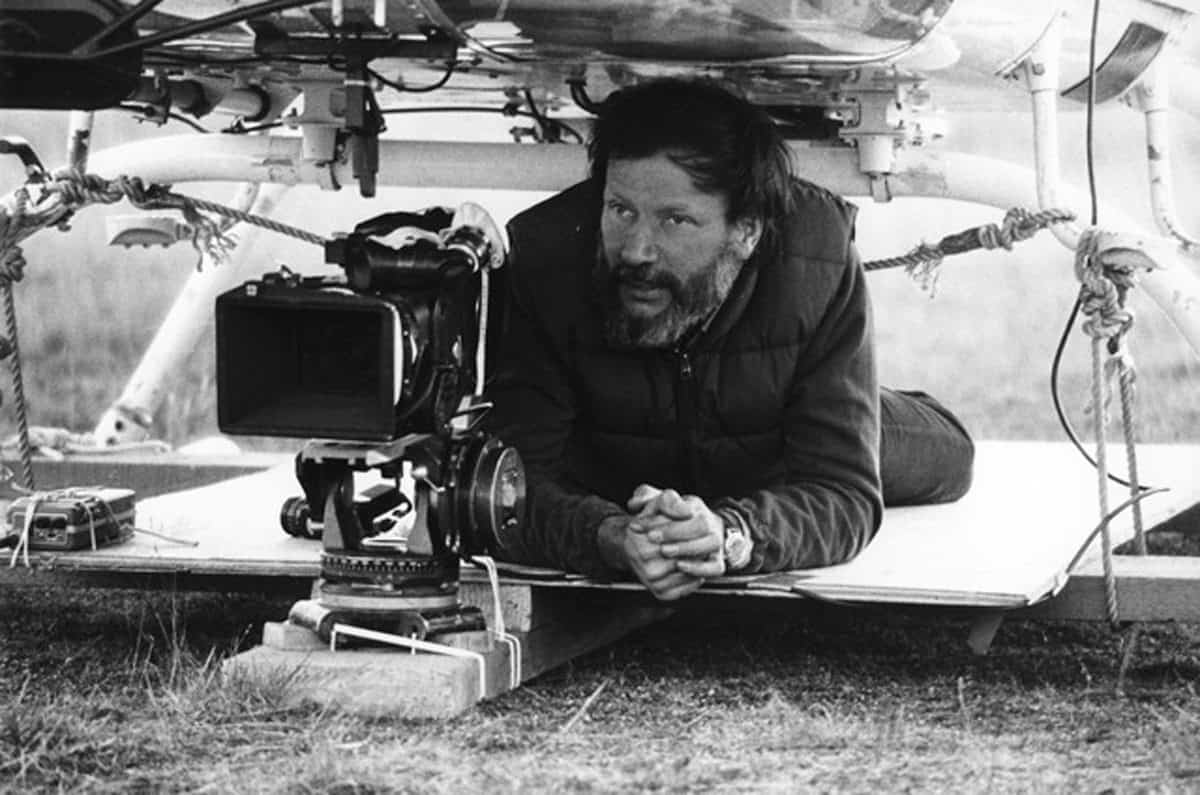 All that appears on the cover of the book is the name "Chris Menges" and a simple B&W photograph. Nothing more is needed. The book is a "must read" for filmmakers of all ages. It embraces the history of our time through Chris' documentary exploits in the jungles of Burma, Vietnam and the Amazon, contact with the ANC in South Africa, trouble in Congo, Cyprus and Algeria, opium wars in Burma, freedom fighters in Tibet and revolution in Zanzibar. It is the story of a unique journey by a man of his time, as recorded for posterity, with no holds barred.
While shooting for The Reader, after visiting a concentration camp he writes, "being there is profoundly troubling. It's hell on Earth. You cannot help being emotionally drawn into this material. I try to work only on films that I can learn from. Work is my university – it's about educating myself."
To understand the influences on the life of Chris Menges requires an appreciation of the enchantment of the land of his birth. He writes with passion in his poetic prose, "the land of the Welsh Marches is the most amazing and interesting countryside. The magical, gentle green hills, brilliant trees and hedgerows are alive with birds and mammals, and are dotted with sheep, cattle and farming folk. Come spring, it would be all blood and guts during lambing; later, the landscape turned soft and gentle during long summer days. The land would be forever home, and remain in my heart."
A farm in Wales was purchased for £2,500 in 1971, with the help of a loan from Stephen Frears. It has remained the home he shares with his wife Judy. The hills and environment have been a haven to return to and make sense of the world.
After arrest in Zanzibar during a revolution, Michael Parkinson, describes Chris Menges: "A newcomer to World In Action, a quiet, seemingly shy young man with almost a diffident manner, yet a fearless operator." A year later in Nepal working on a film series on Buddhism, Chris quoted in his diary, "selfishness is the greatest evil and until egotism is eliminated demons will await with an open mouth." He felt immense pride in working for, "a weekly television programme to fight injustice with bravery."
Crossing the peaks of Nepal to film the ambush of Chinese supply vehicles in Tibet in 1964 he writes, "We zipped our bodies inside our lightweight sleeping bags. We lay on a grassy slope covered in snow and cracking frost. It was very, very, cold. Stars came and vanished as banks of cloud came across the sky."
The book is written with honesty and passion. It is the latest addition to the historic series published by Camerimage for which all cinematographers should be grateful. To the list of Vittorio Storaro, Vilmos Zsigmond, Laszlo Kovacs, Guiseppe Rotunno, Billy Williams, Owen Roizman, William A Fraker, Freddie Francis, Tonino Delli Colli, Robby Muller, Stephen Golblatt, Pierre Lhomme, Dante Spinotti. Michael Ballhaus, John Seale, Vadim Yusov, Slawomir Idziak and Caleb Deschanel, Camerimage has now added with pride that of Chris Menges.
It is expected the copies will be available through the BSC and sponsors, following a reprint being negotiated with the publishers. The following are observations from other readers: "This book is so beautiful. It is a remarkable document. I loved it and I was very moved by it," Scott Rudin, and "We are inspired. This book will serve the young generation well," Tenzin Phuntsog.