Femme fatale
Ula Pontikos BSC / Film Stars Don't Die In Liverpool
Femme fatale
Ula Pontikos BSC / Film Stars Don't Die In Liverpool
Set in the late 1970s and early 1980s, the critically-acclaimed Film Stars Don't Die In Liverpool retells the biographical account of actor Peter Turner and his brief but passionate relationship with Oscar-winning actress Gloria Grahame during the last years of her life.
Turner, a struggling young thespian aged 28, first encountered and fell in love with the legendary Hollywood star, as she was living in the same boarding house in Primrose Hill, London. For her part, Grahame in her late 50s, was in the final throes of her acting career, but still managing cheerful optimism in her search for theatrical roles, whilst bottling-up concerns about her physical health. What started as a vibrant affair between the legendary femme fatale and her young lover quickly grew into a deeper relationship, as Turner became the person Grahame turned to for comfort.
Some years after their vibrant affair ended, Turner received news that Grahame had collapsed in her dressing room during a theatrical tour in the UK. After discharging herself from hospital, she requested to stay with Peter and his family in their terraced house in Liverpool, convinced that she could recuperate there. The story of their true-romance unfolds magically in the movie, slipping between past and present (two years later) London, Los Angeles, New York and Liverpool.
The production, based on Turner's memoir of the same name, was directed by Paul McGuigan, produced by Barbara Broccoli and Colin Vaines, with the screenplay adapted by Matt Greenhalgh. Annette Bening and Jamie Bell take the lead roles of Grahame and Turner, with Kenneth Cranham and Julie Walters playing Turner's mother and father, and Vanessa Redgrave performing as Grahame's mother.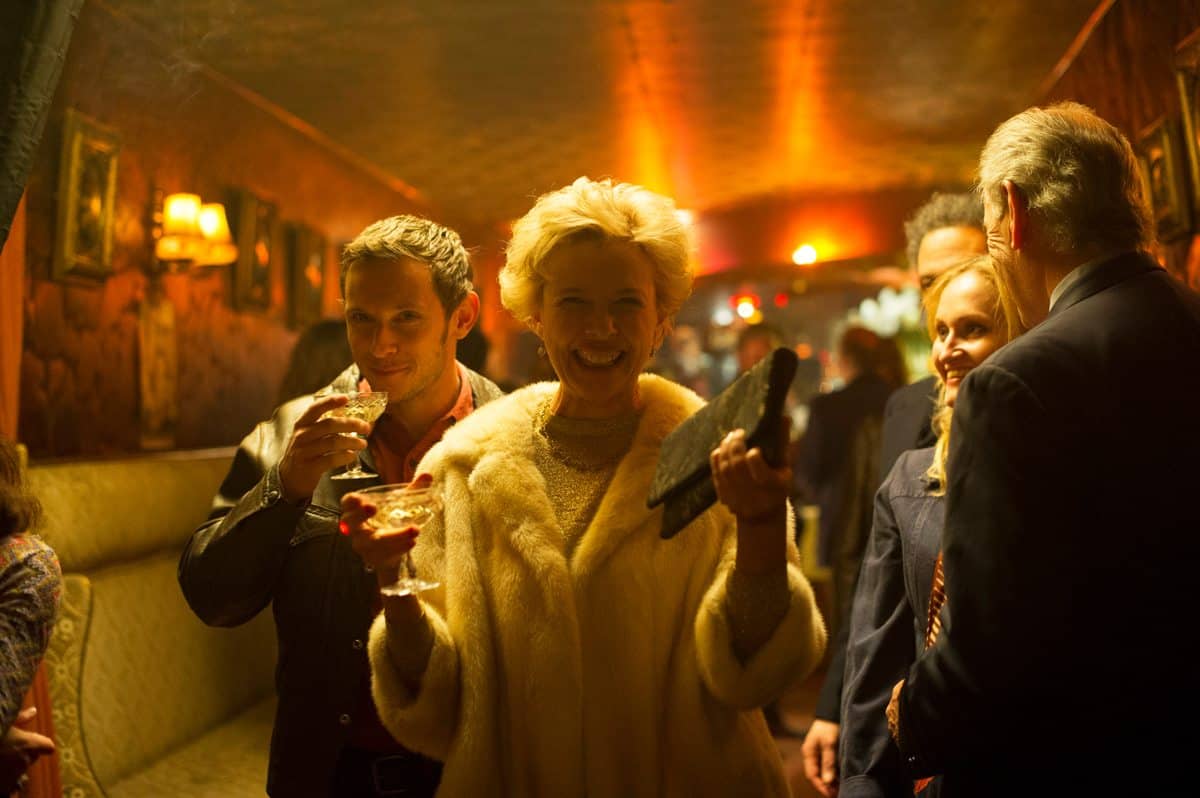 Cinematographer Ula Pontikos BSC was chosen to photograph the seven-week production, which began shooting in Liverpool at the end of June 2016, before moving to cleverly-constructed sets at Pinewood Studios, which enabled one-take theatrical scene changes between time periods, as well as back-projections of settings such as Malibu beach and the Pacific Coast Highway.
In Liverpool, the production shot on the Royal Iris Mersey Ferry, Liverpool Playhouse, the Philharmonic Pub, and residences on Rundle Road and Huskisson Street. London locations included Hornsey Town Hall, the Phoenix Cinema in Finchley, the Everyman Cinema Muswell Hill and the Rivoli Ballroom in Brockley. Production wrapped in August.
"I was warmly invited to shoot Film Stars Don't Die In Liverpool by Paul, and welcomed by Barbara and Colin shortly afterwards," says Pontikos. "The main idea behind the camera work in the film was inspired by, and was a homage to, Gloria's movies, such as In A Lonely Place (1950) in which she co-starred with Humphrey Bogart, as well as It's A Wonderful Life (1946), Crossfire (1947), Sudden Fear (1952), The Bad And The Beautiful (1952) and Human Desire (1954). These films had lots of centre-framing and slow, calm and graceful movement.
"However, as our film was based around the theatre, Paul also wanted to include some of the old-school artifice that you find in staged productions and several of Gloria's old movies – such as clever scene transitions and back-projections – to transport the audience into the world of these paramours."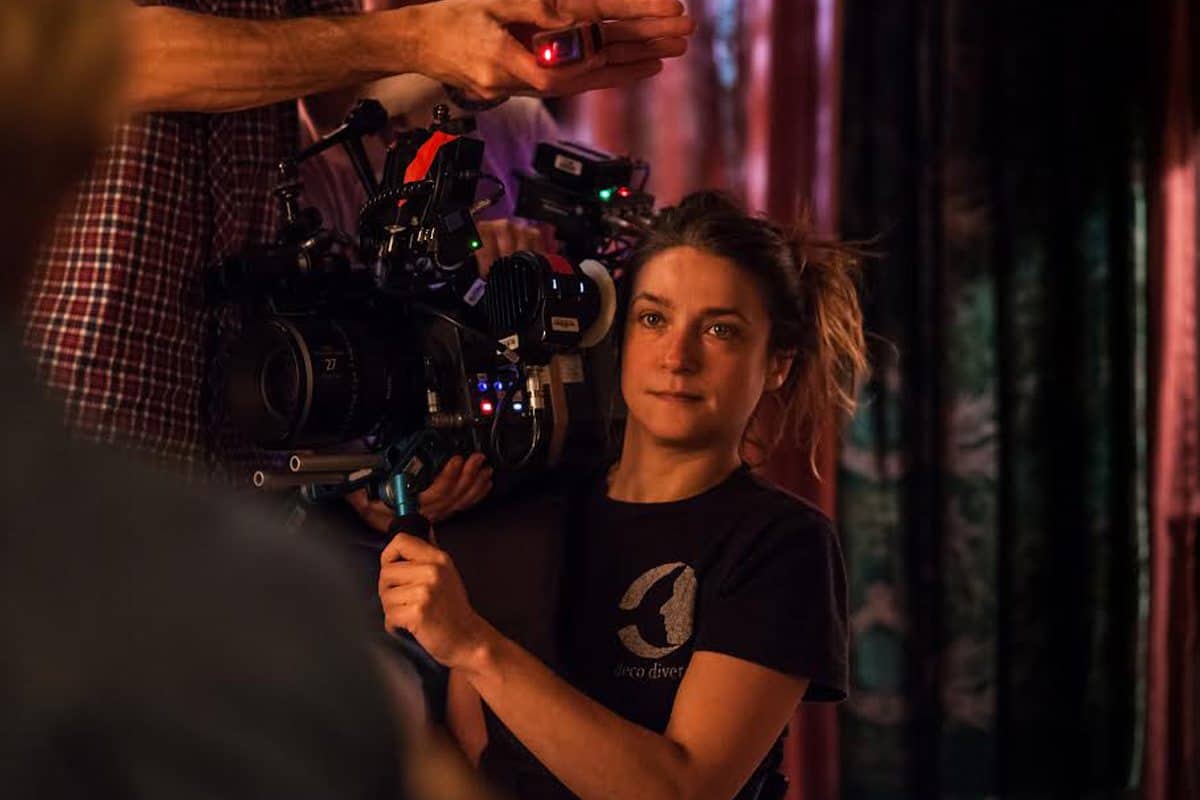 "As this was a romantic melodrama, I suggested that we tie all of the memory sequences together by the use of rich orange, golden and sunny colours, which Paul (McGuigan, Director) really liked. "
- Ula Pontikos BSC
Along with these references, and the script, Pontikos says she also made a point of reading Turner's original book. "When I get a project that is based on a book, I always read the book, every single time. You pick up extra clues and cues about time and place, as well as the emotional storytelling."
As a case in point, McGuigan was keen that the Liverpool scenes and scenes from memory were not stylistically different, but shared a visual similarity. "I remembered a photograph of Gloria with Peter's cousin on the balcony of her New York apartment, which although faded, had clearly been shot in lovely, bright sunlight. As this was a romantic melodrama, I suggested that we tie all of the memory sequences together by the use of rich orange, golden and sunny colours, which Paul really liked."
During her four-week prep period, Pontikos elected to shoot the production in ARRIRAW using Alexa SXT, which she operated, fitted with uncoated Master Prime lenses. "Compared to other lens I tested, the uncoated Master Primes have a lovely filmic flare and bloom, which were perfect for the romantic nature of this production, especially the bright and sunny moments," she says.
Steadicam sequences in the production were variously shot by Derek Walker, Alf Tramontin and Thomas English. A-camera focus puller was Jon Garwes. The gaffer on the production was Eddie Knight, with Kevin Foy the key grip.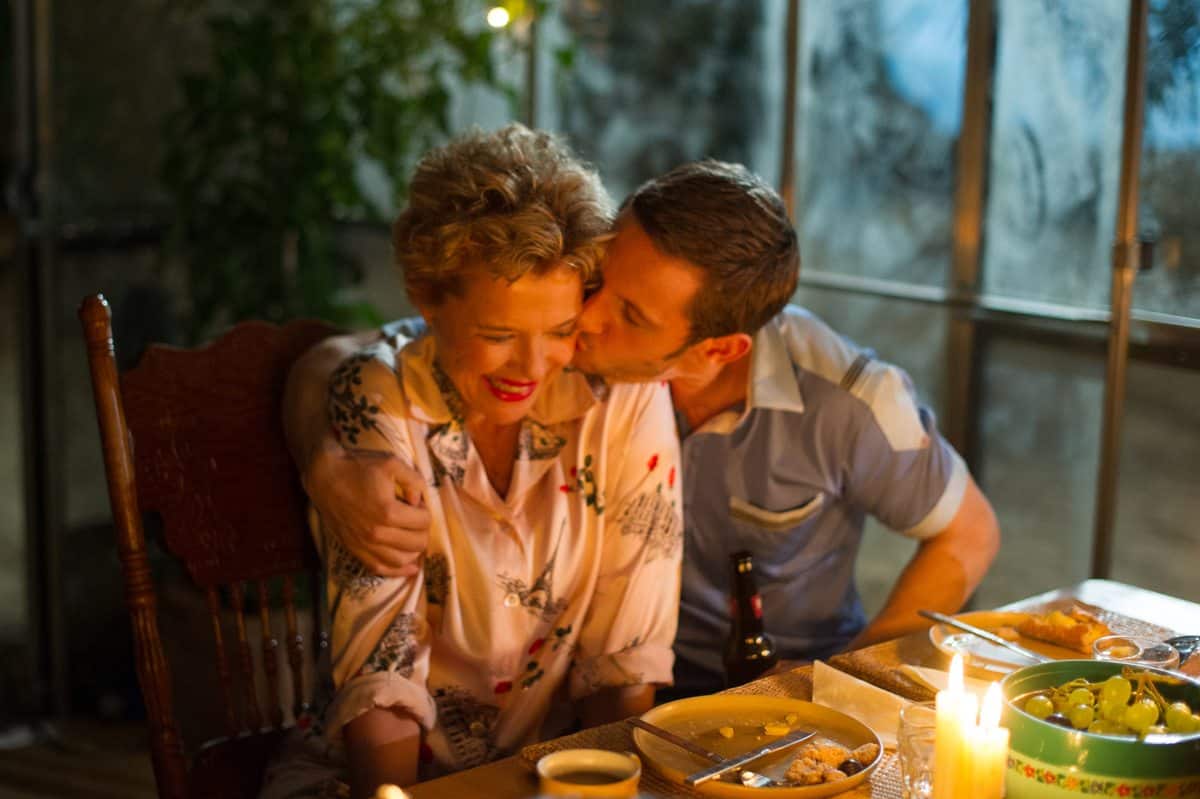 A key challenge for Pontikos was how best to shoot the projections. "We shot a number of tests and discovered that back-projection gave us more depth than front-projection. We could really feel the depth of the skies and ocean. But, during the research we were advised to beware – projections can be a real pain in the arse, as the plate dictates the style of lighting. Because a projector's native colour temperature is around 6000K, we used CTO gels on the projector's lens to warm the plates during daylight and "magic hour" plates. For the moonlight scene, we lit actors with another projector bounced of a silk frame. So the colour temperature matched exactly."
Plates for the back-projected Malibu sunset plates were shot at Joss Bay in Broadstairs, Kent, by Stefan Lange using an ARRI Alexa 65 large format camera. Other plates, such as the Pacific Coast Highway, were acquired through meticulous research of 35mm archive footage from the 1970s and 80s, before being scanned to 4K for projection. Pontikos employed the skills of Lester Dunton to correctly display background plates, pre-graded at Asa Shoul at Molinare, on large Translights set-up on the stage at Pinewood, using an array of up to four Barco 4K DLP projectors.
Pontikos says that shooting the transitions that helped the narrative slip between time periods was fun, albeit intense. One such scene sees the action transition from a passionate love-making scene in Primrose Hill into a scene where Turner brings Grahame a glass of milk in bed in Liverpool.
"We had a circular set in which the Primrose Hill and Liverpool scenes were conjoined with floating walls, along mousetraps and hideaways for the actors to manoeuvre around," explains Pontikos. "When the camera tilted up, this was the cue for Jamie and Annette to change their costumes and rearrange positions. As the camera panned around the wall, it became a co-ordinated effort by the actors, props and lighting teams, to get ready for when the camera circled back on to the performers in the Liverpool scene. Although it was tense, it was also quite hilarious to see all of that action taking place just outside of the frame. But the on-screen result looks absolutely amazing."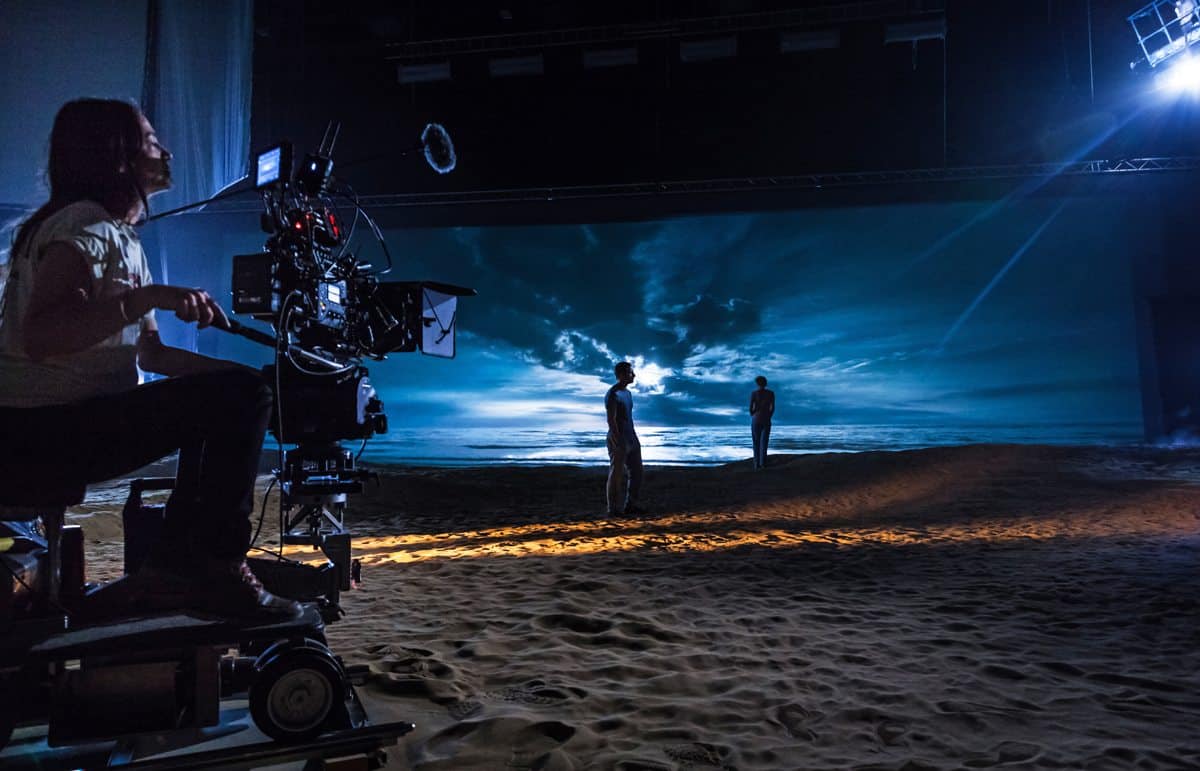 A 2008 graduate of the National Film & Television School, Pontikos is quite candid about the step-up that Film Stars Don't Die In Liverpool has provided her cinematographic career. "It was a big project for me, and there was always something to do – a recce, pre-light, rehearsal, back-projection, discussion with Paul – and I worked on it pretty much every single day. I learnt a lot, and I will be forever grateful for the opportunity afforded to me by Paul, Barbara and Colin, who stood by me all the way."
Perhaps the final word about Pontikos' work in portraying the intense, complex and intimate drama should go to Gloria, or rather Annette Bening who told Screen Daily: "Ula was absolutely terrific and incredibly smart. The cinematographer is such an important thing for an actor. It's an intimate relationship. The great ones feel as much as the actors, the writers and the directors. The great ones are in-there, they feel the room. It's such a man's world, the set, but Ula handled herself brilliantly and everyone supported her."