FLYING HIGH
Drones became both hugely popular and much derided during the 2010s. In the last five years the remotely controlled, unmanned flying craft has made its mark on filmmaking, enabling aerial shots that would be difficult or impossible for conventional aircraft, wire systems or cranes. Of the many companies offering drone services for film, XM2 has set itself apart by developing its own units to carry camera arrays for more specialised shooting.
XM2 was founded in Melbourne by Stephen Oh 21 years ago, initially as a multi-media advertising agency (the initials stand for 'extreme multi-media'). Oh originally studied chemical engineering and "somehow got into film". From the lower ranks he worked his way up to become a co-ordinator, then a line producer and eventually a producer of TVC and corporate movies in South Korea.
In his spare time Oh flew remote controlled model helicopters and aircraft. It was through this hobby that he made the move into the field that is now his main business. "About eight years ago I said to other model aeroplane enthusiasts in Melbourne, let's set up a drone company," he explains. "Drones were starting to come about at the time but were very small for carrying small systems. We built our own drones to carry large cameras."
Oh and his colleagues developed a drone to carry the RED 4K for the film Lion (2016, DP Greig Fraser ACS ASC). "We made the gimbal as well," says Oh, "and after that we got on to Pirates of the Caribbean: Dead Men Tell No Tales [AKA Salazar's Revenge, 2017]. The cinematographer, Paul Cameron ASC, said he didn't want us to fly the RED, he wanted the Alexa. There was no Mini version back then so we developed the first 39.9kg (88 pound) drone to fly an Alexa XT M. That was the biggest drone in the world at the time."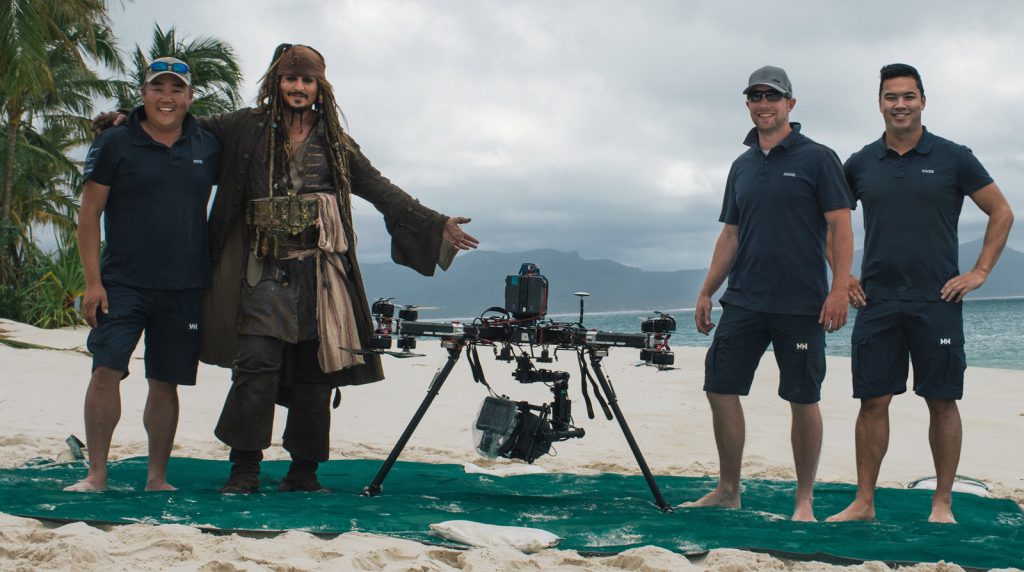 Bigger projects followed, including Thor: Ragnarok (2017, Javier Aguirresarobe ASC) and Aquaman (2018, Don Burgess ASC). To support this work XM2 became focused on drones for filmmaking and established its own R&D department to develop new units. XM2 Labs operates as a separate entity under the umbrella of the main company. It handles all system development, prototyping, manufacturing, testing and implementation in-house at its Melbourne headquarters.
This work is undertaken by a team of engineers specialising variously in aerospace, mechatronics, electronics and marine technologies. "The Labs is the core of all our R&D," Oh comments. "It has produced a lot of innovative stuff, including the Stingray, a drone that flies arrays featuring three Alexa LF Minis suspended underneath the main body."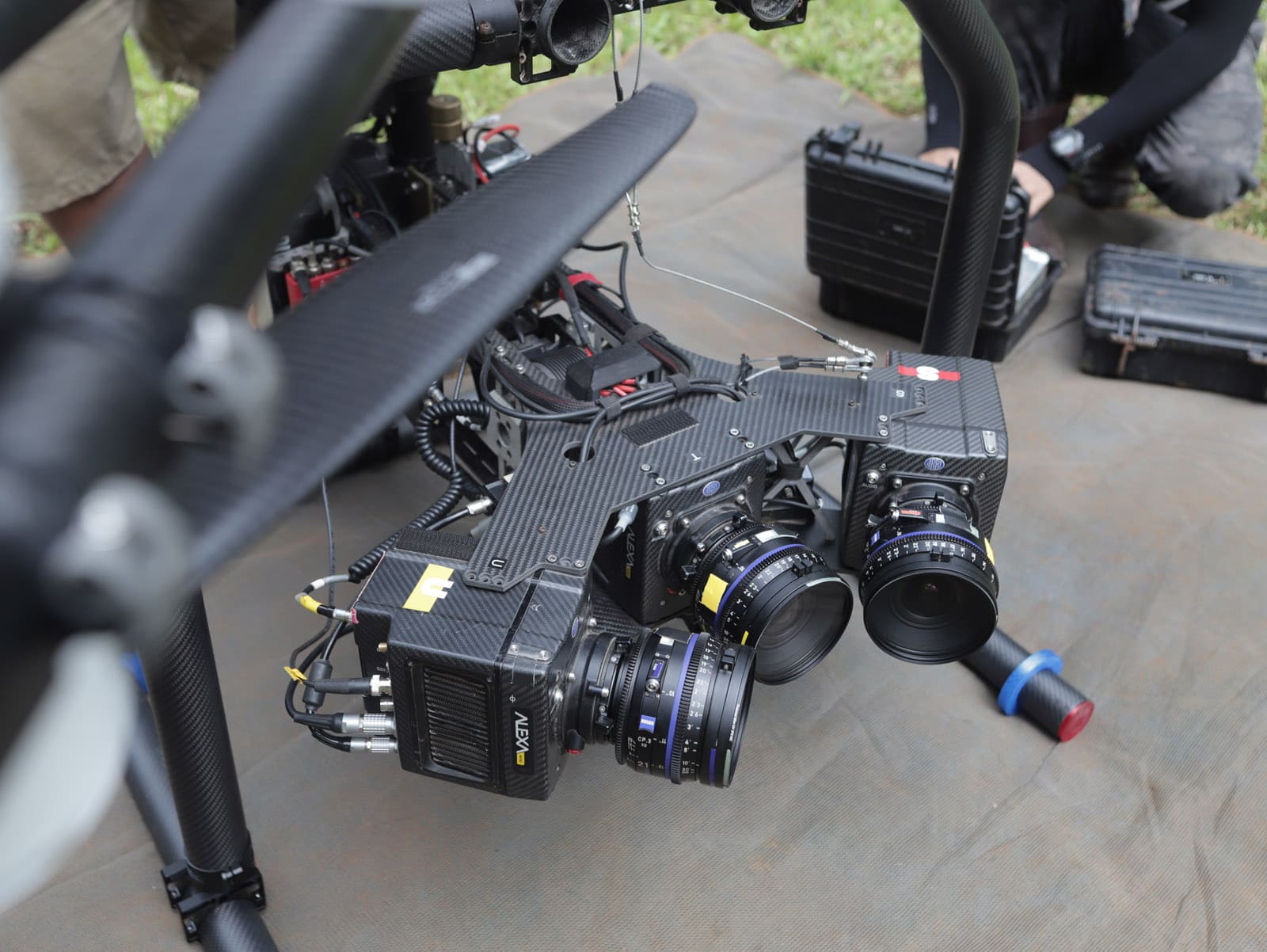 Another heavy-duty camera-carrying drone, which Oh describes as XM2's "primary bread and butter" system, is the Tango. It comes in two versions; the core model is now in its second generation and has a maximum payload of 19.7kg (43.4 pounds), while the Tango Lite can carry 17.7kg (39 pounds). Oh says that the Tango, like his company's other products, comes from practical application as much as they do an inspired idea.
"It's not just innovating something and trying to sell it," he explains. "We develop the systems to use ourselves. We're pretty efficient with our designs. Traditionally, someone comes up with an idea and goes to an engineer, who draws it up on a CAD. It later goes to a fabricator for the prototype. All that takes time before the final product which is why we do it all in-house. Our engineers also work on set as drone technicians as well as knowing about 3D printing, milling and carbon fibre cutting."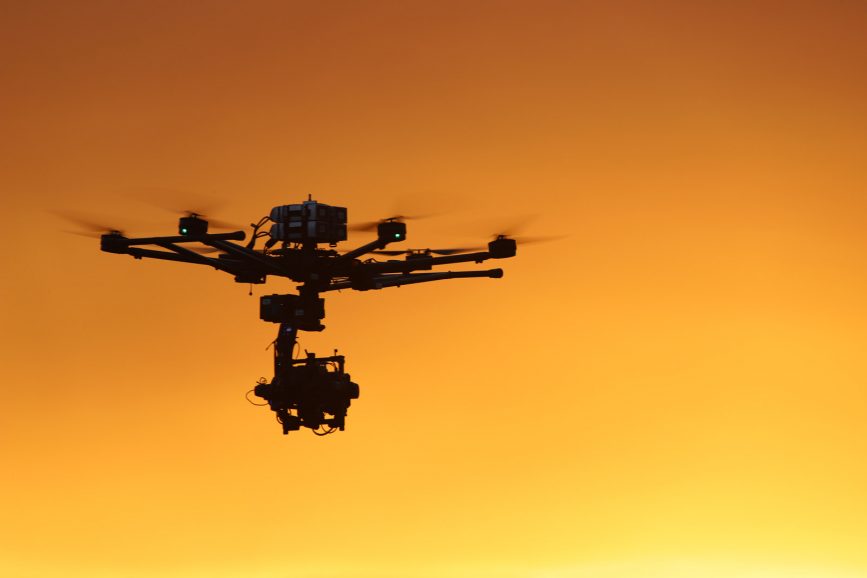 The key to technology today is the user interface. XM2 developed Whisky, the 'W' of which stands for wheels, replicating the rotary mechanism of camera supports and cranes, which are more familiar to DPs and film crews than the joystick controllers commonly used for drones.
Wheels can be operated either directly in a helicopter by the aerial DP, on a vehicle or remotely from a central point on set. This last feature has been enabled by a base station controller, which is able to select and run different systems, including drones, a helicopter and a Russian arm. "One reason for developing it was to allow the DP to get the shots they want without having to explain things like tilting up or down to a newcomer," Oh comments. "Another was to save time so that the DP doesn't have to get into the helicopter to achieve the shot, it can be done from the ground on a monitor. That also means there are fewer people in the helicopter, so it's lighter and any risk is mitigated."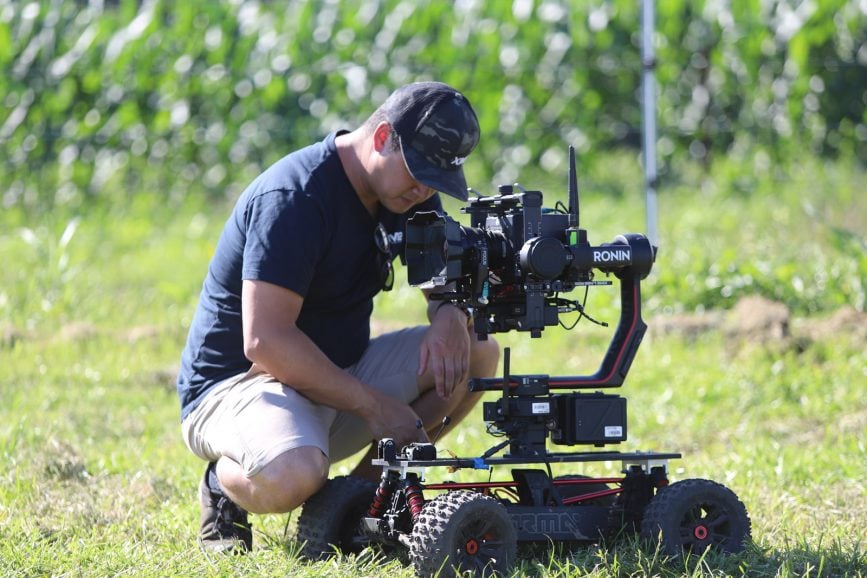 XM2 has made a departure from aerial systems with the Titan, a small, flat-topped transport on caterpillar tracks. This was inspired by Oh's experience on the set of Children of the Corn (2020, DP Andrew Rowland), which was shooting in Sydney. "The grips and gaffers were moving their equipment around using petrol driven tractors and there was just a lot of noise," he recalls. "I thought there had to be something better than that, so I told the R&D team and they came up with this all-terrain utility vehicle. It's remote controlled and the first prototype is able to handle 500kg, which is enough for ballasts and the like."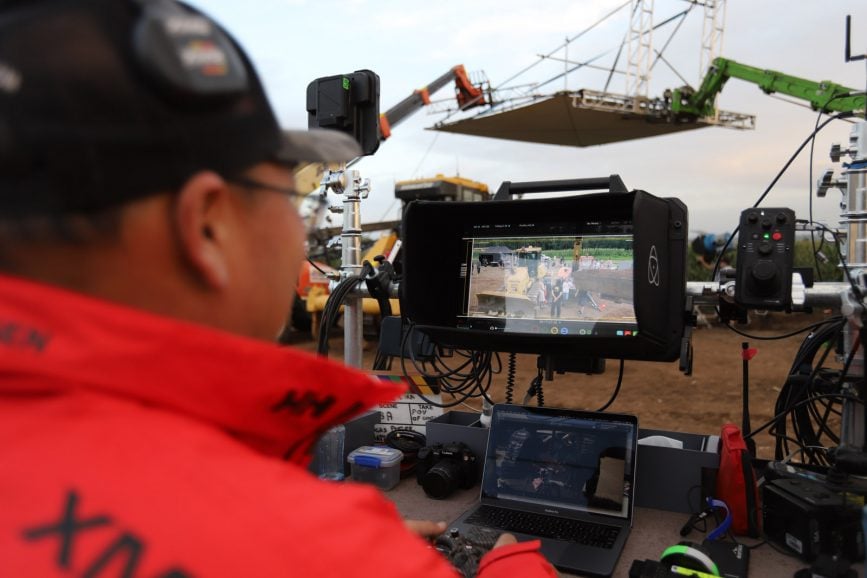 XM2 has expanded both its product line and international reach in its short existence. It now has offices in Melbourne and on the Gold Coast in Australia, Seoul, South Korea, Los Angeles and Atlanta in the US and at Pinewood Studios in the UK. This year the company formalised a relationship with the American aerial film specialist Pursuit Aviation, which invested in XM2. The two now trade as XM2 Pursuit, with Oh as chief executive. With a broad range of services offered by both its drones, helicopters, aircraft and grip equipment, supported by its Labs, XM2 Pursuit is continuing to move forward and innovate. "We will always try to do something new because that's what the film industry is about," concludes Stephen Oh. "Shooting something in a way that's never been done before. It's the appetite of film, really."