A ROMANTIC REINVENTION
Seamus McGarvey ASC BSC pairs up with Joe Wright again to create a sensuous Cyrano. 
You know how the world sort of goes tipsy when you fall in love? Especially that first time. How lines soften and there's a delicate haze that floats about? These were the feelings that cinematographer Seamus McGarvey ASC BSC wanted to capture in Cyrano, the new Joe Wright film, adapted by Erica Schmidt from her staged musical version of the century's old unrequited love story, Cyrano de Bergerac by Edmond Rostand.
In this telling, Cyrano is played by Peter Dinklage, and instead of a large nose which keeps him from openly expressing his true love for his longtime friend, Roxanne (Haley Bennett), it is his short stature. But whatever the affectation that nourishes Cyrano's pridefulness, Rostand's message still applies. Roxanne's affections are placed on a new member of Cyrano's military regiment, Christian (Kelvin Harrison Jr.) who is very pretty to look at but at a loss for anything close to eloquence. So, because Cyrano's love for Roxanne knows no bounds, he pledges to help Christian by writing countless love letters—the true key to Roxanne's heart. 
Shot on location in Sicily at the end of last year, McGarvey – who's previously collaborated with Wright on Atonement, Anna Karenina, and Pan – was led by the existing 17th and 18th century architecture of their main filming site, Noto, and the dazzling Italian light, to which McGarvey could seemingly write endless love letters to, á la Cyrano. (Not to mention the mostly Italian crew about whom he openly gushes.)
"[The light of Italy] is half the reason why I live there," he says, referring to his home in Tuscany. "I had ideas while reading the script, but once we got to Noto, the architecture, the beauty of the light dictated the look for me. And this is often the way I work. The buildings there are honey-coloured, tightly packed together, and the whole place gave the daytime scenes this reflected light that bounced off the buildings creating a golden warmth. If I came in and imposed all my ideas on it, the spirit of the place and space would have been lost."
When approaching a new project—be it TV, commercials, or movies – McGarvey often goes back to the to the basics: "I said to Chris Menges ages ago, 'Your work always looks so natural. How do you do that?' And he said, 'I just put the actors by the windows.' And, I mean, obviously Chris interferes with light, but he does so in a naturalistic sense of taste. And that is something that really inspires me. It sounds simplistic to say that, but it is actually the best advice I've ever gotten – to remove the instinct to light."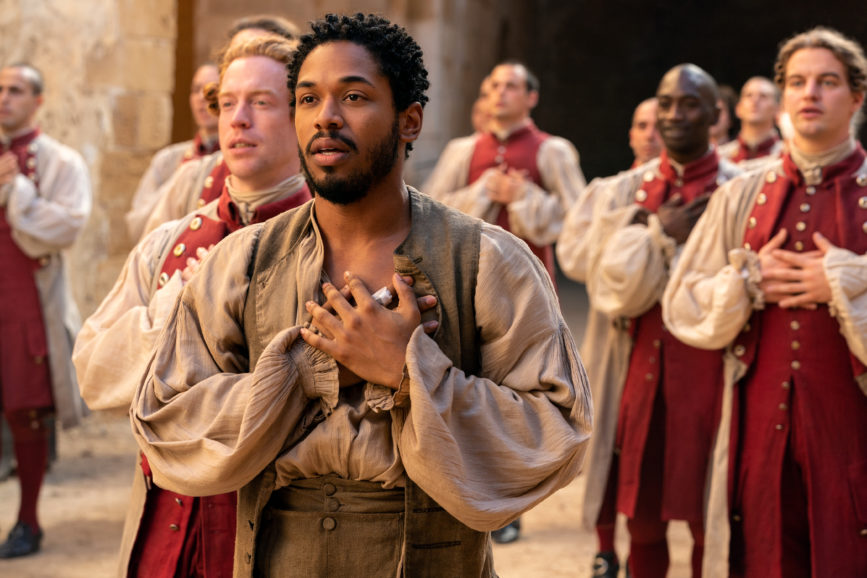 Subscribe to our mailing list to continue reading
It feels counterintuitive in some respects for a cinematographer to do away with lighting a scene, but McGarvey's approach – even in highly stylistic instances – is always to try to emulate what happens in the real world, or at the very least, draw from that reality. 
"When you realize that what happens in the real world is where the beauty lies and also where an audience connects because they recognize it," he says, "that's where the magic happens. I rarely backlight things because who actually has a backlight and a key light on them in real life? I'm trying to go against the things that I was taught in film school. And it's always a struggle."
This played out on Cyrano in the early days of scouting Noto when McGarvey, Wright, and production designer Sarah Greenwood walked into the blue room that was to be Roxanne's bedroom. The Sicilian light was hitting the wall behind where Greenwood was standing, and she was silhouetted as the sunlight shone through the huge windows and bounced off the marble floor.
"I took a picture," says McGarvey," and Joe said, 'Right. That's our movie. That's what we have to do.'"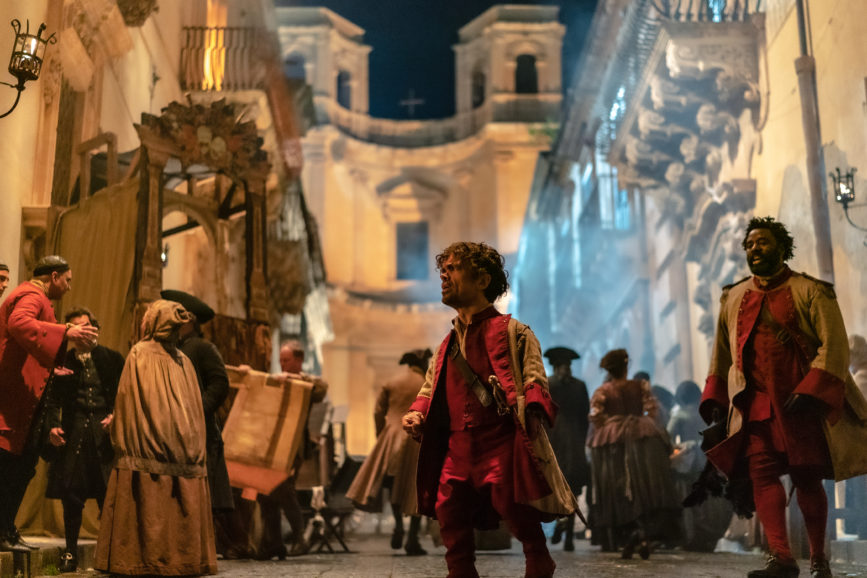 Although Cyrano is set in this grandiose, Baroque locale, Wright really did want to give the film a sense of veracity, McGarvey explains. The only sets they built were the theatre and the battlefield atop Mount Etna (the latter which wasn't actually used in the end because of a huge December snowfall that buried the sets and equipment), but the palazzos and apartment buildings, alleyways and cobblestone streets all existed in Noto. McGarvey credits Greenwood and set decorator Katie Spencer with bringing those places to life for filming, and the town's mayor for giving them all the run of the place.
"We shot during the pandemic," says McGarvey, "so in a normally very busy, touristy spot, suddenly there was a ghost town. Wide shots where you'd usually have to paint out cars and such were perfectly ancient again. It was like the most amazing Baroque backlot that you could imagine."
McGarvey shot Cyrano on Alexa LFs because he wanted the sense of portrait photography in close-ups as well as the vividness of the landscape, particularly at the end of the film in the battle scenes on Mount Etna. He'd recently bought a set of new Leitz Primes lenses with his friend and Cyrano A-camera operator, Peter Robertson (the only non-Italian camera crew member) and felt they offered something quite different to other lenses he'd worked with before.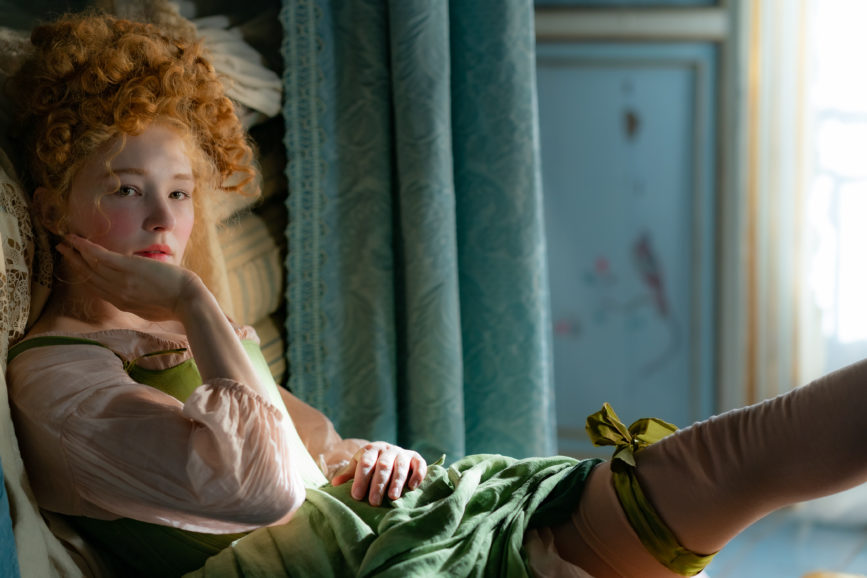 "They had a warmth to them," he says of the Leitz lenses. "A real roundness and gentle quality, but they're also edge-to-edge visceral."
They had a Leitz lightweight zoom 25-75mm that they put on a crane, so they didn't have to rebalance for different lenses, and also shot with an Angenieux Optimo Zoom 36-436mm. And although the Leitz lenses are renowned for their crispness and sharpness, McGarvey pulled out his 10 denier Christian Dior stockings and wrapped them around the back of the lens – a technique he used on Atonement, too.
"It gives this nostalgia, this haziness of latent love that is at the start of the film," he says. "You see their attributes with spectral points of light – candles or highlights – this little chromatic star effect, which, honestly, sometimes it can bother me, but the effect on faces is just sensational. As we move forwards in the film, I wanted more photographic teeth to the image, so I pulled back and started using Tiffen's Black Glimmerglass. It offered slightly less diffusion and was less overt in the softening of the image."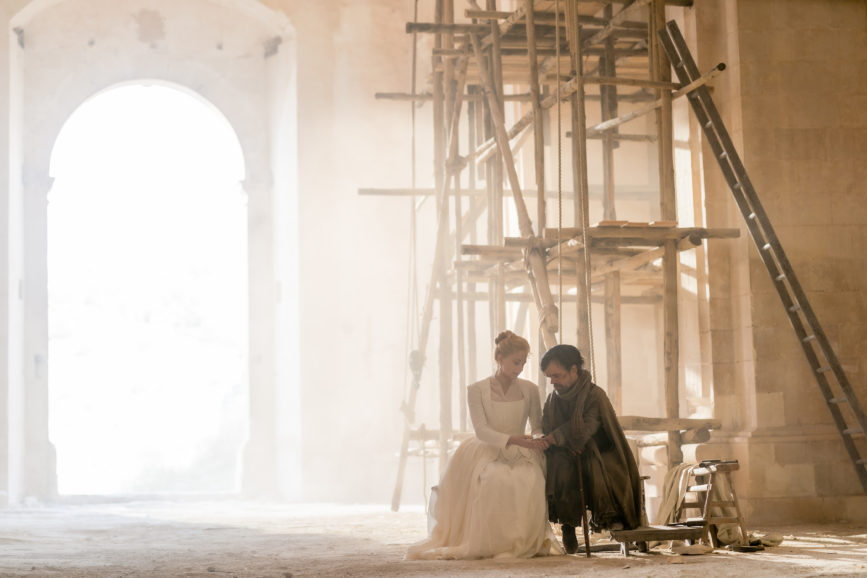 McGarvey stripped away all filters when it came time for the battle scenes on a now snow-covered Mount Etna. He explains: "The lenses look totally different when you don't diffuse them – practically lithographic. We went for this monochromatic look with no colour except for the red of the blood on the soldiers' uniforms."
Originally, Wright wanted the blackened lava rock as a backdrop to the war that Cyrano and Christian fight in, but the weather gods had different plans. So, 16,000 feet above sea level in minus 12-degree Celsius winds, the crew was alongside the soldiers, fighting their own battle to get the shots – the last of the film – in a snow-covered mountain abyss." 
 
We had to reimagine it all, and fast," says McGarvey. Sarah [Greenwood] told us there was a quarry down below the snow line, and that we could build into it for that last song, where the soldiers are singing to their loved ones back home. And you know, sometimes when you have to improvise, it's better than the original. That cave gave us this cocoon of sorts and was just a really intimate way to watch these soldiers before they go off to battle and possibly die."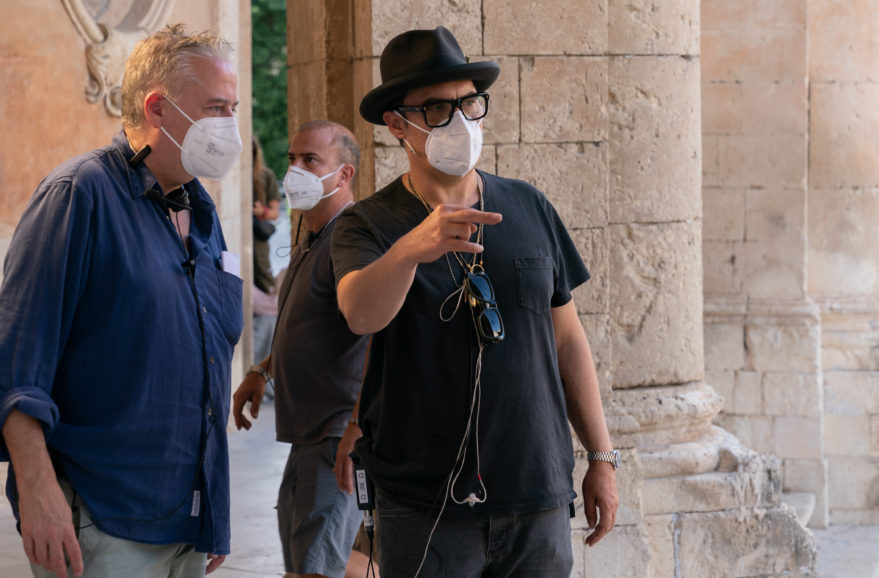 Lest we forget that this film is a musical, dance numbers presented a unique and welcome challenge for McGarvey. He'd previously done a musical – The Greatest Showman – but it was a completely different approach than Cyrano, with more of a music video staged atmosphere, bombastic and theatrical, closer to a Bollywood style. Working with Belgian choreographer, Sidi Larbi Cherkaoui – who also choreographed for McGarvey and Wright on Pan and Anna Karenina – McGarvey and Robertson discussed how this film's camera movements would fit into the choreography and how the choreography would fit into the mise-en-scene. 
 
"Working with music and dance of course affects camera movement," says McGarvey. "It makes you rethink how you stage the camera. We needed to take the camera from the narrative scene into the singing and dancing and make it all seamless. Larbi was instrumental in helping us sprout the dance and the music out of the narrative." 
 
Often, with choreographed dance scenes, cinematographers rely on their Steadicam operators to sort of move with the dancers, making it easier to maneuver through the scene. But Robertson and second unit DP and director Kate Arizmendi shared only a couple of Steadicam shots in the entire film.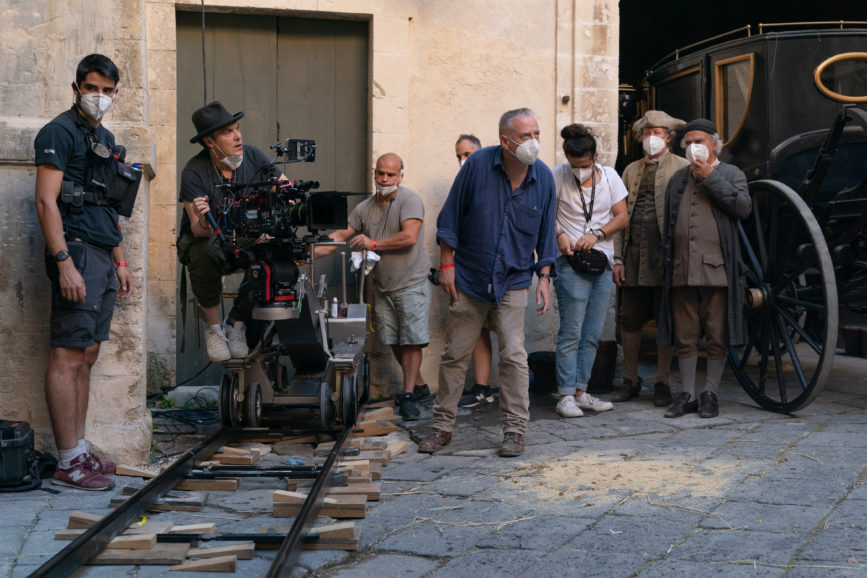 "One of the Steadicam shots is when Haley is moving up the street dancing, with dancers coming in and out of frame," describes McGarvey. "That's probably the most music video moment in the film." 
 
McGarvey makes sure to lavish praise on Arizmendi, who lent her expertise to several key sequences as second unit cinematographer. Fast becoming a highly sought-after DP, Arizmendi knew Bennett well from their time together on the indie thriller sensation, Swallow. Because of that rapport, she was able to home in on the more intimate moments with Bennett, as well as the languid letter writing close-ups of quills and ink. 
 
"That bakery scene," he adds, "where they're making the dough, and the hands are moving sensually in and out and all around – that's Kate."