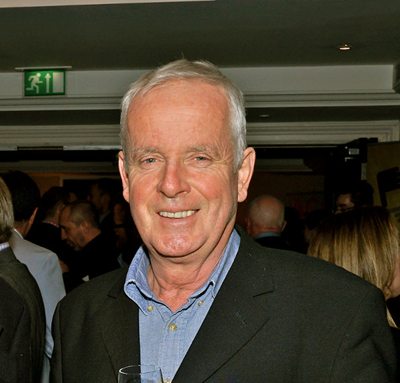 It was with great sadness that we learnt of the passing of Martin Hammond, who was well-known around the industry, a true friend of filmmakers far and wide, and a most valued supporter of British Cinematographer Magazine. Tragically, Martin suffered a heart attack on Wednesday 7th February whilst driving to Bristol on the M4 motorway. Despite being airlifted to hospital, the medical teams were unable to save his life.
During a 37-year career, which included many years in sales at Kodak, support for the BSC, GBCT and film festivals including Jackson Hole in Wyoming, Wildscreen in Bristol and Hay-on-Wye, Martin made many friends and acquaintances, through his dedicated work ethic, kindness, courtesy, cheerfulness and camaraderie. He was a Friend of the BSC, honorary member of the GBCT, and a champion of this magazine, for which we will be ever grateful.
Martin was admired by many and, on learning of his passing; we were deluged with messages of condolences from around the world. Writing from New Zealand, Harvey Harrison BSC said, "Martin was a great friend to the film industry and such a charming man. Heartfelt condolences to his family."
Lisa Stamford, executive director of the Jackson Hole Wildlife Film Festival & Conservation Summit, said, "Martin was deeply admired, respected and fully-loved by a huge contingent in Jackson Hole. We cannot imagine a festival without him. His No.1 priority here was his role as a mentor to emerging filmmakers – something he did well and thoroughly. There is a sea-deep level of grief at the notion of a world that does not have him in it."
From Paris, Richard Andry AFC, president of the AFC, lamented, "It's unbelievable. I saw Martin only last Saturday at the BSC Expo. He was in good shape. We joked. Such a nice, kind man. My condolences to his family and friends from all of his French friends at the AFC."
Closer to home, Larry Smith BSC noted, "How very sad. The last time I spoke with Martin was at the BSC Show. We have lost a good friend and the industry and the BSC have lost a true professional."
Allison Dowzell, manager at Wales Screen, said: "I'm devastated. I can't believe this news. Martin only stayed with us last week for the Requiem screening. My husband Bryn and I have known him nearly all our working lives and my children grew up with him. Please do send my condolences to Martin's family.
Cinematographer Nick Dance noted, "I have known Martin all of my career… he helped and encouraged me on my way as he has done with many, without any ulterior motive. He was the most generous gentleman I know. He knew everybody in the industry and I called him my "unofficial agent" as he always knew what productions were coming up before anyone else. He was one of my greatest friends and touched so many with his kindness and generosity."
Jamie Harcourt Associate BSC commented, "We have all lost a very special and very dear man. It was always a delight to have been in his presence – whether on-set, as he visited to make sure all was going well, or at Camerimage where, last year, I witnessed him working tirelessly to help out his colleagues from Fujinon. Martin, you were in a league of your own."