As readers here already know too well, there's been a death in the communal family since last time we posted.
The circumstances around that death – the entirely preventable killing, really – of cinematographer Halyna Hutchins continue to emerge, but they paint an increasingly bleak picture of conditions on the set of Alec Baldwin's Rust.
As we embarked on this column, an open letter arrived from over 200 members of the cinematography community, including ASC President Stephen Lighthill, and a veritable who's who of Oscar, Emmy, and ASC nominees, calling for a ban on all functional firearms on sets. 
You can read the letter in its entirety elsewhere on this site, but it remembers Hutchins as "an incredible rising-star cinematographer who passionately loved her job and cared deeply about the images she created. She was a friend, a colleague," and it calls her death "senseless, negligent and avoidable," adding a "vow to not let her death be in vain." And more strikingly, another vow "to no longer knowingly work on projects using FUNCTIONAL FIREARMS (caps theirs) for filming purposes."
We caught up with cinematographer Autumn Eakin, who sparked that particular letter, from Hungary, where she's currently shooting. "I knew Halyna," she told us, "and have known her for years, in the industry. It's a small enough world of female cinematographers.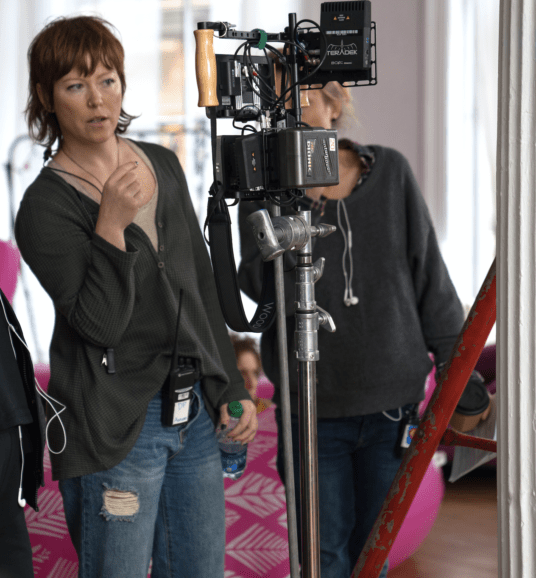 "I've been in the union since I was twenty-four. At the end of the day, I just got very incensed – we shouldn't be having lethal weapons on set, so I got the idea to specifically get DPs together."
She started gathering them by "bringing Julia Swain on, because she was close friends with Halyna, and is also a DP. I wanted to have someone taking part who was close friends with her. Then I asked Dana Gonzales who had been vocal on social media, and David Mullen (both ASC members) if they wanted to put their names on it," to further incentivise more prominent members of the community, which clearly it did, all the way up to the highest tiers of ASC leadership.
And regardless of stature, she says that DPs have "all been put in positions where we're supposed to look out for our crew, but we're not in the producorial position to make all those decisions."
Hence, the idea of some outside suasion in the form of legislation, as she noted governors of at least two states heavily involved in film production, California's Gavin Newsom, and New Mexico's Michelle Lujan Grisham, have called for precisely such regulations.
Indeed, California State Senator Dave Cortese, representing the San Jose (and thus Silicon Valley) area, has announced, according to the Sacramento Bee, that "he will soon unveil legislation for the 2022 session that would prohibit the use of live ammunition and guns that can fire live rounds in theatrical productions." 
Interestingly, though, the same article has the Assembly member from Fullerton (in Orange County home of Disneyland, next door to Los Angeles), Sharon Quirk-Silva, saying "the unions that have historically negotiated workplace safety regulations should determine what needs strengthening. As far as saying no live ammunition, I would want to hear from both sides, the motion picture industry and workers," though as Chair of the Assembly (California's "lower" house) Arts, Entertainment, Sports, Tourism and Internet Media Committee, it's fascinating, to say the least, that she divvies up the concept of "the motion picture industry" from its workers.
And Eakin points out that "workers," certainly in the IA, can't actually ask for contractual reform right now, since the current agreement with producers is in the middle of its ratification process, and no new demands can be added. Additionally, it's not just Local 600 the cinematographers, who are negotiating, but all locals under the IA umbrella, which includes Local 44, the property crafts-folk, which in turn includes armourers, the latter who see their own jobs imperilled if working guns are banned.
But Eakin says they'd still have a role to play in helping replica weaponry be used in more authentic fashion and points out we already "have actors act like they're getting punched, like they're falling in love, like they're driving stunt cars," so "take them to the range – let them feel what (real weaponry) is like."
But when one considers the recent article in Deadline about cinematography being the most dangerous department (often due to the crashing of planes or helicopters, or stunt vehicles going out of control), it may be that more than live ammo will ultimately need to be addressed.


John Matysiak was DP for the evocative Old Henry, a western simultaneously action-filled and meditative, where the title character, a widower played by Tim Blake Nelson, hopes to live quietly, and raise his son, but finds he can't evade the rather surprising skeletons in his closet.
We talked to Matysiak about the film but began our conversation with the Hutchins tragedy – which struck him even harder, as they also shared some off-set social connections – and safety in general. "I've always been aware of that statistic," he told us, "how the cinematographer and camera operator are the most dangerous positions on set," agreeing that it was often because of "the places we find ourselves in – whether it's in a helicopter," or anything else that's moving, or aloft.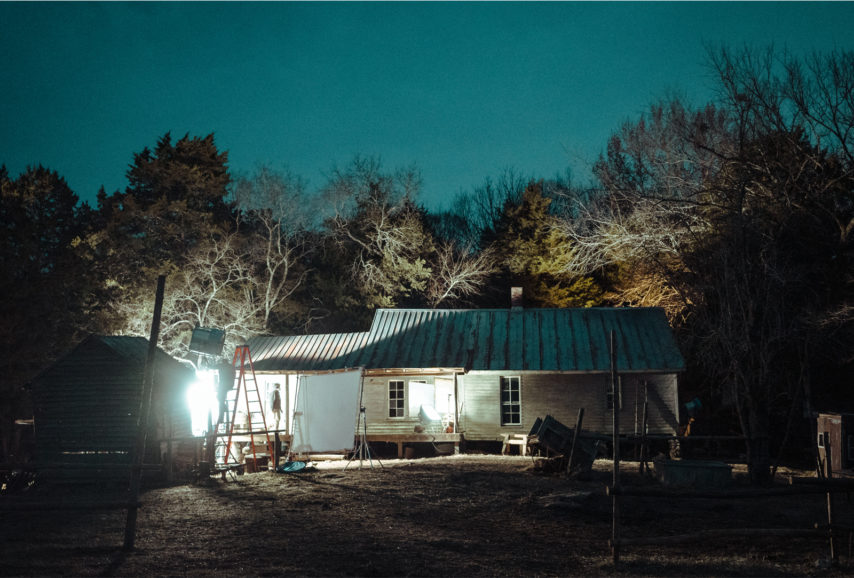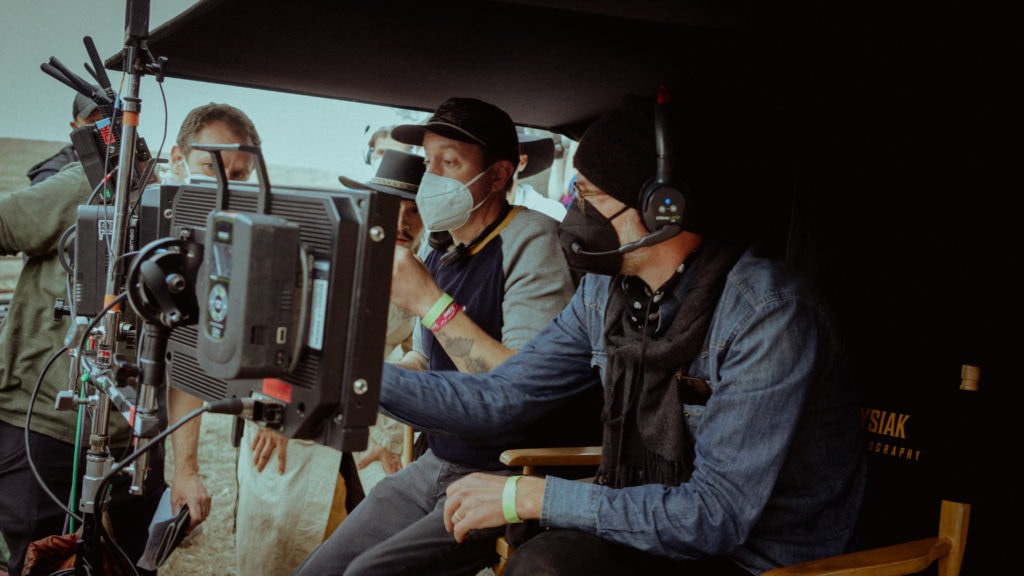 He's observed "a systemic problem in the culture of independent films that takes advantage of people – I think that's what this underlines as well. Banning blanks is one step – but it's not a catch-all. 'If I do this film, it's going to change my career' – that's a Hollywood idea. And you make that film at all costs because it's such a tough industry to break into.
"Unfortunately, you have producers that prey upon that. It all comes back to work conditions, and negligence… It's like a half-construction site at times – we get caught up in it on set, (though) it reminds us why we wanted to make movies in the first place; we wanted to create something with friends."
But he emphasises, though, Old Henry was most definitely not that. "We all had kind of worked together before (and) felt very supported by the producers." 
He'd done the series Still the King with director Potsy Ponciroli, and they left that with a "goal – we were going to do a film together at some point." Poncrioli sent him the script, "and I called him, 'this is something we can do.'"
And so they did, using Tennessee to double for Oklahoma, on an "amazing two thousand acre property," standing in for all the locations (and to make it easier to shoot during the pandemic), allowing them to "connect our characters in ways that were very organic."


But he also had some connections to the genre itself he wanted to make: "You're stepping into big shoes as a cinematographer when you say you're going to plant your flag and do a western."
He spent a lot of time revisiting earlier such flags, in "the John Ford era, Spaghetti westerns" and more recent work like Hostiles, Open Range, and from the always Italian western-influenced Quentin Tarantino. But he also "went back to the photography of the time period, before I looked at film references," with the work of photographers like Matthew Grady, Timothy H. O'Sullivan, and William Henry Jackson, who all helped chronicle the Civil War and the frontier.
Nelson even chidingly added his own film to the syllabus, telling Ponciroli to call him back after he'd watched McCabe & Mrs. Miller, and a lot of the elemental texture found in Vilmos Zsigmond's work on that Robert Altman masterpiece is on display here.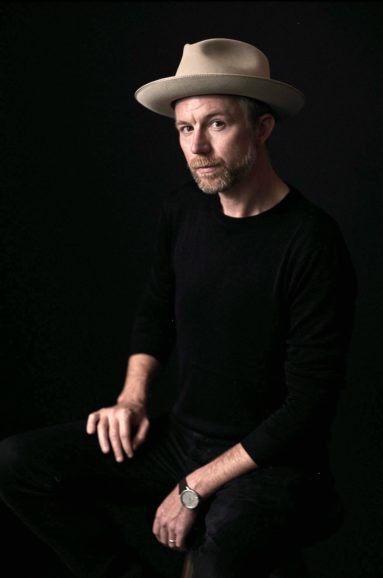 Matysiek captured it with an ARRI Alexa Mini, "shot in ProRes, with modern glass – these Master Anamorphics." Developed jointly by ARRI and Zeiss, he liked the lenses' ability to give him a greater hand in distorting the image, and "being able to use filtration," thereby getting "closer to these portraits I was looking at (from) the turn of the century."
Or rather, the previous turn of the century. He's also quick to credit his crew, particularly first AC Geoffrey Storts, "part focus puller, part therapist," gaffer Matt Ware, "integral to my process in prep, (who I) brought along as early as I could. We had a great collaboration in terms of sharing references," and camera operator Samuel Willey, whose military background became part of the chain of checks and double checks for the weaponry used in this particular tale of the sun setting on the west in general, and one of its legends in particular. 
That sense of looking out for your crew also animated cinematographer Ray Huang, whose current work can be seen in the also-evocative NY Chinatown-set immigration crime drama Snakehead.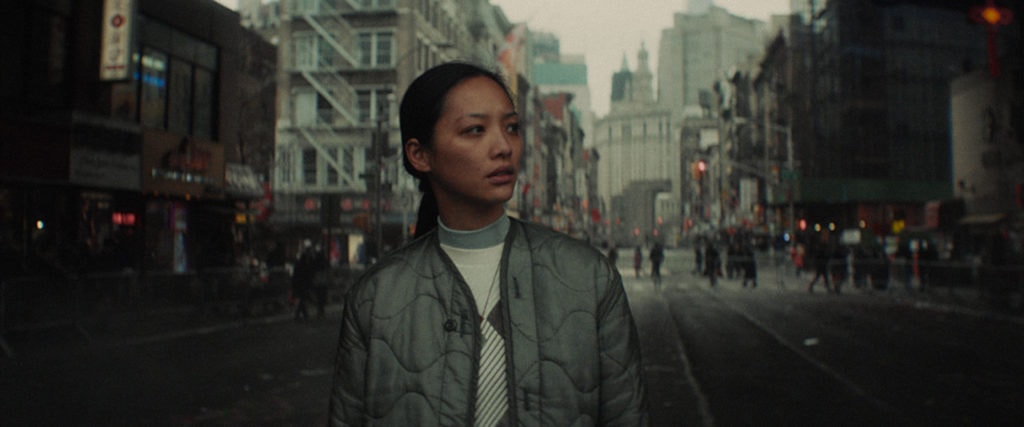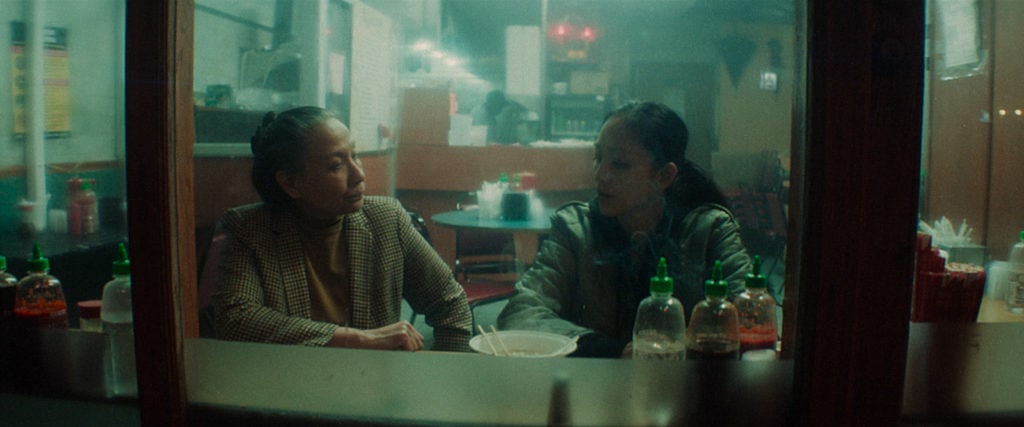 "I think I've been fortunate to work with producers and filmmakers that have taken safety seriously over the course of my career," he said, (especially since) the camera department is always right in the centre of the set and the action. Things often get quite adventurous, but the wellbeing and safety of my crew is paramount. I try to lead by example… but ultimately no one's health or life is worth risking."
Huang collaborated with writer/director Evan Jackson Leong, having met him "through mutual friends. We hit it off through our love of Wong Kar-wai and anamorphic photography, so we kept in touch. When I heard he was going to make Snakehead I knew it was a film I had to be involved with."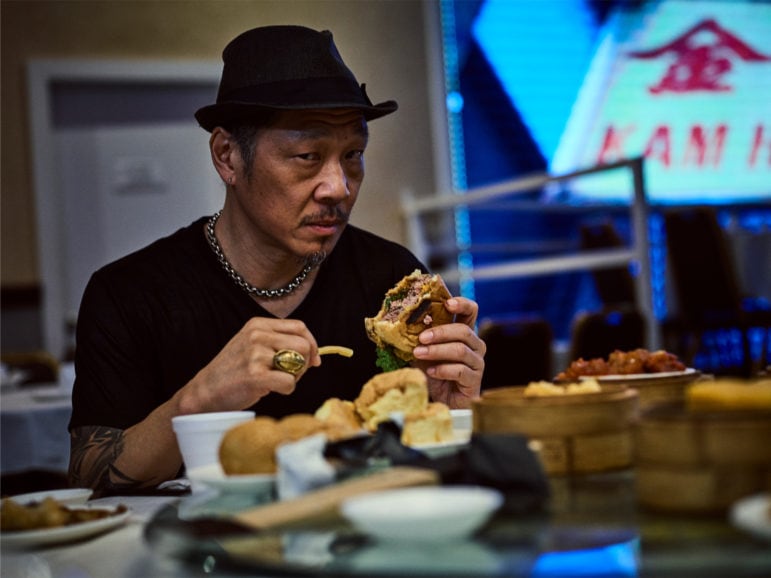 In creating the story about a female Snakehead – analogous to the Coyotes who ferry illegals across the border in the American Southwest – Leong and Huang found they could also create a vision of Chinatown not mediated from a white perspective, as in films like Year of the Dragon and Big Trouble in Little China, though he remarks that the latter is, "funnily enough… one of our favourite films… completely ridiculous (but) incredibly fun to watch with some truly memorable and badass Asian characters. On set, it always inspired us to unapologetically make the movie we wanted to make." They even "paid homage to it" by naming a bus run by Dai Mah (the main Snakehead, in a terrific performance by Jade Wu) "'the Porkchop Express,' which is Jack Burton's truck name in Big Trouble."
The increasingly complex trouble in Snakehead was also captured with a Mini, which Huang owns and has "been shooting almost exclusively on for the past five years. It has the best look/colour out of any digital camera and its small form factor is incredibly versatile, allowing for both studio builds and Steadicam/gimbal builds."
As for studios, gimbals, et al, we've been diligently masking up and getting to recent product and facility demos, which have been cropping up with more regularity, even if news of the day (and month) prevents us from covering them to the extent we'd like.
The first of these was from Infinity USA lenses, with a demo by Bill Bennett ASC and the Digital Cinema Society's James Mathers, among others, showing off the abilities of the glass to capture microscopic and miniature images, while retaining an eye-popping depth of field.
Tim Smith, whom readers will remember from his many years at Canon, is the company's Director of Business Development, helping to introduce the lenses, with their great flexibility, split diopter options, and that aforementioned depth of field, to the greater Hollywood community, touting even more potential uses (in VFX, etc.) beyond the commercials where they're increasingly deployed.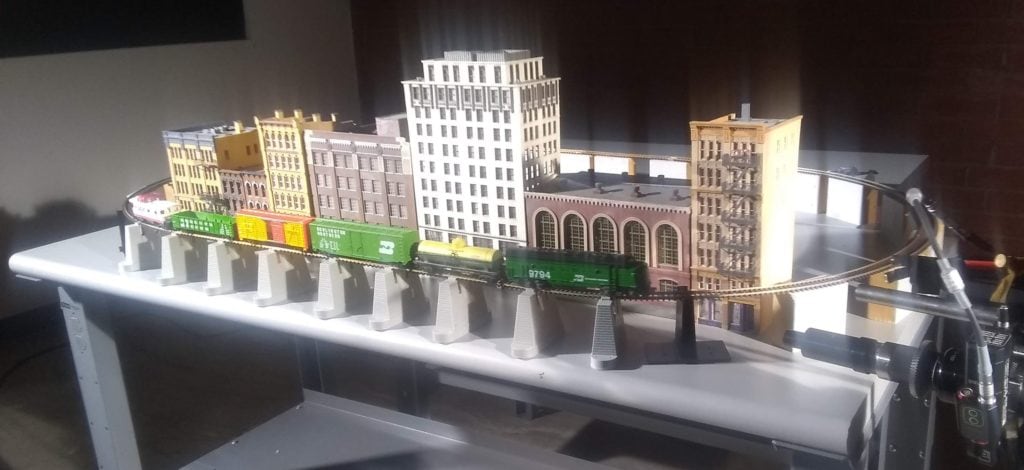 John McGuire, the Product Line Manager for Imaging for Edmund Optics (formerly "Edmund Scientific," for those of us who grew up with their copious catalogue), which owns Infinity, says one cultural shift for the company is working to understand the film biz rental market – as opposed to the outright sales of other business models – and allows that "we need 'em available," when customers want the lenses. Some aspects of customer service, like loaner equipment and local troubleshooting are already things "we do for free," he says, and he's looking forward to "learn what questions you're going to ask," in the company's newest community.
Similarly, new questions were asked at the opening of the Mo-Sys "sandbox" – more recently dubbed a "refinery" – where the company's mix of combining LED walls with now seemingly "older school" green screen technology was on display. We'd talked with CEO Michael Geissler of the UK-based firm at Cine Gear, and now he was back to let LA camera people, VFXers, and a slew of post-production folk, get a look at their "hybrid virtual production" facilities.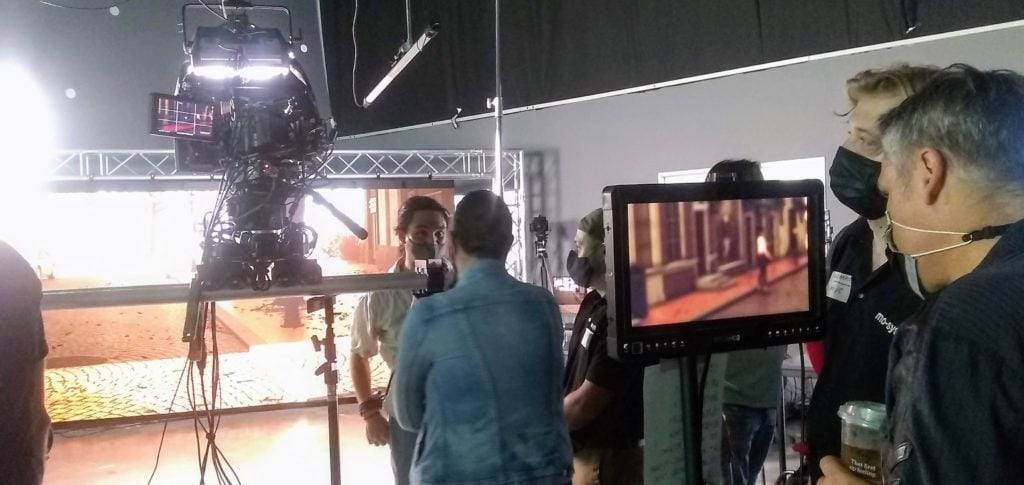 This new mix, also called "extended reality," is, Geissler says "a suggestion (and) we're waiting for the industry to pick up that suggestion."
If you're in LA, their refinery waits for you to experience those suggestions firsthand. Meanwhile, more experiences from the Pueblo of Angels next month.
@TricksterInk / AcrossthePondBC@gmail.com