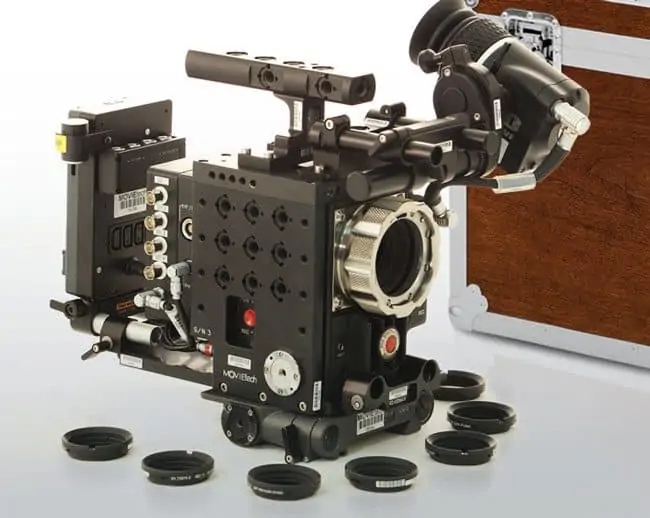 Movietech has custom built a new rig centering around a RED Epic Dragon 6K camera body, modified by the in-house engineering team to incorporate a suite of innovative upgrades that allow total compatibility with a wide variety of Epic accessories and attachments.
Developed to expand the capabilities of the Epic Dragon, the accessory rig, exclusively available through Movietech, is designed to provide new levels of user-friendly portability, compatibility and versatility.
Lightweight and sturdy, the anodised aluminium outer-cage provides a balanced housing for the camera body and features ergonomic, easily-accessible mounting points, plus multiple input/output options for unparalleled connectivity.
Amongst the unit's list of features are the easy fit addition of a Terradek wireless transmitter and Preston motor driver, an internal filter holder, complete with full spectrum internal IR and ND filters, upgraded viewfinder support, modified quick-release handle and input/outputs including 4 x SDI, 2 x 24V, 2 x 12V plus 5 x D-tap outs for battery connection.
Commenting on the new unit, Movietech MD John Buckley said "Our design team have worked wonders on this new accessory rig. The aim is to offer cinematographers a feature packed housing that has everything on board. This unit delivers on all fronts – it is easy to adapt, simple to use and totally compatible with a huge range of accessories."