DARK SECRET
Realistic lighting, skilful Steadicam work and clever use of dolly and crane shots helped convey isolation in Rose, a chilling tale of a couple who shut themselves away from the world to conceal a deadly secret.
Jennifer Sheridan's directorial debut, Rose, is a claustrophobic horror plus a tale of love. Rose (Sophie Rundle) lives in isolation in a cabin in remote woodland with her husband Sam (Matt Stokoe). A dark, secret illness plagues Rose's life. Written by Stokoe and created through a partnership between Bone Garden Films (Stokoe and Rundle's production company), The Development Partnership and Mini Productions, the atmospheric, chilling film was lensed by cinematographer Martyna Knitter who examined the relationship between darkness and loneliness to style the visuals.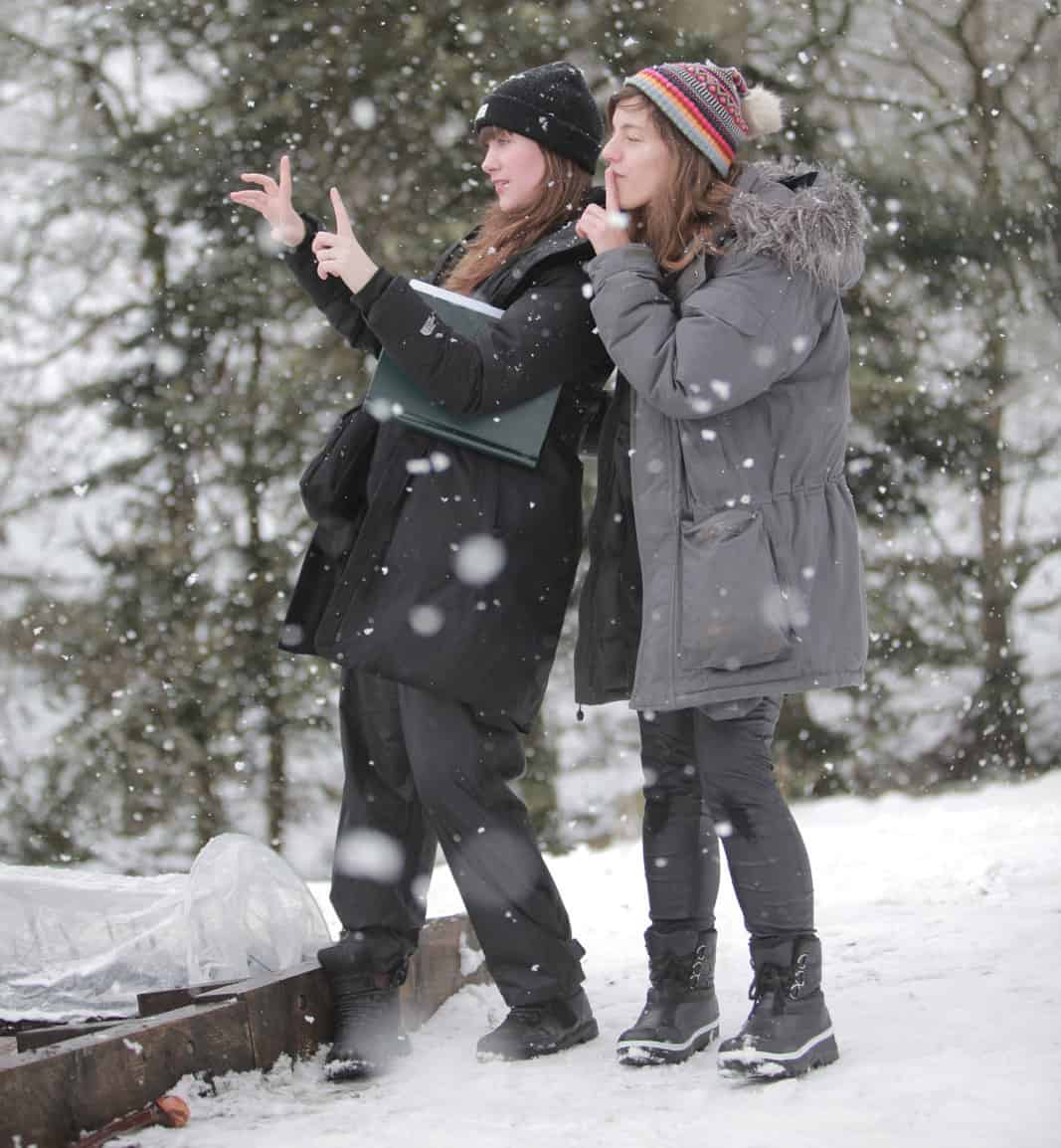 "The script mesmerised me. This was before the pandemic so I was intrigued why these people would isolate. Jennifer sent me horror references including It Comes at Night which features a post-apocalyptic world," says Knitter.
Sheridan's extensive editorial experience greatly helped the 16-day shoot. "When shooting with a first-time director there's a danger they only shoot the storyboards with no time for extra coverage. Jennifer knew exactly what coverage a scene needed or when to use a cutaway," says Knitter.
Before Rose, I wasn't keen on LED. Gaffer James Duffy converted me by suggesting using Asteras and putting LED bulbs in every practical, programmed to colour match the Asteras.

Martyna Knitter
Working within indie budget constraints, exterior night-time forest locations were captured in remote Wales with limited crew and just one 2,5 kW HMI. To uphold the director's decision to make the film look realistic, these limitations were used to the team's advantage. "We used a lantern as a main night-time light source, often drifting longingly in an empty dark frame, like a metaphor for the main characters' hidden lives. The darkness within Rose increasingly consumes the picture," says Knitter.
To evolve this idea, Martyna used various LED sources, portable and battery-powered. Every lightbulb in the house was a colour-changing, dimmable LED, synchronised to Astera LED tubes. As lighting changes between set-ups had to be instantaneous, most sources were mounted into set.
"Before Rose, I wasn't keen on LED. Gaffer James Duffy converted me by suggesting using Asteras and putting LED bulbs in every practical, programmed to colour match the Asteras," says the DP.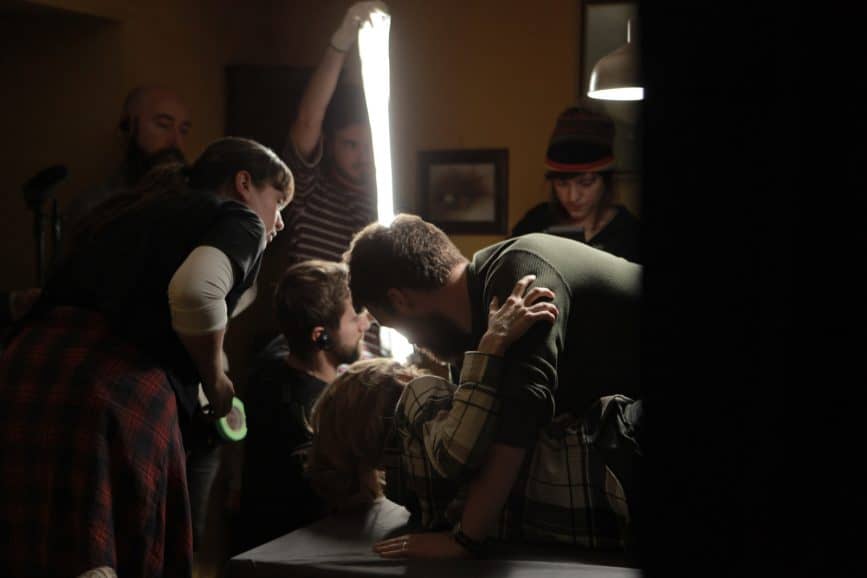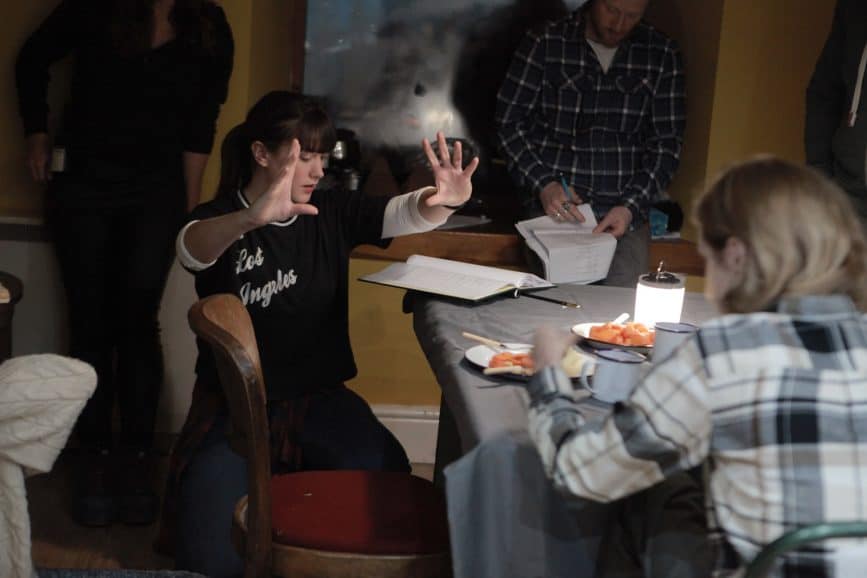 Rose was shot using an ARRI Alexa Mini, shooting in ProRes. "When the Alexa Mini came out it opened so many doors for me because I really enjoyed the colour rendition it offered. We were a long lens short, so we looked elsewhere for length and selected a 135mm spherical lens which worked really well."
As Knitter only had limited access to a grip, she carefully planned with Sheridan which scenes could be shot with the dolly or crane. "Maintaining that feeling of isolation was important. I wanted the scenes in the house to feel claustrophobic in comparison to when Sam goes outside, and you see this vast expanse of nature through wide shots.
"As Rose was set largely in one location and mainly revolved around three characters, this could have become visually repetitive, calling for clever usage of grip. Slow tracks over the kitchen table helped build tension between characters. The crane shot was only used when Sam visits the petrol station – the last look at civilisation, which is left behind when he returns to his cabin."
Knitter operated the gimball, while her team ensured the Alexa Mini and Lomo anamorphics could be mounted on a rig in under three minutes for any lens change. "The ability to travel with characters on a gimball allowed great freedom, helping to build the one-take shot scene in a pub," she adds.
All dailies were watched on site with Glyn Williams (Edge of Tomorrow) handling the DIT. "We all lived in huts in the remote woodland and had no phone signal so we used walkie talkies to arrange when Glyn would visit the edit suite in my hut," says Knitter.
"I wanted to shoot Rose roughly how I wanted it to look. It was graded by Paul Wright, an incredible colourist at Dragon Studios in Wales. This was logistically problematic because I was working abroad on a long project, so there were many remote conversations."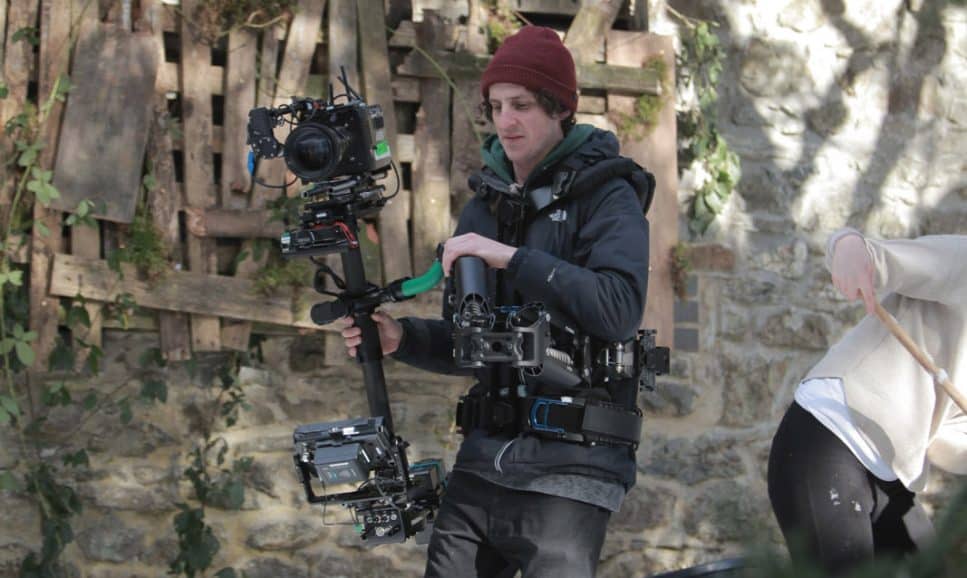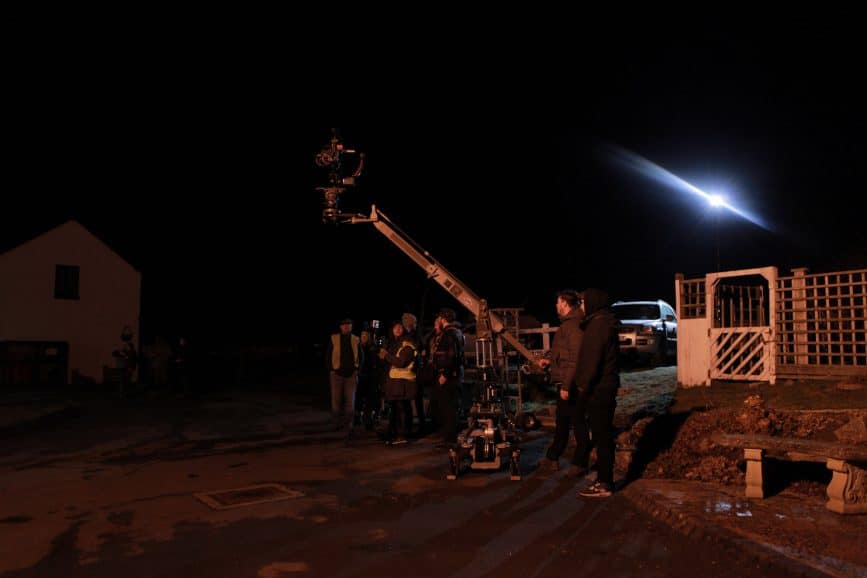 The snow that Knitter was overjoyed about because the HMI would "show up more and enhance certain scenes" was also a force to contend with. "The team walked in line to avoid footsteps, or painstakingly brushed over footsteps in a forest where nobody but Sam was supposed to walk," says Knitter. "He was the lone hunter, a small part of a big frame reflecting humanity versus nature, or Rose's illness which he would be unable to conquer, only prolonging the inevitable. The snow was temperamental, disappearing as quickly as it appeared, but it made the frames cleaner, the nights brighter and the isolation more pronounced."
Shooting Sam running through a snow-covered forest required skilful Steadicam work from operator Tommy McMahon. "It was challenging because when shooting using anamorphics with very old housing, every time you change the lens, the rig needs rebalancing. I'm really proud of Tommy's work, running with the Steadicam to capture the perfect shot." Another scene stood out to the DP as particularly central to the film's visual success. "It can be difficult to make wide shots look good on a low budget, but I was also hugely impressed by the wide shot in the snow as it sets the scene perfectly and was such a powerful addition to Rose to convey the couple's isolation."