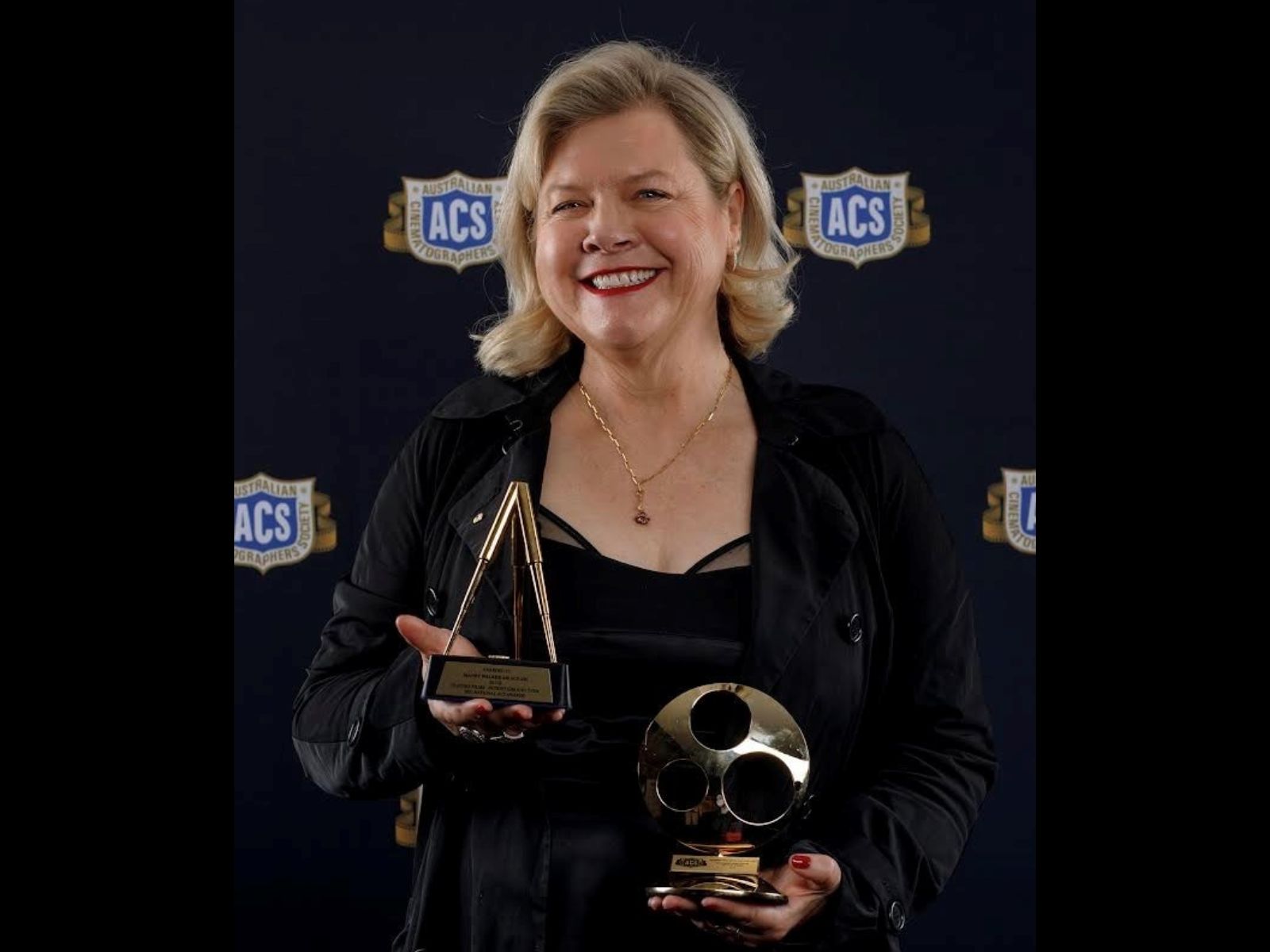 Cinematographer Mandy Walker AM ASC ACS has made history as the first woman to win the coveted Milli Award, presented by the Australian Cinematographers Society (ACS) at their annual awards ceremony on Saturday 6 May.
Walker, who was also nominated at this year's Oscars and BAFTAs this year for her stellar work on Elvis, also became the first woman in 102 years to win the prestigious American Society of Cinematographers (ASC) Best Feature Film Award.
"I'm incredibly proud and honoured to be the first woman to win this award," said Walker from the glittering gala at Sydney's Crystal Palace at Luna Park. "Here's to all the other glass ceiling breakers who will come after this."
The Milli, awarded to the Australian Cinematographer of the Year, is the highest award an Australian cinematographer can receive from the ACS.
See the full list of winners of the 53rd Australian Cinematographers Society's National Awards below… You can also watch a recording of the ceremony here!
The Milli for the ACS Australian Cinematographer of the Year – Elvis, Mandy Walker AM ACS ASC
John Leake OAM ACS Award for an Emerging Cinematographer supported by Panavision – Joanna Cameron
National Judges Merit Award Sony Camera Prize – Echoes of Darkness, Jonathon Le Grice
Bob Miller ACS Technical & Innovation Achievement Award – Avatar Factory – Cyberscanning, Mark Ruff
–
Cinekids 13-15
Gold Plaque – The Last Haven, Cathryn Alford
Student Cinematography
Gold Plaque – Echoes of Darkness, Jonathon Le Grice
Distinction – Wil Frazer Designs, Jake Frazer
John Borwing ACS Station Breaks and Promos
Gold Tripod – SBS "We All" Campaign,  Tony Luu ACS
Distinction – ABC 90 Years Brand , Tony Luu ACS
Music Videos
Gold Tripod – "Faces" by Stephanie Cherote, Alice Stephens
Distinction – "Glitch" by Parkway Drive, Allan Hardy ACS
Syd Wood ACS Local/National News
Distinction – Cattle Queen – ABC News, Stephen Cavanagh ACS
Current Affairs
Gold Tripod – Pacific Capture, Mathew Marsic
Distinction – Apprentice of the Year, Mitchell Woolnough
Entertainment & TV Magazine
Gold Tripod – Andrea Lam, Live at Sydney Opera House, Dave May
Distinction – Silent without the Sun, Casimir Dickson ACS
Art, Innovation & Specialised Cinematography
Distinction – The Exchange, Susan Stitt ACS
Corporate – Corporate Branding & Advertising
Gold Tripod – King Island Distillery, Christian Fitzpatrick ACS
Distinction – Qantas 'I Still Call Australia Home' – Jeremy Rouse ACS
Corporate – Branded Content, Education, Events
Gold Tripod – Culinary Journey with Marriott Bonvoy, Matthew Allard ACS
Distinction – Captain Kelly's Cottage, Jacob Williams
Commercials – Local/Regional
Gold Tripod – Crown Towers, Liam Gilmour ACS
Distinction – Cotton Australia 'Anything is Possible', Matthew Davies
Commercials – National/International
Gold Tripod – The Story of Dan Murphy, Edward Goldner ACS
Distinction – Destination NSW 'Feel', James L Brown ACS
Documentaries
Gold Tripod – Dead on Arrival, Mitchell Woolnough
Distinction – David Attenborough's Wonder of Song, Nick Hayward
Ron Taylor AM ACS & Valerie Taylor AM Wildlife and Nature
Gold Tripod – The Mating Game – Fiddlers – S1E2, Ben Cunningham ACS
Distinction – Black Empire, Johanis Lyons-Reid
Dramatised Documentaries
Golden Tripod – Mad Martha, Carl Allison
Distinction – Veil, Cmos Le
Short Films
Gold Tripod – Black Hen, Bob Nguyen ACS
Distinction – Coming Home – The Ballet, Ross Metcalf
Drama Series
Gold Tripod – The Old Man S1E4, Jules O'Loughlin ACS ASC
Distinction – Mystery Road: Origin S3E6, Tyson Perkins
Feature Films – Budget under $2m
Gold Tripod – Moui – The Curse Returns, Bob Nguyen ACS
Distinction – The Survival of Kindness, Maxx Corkindale
Feature Films – Budget $2m and over
Gold Tripod – Elvis, Mandy Walker AM ACS ASC
Distinction – The Gray Man, Stephen Windon ACS ASC