Forest Gumption
John Bailey ASC  / A walk in the woods 
Forest Gumption
John Bailey ASC  / A walk in the woods 
Based on the 1998 memoir by Bill Bryson, recounting how Bryson and an old friend attempted to hike the Appalachian Trail, A Walk In The Woods  is the latest from John Bailey ASC, who earlier this year was the American Society of Cinematographers' Lifetime Achievement Award recipient.
For Bailey, the writing on the movie was a big draw. "I read a few of Bill Bryson's books and I liked his writing a lot, and when I read the script (screenplay by Bill Holderman and Rick Kerb based on Bryson's book) I saw all of those elements," he related. "Bryson's writing is very smart and sophisticated; he has a real, accessible humour; and adult foibles – in this instance a couple of guys, late in life, decide to start off on a new adventure, like a pair of Don Quixotes."
The film, which stars Robert Redford and Nick Nolte, appropriately debuted in January at Redford's Sundance Film Festival and at press time was in line for its theatrical release. It's directed by Ken Kwapis, whose working relationship with Bailey goes back to 1986's Vibes, and went on to include films such as The Sisterhood Of the Travelling Pants and Big Miracle. Incidentally, Bailey first worked with Redford on the actor's directorial debut, Ordinary People.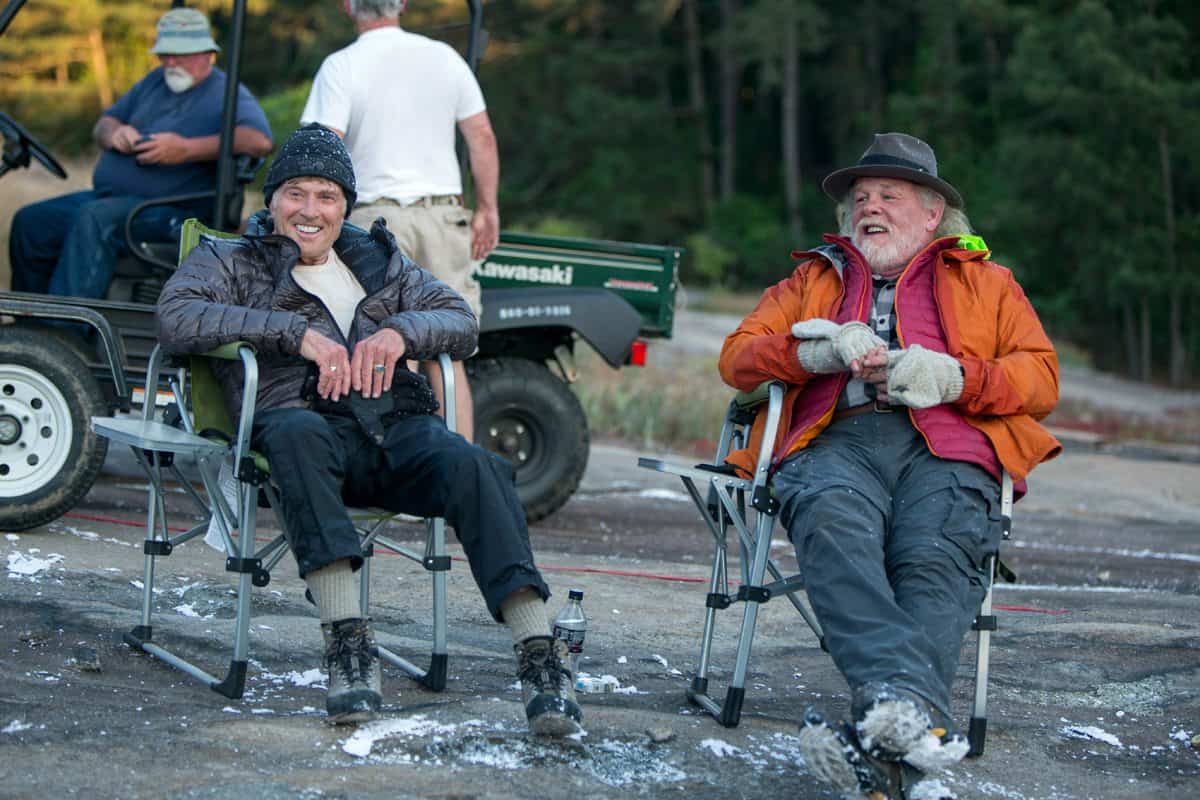 A Walk In The Woods was shot primarily in and around Atlanta where the production could take advantage of incentives. "There are a lot of county, regional and state parks within an hour's drive of Atlanta," Bailey said. "We found a lot of locations that corresponded to the Southern part of the Appalachian Trail. So we were able to, on a low budget, create a lot of different looks. After we finished principal photography, we went out with a small unit for an additional four days and photographed walking scenes and establishing shots on the actual Appalachian Trail in Northern Georgia, North Carolina, Tennessee and Virginia. We were able to intercut the scenes that we photographed in the parks."
The movie was shot with a combination of ARRI Alexa (using ARRIRAW and recording to a Gemini) and Panavision Panaflex 35mm cameras using Panavision lenses, mainly Primo Primes with a few Primo Zooms.
"The original plan on the part of the producers was to shoot everything on the Alexa," Bailey related. "I lobbied to also use film for two reasons: I thought the ability to move along a trail with a small crew, and not have to have a video village trailing us, would allow us to move faster with less chance of mechanical breakdowns.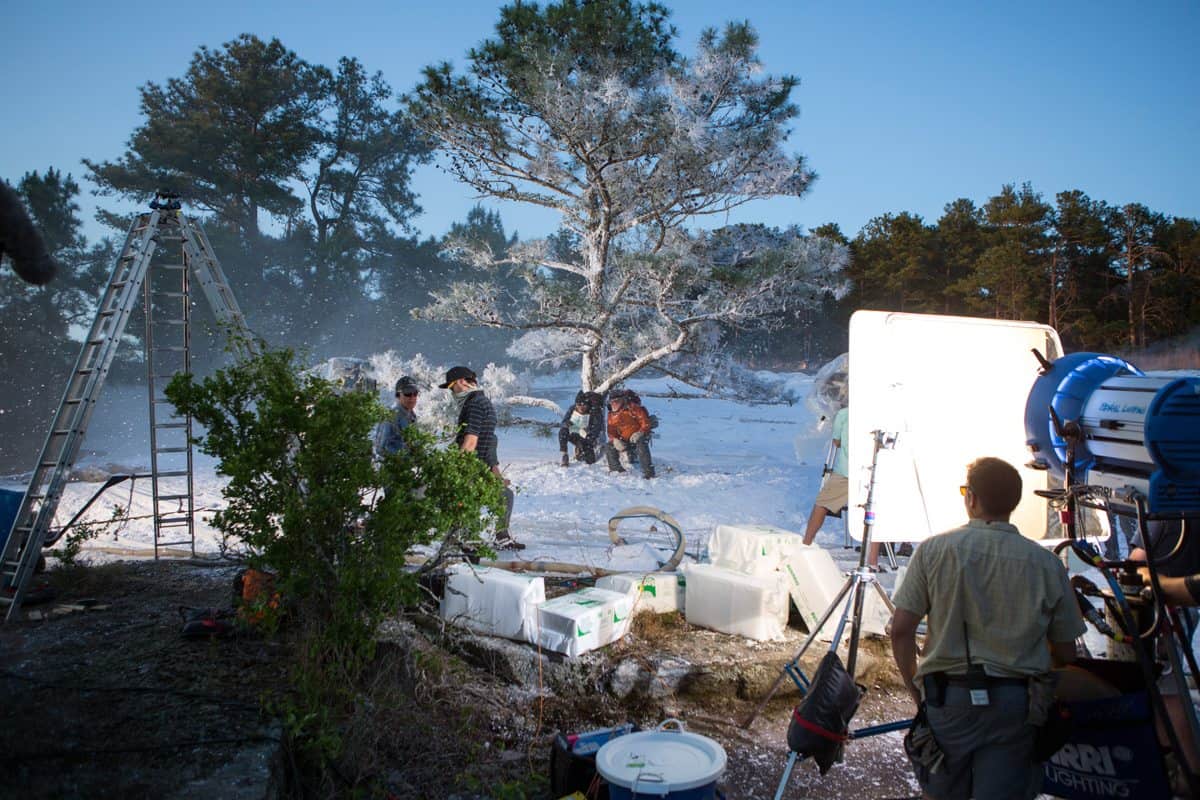 "The other reason is because when we were in areas that were heavily wooded, but also had bright sunlight, the contrast between the open sunlight and shade was so extreme that digital cameras could not really hold the information," he added. "I knew that by exposing film for the shade areas and letting the sunlit areas overexpose, I would build density in the film negative, which I could then key during the digital intermediate and bring down through power windows.
Much of the film, particularly scenes in the woods, was shot with natural light in backlight, inspired by 1978's Days Of Heaven, for which cinematographer Nestor Almendros won an Oscar. "I was Nestor's operator on Days Of Heaven, and Nestor hardly ever used supplemental light for day exteriors," Bailey related. "He always exposed for shadow detail and tried to shoot in backlight.
"I didn't want it to look like a documentary," he continued. "The challenge was to make it look like nature photography, but without using an excessive amount of equipment –make it look beautiful without using much light. That's something I really learned from Nestor on Days Of Heaven."
"We didn't initially consider doing aerials, but as we got deeper into the film and saw how much of it was really in the woods, we felt there was a need to open the film a little bit, visually."
- John Bailey ASC 
Ben Spek was A-camera operator and Steadicam operator on A Walk In The Woods, which was shot from mid-April to mid-June in 2014. Bailey estimated that roughly 60% was shot on a tripod or dolly with two cameras, and the rest primarily with a Steadicam.
"Whenever the camera is moving on the trail, it was always Steadicam. I deliberately didn't want to use any cranes for high angles because I wanted to maintain the point of view of being on a human level and from a perspective that wasn't different from what the hikers would see – until we got to those transcendent moments."
He elaborated that there were a lot of scenes that showed the discomforts of the trail, "but then quite unexpectedly, you'd come up on a meadow or vista for these incredible, beautiful moments that are kind of transcendent. And you realise the larger reason why you are doing this."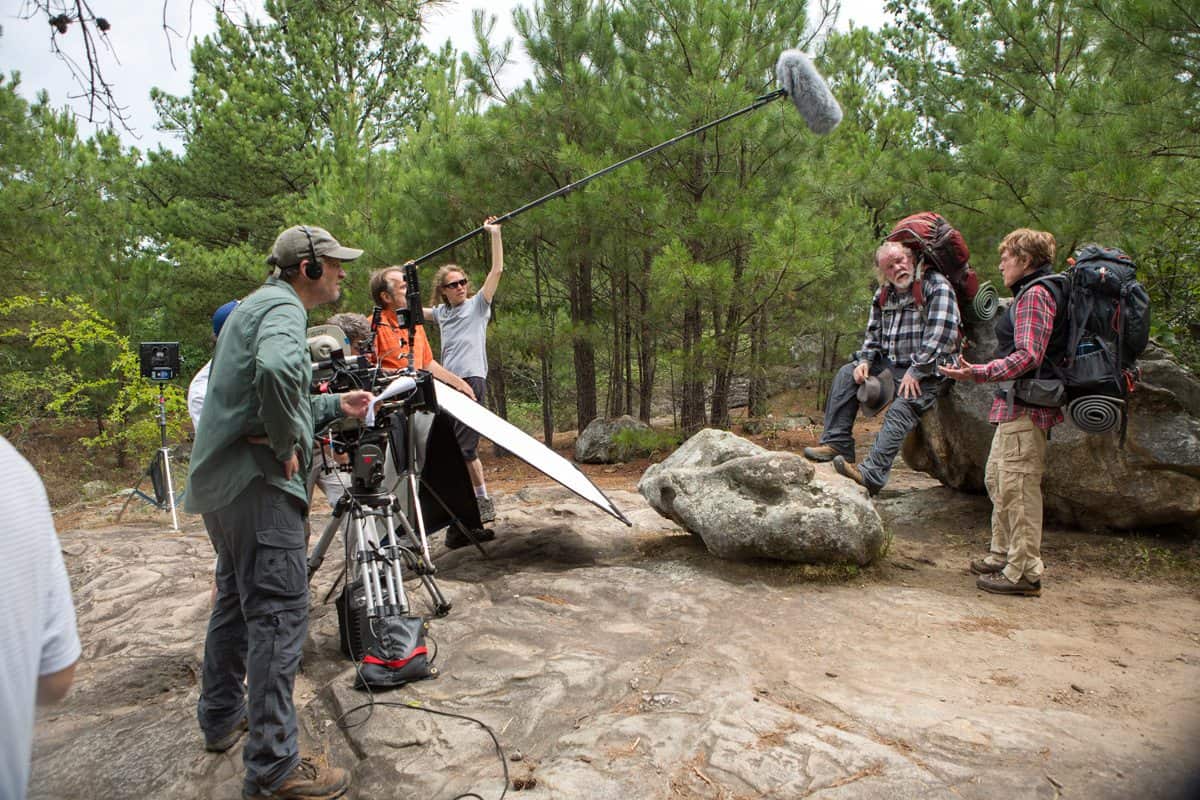 To grab these moments, Bailey employed the use of a small camera on a six-rotor drone to photograph several aerial vistas. This included a scene during which the characters come out of a wooded area to McAfee Knob, a high precipice that overlooks the Catawba Valley near Roanoke, Virginia.
Describing the shot, Bailey said: "You see the actor from a side angle walking to the edge of the precipice and you cut around to a front angle and see that they are standing on an overhanging ledge. Then the camera pulls back and you see that it's really a quite steep precipice and the camera moves around counterclockwise behind them and up above, so we end up behind them and we see down into the valley below.
"We could not afford a helicopter or to shoot an elaborate aerial sequence," he added. "We didn't initially consider doing aerials, but as we got deeper into the film and saw how much of it was really in the woods, we felt there was a need to open the film a little bit, visually."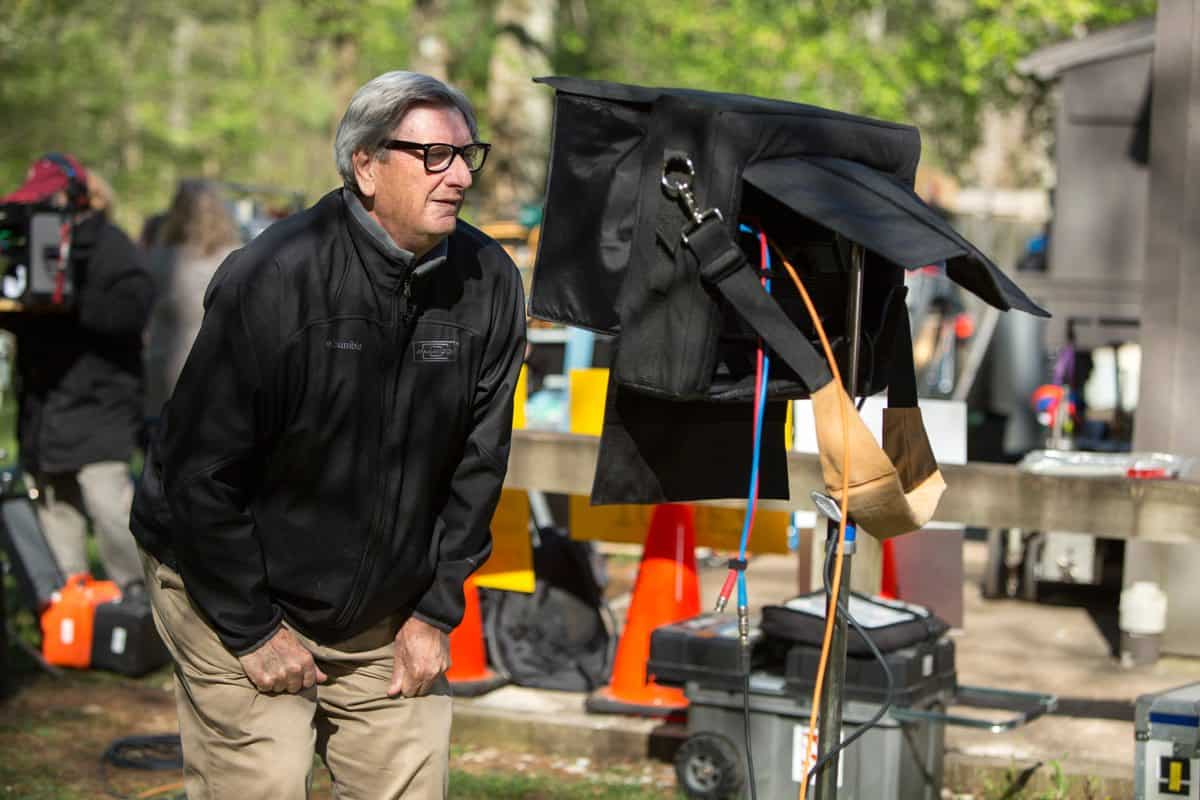 On the use of drones, Bailey opined: "Some of the newer drones allow you to download an app for control by your mobile phone, including even setting GPS coordinates for a range beyond the operator's field-of-view. It's quite amazing how quickly the technology has become so accessible. Anybody with $500 and an iPhone can basically become an aerial cinematographer. Having said that, I think it's also in danger of becoming a visual cliché through over-use. To me, the most interesting way to use a drone is for low shots where you would normally use a Steadicam or a crane, where it establishes a human point of view. Using a drone for a kind of human eye in a way that the eye can't actually move is very effective."