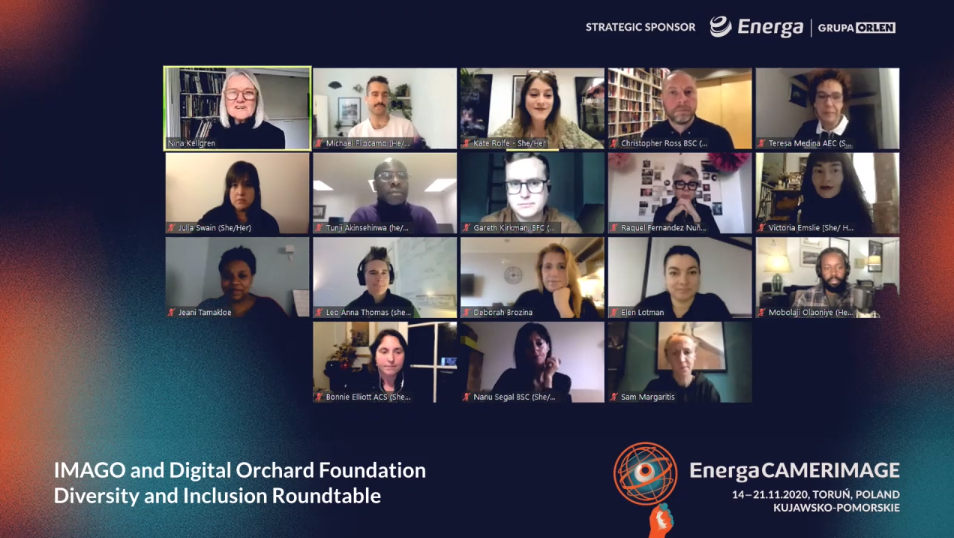 At Camerimage festival, IMAGO's D&I Committee joined forces with Digital Orchard Foundation to talk with a phenomenal group of peers and experts about the reality of diversity and inclusion for mid-career filmmakers in 2020.
They spoke from personal experience about barriers that go overlooked, facts that are silenced, implicit biases that need to change, and shone a light on tired excuses that don't have a place in the future of film and television.
The filmmaking achieved the impossible in 2020 to become Covid-safe in an extraordinarily short time frame. Now it's important to use this same level of time, budget and energy to change our culture and become truly diverse and inclusive as we make incredible art and entertainment the world over.
"There is a great deal to be done in terms of making our camera crews look more like the world we live in, and we don't have to wait for other people to do something about it. We can look at ourselves, and ask this simple question: who is in my crew?" said Bonnie Elliott ACS, speaking about the #WhoIsInYourCrew campaign.
Watch the roundtable discussion on an incredibly important topic in the video below…
Some of the organisations and initiatives spoken about: