Check The Gate
Clapperboard / Harvey Harrison BSC
Check The Gate
Clapperboard / Harvey Harrison BSC
In a career spanning more than five decades, Harvey Harrison BSC worked on a great number of movies with some of the biggest names in the filmmaking business, including Nic Roeg, The Wachowski's, Mickey Moore and Ken Russell.
During this time, he forged a particular reputation as the go-to cinematographer for second unit photography, and counts films such as The Kids Are Alright (1979), Castaway (1986 main unit), GoldenEye (1995), 101 Dalmatians (1996), The Mummy (1999), Lara Croft Tomb Raider: The Cradle Of Life (2003), Sahara (2005), V For Vendetta (2005), Rambo (2008), The Wolfman (2010) and The Man From U.N.C.L.E. (2013) amongst his many credits. Not to mention a host of music documentaries and concerts for the likes of Elton John, The Who and Neil Diamond.
Harrison joined the British Society Of Cinematographers in 1977 and became the society's president from 1994-1996. At that time, he was also a prime mover in the formation of IMAGO, then the European Federation Of Cinematographic Societies, officially founded in Rome on December 13th 1992. After the first two years with Luciano Tovoli AIC at the helm, Harrison was elected as IMAGO's second president, a post he held from 1994 to 1996. Under his auspices, Czech Republic, Hungary, Poland, Slovak Republic and Switzerland became members, and the idea of the popular IMAGO book Making Pictures was born.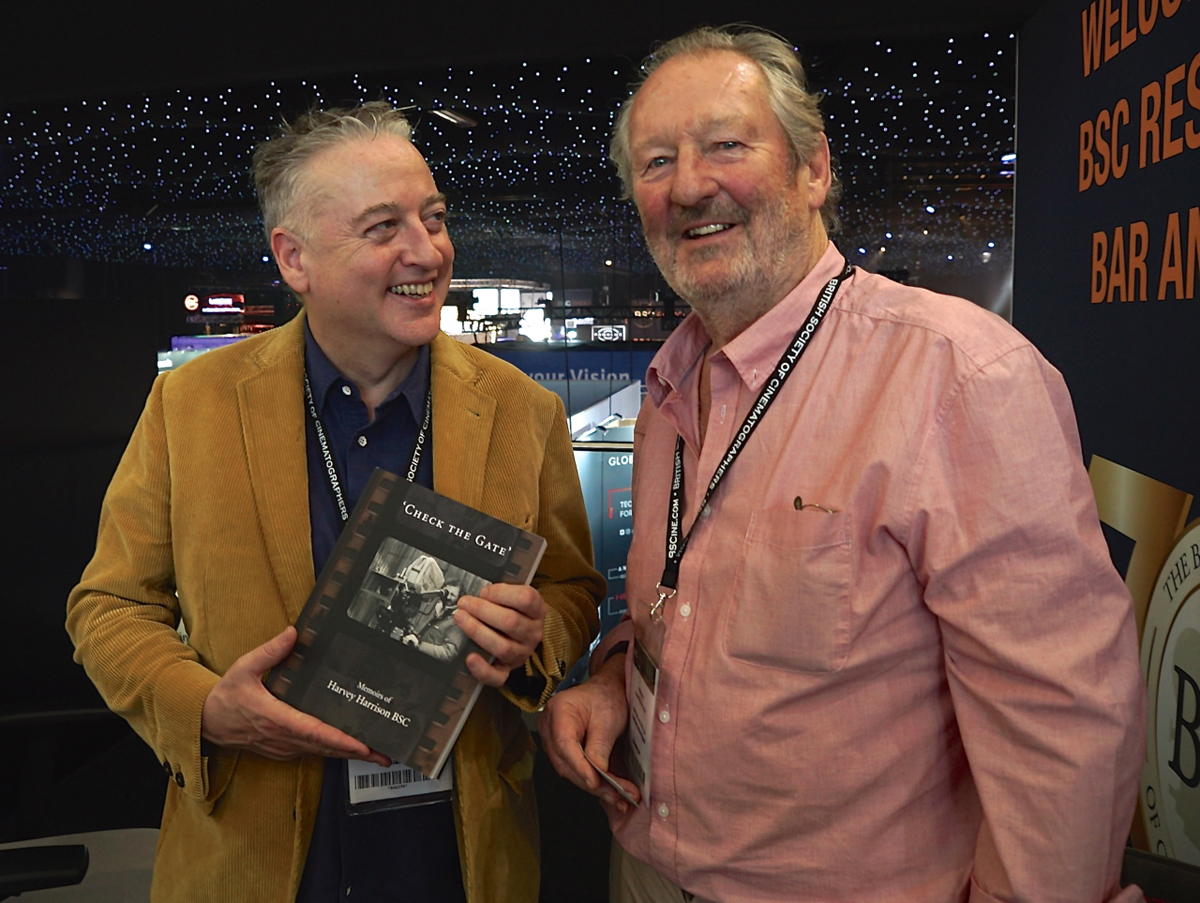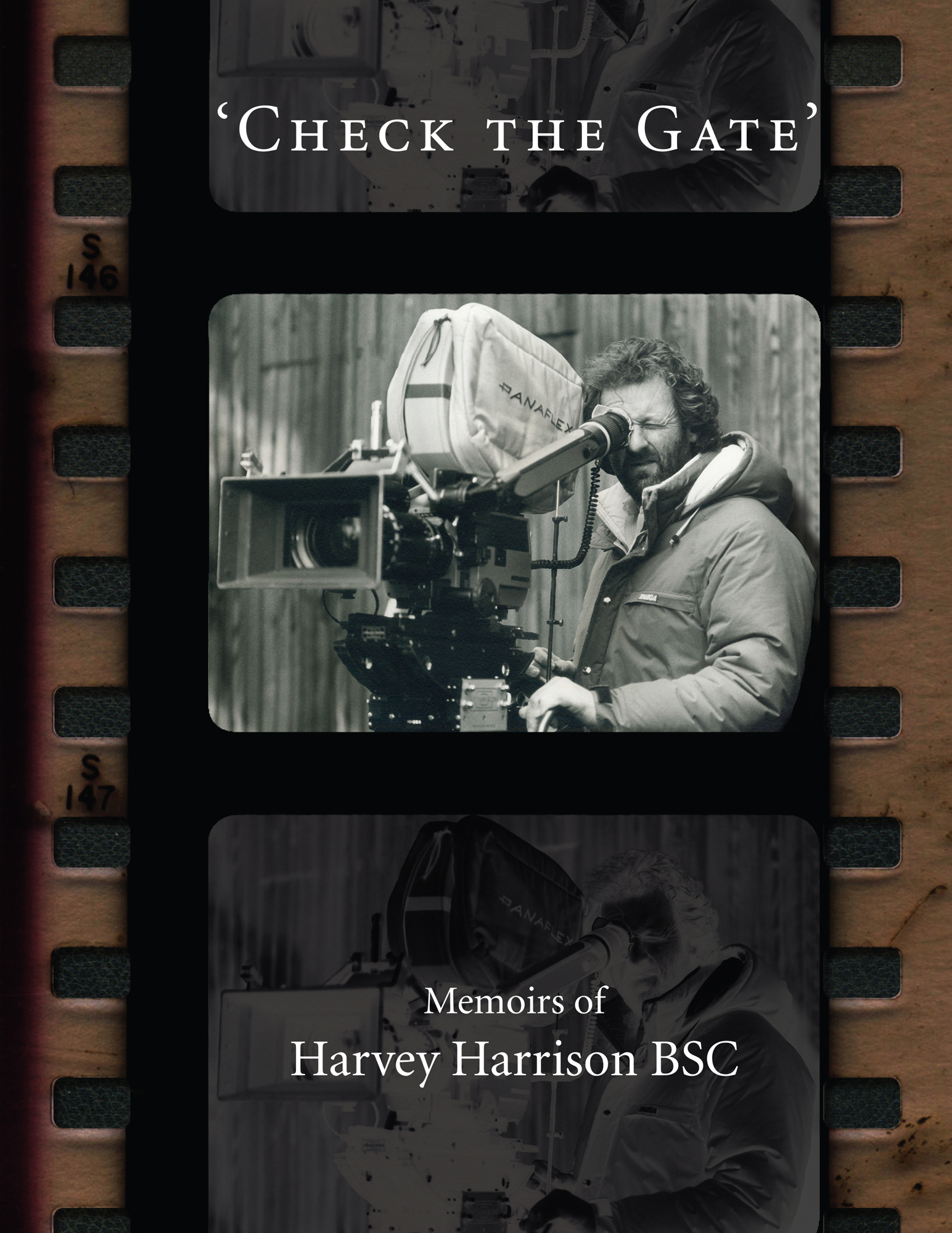 Encouraged by his wife Sally, he embarked on a further publishing venture in 2015 when he put pen to paper to write about his life and times in the industry. The result is a 336-page book of memoirs, entitled Check The Gate, published in semi-hardback and including many photographs. It provides a fascinating insight into the challenges faced by a working cinematographer, the lifetime relationships forged and the humour that abounds in the industry. Here, he kindly let us run some extracts from the book, which was available for purchase on the BSC Stand at the 2020 BSC Expo, and available at the BSC Clubhouse at Pinewood and the Panastore at Panavision in Greenford since February 3rd 2020.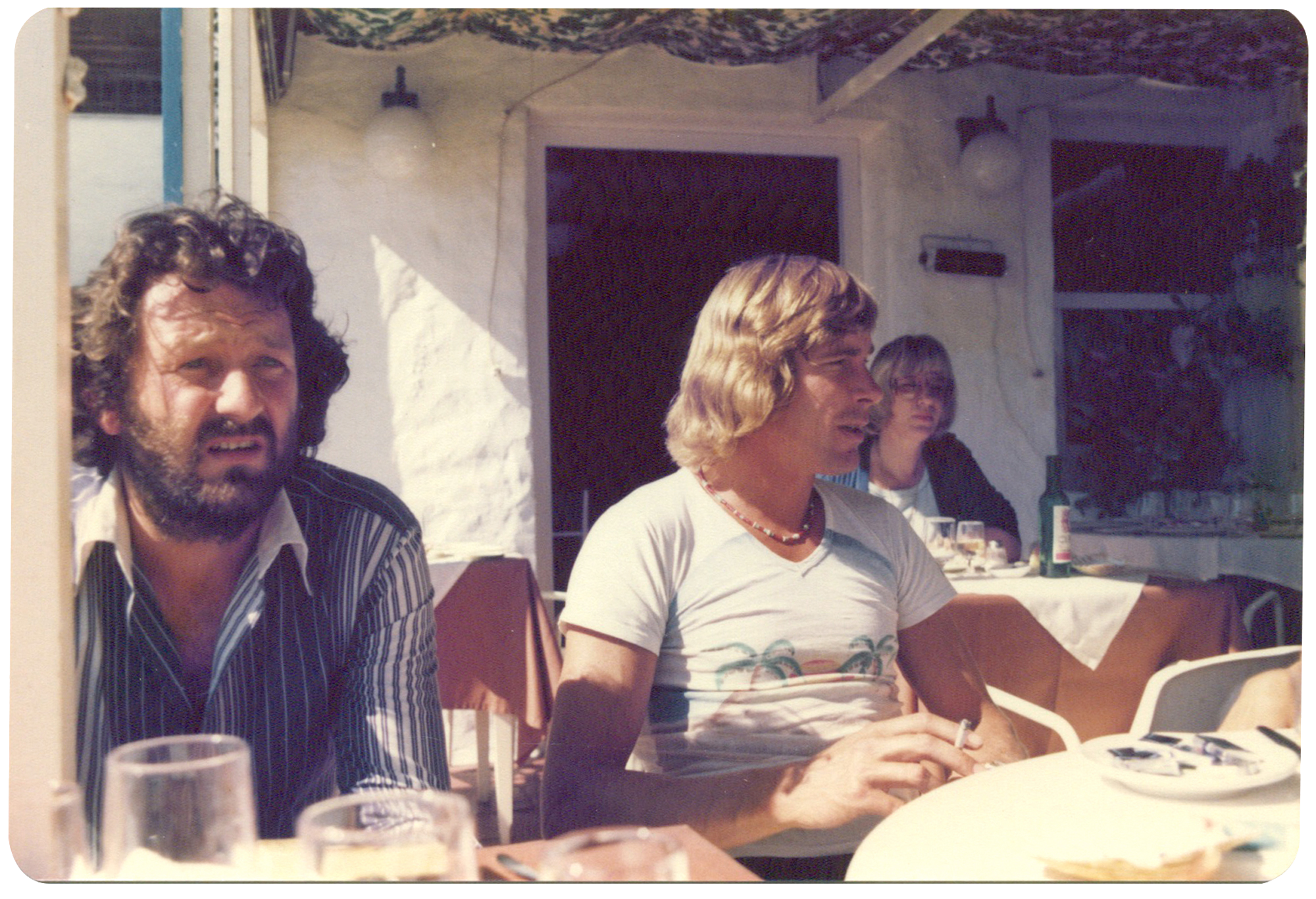 James Hunt
In 1976, I was asked by ABC to go to Spain and shoot an up-close-and-personal of F1 driver James Hunt at his home - he was close to winning the world championship. My crew and I, with Brice Wiseman from New York, arrived and the first thing James asked me was whether Paul Hennessy and I could fix his Super8mm film projector, which was playing up, before we do anything else, as he had some 'blue films' he wanted to show to his neighbours that evening - Bruce Forsyth and Sean Connery. They thought they were coming around for a few drinks and a quiet dinner. Ah, not so with James. They should have known better!
It took a few hours to fix and, by the time we had travelled down the road to Puerto Banús and had a long lunch with a few bottles of wine, we only just had time to do a little shooting. We had to go back the next day and have another go. That was James, an outrageous character, but charming with it.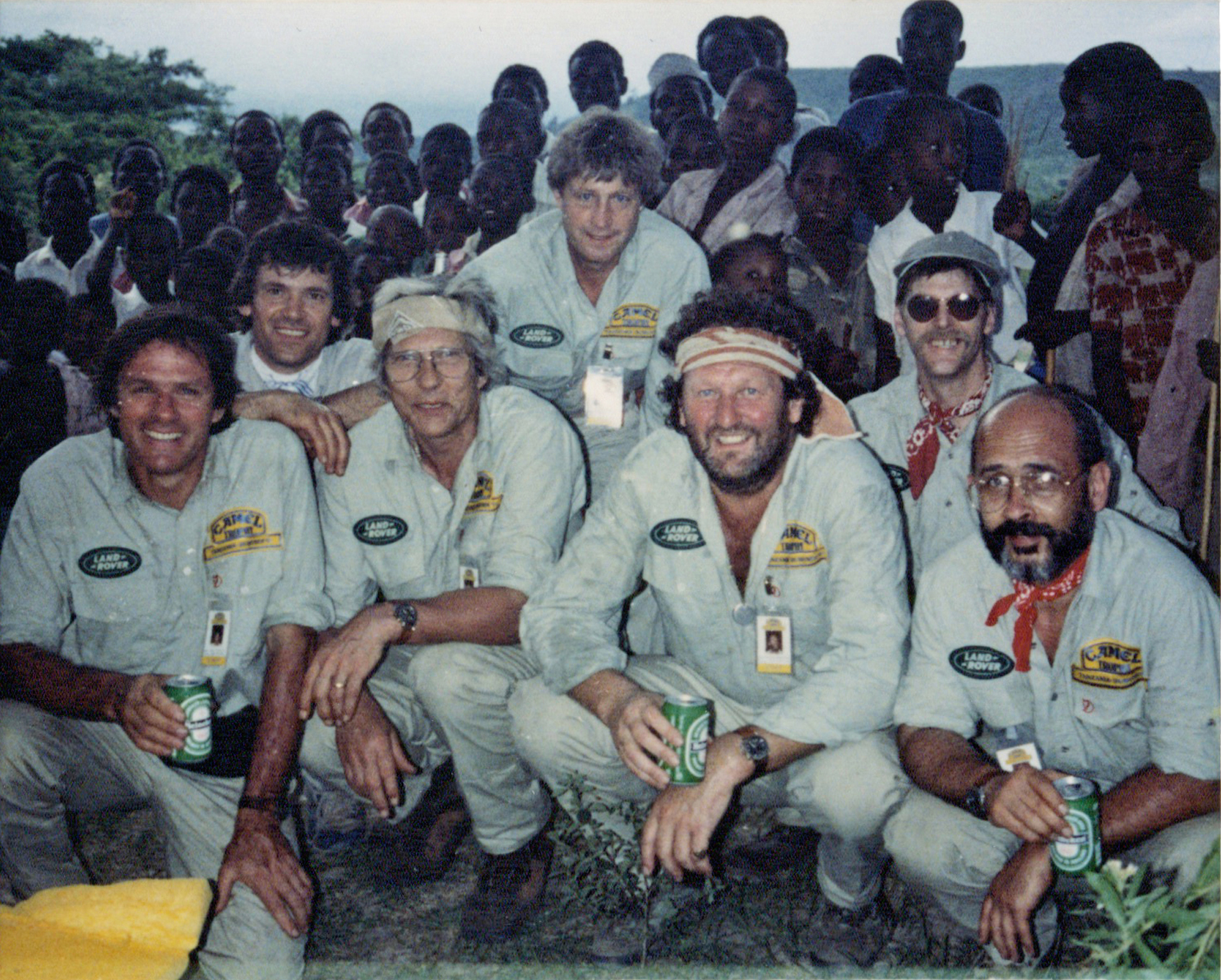 Camel Trophy
One day some of the convoy got stuck in 'black cotton', which was actually a type of grass growing in swamp land. It was black and lethal once it got into the wheel hubs and drive shafts. The vehicles would just seize up. Luckily Duncan Barbour arrived and with his help everyone was winched out and the vehicles put on track. It had been a long and exhausting day and it was decided to camp beside a railway track that apparently wasn't used any more. Well, about three o'clock in the morning, everyone was asleep and suddenly this train came thundering by horn blaring, it went on forever. The freight cars must have been a mile long, and it took my heart a long time to calm down after that.
In the morning I gathered my bits together for my daily ablutions. These included my own personal loo seat on a lightweight metal frame (with my knees I couldn't squat), a loo roll, wet wipes and a spade. Off went I out of sight from the camp, not always easy as there were over a hundred people out there doing the same thing. I found a nice little spot between some bushes, dug my hole, positioned my homemade throne, dropped my trousers and sat down.
As I was mulling away the time, it was a beautiful dawn, I happened to look down on the ground. I was in mid flow, when I suddenly realised I was looking at a paw print, about the size of my hand and the early morning dew was seeping into it. Evidently it hadn't been there that long and then I spotted a couple more. Well, at this point, I have to say I felt extremely vulnerable. There I was out of earshot in all probability, with my trousers around my ankles and a big pussycat out there looking for his breakfast. Stealth was now of the essence. I packed up slowly and quietly, not bothering to fill in the hole - a cardinal sin - and crept off towards the camp. At which point all hell was let loose, when a group of the teams had obviously spotted the cat and were chasing it away with sticks, banging on tin mugs and shouting. Unfortunately, I was spotted by the crew returning with my loo seat draped around my neck and my trousers half hanging down with a long line of loo paper trailing from my arse like a tail, just like the Andrex puppy commercials. What an embarrassment.
Elton John
Elton was performing four concerts in St Petersburg and four in Moscow accompanied by his percussionist Ray Cooper (the mad professor!). We arrived in Moscow to do a few recces of exterior and interior locations around the city and, of course, the theatre, where I had to talk to the roadies about the lighting.
Thank heavens I had just shot The Who, as I was able to sound as if I knew what I was talking about. It was going to be very complicated and I was only allowed three cameras in total because of budget. So we decided that we had to shoot two concerts in St Petersburg and two in Moscow, the only problem being that for those four concerts Elton would have to wear the same wardrobe. What? Elton in the same clothes more than once!? The reason being so that we could make three cameras look like twelve and the editors could cut the four concerts to look like one. It took some very delicate negotiations with Elton between Harvey Goldsmith, Dick Clement and Ian La Frenais, and John Reid his manager, but he saw the reasoning behind it all and agreed without too much fuss, as long as he could wear what he liked at the other concerts that we weren't filming. I just have to say that there have been many stories about Elton being a little tricky, but he was absolutely as good as gold with us.
The Wachowskis
One afternoon the phone rang, and it was a guy called Roberto Malerba calling from Germany, first-of all enquiring if I was available and whether could I fly to Berlin the next day to meet up with the Wachowski Brothers (Matrix) to talk about a film they were producing. Indeed I could. I was on the first available flight from Marseille. I arrived at Babelsberg Studios around 12.00-midday, met Roberto (a charming man, actually mostly Italian, with a perfect English accent), and was taken up to the office to meet the brothers. Of course, I had no idea what to expect. As I walked in the first thing I noticed were banks of computer screens (not my scene) and there, lying out on a couple of sofas was a skinny-looking person and a fat-looking person. Could these possibly be the brothers?
As they slowly rose from their prone positions Roberto introduced us. "This is Harvey," to Larry (the thin one) and Andy (the fat one). We shook hands, Larry's very weak and effeminate, and Andy's like a vice. We sat down and Larry started the dialogue. Had I had a good journey? "Yes, thank you, I came from Marseille". "Oh, do you live in France?" "No, actually, but I spend time there." "Why have you come to Berlin?" "Well, to meet you." "Oh, yes, what have you been shooting?" "I just finished Sahara and Troy." "Oh good". Andy, "We're shooting a film called V For Vendetta, what do you do?" "I'm a second unit director/DP. Hmm. Silence. Larry, "Thanks very much for running by to see us," and I was shown the door. Roberto met me outside. "How did it go?" "Not terribly well," I replied. Roberto, "Yes, they can be a bit strange sometimes, I'll arrange for a car to take you back to the airport." And that was it.
I arrived back home in France that evening and of course Sally's first question was, "How did it go?" I really didn't know what to say. I had been mulling it over on the trip back and just couldn't make any sense of it whatsoever. My reply was simple. "They're a couple of fruit bats, and I've got more chance of being struck by lightning as to working on a film with those two."
Sahara
Sahara was going to be a lot of fun, reunited with Stephanie Austin (probably the best producer I ever came across, in all the movies I ever worked on) and her old man Scott, working with my very good friend EJ Foerster as second unit director, teaming up with Seamus McGarvey BSC ASC as the DP, and working with Matthew McConaughey again.
First of all we had to do a recce. Although we knew Erfoud very well we still had to scout particular locations to tie them all in and then, after Christmas, we had to go back and look at a train line that went through the desert in Northern Morocco near the city of Oujda. What a dump! The worst thing was that I thought it would be reasonably warm. I arrived in shorts and by now my usual Hawaiian short-sleeved shirts. But no - it was brass monkeys and it even snowed. I had no proper location gear with me and I literally froze. At this time in my life I should definitely have known better. I was trying to be clever and travelling light. My advice, whatever the location, anywhere in the world, any time of the year, just take everything to cope with -40 to +140, sun, rain, snow, hurricanes, cyclones, floods and locust attacks. You just never know what's round the corner, especially as you're on a film and the worst usually happens. As Murray Walker used to say about an F1 Grand Prix, "Anything can happen and it usually does!". It also applies to films.
We had a lot of fun shooting Sahara, especially as I managed to get my complete usual crew, the best, out from the UK. We worked incredibly hard - long days 6.00am to 8.00pm in that searing heat, all in the desert. On our way back to the hotel we always had a few stop-off points, at some local Riad for a few refreshing cold beers. The food in Erfoud was not particularly of the highest standard, but the tajines weren't bad and the local barmen and waitresses were really friendly seeing to our every whim.