HEART OF THE ACTION
Gabriel Beristain BSC ASC AMC teams up with director Cate Shortland to bring a heartfelt story to the screen that is driven in equal measure by intimate character-focused moments and Marvel's trademark visual effects spectaculars.
"We wanted to make the film spectacular, but it still needed to have an intimacy as that is what would make it really special," says cinematographer Gabriel Beristain BSC ASC AMC about Black Widow, the Marvel origin story he lensed which explores the journey of Natasha Romanoff (Scarlett Johansson).
"Marvel films are all about fantastic visuals, but [director] Cate [Shortland] was keen to also focus on the value of the characters' on-screen relationships. Having the opportunity to do this through a superhero film was an exciting challenge. We set out to make a human film that would connect deeply with the audience but in the context and spectacle of a Marvel production."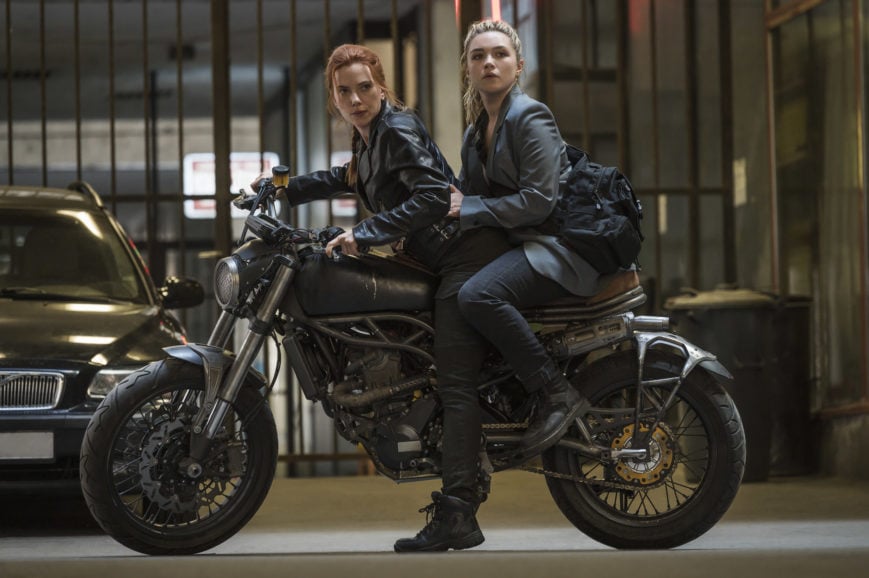 Beristain is familiar with Marvel's iconic style, having shot additional photography for films such as Iron Man 2, Iron Man 3, Guardians of the Galaxy, and Thor, finding a visual language that was respectful to each director's vision. "When Marvel wanted to give me my own film, I became part of director Cate Shortland's Black Widow team which was phenomenal," says the cinematographer. 
Black Widow follows Natasha Romanoff/Black Widow in her quests between Captain America: Civil War (2016) Civil War and Avengers: Infinity War (2018), exploring the relationship with characters including younger sister figure Yelena Belova (Florence Pugh) along the way. While a Marvel movie is quite a contrast to Australian writer and director Shortland's previous productions which include dramas Somersault (2004), Lore (2012), and Berlin Syndrome (2017), she brought a unique approach that perfectly suited Black Widow's relationship-focused narrative.
"The fact Cate came with a really strong female vision, like she has in all her films, was important. I went through her past productions and discovered her unique creative language and the way she really understands the role of females in our culture and society," says Beristain.
"I immediately saw that Black Widow was not all about the stunning visual effects extravaganzas that Marvel does extremely well. It was about characters discovering their realities, their past, and the way they must deal with the cards life has dealt them. To find the realities amidst this extravaganza was wonderful. That humanity in the film is what makes it really extraordinary."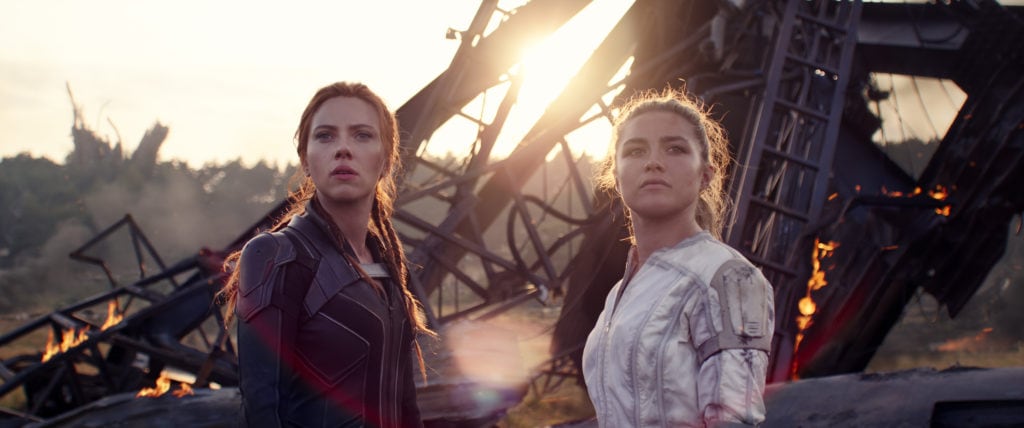 While Shortland and Beristain were based in separate tents during the shoot, they remained in constant dialogue. "Cate preferred to be separate to the technical equipment even though conceptually she wanted me there with her, helping her understand how everything I was doing would serve the story and the tale she was telling."

Beristain valued the references Shortland brought to the project and her "tremendous film education" and focus on technical details that would help enhance the narrative. Together with production designer Charles Wood, Shortland and Beristain crafted a world in which everything was symbolic and had a strong justification for being there, aided by Wood's "powerful" set of reference images.

Shooting locations included Norway, Budapest, Morocco, and the UK, including at Pinewood Studios. The most problematic part of the shoot was filming additional photography in the US to match UK locations. "Light was very important here. For example, we had to recreate a scene that was shot in a field in Oxford, UK, so I was very conscious to study the light and the direction of the sun at each point as I knew it would be essential for when we shot additional photography at a ranch in Los Angeles."

The ability to be confident in creative and technical decisions was also imperative. "When you make a small independent film, you might say 'I didn't have a crane' or 'there weren't enough lights available,' but when working on a production such as this where all the equipment is available, everything has to be a great decision, which can be a challenge for a filmmaker. But undoubtedly the film is visually very impressive because of everything we had at our disposal."

Waiting for the perfect light

Beristain believes that a large part of the filmmaking craft centres around lighting and composition. "Cate had a similar mindset and wouldn't let us shoot if we didn't have wonderful light," he says. ""So, we waited for the perfect light, like when the old British films such as Lawrence of Arabia were being shot. That was so refreshing."

The cinematographer enjoyed a close and successful lighting collaboration with Lee Walters, who he clicked with immediately and counts as "one of the top British gaffers by far". "He designs his own sources in a variety of sizes, that he calls the 'coffins'. They make a very small, soft, beautiful source, that is also directional," says Beristain. "Those famous coffins allowed us to give Cate and the cameras tremendous freedom."

Beristain's fundamental approach to lighting the world of Black Widow was to light from outside, as would occur naturally. "I wanted to let the light enter through the windows whilst trying not to invade all the spaces," he explains. "It was not always possible, but that was the main principle – let the light from outside come inside, either by bouncing in grey sources or by throwing very strong shafts using the coffins in strategic places."

Whenever Walters and Beristain used lights inside, it was a continuation of the light from outside, achieved using the coffin lights Walters designed. "They are covered with strong diffusion but very lightweight so he can put them in small and hidden places. This fitted in with our approach not to invade the set with lighting paraphernalia but to let everything stream from the outside into the sets."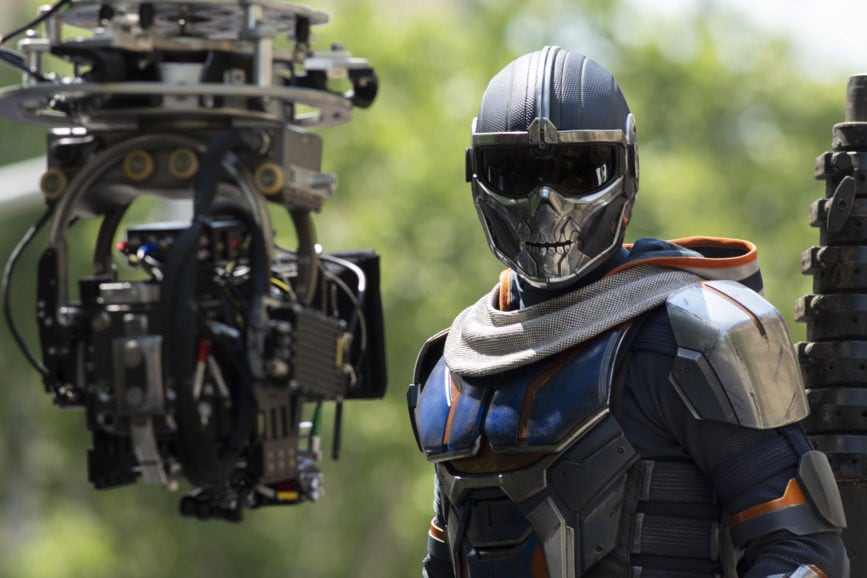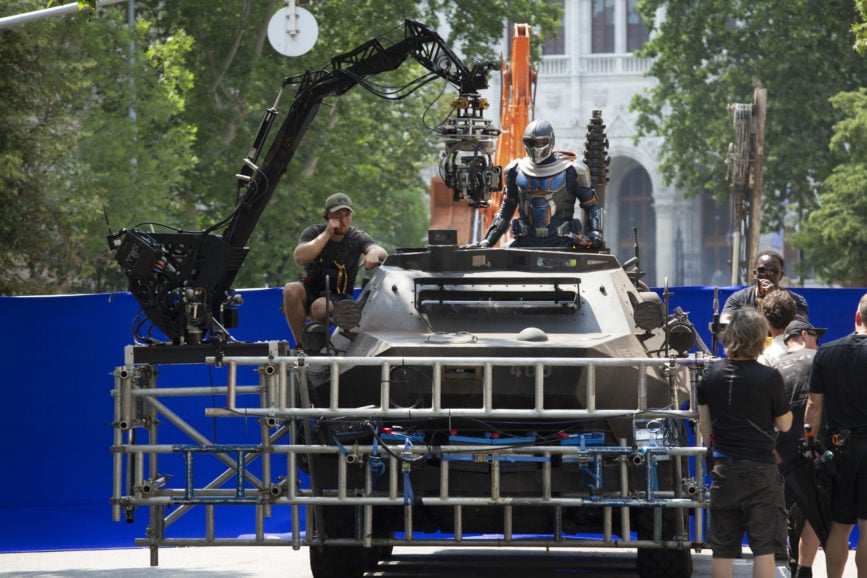 Scarlet Johansson's desire to "make the film as real as it could be" was also helpful for Beristain when illuminating scenes. "You might imagine film stars would want to put thousands of lights on hair to make sure everything looked pristine, but she wasn't like that. That helped me a lot because we didn't have to fill the set with fixtures to create glamorous lighting. This means the film still looks phenomenal but with a more realistic feel."

The filmmakers worked with an all-ARRI lighting rig. Initially they tried to use tungsten light but then shied away from it and decided to opt for LED. "The most wonderful lighting operator, Simon Baker, was controlling everything with his iPad," says Beristain. "We realised it would be better for us to go down the LED route and use the most modern ARRI technology to allow for that control. It was only when I needed a big source that I could dim down that I used tungsten. We shied away from HMIs because unless you can dim them a little it's very difficult now to work with them. I'd rather use a big ARRI LitePanel that gives me the option to dim."

Spectacular yet intimate
Being a "master of the three-camera set-up", Beristain suggested using this technique to Shortland. The director soon embraced the concept and was keen to achieve compositions that ensured every camera "really said something".

Like Beristain, Shortland wanted to shoot anamorphically. "In the anamorphic world, there is nothing more beautiful than vintage lenses, so we decided to use the Panavision C Series and D Series," says Beristain. "When Cate saw how the lenses behave, she fell in love, and I completely supported that. I shot Dolores Claiborne with the vintage lenses many years ago, so I know them very well and that they are absolutely beautiful."

The film needed to be anamorphic because of the prominence of the landscapes in the narrative. "We wanted it to be expansive," says Beristain. "Black Widow is also all about movement, with characters transitioning from the background to the foreground, crossing the screen in an elegant, majestic way. When you're trying to achieve extraordinary use of composition in an elongated way, there's nothing better than anamorphic to do that in wide screen, so we celebrated that."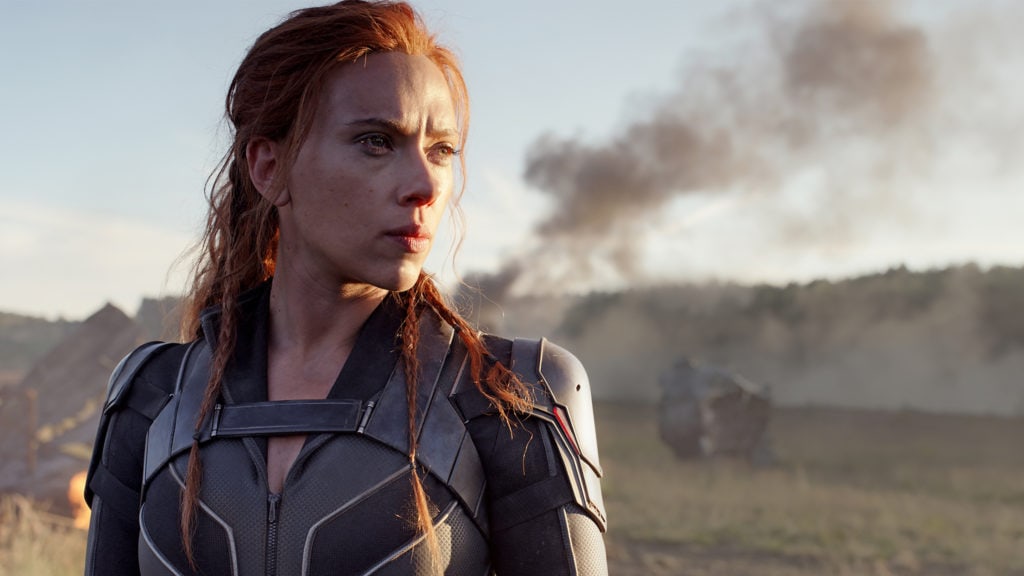 The cherished vintage lenses were teamed up with the Sony Venice, a camera which had impressed Beristain on recent productions. "Now I'm totally in love with it and I'm also shooting the project I'm currently working on with the Venice," he says. "Sony is constantly upgrading the camera, giving you tremendous flexibility. So, from a technical point of view, the right choice was a camera that gave us options – high speed, 6K, 4K – and that I could modify because we had to shoot some sequences in extended aspect ratio for IMAX for which I used full-frame Panavision Primo 70 lenses."

The filmmakers utilised the Venice's Rialto mode so it could be used at a reduced size in conjunction with the "powerhouse" Stabileye stabiliser system. Beristain relied on the Stabileye as one of his main tools during the shoot, valuing its "compact characteristics and well thought out design". "Rialto mode allows you to take the camera apart, so you end up with a very small component to mount on the camera," he says. "The rest of the camera goes in the back of the grid or is tethered by a cable. That was great because it meant we could make this gigantic film using movements associated with a very small camera whilst enjoying lots of flexibility and a super high-quality image."

Working closely with the cinematographer to capture the world of Black Widow was assistant cameraman Adam Coles. "He was brilliant and was also very much a supervisor in the department as he was managing all the equipment and operators," says Beristain.

"I had a wonderful camera team. Our 2nd unit director Carlos de Carvalho deserves a special mention. He showed tremendous initiative and seamlessly matched scenes. My operators Julian Morson and David Hamilton-Green demonstrate why British operators are the absolute best, and Marcus Pohlus and Stamos Triantafyllo represent the best in Europe.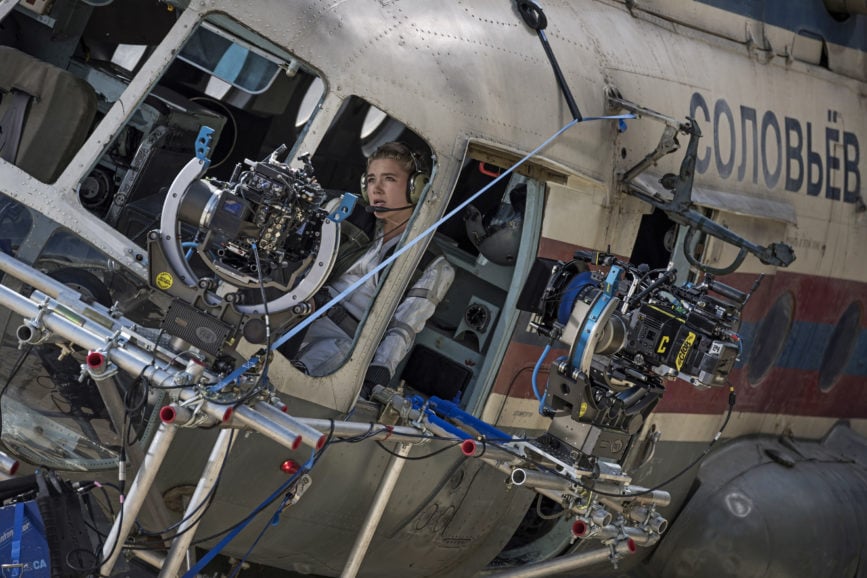 "The incredible team also included Jamie Harcourt, whose father was my mentor in my student years, my wonderful American female operators of the shots in the US – Abby Lyne and Raquel Gallego – and last but not least, Marcus Cole also in the US. Black Widow's camera assistants and grips are tremendous examples of what an accomplished array of technicians and artists we have in our industry."
The camera crew also used a Phantom Flex4K to capture fight scenes at 500 fps to be used as slo-mo sequences. "But however beautiful and interesting the results of the Phantom are, that was not the overall language of the film," adds Beristain.
While camera movement was a key consideration for Shortland, the performance and story were always the stars. "She's not the kind of director who says you always need to keep the camera moving or need to establish a gimmicky visual language to tell a story," he says. "In fact, perhaps one of the most moving moments is when the two lead female characters are sitting talking in a coffee shop in Budapest. The camera does not move and it's a very straightforward, over-the-shoulder, close-up two shot, and yet the scene is utterly moving and powerful.

"Cate was always passionate about making a film that was as spectacular as it was intimate. In another sequence, this time in the farmhouse, the two women are in a very small room. Not shying away from moments when she needed to confine the actors to a physical space was important to Cate. That's the beautiful thing about the film – those intimate moments achieved with precision, reality, and passion are as valuable as the well-planned spectacular scenes where everything was at our disposal."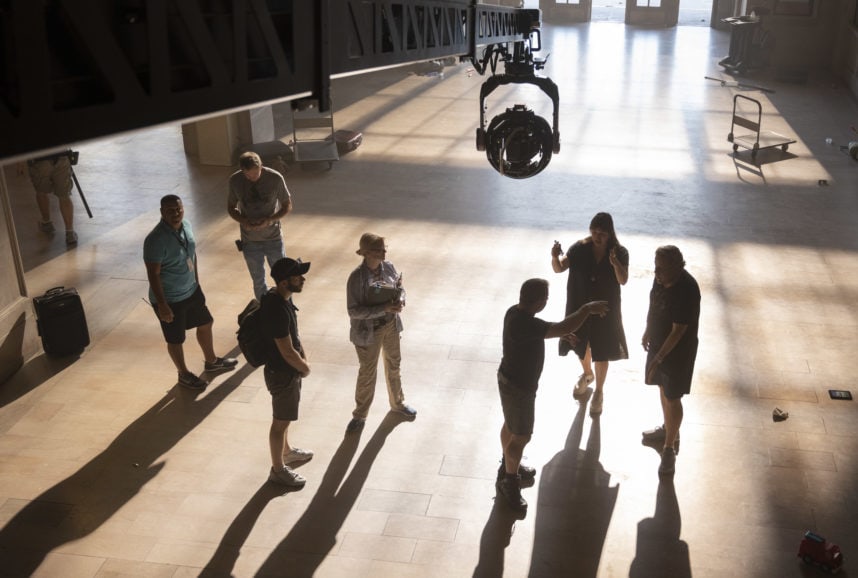 Moments of stillness and human connection are interspersed with the visual effects-heavy sequences that are expected from a Marvel production. "The scenes that featured many effects required so many units to work in unison – the wind tunnel unit, robot arm unit, second unit, our main unit and so on. This meant the storyboards and previs were incredibly important because they showed the exact movements we needed. We also used a phenomenal amount of green screen and one of the biggest wind tunnels in the world at Pinewood. It was a massive enterprise – the production was absolutely epic."

Studying the previs in detail allowed Beristain and Shortland to unify all elements. "I added notes for every element, especially lighting," he says. "For example, the camera might move right to left and then there is an explosion, so we would need some interactive light created by that explosion. When you're working with five or six units you have to really connect the visual language and much of that was decided in the previs. It was also dictated by the dynamic the visual effects sequence required, so it was a mixture of what the film technically required and what the story required."

High-flying heroes

Helicopter Films Services shot VFX and live action plates in Norway, Svalbard, Tangier (Morocco) and the UK. "They did a phenomenal job and are very professional," says Beristain. "Again, the most important thing, not only with Helicopter Film Services, but with any other vendor and crew member, was that everyone was attached to the previsualisation system so they were all on the same page."

The team used the company's specialist six-camera aerial array, the Typhon, incorporating six RED Helium and 21mm Zeiss CP.3 XD lenses to give a massive field of vision that is ideal for use in VFX-driven productions.
Helicopter Film Services Jeremy Braben, aerial DP/camera operator, shared insight into the filming of the aerial sequences: "The other element we integrated, for shooting with the Typhon in Norway, was the use of a focus and iris control via remote control on each lens."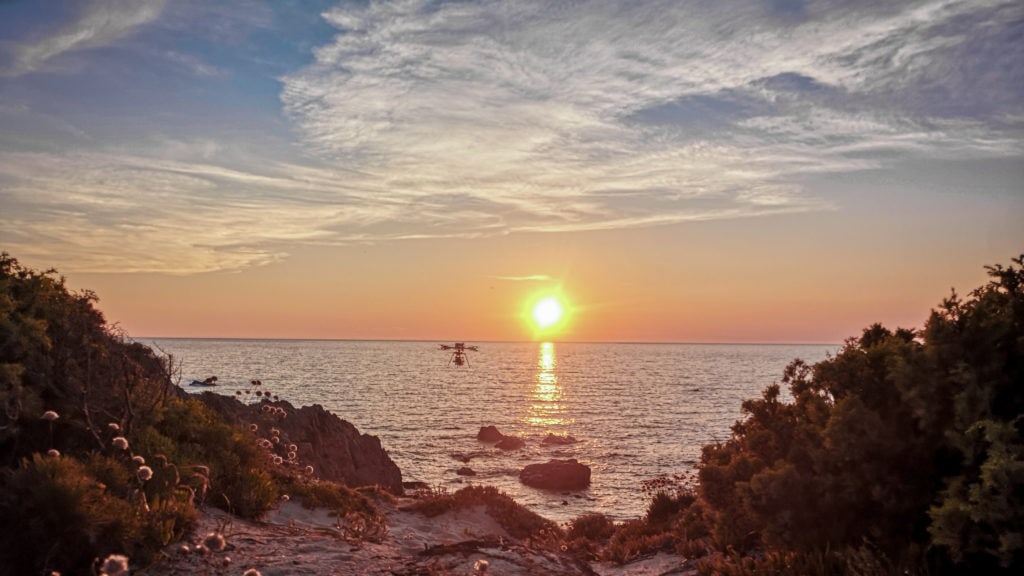 Braben was joined by aerial technician Oliver Ward; drone pilot Alan Perrin; drone AC Sam Thurston, aerial camera technician Becky Lee; Typhon six-camera array camera tech Jeff Brown, and 2nd unit DP Carlos De Carvalho. "There were six iris motors and six focus motors – one for each body. This enabled us to calibrate each lens individually to counter any mechanical difference in the scales of the focus and iris. We used a single hand-control unit in the helicopter cabin to control all 12 motors. This solution was an aerial filming first," says Braben.
To protect the kit from the wind force, a carbon fibre cowling was designed and fabricated to safeguard the lenses within the Typhon, and act as an aerodynamic cover. The team also filmed helicopter VFX plates over Ministry of Defence land in the UK and over Norwegian fjords and mountains, plus a live action sequence with a drone in Tangier.

For the drone work, they needed a reliable and stable platform, so they used the Aerigon Drone, carrying a RED Helium on the Movi Pro gimbal. "Filming the VFX plates themselves was not a challenge, but to give the length of shot required, we had to maintain effective lens control and video downlink over a long distance. To achieve these, we used a directional patch antenna on our video downlink, and RT Motion lens control," says Braben.

Helicopter filming in Norway was up in the mountains, working with stunt doubles who were ferried to the top and back down by the filming helicopter. Giles Dumper was the film pilot with Braben in the Airbus H125 Astar.

Drone filming in Tangier presented a range of issues, from difficulties transporting the equipment up small, winding staircases to the rooftops, to flying around the rooftops of a busy Moroccan town. "To aid our pilot, the Aerigon Drone was fitted with a pilot camera, allowing the pilot to plan the route effectively and navigate obstacles more easily," says Braben.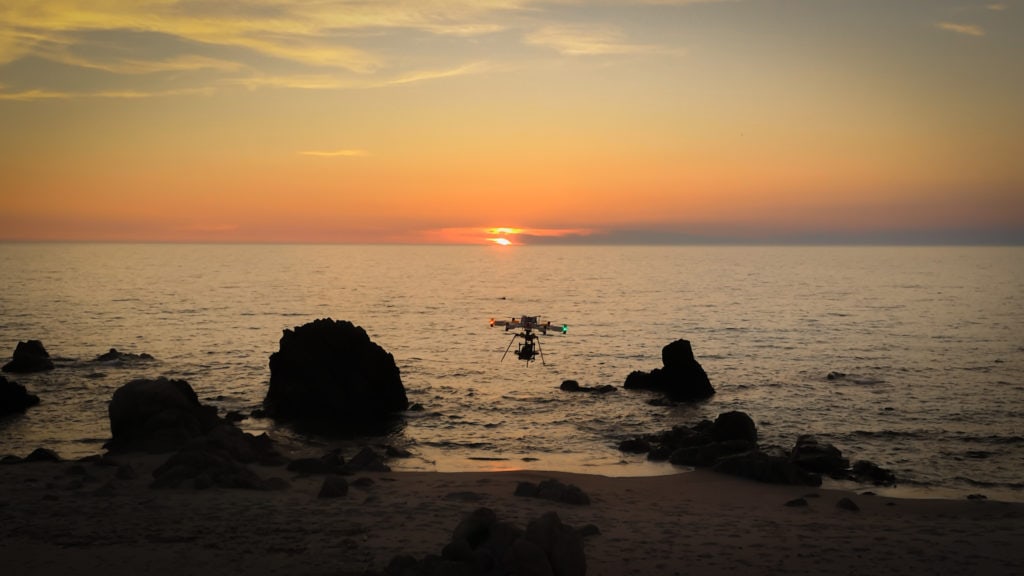 In Svalbard, the aerial filming kit comprised Typhon six-camera array with RED Helium/Zeiss, Shotover F1, Sony Venice, and Fujinon Premista. In Budapest and Norway, they worked with a Shotover K1, Sony Venice, and Fujinon Premista. The UK aerial sequences were filmed using a Typhon six-camera array, Shotover F1, Sony Venice, Fujinon Premista, Aerigon drone, RED Helium and Movi Pro gimbal. For the Morocco shoot, the team used an Aerigon drone, RED Helium and Movi Pro gimbal.

"It is illegal to fly drones in Morocco, so Tangier, as a location, may have been a problem. However, we have long standing experience and a good reputation for filming in this beautiful country, and received all necessary permissions working in close contact with our local production fixers, allowing us to continue our work unhindered," says Braben.

Unified through colour

Colour understandably played a starring role in the graphic novel-influenced film. The filmmakers had to ensure the use of the prominent colour red, for instance, along with how it was introduced and would evolve alongside the other shades, was correct. "The colour, composition, lighting, script, and acting all had to be symbiotically correct at all times. For instance, if the visual effects or stunt work didn't feel right for Cate, she would say so. She would consult with myself, our fantastic stunt coordinator Rob Inch and phenomenal visual effects coordinator Geoff Baumann to try to find alternatives that were right for the story. It was a constant dialogue between all departments."

The filmmakers worked with a very specific LUT to guarantee everything was unified. "We could not be capricious as there are so many wonderful artists working on multiple teams. We strove for unity between units, so we had a single LUT and while I was a significant part of that decision, the decision came fundamentally from visual effects."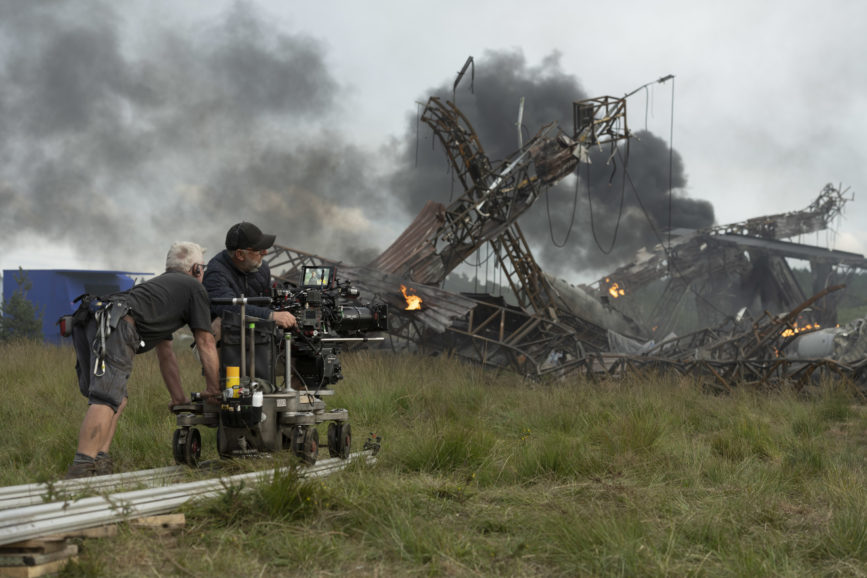 To allow everyone to work with an image with the same values and quality, that "simple" LUT was chosen early in the process. "It has to be RGB because only by having RGB do we know that we are not modifying the original image," he says. "Sometimes it can be frustrating because in that LUT you cannot always show what you're really trying to achieve, so when I wanted to show Cate what I was aiming for in terms of contrast when we were going to final correction, I asked DIT Jay Patel to create a copy of that and modify it."

Beristain felt "lucky to have the wonderful" Jill Bogdanowicz – "one of the greatest colourists in America" – working on the final grade. "We have a strong shorthand, having worked together on many films over the years. As we were grading in the middle of the pandemic, Cate and I were together in an animation screening room at Disney while Jill was in the Company 3 facilities in Hollywood. Cate was very specific about certain aspects, such as reds that needed to be more intense."

Working on Black Widow reinforced the power of filmmaking as a form of creative and artistic expression in Beristain's mind. "When I collaborated with director Derek Jarman – not only one of the greatest British filmmakers, but one of the finest artists – on Caravaggio back in 1986, he used to tell me 'Gabby, filmmaking is an art form in whatever way you do it'. Working closely with incredible artists and actors on Black Widow – a film that is all about powerful acting, emotions, and storylines – really brought that back to me. And I hope that the pandemic will help us treasure the value of that creative process by understanding that filmmaking is an art form, and we must treat it as such."