NEW TRICKS AND CLOSE COLLABORATIONS
The unintended pandemic break gave cast and crew additional time to plan how to shoot Loki. Cinematographer Autumn Durald Arkapaw reveals how she helped create that world.
"We were lucky because we had COVID in the middle of our shoot. It allowed us that break in between for conversations about what we would do if and when we came back." That's cinematographer Autumn Durald Arkapaw talking about shooting Loki for Disney+. The view, that an ostensibly bad thing, like a pandemic, can yield good, is often the province of trickster demigods – a group that includes the likes of Coyote, Hermes, Anansi, Robin Goodfellow, and of course Loki.
Originally, Loki – like Thor – was part of the pantheon of Norse Gods, known for his dissembling and shape shifting. He has since shifted straight into the pantheon of Disney-owned Marvel characters, having been portrayed rather charmingly and brilliantly by Tom Hiddleston in a series of Thor and Avengers films, and now – finding himself somewhat unstuck in time after the last one – the subject of his own miniseries on Disney's streaming platform.
That COVID-prompted break, Durald Arkapaw says, gave them "a bit more time" to figure out how they wanted to shoot the series. They'd been working "around five weeks prior but the majority of it was after we went back." Shooting episodics, she notes, is a "quick turnaround" perhaps in contrast to the features she's noted for, like Palo Alto, The Sun is Also a Star, and others, though much of the craft still boils down to "the way you plan stuff for the script you have to shoot."
The unintended pandemic break gave cast and crew "a good amount of time" to make those plans. Collaboration, she says, "is just as much a part of the conversation," as any other aspect of production, or more critically, pre-production, and this way, those confabs with production designer Kasra Faranhani, or the team of Marvel-honed VFX supes working with ILM, or even director Kate Herron, could all have a little more time to unfold.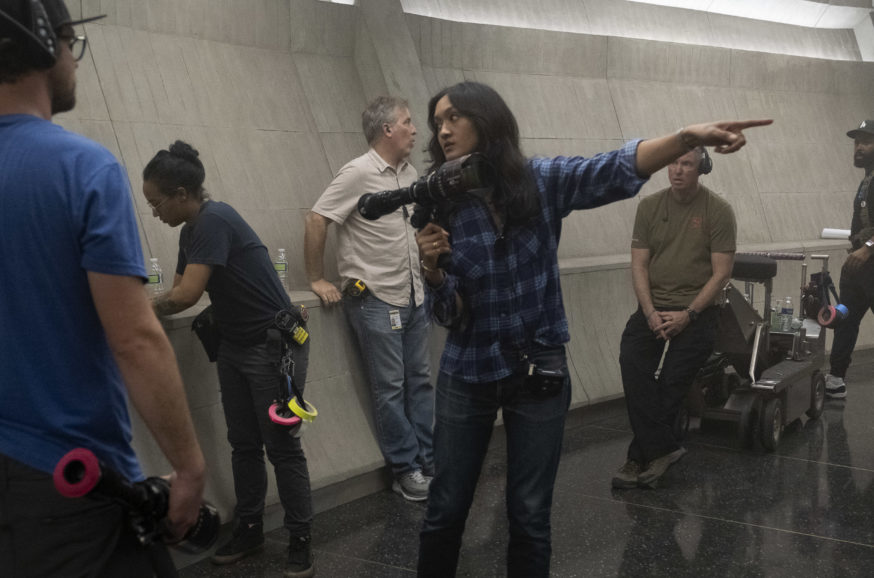 Though with Herron, the conversation sparked early. "I hadn't met the director previously, and I don't think we had any mutual friends," Durald Arkapaw says, but when the chance to meet on the project came up, she already knew she loved "Loki as a character… It was intriguing enough to take the meeting."
"We bonded very quickly," she says, calling Herron a "lovely, lovely lady," with whom she shared "a lot of the same references," when talking about films they both loved and which evoked how they saw many of the scenes. She knew it would be a good creative fit when "the person is telling you exactly how it should look – and it's exactly how you would light it."
Durald Arkapaw likes to send film references to the directors she's working with, and "sometimes photographers I'm familiar with, or even who I don't know," as long as their imagery "expresses how I want to light a scene."
Harris Savides' work on Zodiac was one of those references, as was Jordan Cronenweth's on Blade Runner and Darius Khondji's on Seven. "There was a little bit of a crime thriller throughline there," she acknowledges. The idea was to "take what I knew about Loki and open it up."
On the still photography side, some of that opening included some Fifties-era looks at brutalist architecture – perhaps indicative of Loki's fortunes in lock-up with the multiverse-minding Time Variance Authority, in the new series. And in addition to the crime thriller throughline, there were also the mid-century masters that Durald Arkapaw remains particularly inspired by: Conrad Hall ASC and Gordon Willis ASC. "I like Seventies films the best," she says. "Loki has a bit of that vibe – certain character driven moments."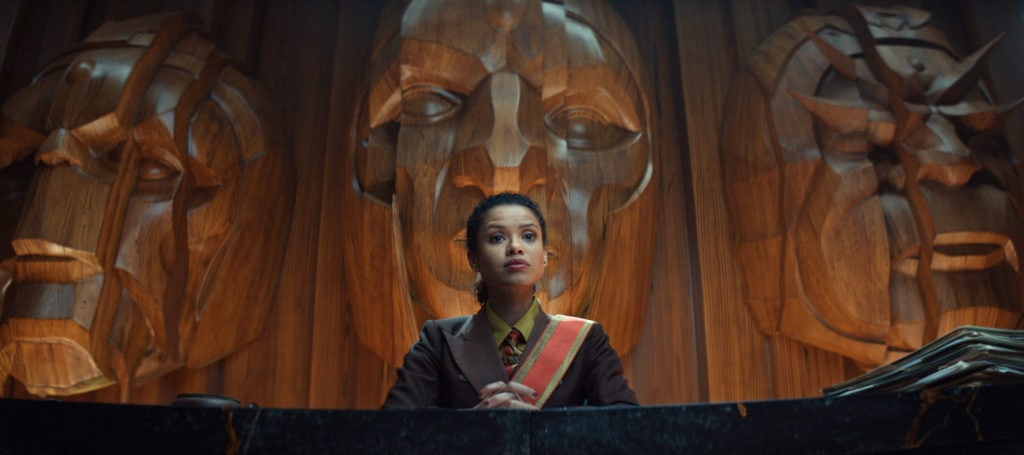 Those moments were enhanced by what she describes as the "beauty" of Faranhani's design, reflective of everyone being "able to create a team and being very supportive of Kate's vision. We were always on the same page in terms of lighting. Half the battle's there in getting the texture right, so it doesn't feel fake, like you're on a set."
And yet, the fact that Faranhani did give them so many wondrous sets helped the actors "feel like they're in a real space – instead of having to look at a blue screen." And in touches recalling Willis' work in All the President's Men, if not Gregg Toland ASC's in Citizen Kane, "we were able to get a lot of ceilings in this shoot."
That sense of the "real" contributed to one of the guiding principles in the production, which was that visual effects weren't "there to fix problems, they're there to work with you." And while some episodes, she notes, "have a bit more action, and a bit more visual effects, we tried to do as much in camera as we could."
Another "effect" of the unintended break away in production was that everyone had additional "time to think about light," with some of the sets using tungsten units, while others incorporated LEDs.
"[The whole project] felt like a creative atmosphere where we could take chances and do something new."

Autumn Durald Arkapaw
As they were getting back to production, "people were finding out how to go back and be safe. We were lucky – we had no cases even with some people going back to their families every night."
But she acknowledges that another aspect of that luck was that only shows "that had the financial support" were able to regroup fully during COVID. The safety protocols "took more time, but once you have that process in place, it never hindered the look of the show."
Some of those looks came straight out of the Willis playbook. "Most of our sets had a lot of top light that comes from our above ceiling pieces" she recalled, a technique that Willis – who, in an interview with American Cinematographer, once called himself a 'one light cameraman' – used to great acclaim. Though its roots may be in the practical techniques he picked up while shooting commercials and industrials on the East Coast.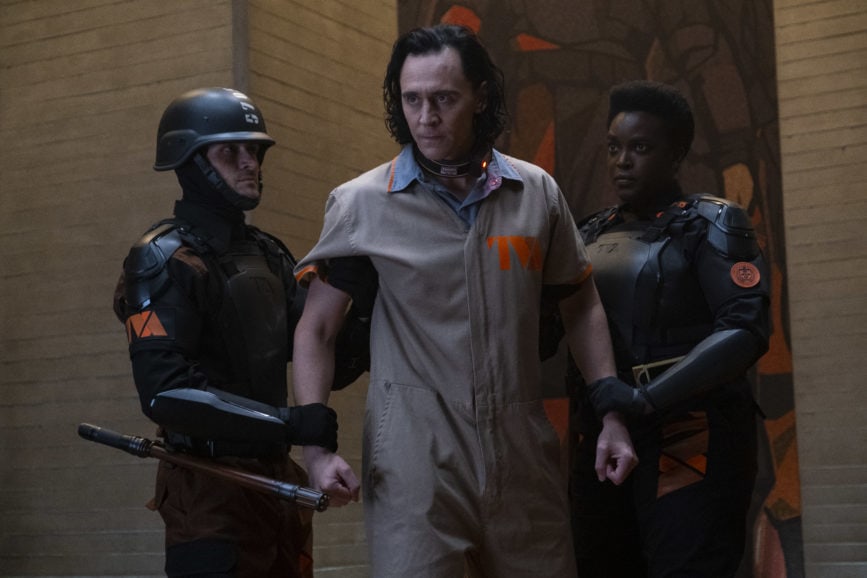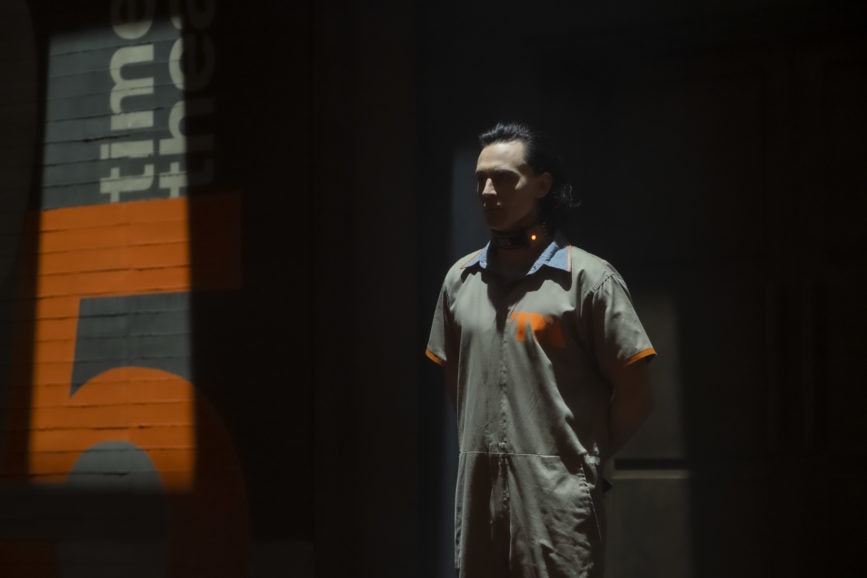 But Loki's visuals may share more DNA with his work on Klute, which Durald Arkapaw calls "just amazing," than the Godfather saga, as she cites not only the lighting but the framing in that film.
Though in terms of actors occupying frames, she had considerable help from Hiddleston, whom she describes as "one of those brilliant people who knows how to find the right light. He's just so pleasant, when you have someone that talented and you're shooting them every day. Not all actors are like that, and he has so many other things he's paying attention to. Tom is such an amazing actor and collaborator and leader – it feels like something special is going on."
To capture all those evanescent moments with Hiddleston, Owen Wilson, Sophia Di Martino and the rest of the cast, Durald Arkapaw also took something she picked up in commercials and brought it to features. Though in this case, it was a camera.
"I normally shoot ARRI Alexa," she says, "or I have in the past. I work a lot in commercials between features and did a commercial not long before Loki. The director wanted to use a Sony Venice. So, I tried it on that project, a Samsung commercial. I liked the filmic texture; how it rendered colour and contrast. I told Kate about it. Marvel was also on board," since they had already used the camera for Black Widow. "Everyone was signing off."
But even more than the camera, "the first thing I pick when I sign on to a project is the lens. And Loki has its own look and personality. I'm mostly a Panavision shooter. I tend to like more vintage lenses and was trying to find the balance. I wanted to find a lens that had more personality."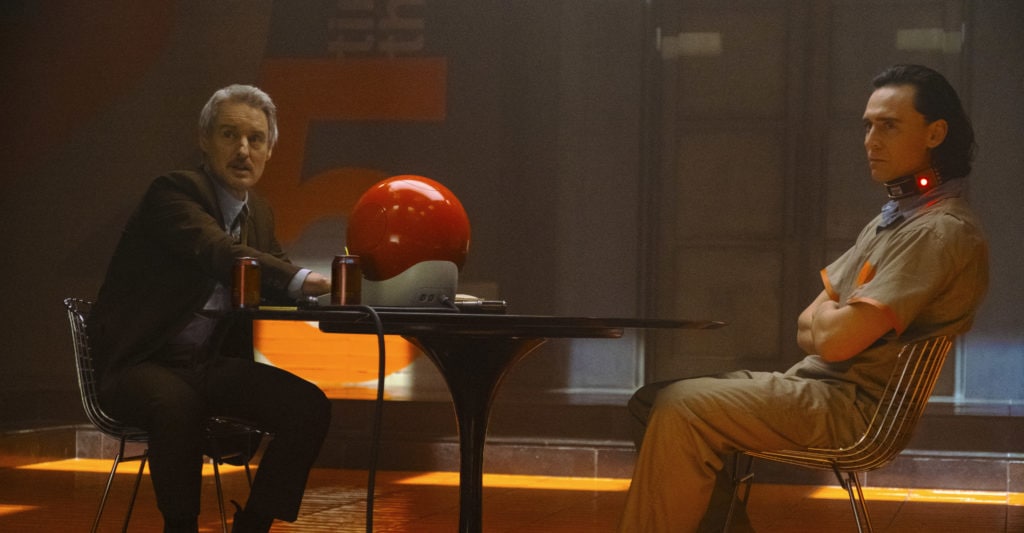 So before she left for Marvel's stages in Atlanta, Durald Arkapaw and Dan Sasaki, Panavision's renowned VP of Optical Engineering, "worked a little in LA." While she liked the personality of the C-Series lenses, used so effectively by Cronenweth in Blade Runner, what they came up with was modified T Series lenses.
"You can tweak newer glass," she says, and these tweaks provided more "personalised bokeh and flare." She reports that when the trailer came out, "a few colleagues and DPs were saying 'that looks great – what did you shoot with, and shoot on?" And when she told them, she would hear "I'm going to try the Venice!"
"It's nice to be surprised by something," she adds. However, to lessen any surprises in post, she's had a hand in the DI, as well. "It's a thing you have to make yourself available for and care about," she says. "On weekends, I'm able to colour and do a DI with the colourist I worked with during the show."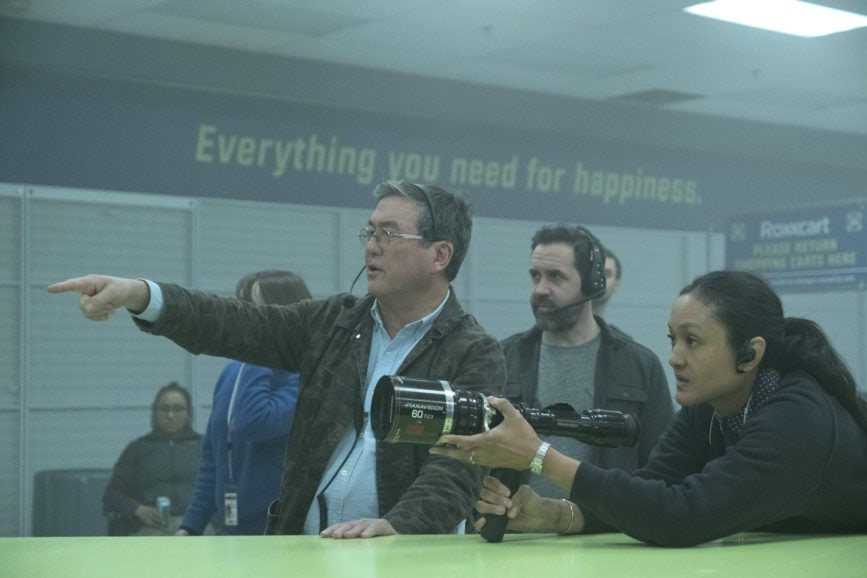 She was actually "still finishing the later episodes" when we talked with her – or grabbed what few available minutes she had – before returning to render the various emerald greens of Loki's shifting couture (a visual scheme with its own roots in the renderings of comic artists Jack Kirby, John Buscema, and others), and all the other shades, tones, and shadows in the world around him.
"Everyone's been supportive," she says, "of what I tried to do on set." And also, what she continues to do after. "It's such a great community of people and artists," she says of Marvel. "They like to bring in new people and voices."
The whole project, she says, "felt like a creative atmosphere where we could take chances and do something new."
A kind of transformation that even a trickster could appreciate.