Emma's Dilemma
Andrew Dunn BSC / The Children Act

Emma's Dilemma
Andrew Dunn BSC / The Children Act

We all have to make choices and decisions, but some are more important, and can have a more profound effect, than others.
In The Children Act, a film directed by Richard Eyre, produced by Duncan Kenworthy, and written by Ian McEwan, a respected and highly-dedicated High Court judge, the Hon. Mrs Justice Fiona Haye (Emma Thompson), is asked to rule in the case of Adam Henry (Fionn Whitehead), a minor whose parents, Jehovah's Witnesses, refuse to allow their child a life-saving blood transfusion for religious reasons. With a backdrop of her own loveless, childless marriage, the drama follows the judge's dilemma in choosing whether life is more precious than dignity.
Produced by BBC Films, Toledo Productions and FilmNation Entertainment, The Children Act is based on McEwan's 2014 novel of the same name. The film had its world premiere at the 2017 Toronto International Film Festival to wide acclaim, especially for its sensitivity towards mature human concerns.
The production was shot by British cinematographer Andrew Dunn BSC, winner of multiple BAFTA Awards, including Threads (1984, dir Mick Jackson), Edge Of Darkness (1985, dir. Martin Campbell) and Tumbledown (1988, dir Richard Eyre).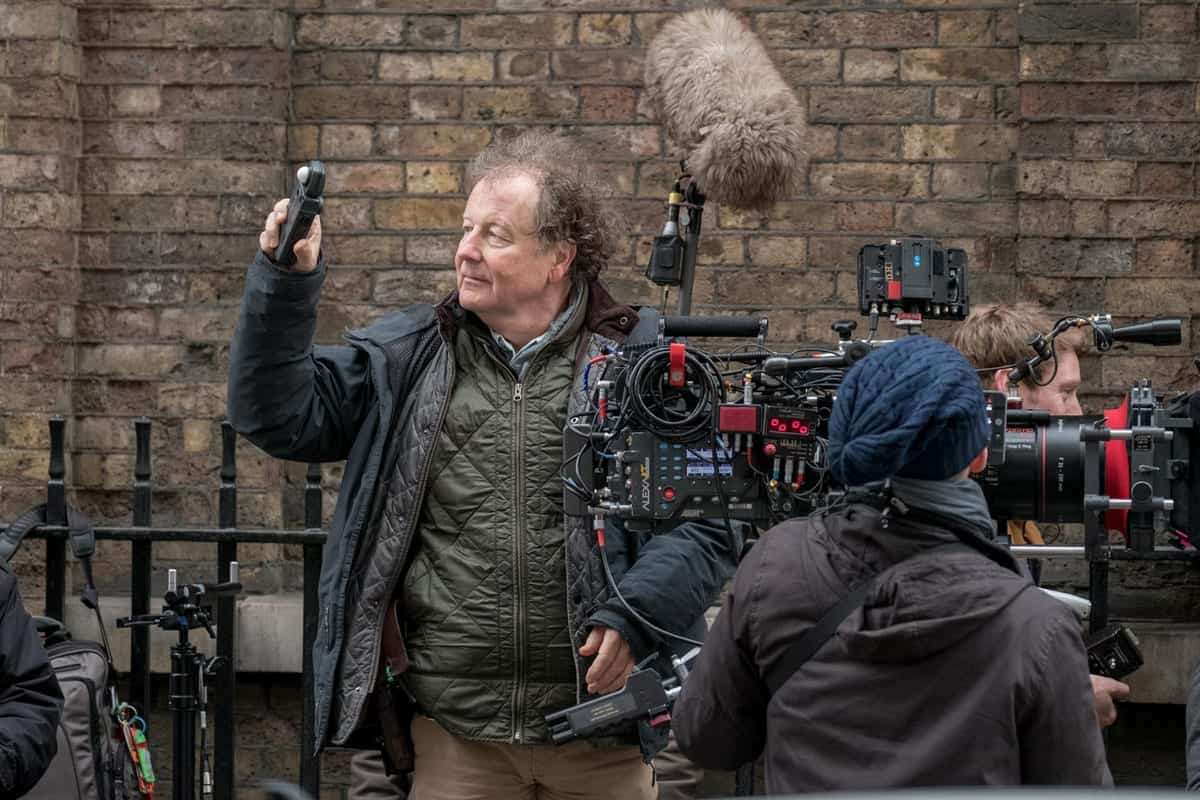 Dunn's other work with Eyre includes Stage Beauty (2004) and he has also served as the DP on a wide variety of other features, including The Madness Of King George (1994), Gosford Park (2001), The Count Of Monte Cristo (2002), The History Boys (2006), Precious (2009), Crazy, Stupid, Love (2011), The Butler (2013) and The Lady In The Van (2015).
"Richard and I go back many years, to when we made Tumbledown, and we have remained friends ever since. He even came to our wedding," says Dunn, who met-up with Eyre at Bristol Old Vic Theatre to start creative discussions about The Children Act. "Richard had clear ideas about what the film needed – essentially a real, modern, personal, but unselfconscious approach, focussing chiefly on the story arc of the career-minded judge, life's losses and achievements, in and out of the courtroom."
After a five-week prep, shooting began in September 2016, concluding five shooting weeks later. Production embraced a modern courtroom set, built at Pinewood Studios, cleverly seguing into Haggerston School in east London for the appropriate offices and corridors. Shooting also took place in the dining room and library in Heatherden Hall, at Pinewood, as well as locations in London's legal districts around Grey's Inn and the Strand, plus Newcastle upon Tyne.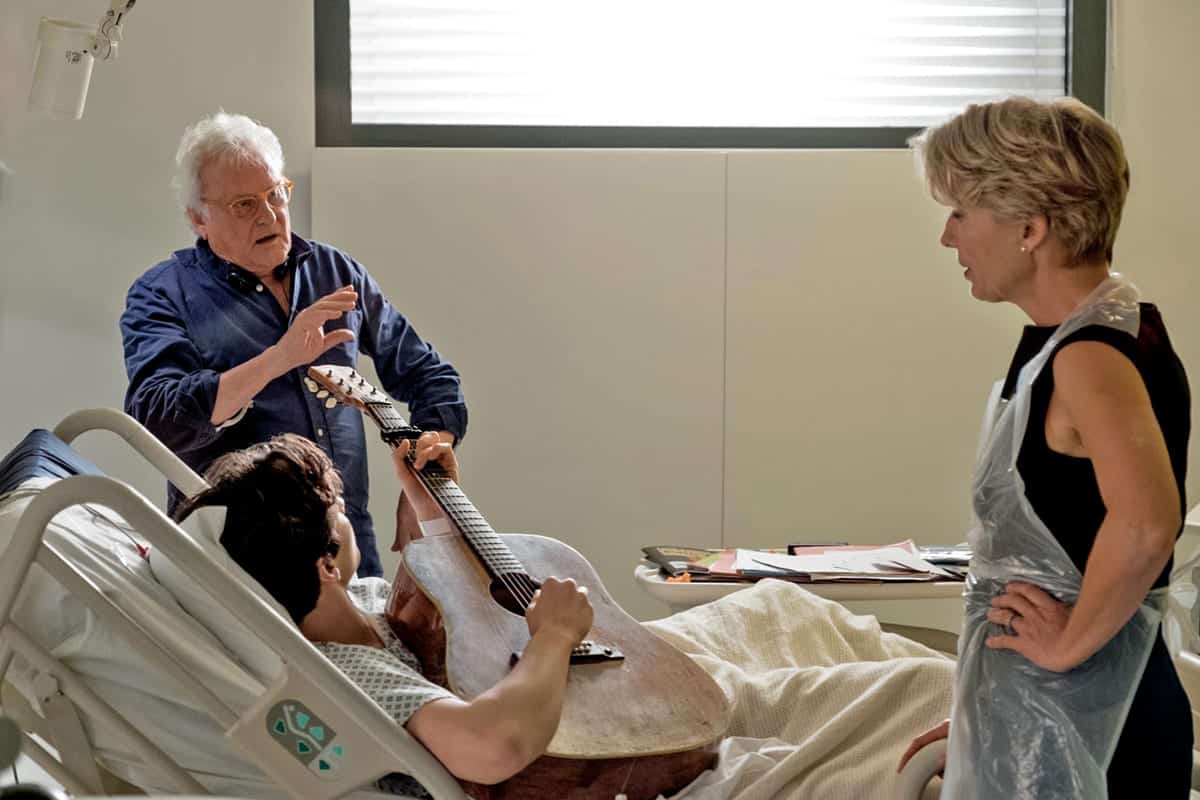 Dunn says that he viewed a small number of courtroom dramas, and visited a contemporary courtroom in London, "but I have to start every project as an innocent, with freshness and naivety. Each project for me is as special as the ones that went before. And therefore forgetting everything I know, or thought I knew, and starting with a clean, original slate. Richard and I know each other rather well, and he wanted a truthful honest approach to everything – the set design, lighting, cinematography and performances. So my challenge was to elevate the look, especially the potential humdrumness of the courtroom, but avoiding anything elaborate that would distract from the story, inviting and involving the audience.
The Children Act had already been designated as a digital production prior to Dunn's engagement, "but I had to make decisions on the toys we'd use," he remarks. "My preferred digital camera is the ARRI Alexa, and it was certainly the right choice for this particular production. Shooting ARRIRAW in 1.85 aspect ratio, with a combination of Cooke S4 and Optimo Zoom lenses, plus a modicum of filtration, gave the images the appropriate sense of depth, intimacy and texture."
Dunn says he has always used filters for digital shoots, "I believe we have to deny the chip from seeing too much, whilst retaining a creamy sensuality, rich blacks and a sensation of details in the darkness. I have a personal collection of filters, and on this production used a mixture of Schneiders and Tiffens."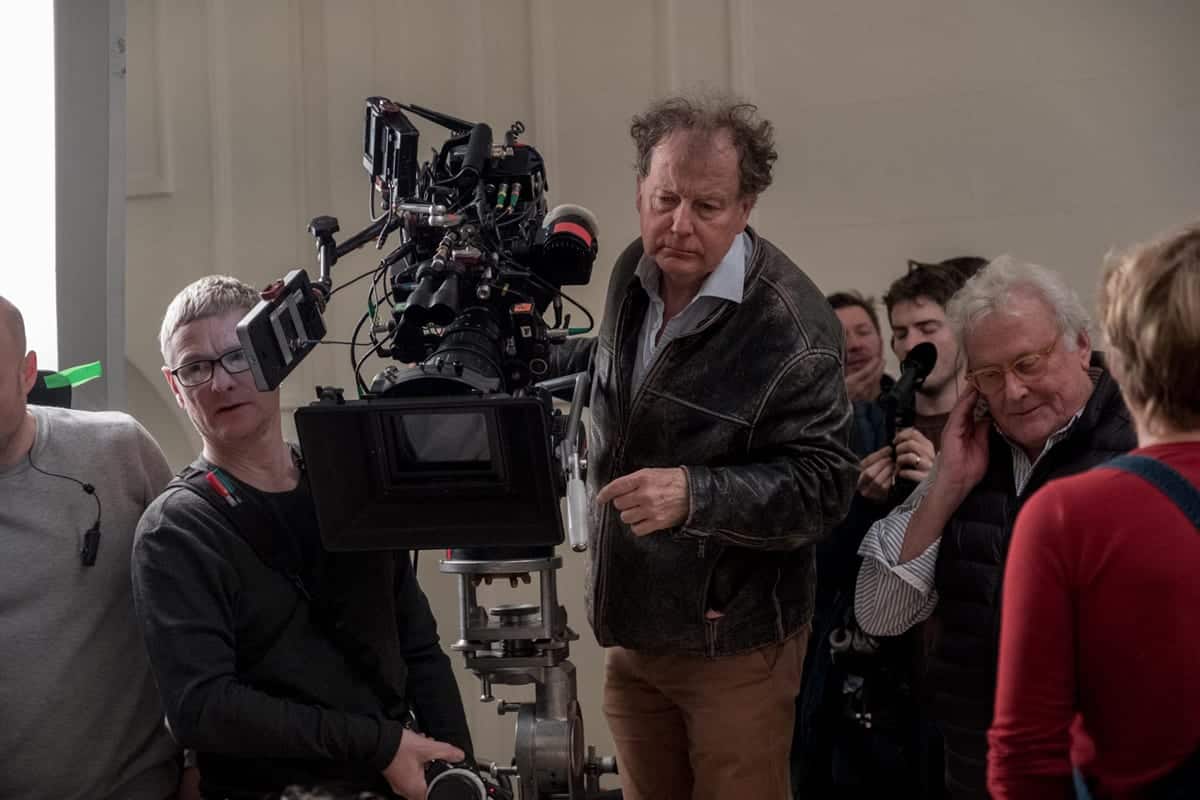 "We developed a soft-but-sourcey lighting set-up, that allowed me to cut, direct and shape the light, and to create appealing negative fill and depth, all whilst keeping the look truthful and honest."
- Andrew Dunn BSC
In pre-production, Dunn worked with DIT James Metcalfe, and Molinare senior colourist Gareth Spensley, to establish a small selection of non-destructive viewing LUTs. "They are a good starting point on-set, and although you might want to veer off on a different path, they also help editorial and live with the look you created as the pictures go on the journey through post production."
The feature was planned as a two-camera shoot, with Dunn remarking, "I find that exciting, and I can barely remember my last single camera shoot. On a practical level, I appreciate what the director and editor are likely to need later on, and if you catch a performance twice, from different angles, and provide coverage, that's all to the good. Plus we can leapfrog with two cameras, and have second camera ready for action on the Steadicam or crane, which keeps the production schedule moving along."
Dunn operated the main camera from the dolly, in what he calls a controllable handheld style, with Ossie Mclean on the second camera/Steadicam. Dermot Hickey was Dunn's first AC, with Simon Thorpe the dolly grip, whilst Sebastian Barraclough supported Mclean. The production gaffer was David Tyler, of whom Dunn remarks, "he was always very well-prepared and knew what we aimed to do and how to embellish that."
Being mindful of the need to elevate the look of the courtroom, Dunn and Tyler collaborated with production designer, Peter Francis, to ring the set with a combination of ARRI SkyPanels and regular Tungsten fresnels.
"We developed a soft-but-sourcey lighting set-up, that allowed me to cut, direct and shape the light, and to create appealing negative fill and depth, all whilst keeping the look truthful and honest."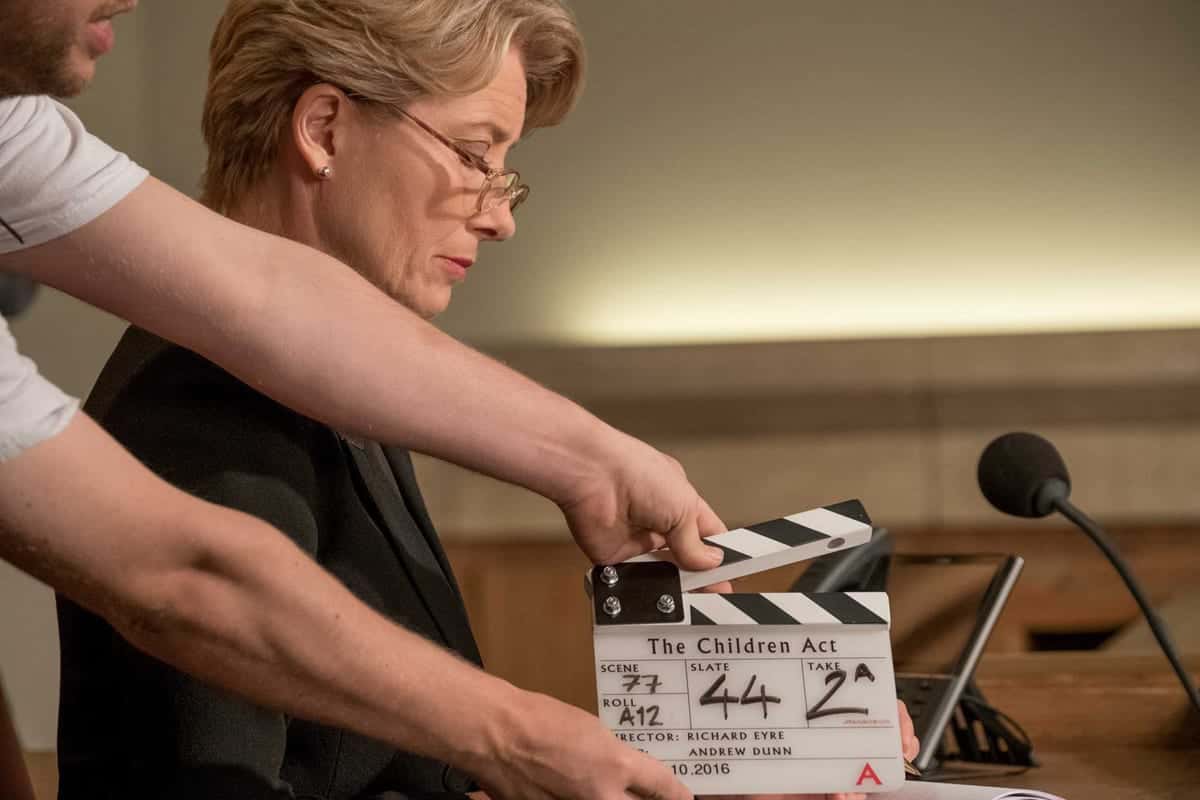 In contrast, however, Dunn says there were opportunities to have more fun with the lighting, when the action moved to the hospital locations. "In an early scene when the judge meets the young man in an Intensive Care Ward, collaborating with design and costume we aimed for a pure and quite clinical white look, white bed clothes and an overblown window, almost ethereal,'" he says.
Counterpointing the austere whiteness of that scene, Dunn went for a more melancholic and intimate look, when the judge rushes to visit the declining young man in hospital at Christmastime, towards the film's denouement.
"On Fiona's journey to see Adam – through the wet, festively-decorated streets, through the hospital doors and corridors – the image becomes gradually darker, until she reaches his bedside. Here we created the most intimate tragi-Nativity scene. This involved concealing lights, incorporating Christmassy-looking practicals too. To enhance that sense of intimacy, we had a few 650 Inky fresnels around the camera, along with harder LED lights, which were all shaped and flagged to sculpt the light by our wonderful team."