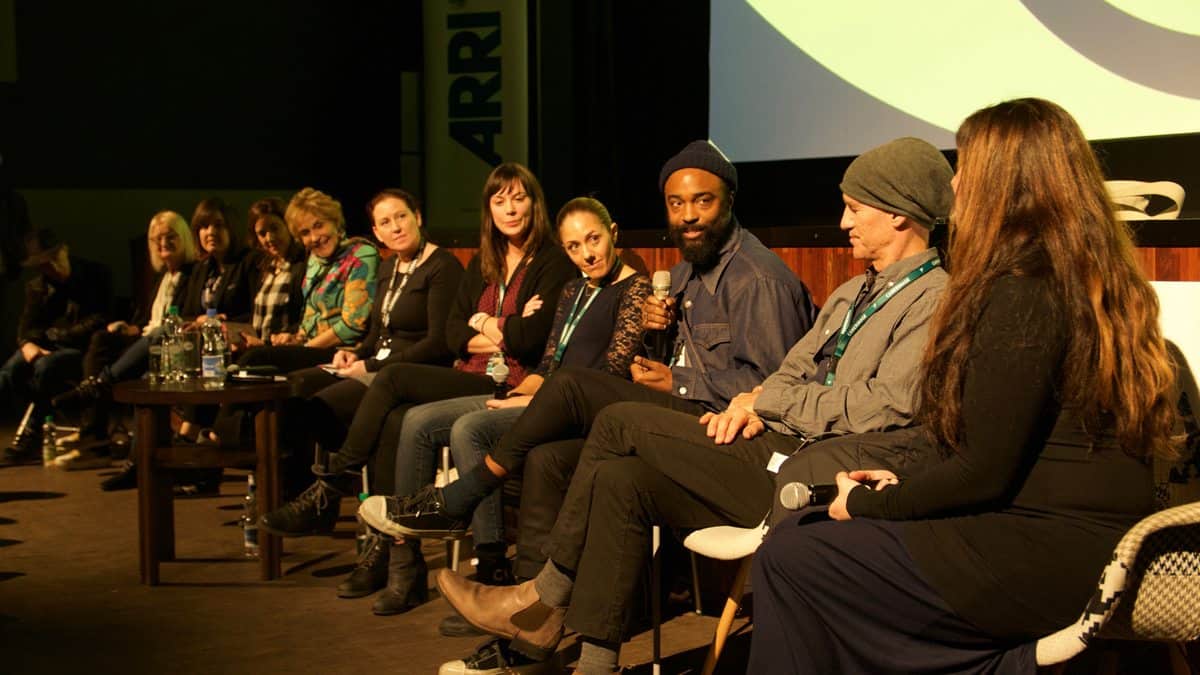 IMAGO focus on diversity at Camerimage
IMAGO cooperated closely with Camerimage to arrange several seminars and conferences during the 2016 grand celebration of cinematography in Bydgoszcz, Poland. IMAGO also cooperated with Illuminatrix, the UK-based collective of female cinematographers, to focus on the fact that although half the world's population and half the number of film students are women, just over 7% of feature films are photographed by female cinematographers. This is of course totally unacceptable to us all.
IMAGO will do its very best to help increase that number in the years to come, and the challenge and the ways forward were greatly debated.
Our seminars, masterclass with Natasha Braier ADF, film screening and conferences were met with overwhelming interest, and the cinema where many of these were held had never before had such a large audience present. Extra rows of chairs had to be put in to accommodate everyone. The sessions were perfectly organised by IMAGO vice president Nina Kellgren BSC and IMAGO board member Elen Lotman ESC, in cooperation with Camerimage and Illuminatrix. Our gratefulness also goes to ARRI and Vantage who helped IMAGO greatly with this important focus.
IMAGO/ASC Conference on the importance of collaboration
For the first time, IMAGO and the ASC held a joint conference at Camerimage, focussing on the importance and need for international collaboration, as well as the sharing of knowledge and experience across borders. At a time when technology changes so rapidly in complexion and sophistication, the need for international collaboration between cinematographers to keep control of our images has never been greater. Not least important is increasing the communication amongst our many members regarding the results of our work in different committees, news of new developments in equipment, software and production methods, research results, technical tests etc. It is important to find a better and more consistent system for sharing knowledge than we have today.
ASC and IMAGO will work together on this challenge. The conference was a great success and has laid the grounds for further good and close collaboration between ASC and IMAGO in the coming years, in many important areas. Our thanks go to RED's Christina Smith and Mike Grieve, for their help in arranging this important conference.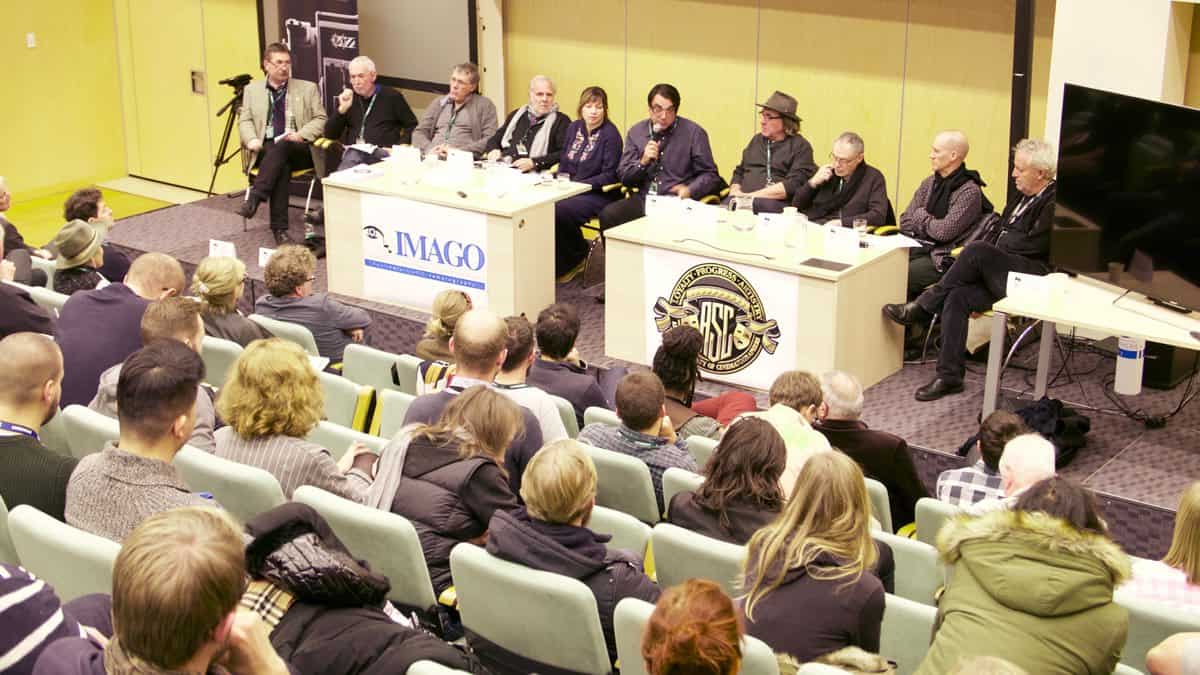 IMAGO Conference on VR and 3D at Camerimage
Technical wizard Jannicke Mikkelsen held a masterclass at Camerimage, where she and her work partner, Laura Marie Linck, talked about Jannicke's recent VR 3D production for the band Queen's spectacular Barcelona concert. The 3D/VR rig that Jannicke designed specially for the shoot held 20 cameras and was built in less than a week. It was a mindblowing experience for all present. On the spot Jannicke was invited by the ASC to hold a similar masterclass at the ASC Clubhouse in LA, so our friends and colleagues over the ocean can also be equally impressed. Our thanks go to Kazik Suwala and his amazing team at Camerimage for being IMAGO's partner on these important events.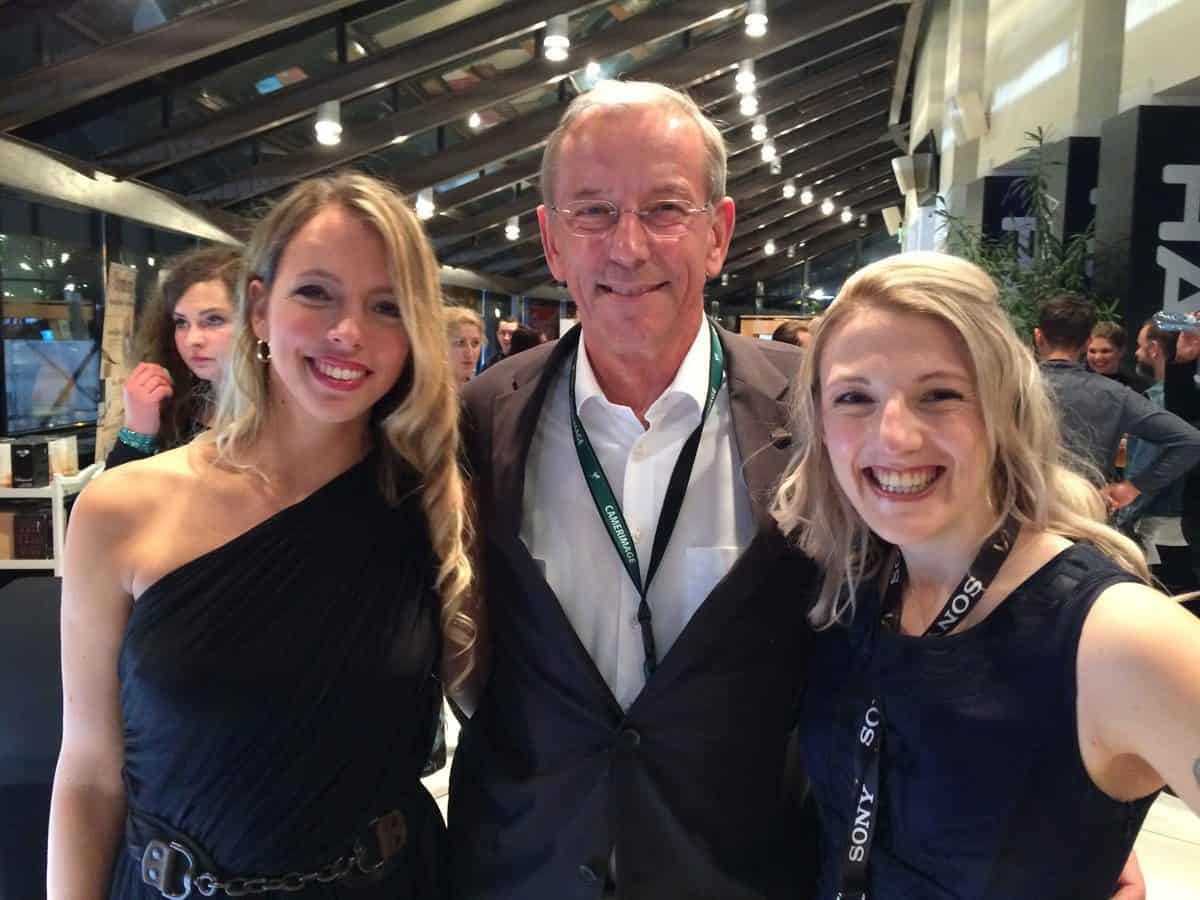 New leadership in the IMAGO Technical Committee (CCTC)
Kommer Kleijn SBC has successfully led IMAGO's Committee for Creative Technologies in Cinematography for more than a decade. But, this autumn, Kommer decided to step down from the leadership. Rolf Coulanges BVK, Mick van Rossum NSC and Philippe Ros AFC are now jointly co-chairing the committee. Philippe, John and Joe Dunton BSC are leading the sub-committee, which will enter into a closer cooperation with the ASC Technical Committee from 2017, working on joint projects and sharing knowledge and experience.
IMAGO is most grateful to Kommer Kleijn SBC for the very important work he has initiated and successfully completed during his leadership of the committee. Luckily, Kommer will continue as a valued committee member, and as deputy board member of IMAGO.

An even busier 2017 – filled with activities!
In early March IMAGO will arrange an international masterclass in Amsterdam, where several acclaimed cinematographers will come to exchange experiences, to talk about their latest films and the artistic and technical challenges in their productions.
In March IMAGO will also arrange a conference on how to work to improve film school education for cinematography students, in cooperation with the BVK (The German Society of Cinematographers) and the German Film School HFF in Munich. In April, there will be an international conference in Ljubljana, Slovenia, on how to best secure image quality in archiving and restoration of our important and vast film heritage. The IMAGO/FNF Oslo Digital Cinema Conference will take place in September, and in October the IMAGO General Assembly and the new grand celebrations of international cinematographers, The IMAGO International Cinematographer´s Awards, will both take place in Helsinki, Finland. In addition, IMAGO and the ASC jointly plan to cooperate with Camerimage to arrange several new conferences, masterclasses and seminars at Camerimage in 2017. IMAGO are grateful to our many important sponsor partners who help us make IMAGO's increased activities possible.
IMAGO International Cinematographer´s Awards
IMAGO is 25 years old in 2017. We will use this opportunity to make a grand celebration of international cinematography. Early in 2017 all of IMAGO's member societies and close partner societies will be asked to nominate films for the IMAGO Awards competition.
Three films will be nominated in the three main categories: feature film, TV-drama and documentary film. In addition, seven other Awards will be given, amongst them the IMAGO Honorary Award, the IMAGO Award for Lifetime Achievement, the IMAGO Award for extraordinary contribution to cinematography and the IMAGO Award for Technical Achievement. A large number of cinematographers, partners, film colleagues and media partners will be present at this first IMAGO Awards.
ARRI celebrates its 100th birthday in 2017, and will be the IMAGO Awards main partner for 2017, for which we are very grateful. Camerimage is also 25 years old in 2017 and Camerimage will, of course, be invited to celebrate our anniversaries. So, there is lot to be celebrated in the year ahead.
New IMAGO Model Contract under revision
IMAGO's legal advisor Dr Cristina Busch is working to reconstruct the IMAGO Model Contract for Cinematographers. IMAGOs first Model Contract was useful, but the new version will be even more useful in many more countries, as a reminder of what ideally should be included, and what should not, in a cinematographer's work contract.
Working conditions & authorship issues
Reports are coming to IMAGO's Working Conditions Committee about worsening work conditions on many film productions around the world. We see that legendary cinematographer Conrad Hall's focus on this – after his experiences in 2002 on Road To Perdition, and the following film Who Needs Sleep?, made by Hall's good friend and colleague Haskell Wexler in 2007 – has not helped a bit, even ten years later. On the contrary, working conditions are worsening in many countries, and 14-15 hour working days are not only a health and safety risk, it may also deteriorate the quality of our images. IMAGO plans a major international conference on working conditions next winter in Brussels.
IMAGO's Authorship Committee, under the leadership of Luciano Tovoli AIC ASC, and with committee members and advisors Nigel Walters BSC, Jost Vacano BVK ASC and Vittorio Storaro AIC ASC, will shortly be sending out a questionnaire to all IMAGO member societies in order to get a complete overview of the authorship situation in IMAGO's more than 50 member countries around the world.
The answers of the questionnaire will help decide how IMAGO and its Authorship Committee shall work with this challenge in the future. As you may already know, IMAGO is not a union, but IMAGO works as an advisor to our many member societies, who again cooperate closely with their national filmworker's unions.
IMAGOs valuable sponsor partners
IMAGO works with our many sponsor partners to heighten the quality of the art of cinematography, to educate and to inform about new equipment, software, techniques and production processes. In addition, IMAGO arranges workshops, masterclasses and conferences where cinematographers come together in valuable discussions on topics of common artistic and technical importance. IMAGO's Committee for Creative Technology in Cinematography works with manufacturers to improve equipment and software to maximally suit cinematographer's needs. Without the support from our invaluable sponsor partners we would not have been able to do this extensive work so important for all cinematographers and for the development of our art. IMAGO is immensely grateful to our sponsor partners for their continuous and extremely valuable support.
Contact and more information
Please see www.imago.org for more information about IMAGO and our work, activities, and close sponsor partners.
Receive the IMAGO monthly newsletter
Sign up for the IMAGO monthly newsletter and keep updated in the world of cinematography! Visit www.imago.org, click on "Imago Newsletter" on top of the page and sign-up. We look forward to hearing from you!