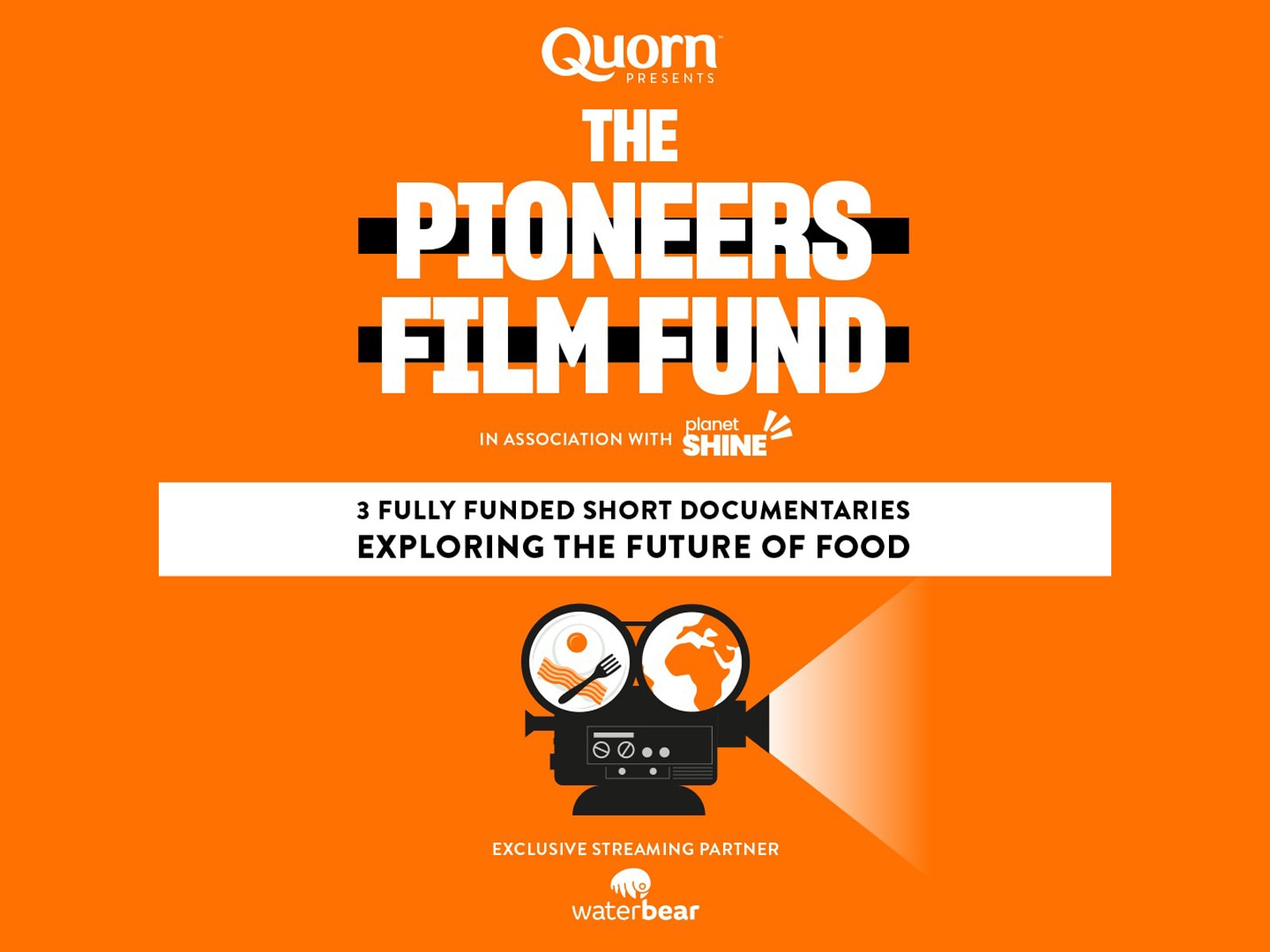 Quorn, global market leaders and the original pioneers in meat alternatives, whose mission is to help the planet 'one bite at a time' by offering climate-friendly food choices, has announced the winners of the Pioneers Film Fund, a special initiative which inspired creative filmmakers to come together and shine a light on one of humanity's biggest challenges: the future of our food.
The new fund is awarding £45,000 to three winning UK filmmakers and their teams (£15,000 each), to create an 8-12 minute documentary exploring the topic and the challenges faced in order to become a society with more sustainable sources of food.
The topic of the winning films, which is key to the future of our planet, evokes questions such as how are we going to produce our food sustainably, how will our diets have to change in order to do that and how will we adapt to ensure we're able to feed a rapidly growing population that is running out of agricultural land.
The three winning ideas, which impressed a panel of esteemed judges are as follows:
The Catastrophe Garden by Dan Ashby, Lucy Taylor and Ed Cartledge – Sheffield
The idea was to grow a garden in a desolate camp at the edge of a war zone. When a refugee scientist meets two punky British professors, they hatch a plot to use waste mattresses to turn a Syrian refugee camp green with crops. "The Catastrophe Garden" is about what happens next.
Leaf + Shoot by Lewis Coates and Brett Chapman, Jordan Carroll and Static Flow Productions – Sheffield
The idea is around the environmental benefits of a vertical bioponic farm. It not only grows 10 x as much food as traditional farming, but they do so from an underground disused spring factory.
Ocean Guardians by Scott Bradley, Natasha Hawthornthwaite and Northern Heart Films – Wigan
Is seaweed the future? The idea takes a deep dive into sustainable seaweed farming and how this can help answer the most important question, what is the future of food?
The Quorn Pioneers Film Fund, which has been created in association with planetSHINE, an eco-consultancy, content creator and media platform, aims to kick-start an important conversation around the future of our food in the hope that it will awaken new ideas around how we might feed ourselves in the future and positively contribute to saving our planet. With the UN predicting a global population of nearly 10 billion by 2050, our need for food poses one of the biggest current threats to the planet. Scientists warn that rapid population growth will require us to double the number of crops we grow in the next 30 years.
There is simply not enough productive agricultural land to do this, and so meeting this growing demand will require significant changes to both the food we eat and how we produce it. Balancing the issue of food security whilst simultaneously minimising environmental impact will be one of the toughest ongoing challenges our planet faces.
The Pioneers Film Fund follows in the tracks of COP26, which brought together world leaders to discuss the effects of climate change on the world.
In April 2022, the winning three films will be released on waterbear.com, a free streaming service dedicated to inspiring conversation about the future of our planet.
For more details on the Pioneers Film Fund, visit here.