Overview: The bubonic plague enters Wales and brings with it a wave of religious fervour, forcing a young boy to decide whether to survive in the shadows or risk everything in the sunshine…
What were your initial discussions about the visual approach for the film? What look and mood were you trying to achieve?
When James and I were discussing the look of Sunlight, we both wanted it to be as real as possible. We wanted the colour to be a bit 'aged' and the texture to be a bit 'unsmooth'. 
What were your creative references and inspirations? Which films, still photography or paintings were you influenced by?
There is a Japanese film called Harakiri which inspired me a lot for the look of Sunlight. Its storyboard told the story in a perfect way and the cinematic language was incredibly unique!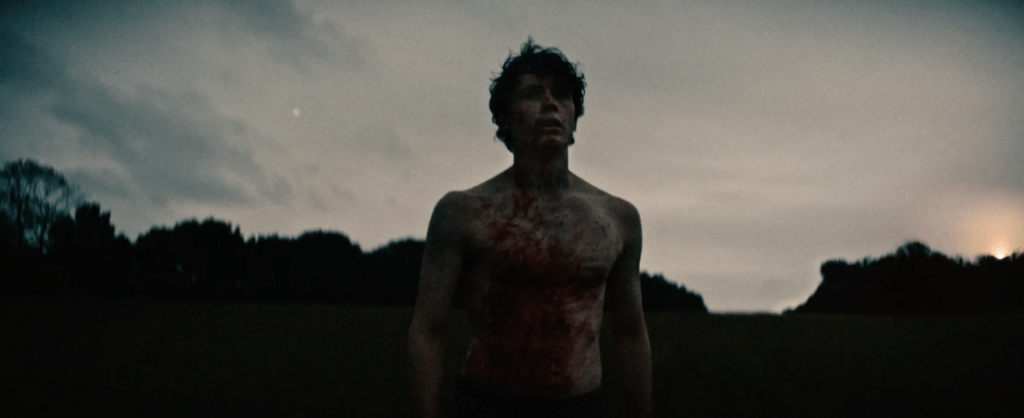 What filming locations were used? Were any sets constructed? Did any of the locations present any challenges?
We were shooting at Murton Park and a private forest in Reading. The house in the forest was built by our production designer Adrian and his team. And we filmed all the village scenes in Murton Park which is a living museum in York.
Shooting in a living museum was quite challenging since the houses there were very small compared to a built set. Also we were filming under the COVID-19 rule, so sometimes even I couldn't stay in the house if it's too small to have more than three people in the space. 
Can you explain your choice of camera and lenses and what made them suitable for this production and the look you were trying to achieve? 
In the very early stage, James and I already decided we were going to shoot 2.35 with anamorphic lenses because that would be our best aspect ratio to present the story.  We wanted to see characters 'live' in that environment. 
I used Panavision T-Series and E-Series anamorphic lenses and ARRI Alexa XT Plus.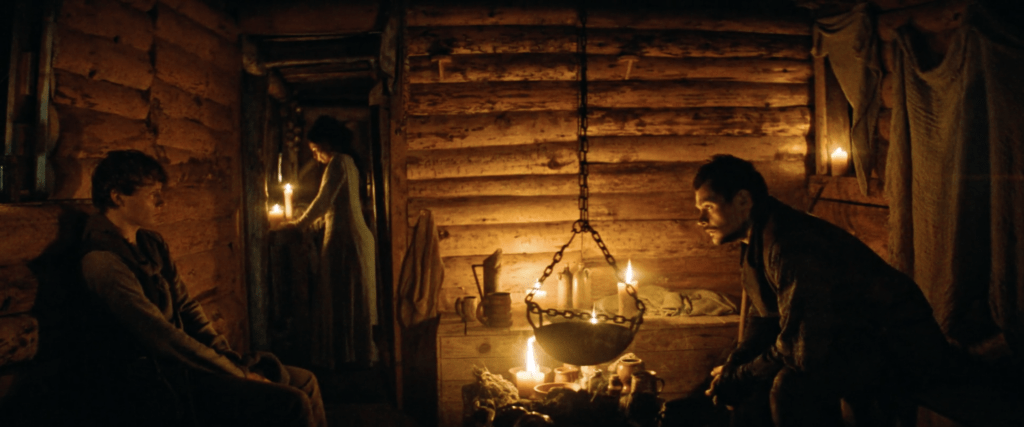 What role did camera movement, composition and framing and colour play in the visual storytelling?
In Sunlight, the camera movement is quite important. It's a reflection of the main character's emotion. We used static shots in their daily life, handheld when the main character is angry or panic, and Steadicam when his emotion has gone beyond the limit.  
What was your approach to lighting the film? Which was the most difficult scene to light?
I had this idea to light interior scenes with real candles when I was reading the script. I made some DIY candle plates to hold large candles in order to create the most real candle light.
The most difficult scene to light was the night exterior scene in the forest. As we didn't have enough budget to rent a pro balloon light, I had to light the night forest scene with some hard lights and a Jem Ball 2K.  
What were you trying to achieve in the grade?
Our colourist Marco is great. We tried to make the colour a bit 'aged' but not 'vintage' looking. We graded the orange candle light a bit more yellow so it looked not too intense. We also played with the contrast to make the sunlight brighter and shadows darker.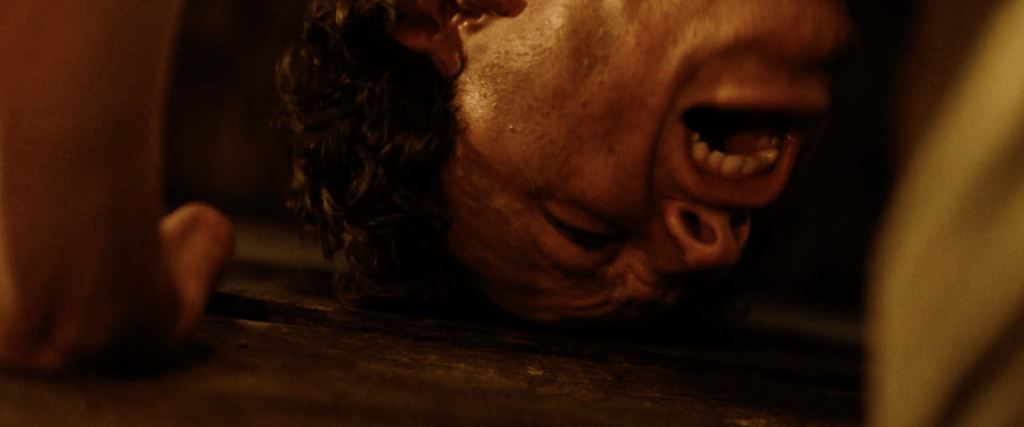 Which elements of the film were most challenging to shoot and how did you overcome those obstacles? 
The most challenging shoot was the scene of Dafydd escaping from the aggressor in the village. That's a handheld running shot with a rig of ARRI Alexa XT-Plus and Panavision Anamorphic lens. The weight of the rig was around 39 lb and I had to run many times with the character. My hands were shaking after shooting that scene but everything was worth it! 
What was your proudest moment throughout the production process or which scene/shot are you most proud of?
I really like the scene in Arinna's house when Rhys realises Arinna betrayed him. Henry, Arinna, and Rhys stayed in the same space. From wide shot to close-up, we can see how scary Rhys was. The candles looked so beautiful but also dangerous.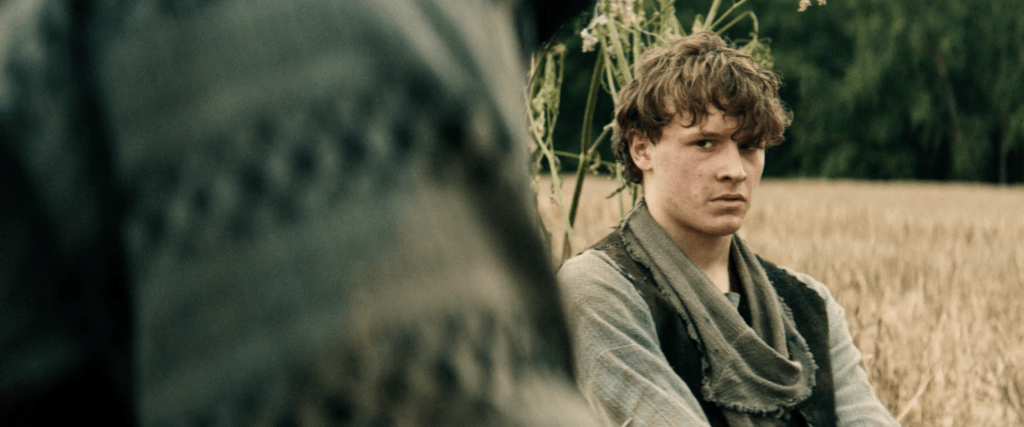 What lessons did you learn from this production you will take with you onto future productions? 
From this project, I learnt I need to work out more if I want to do handheld with anamorphic lenses. Also, I would flag the soft moonlight in a better way in the future.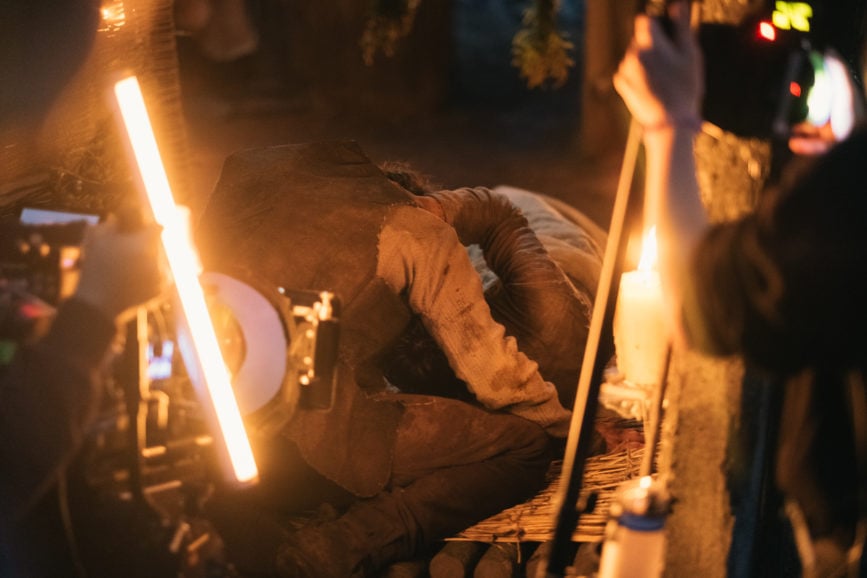 > DISCOVER MORE 'FICTION' FILMS FROM THE 2021 NFTS GRADUATE SHOWCASE
> GO TO BRITISH CINEMATOGRAPHER 'HOME' PAGE
> BACK TO TOP