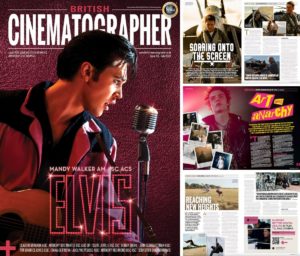 The July 2022 issue of British Cinematographer is now here! You can find out more about the incredible interviews and articles you can expect to find inside our 112th edition now by reading on…
MANDY WALKER AM ASC ACS ON ELVIS
The Man. The Music. The Legend. In our cover story special, we offer fascinating insight into the creation of Elvis, the electrifying biographical musical that tells the life story of the king of rock 'n' roll.
Cinematographer Mandy Walker AM ASC ACS and director Baz Luhrmann discuss crafting a biopic bursting with star quality.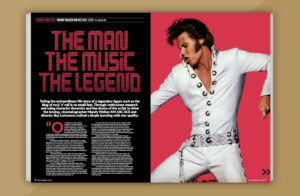 CLAUDIO MIRANDA ASC ON TOP GUN: MAVERICK
Cinematographer Claudio Miranda ASC and the phenomenal team of aerial specialists reveal how air-to-air and ground-to-air techniques along with in-cockpit cameras captured the speed of the aircraft and immersed audiences in the supersonic action of Top Gun: Maverick.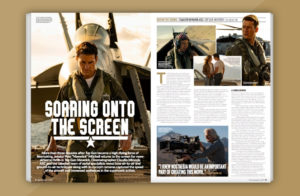 ANTHONY DOD MANTLE BSC ASC DFF ON PISTOL
"Danny is an investigator of film and I relate to what he said film and music are capable of. They do suspend time."
Zoe Mutter catches up with Anthony Dod Mantle BSC ASC DFF to learn more about his time shooting FX's biographical drama mini-series Pistol and collaborating with director Danny Boyle once again.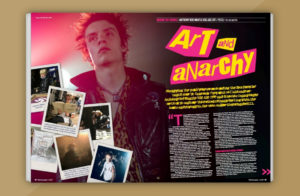 COMMERCIAL BREAK JUSTIN BROWN
Justin Brown takes to the skies for Burberry's high-flying spot to capture the movements of four flying acrobats.

VISIONARY ANTHONY RICHMOND BSC ASC
From messenger boy, aged 15, to legendary cinematographer with over 90 credits to his name, Anthony Richmond BSC ASC has plenty of stories to share.
He recalls his favourite moments from his illustrious career in the latest instalment of our Visionary profile.

THE CRAFT
In the latest edition of The Craft, we take a close-up look at the preferred sensor sizes of cinematographers and the dynamic relationship between sensor and lens.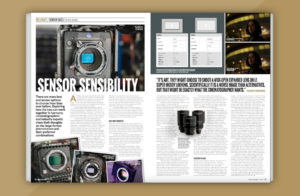 SUZIE LAVELLE BSC ISC AND BOBBY SHORE ON CONVERSATIONS WITH FRIENDS
Naturalism, softness, and elegance were at the fore for cinematographers Suzie Lavelle BSC ISC and Bobby Shore when establishing the appropriate tone to successfully translate novel Conversations with Friends into a BBC Three Series. They share their experiences of bringing the series to life.

NEW WAVE AMAN K SAHOTA
The talented Aman K Sahota discusses learning her craft and what motivated her to become a DP.  She also reveals how she was inspired by her grandfather to shoot a short film in Kenya in Swahili.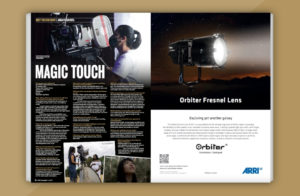 DIANA OLIFIROVA ON HEARTSTOPPER
Heartstopper's deft portrait of teenage LGBTQ+ romance has charmed viewers both young and old. We catch up with Ukrainian cinematographer Diana Olifirova to find out all about her time shooting the Netflix series.

JOHN SCHWARTZMAN ASC ON JURASSIC WORLD DOMINION
Closing any epic saga is no mean feat, but Jurassic Park Dominion reunites cast members old and new to go out on a high.
John Schwartzman ASC explains his lensing choices and the challenges of being part of the first major studio film to go back into production during the pandemic.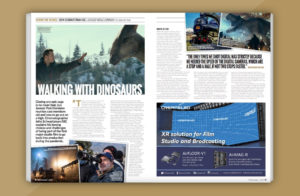 MUSIC IN MOTION
Lensing Adele's "Oh My God" music video meant the challenge of juggling multiple performing Adeles, dancers, acrobats, and even a snake and a horse. Cinematographer Roman Vasyanov ASC RGC and director Sam Brown tell us how they did it.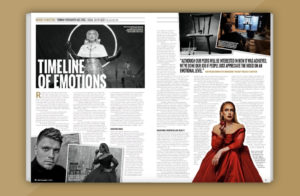 HERE'S WHAT ELSE YOU'LL FIND INSIDE OUR LATEST ISSUE…
We share behind-the-scenes insight into Tim Maurice-Jones BSC's work on The Ipcress File; Adolpho Veloso ABC on Jockey; and Christopher Sabogal's lensing of In My Skin.
Cine Gear Expo LA at the Los Angeles Convention Centre really was the place to be in June for anyone interested in cinematography. We look at the latest technological advances and exciting new releases straight from the show floor.
France's foremost film festival saw a host of international cinematographers and film industry figures take to the red carpet. We report back on all the action from Cannes.
BSC President Christopher Ross hails the latest generation of cinematic talent joining the ranks of the British Society of Cinematographers, bringing fresh energy, insight, and experiences to the table.
In IMAGO News, Mustapha Barat ABC makes his British Cinematographer debut as IMAGO President and sets out his future plans for the federation.
Steven Poster ASC explores the more subtle elements of frame composition, paying homage to the work of photographer and art director Alexey Brodovitch in Letter From America.
We take a look at The West London Film and Television Skills Hub, part of the Mayor's Academies Programme, which aims to equip the next generation of talented filmmakers with the skills and training needed to succeed in the industry.
Robin Vidgeon BSC looks back at his experiences shooting writer-director Clive Barker's Hellraiser.
Cheat's founder and senior colourist, Toby Tomkins, reveals his creative inspirations.
GBCT Chair Tim Potter takes a look at the film industry's challenges in a post-Brexit and COVID landscape. Meanwhile, John Keedwell GBCT reflects on the vast technological advancements over the Queen's 70-year reign and remembers the communications challenges of filming pre-mobile phones.
Tanya Marar Associate ACO reflects on how having more effective people management skills is crucial for film industry employees to thrive.
Our Innovator profile focuses on Ed Lachman ASC who discusses his pioneering EL Zone System, developed over years of work with engineers Barry Russo and Marko Massinger along with feedback from industry experts.
There's also our comprehensive rundown of what DPs are currently shooting, plus much, much more!
Digital and Print & Digital Subscribers can read our 112th edition now by clicking here.
Print subscribers* will receive their copies in the post within the next fortnight.
Not a subscriber yet? Don't worry – you can get your annual subscription now from just £30 ($39) by clicking here.
*Issue 112 will only be received in printed format by those with an active 'Print' or 'Print & Digital' subscription purchased before 30th June 2022. Any new 'Print' or 'Print & Digital' subscription purchases made from 1st July 2022 onwards will NOT receive this issue in print as part of their purchase.