Love Hurts 
Simon Tindall / The Marriage of Reason and Squalor
Love Hurts 
Simon Tindall / The Marriage of Reason and Squalor
The inside of Jake Chapman's head must be a pretty warped place. The sculptures he creates, with his brother Dinos, touch on Nazis performing heinous acts of cruelty and the pornographic grotesque. But this didn't dissuade Simon Tindall, the cinematographer tasked with shooting the artist's first television drama, from exploring Chapman's cognition to create the unnerving eccentricity embodying The Marriage Of Reason And Squalor.
In fact, Tindall thrived alongside Chapman's direction and was afforded "an amazing amount of freedom" during the month-long shoot in Barbados and West London Film Studios earlier this year.
The four-part Sky Arts' production, adapted from Chapman's debut novel of the same name, is set on Morass, a tropical desert island gifted to heroine Chlamydia Love (Sophie Kennedy Clark) by her fiancée as a wedding present. The Marriage Of Reason And Squalor follows Chlamydia as she journeys to the volcanic "paradise" to wait for her other half. But she soon succumbs to the eerie power of a reclusive and malformed author called Helmut (Rhys Ifans) and things take a surreal turn for the increasingly bewildered protagonist. Not all is what is seems on the island.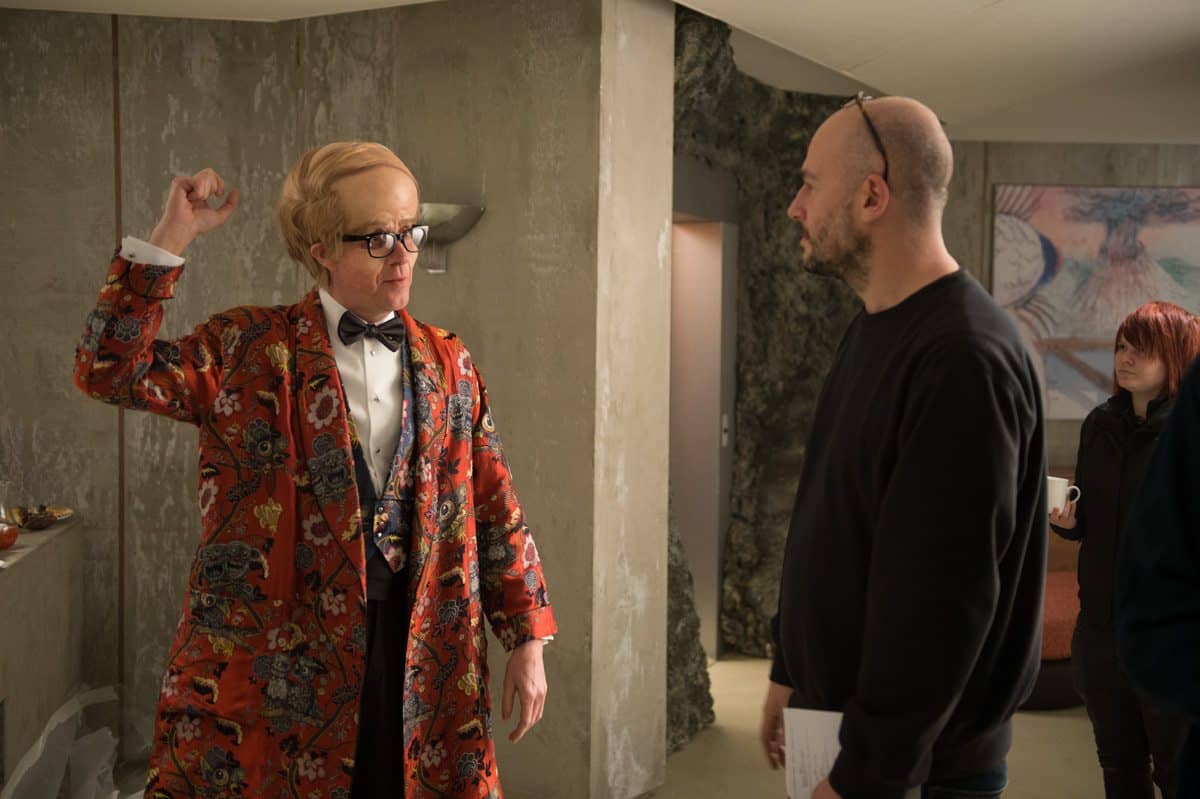 Before meeting with Chapman, and producers Colin Vaines and Andy Noble, to discuss the project, Tindall was working as a camera operator on David Ayer's World War II drama Fury. Transitioning from a £130 million blockbuster shot over three months to a much smaller production was a welcome change for the 44-year-old DP who has always been drawn to quirkier scripts.
"The catering budget for Fury was probably similar to the entire budget of The Goob (release date May 29), an English drama I was working on in 2013, but it's all good because it's storytelling – I'm doing the same thing but on a different scale," says Tindall. "It's brilliant to work on projects from both camps. With big films it's great to have the tools and money available, but you become a smaller cog in a bigger machine. Working on The Marriage Of Reason And Squalor was fantastic. Jake is totally free, like his art, and he creates things without guidelines. I think he was trying to do that with this film."
Deciphering the original 2008 novel in a bid to better understand Chapman's vision presented a challenge for Tindall, as it would anyone. Dinos, who provided the music for the film, described the book as being like "a feral child that's crawled out of a hole and tried to use language." But because he signed up when The Marriage Of Reason And Squalor was only an eight-page treatment Tindall was able to influence the storyboards while the foundations were being laid. Scriptwriter Brock Norman Brock and editor Paul Watts also jumped on board early.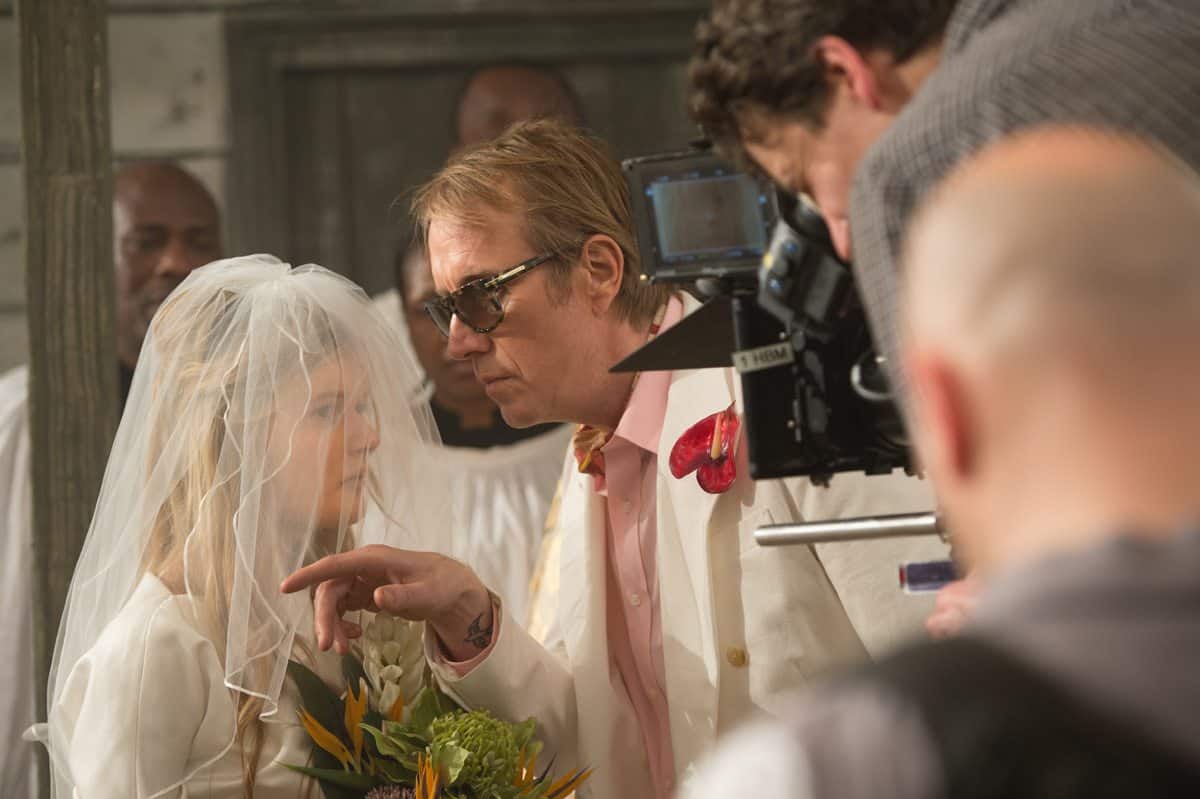 Tindall's crew included gaffer Mark Clayton, best boy Benny Harper, first ACs Derrick Peters, John Watters and Chaz Lyon, second AC Harry Young-Jamieson, camera trainee Pip White and grip Simon Muir. The production designer was Kristian Milsted. Working hours on the London leg were 8am to 7pm five days a week.
"Will Self described the book as pretty impenetrable, so I had little hope of truly understanding what was going on, but it's interpreted differently by each reader so there's no right or wrong," Tindall explains. "However, I knew the storyline inside out. Jake's past film projects are very interesting and, in terms of cinematography, you're onto a winner because you're working with someone whose job it is to be visually creative. So I knew the process was going to be fascinating, humorous and visually bold,"
Prior to principal photography in London, Tindall spent two days in Barbados shooting beach and jungle scenes to use as back plates for bluescreen and back projection "in the style of Gone With The Wind." Watts then combined these various elements during the edit to create the nightmarish, psychorama quality prevalent throughout the twisted romance.
"We pulled different things from older, odder films because they don't have all the CGI wizardry and we didn't have the finances to implement huge special effects, so it was about realising effects in camera."
- Simon Tindall
Shooting ARRI Alexa ProRes 444 on a 1:78 aspect ratio (determined by Sky), it was Tindall's use of Cooke S2 Speed Panchro lenses and 40-year-old Harrison & Harrison diffusion filters that also fashioned the production's trancelike ambience. Surprisingly, the lighting and photography crew looked to inspiration from classics such as Sidney Lumet's The Offence and John Boorman's Point Blank due to The Marriage Of Reason And Squalor's limited budget. The camera and lenses were provided by Movietech.
"We pulled different things from older, odder films because they don't have all the CGI wizardry and we didn't have the finances to implement huge special effects, so it was about realising effects in camera. Exploring how those directors achieved it helped," Tindall says.
"The old Cooke Speed lenses softened the digital effect but we had True Lens Services fit them in new housings as we had a lot to do in four weeks so there was no way we could have things falling on us. After testing some brand new filters I decided to go with the heavy, old school Harrisons as well as the newer ones, and attributed a different one to each of Chlamydia's various mindsets. We also changed the lighting to match. Jake and Colin opted for the crazier effects, which was fantastic for me because I could really push it."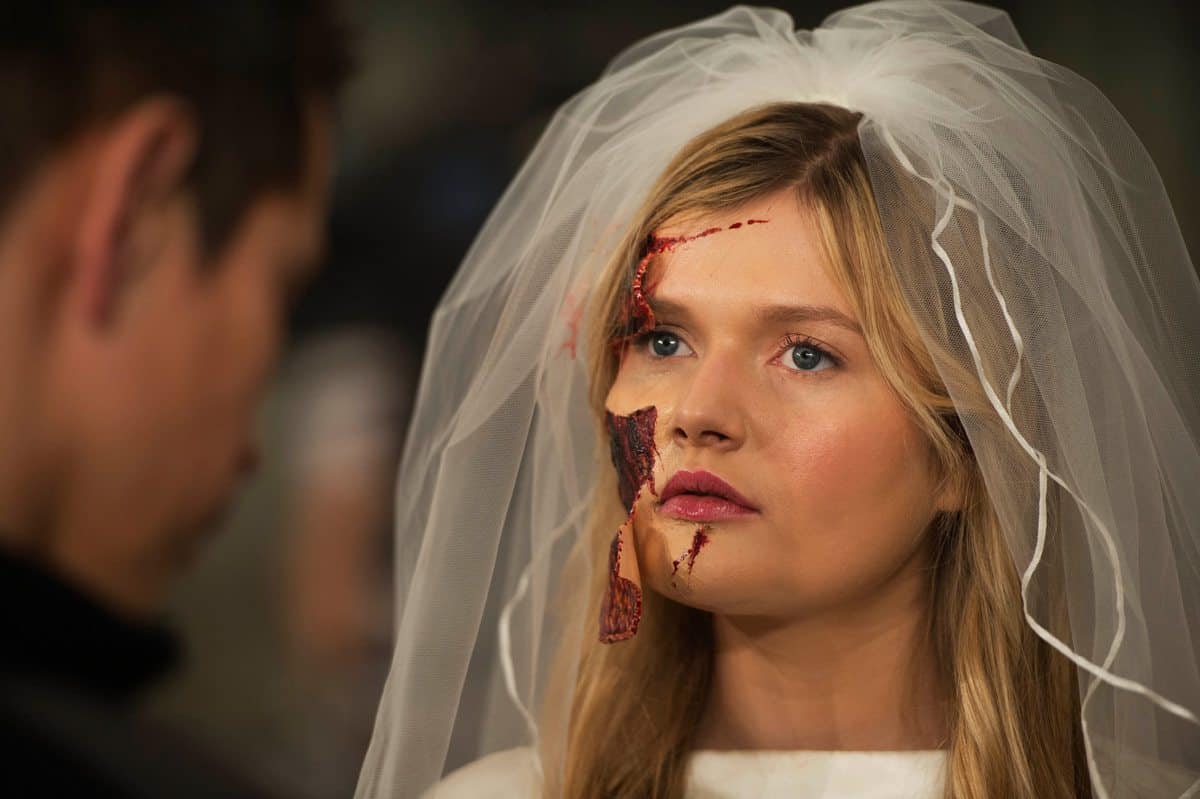 Tungsten lights, supplied by ARRI Lighting, were chosen to replicate the heat of the tropical island in the studio and gaffer Mark Clayton "did an amazing job", lighting the actors using only what he found on-set. Tindall knew Clayton from past work and was certain his innovation would be useful when rigging a new studio space on a limited budget. "He was inventive to say the least," says Tindall.
The edit presented a few obstacles for Watts and his assistant editor Jim Robinson due to the combination of back projection, bluescreen and real footage, added to the fact that "Jake likes to make things a bit bumpy." But if the trailer is anything to go by The Marriage of Reason And Squalor will delight, confuse and captivate viewers in equal measure, much like one of the Turner-nominated Chapman brothers' distorted artworks.
"Getting inside Jake's head was one of the most challenging aspects of shooting the film, but it was completely worth while," adds Tindall, who has just finished working on a BBC1 drama written by Lenny Henry entitled Danny And The Human Zoo. From the dark, misshapen depths of one director's mind to the wildly comical workings of another — not for the faint of heart.