Dark Intent
Seamus McGarvey BSC ASC / We Need to Talk About Kevin
Dark Intent
Seamus McGarvey BSC ASC / We Need to Talk About Kevin
BY: Bob Fisher
We Need to Talk About Kevin  is an intimate, dark and sometimes frightening film that takes place in contemporary times with insightful flashbacks weaved into the fabric of the story.
The script, co-authored by director Lynne Ramsay and her husband, Rory Kinnear, is based on a 2003 best-selling novel written by Lionel Shriver, which won the 2005 Orange Prize for female authors of any nationality writing in English. The BBC Films production was nominated for the Palme d'Or award at the 2011 Cannes Film Festival, and has Luc Roeg and Steven Soderbergh among the producers, writes Bob Fisher.
The story revolves around Franklin and Eva, who were formerly husband and wife, and their mentally disturbed son Kevin. Franklin and Eva are trying to cope with Kevin's erratic behavior, but the teenager eventually goes on a rampage and murders people. John C. Reilly and Tilda Swinton are cast in the roles of Franklin and Eva, and Ezra Miller plays Kevin. The film dramatically explores the Nature vs. Nurture debate, a popular theme in current cinema with films such as Tree Of Life, but leaves enough ambiguity to ensure that the debate will continue.
"I have known Lynne since the mid-1990s, when she was a student at the National Film And Television School in London," says the film's cinematographer Seamus McGarvey BSC ASC. "She was originally interested in cinematography. The short student films that she directed were extraordinary. I could see that she had talent and a unique voice as a filmmaker. When I heard that Lynne was planning to direct this film, I called her and said, I'd love to be your cinematographer."
McGarvey brought a broad range of diverse experience to the project. He was born and raised in a small town in Northern Ireland. He was a self-taught stills photographer, who worked as a stringer for a local newspaper. He launched his career shooting documentaries and segued to filming music videos. McGarvey has earned around 30 narrative film credits since 1995, including The War Zone, World Trade Center, Charlotte's Web and The Soloist. He earned BAFTA, ASC and Oscar cinematography nominations for Atonement in 2007.
"We Need To Talk About Kevin is a tough story that struck a chord with me," McGarvey says. "Lynne had a great vision. I knew that she would push me to create images that tell the story. I was also looking forward to working with Tilda. She was one of the producers in addition to playing a leading role. I've worked with her on other films, including The War Zone. The passion she felt for this story comes through on film."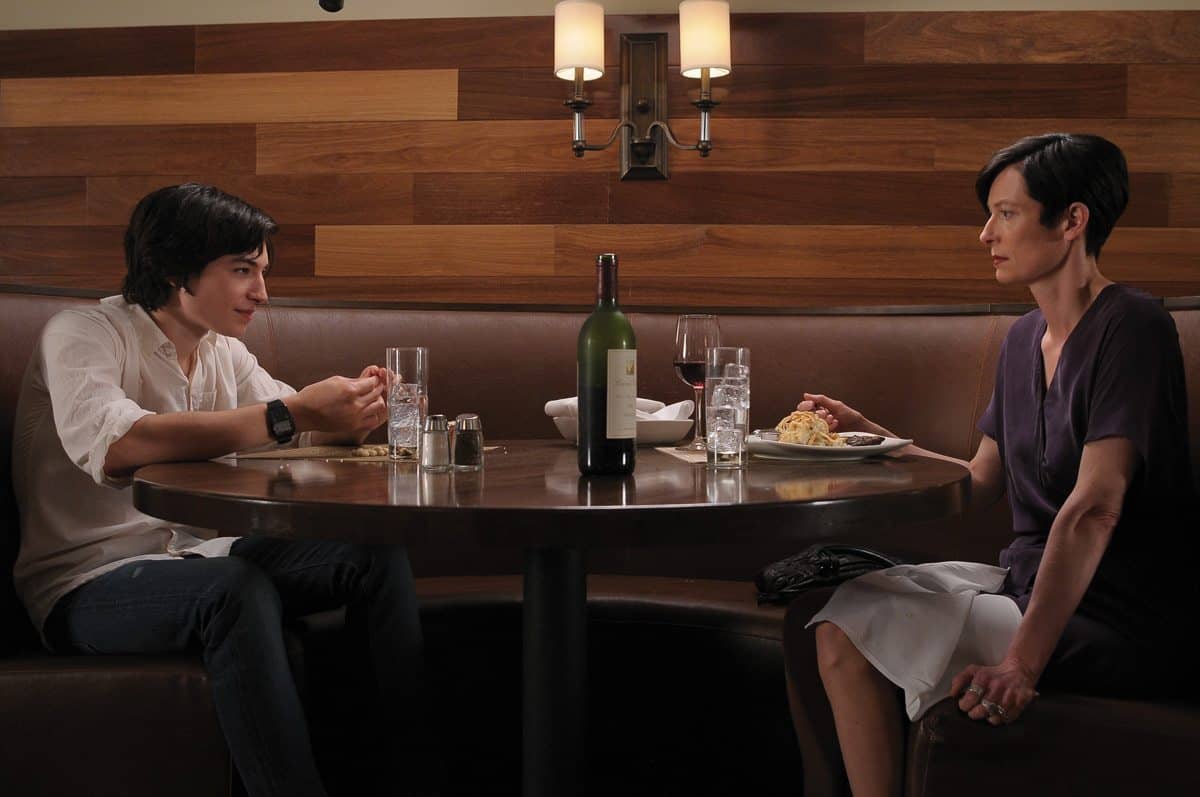 McGarvey was told up-front that there was a very modest budget and an ambitious five-week production schedule at practical locations in New York City and Stamford, Connecticut.
"Lynne and I both really wanted to shoot on celluloid in 35mm anamorphic format," McGarvey says. "We fought really hard to convince the producers that we could make it work within the budget, while creating a much more engaging experience for audiences."
Ramsay and Kinnear stayed at McGarvey's apartment in Manhattan for about a month before production began. They discussed the visual grammar for different scenes and created shot lists. McGarvey also had a close collaboration with production designer Judy Becker and art director Charles Kulsziski. They agreed to use red, blue and yellow primary colors and tone down other hues. McGarvey and Becker also discussed practical lights he envisioned using at different locations and the spaces needed for blocking.
For example, McGarvey asked for table lamps that had soft shades in the broken down, clapboard house where Eva lives at the end of the film. He also wanted to motivate hard top light in scenes that were filmed in a kitchen at a house they used in Connecticut. "Some scenes we planned to shoot there have kind of a nightmarish quality," he explains.
McGarvey decided to shoot the entire feature with one film stock in order to avoid creating short ends by switching negatives in different lighting environments. He chose Fuji Eterna Vivid 5847 500T colour negative, which was relatively new at the time.
"We needed a 500-speed film, because there are a lot of night scenes and interiors in low light environments," he explains. "I shot tests, including one in bright sunlight. There was a vividness that I liked. I knew when I timed the DI, I could fine tune contrast and saturation, if necessary. The ability to create and manipulate contrast was especially important in scenes when atrocities take place, and in the clapboard house at the end of the film. I wanted deep blacks and the colours to pop, while shooting in low key light without inappropriate grain."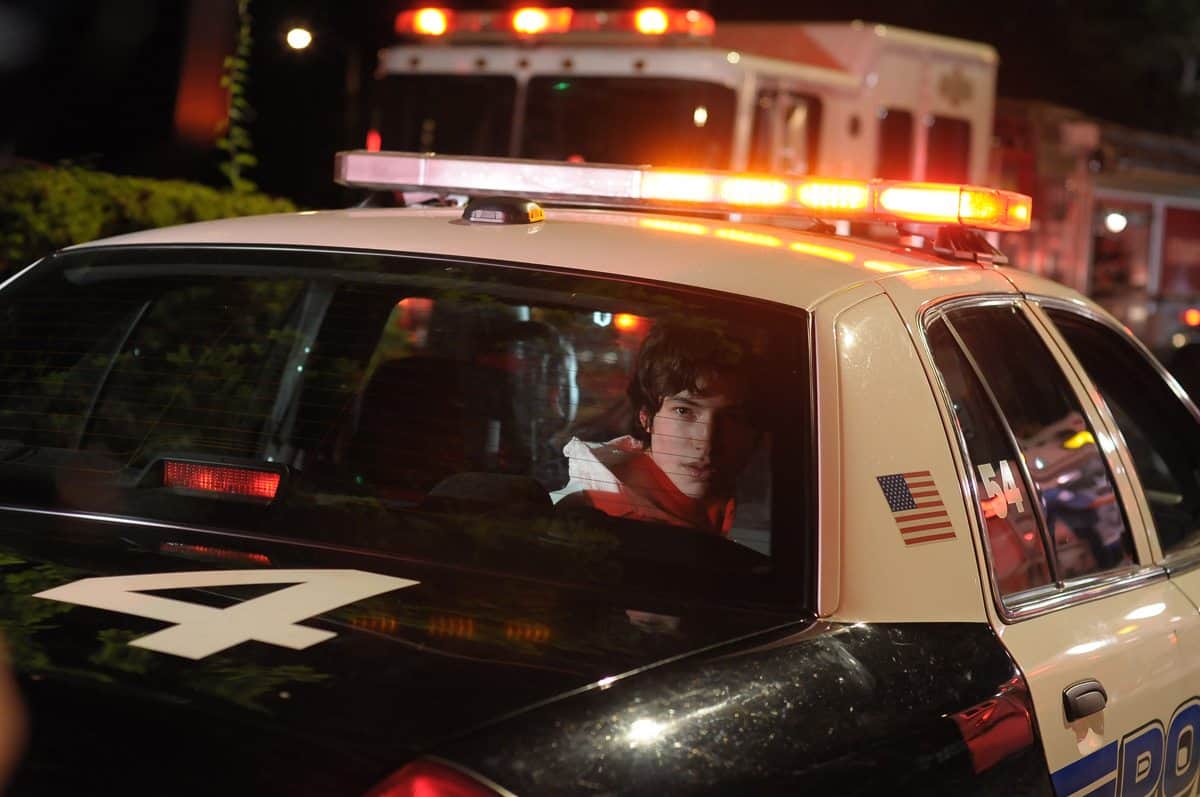 Panavision, in New York, provided the camera package, including Panaflex Millennium XL and Panaflex Platinum bodies, anamorphic C series 35, 40, 50 and 100 mm, E series 135 and 180 mm and an ATZ zoom lens. "Sal Giarratano, our Panavision contact, was always there for us," McGarvey says.
Some scenes were filmed in New York, but most production was done at practical locations in Stamford, Connecticut, including the houses and apartments where characters live.
"Franklin and Eva get married, have a kid they name Kevin and move into a big, fancy ranch house in a beautiful forest area in Connecticut," McGarvey says. "As the story evolves, the couple separates and Eva is living with Kevin in the clapboard house. It's a cinematographer's dream to be creating images with actors whose expressions and body language are as expressive as words in the service of a great story. It's not about pointing and shooting. It's about how you use composition movement, focus, light, darkness and contrast to communicate with audiences."
"As the story evolves, the couple separates and Eva is living with Kevin in the clapboard house. It's a cinematographer's dream to be creating images with actors whose expressions and body language are as expressive as words in the service of a great story. "
- Seamus McGarvey BSC, ASC
McGarvey covered the action with a single camera that was usually on a dolly track with a wideangle lens. There are also a lot of handheld shots. The characters were often at opposite edges of frames. Ramsay and McGarvey used the space between them to create a feeling of distance. As the story evolves, camera movement, composition and the look of images subtly augment the looming feeling of approaching chaos. At critical moments, the source light becomes hotter and more contrasty with some flaring.
"I love the way the C lenses render flaring light on the negative," McGarvey observes. "We didn't show actual murders. We want it subtle rather than gory when Kevin murders people. My gaffer, Jimmy McCullagh, and I were on opposite edges of one scene. Each of us was holding a little Maglite XL50 LED (light-emitting diodes) with red and blue gels on them.
"We used the light to create subtle linear flares. He went top to bottom. I went bottom to top and we crossed at the middle. We used a lot of flaring light throughout the film to augment the distorted way that Kevin sees the world and the confusion that he feels."
Flashback scenes are subtly different with less colour and a softer, flatter look.  McGarvey shot some flashbacks with a Canon EOS 5D Mark 2 digital camera, which gave him the ability to move quickly in tight spaces. He describes a flashback scene where Eva and Franklin meet for the first time in a bar. They are drunk and kissing. The couple gets up, leaves the bar and runs the down the street together.
"There was a sudden, unexpected deluge of rain," he recalls. "I was running in front of them in the pouring rain. The 50 mm lens was set at stop T-2. Raindrops were dripping down the lens, and the streetlights were flaring. That gave us a flashback with the look of a nostalgic, fond memory that is kind of blurred."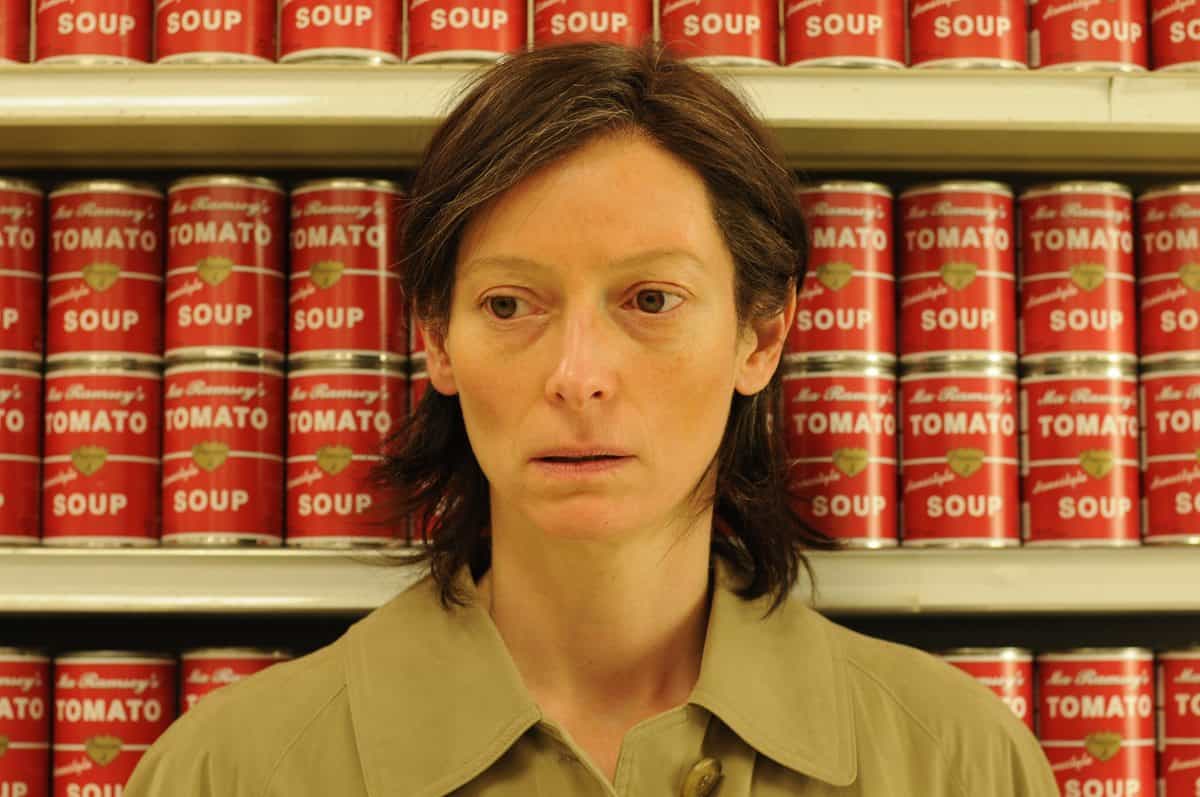 McGarvey lauds the performances of the crew he assembled. "Jimmy McCullagh is a great gaffer, and the grips, Matt Lubera, Tom Kwerwick, Billy Kerwick, Joe Donahue and Kai Wae Cheng, were also fantastic," he says. "Oliver Cary is a brilliant camera operator, who did extraordinary work while making the actors feel comfortable. When Lynne called cut, I noticed the actors looked at Oliver to see the expression on his face
Describing a scene they filmed in a small bedroom at night, McGarvey says, "Jimmy had the idea of using a small, red theatre light with a gel wrapped around it," he says. "We bounced the light off a mirror to get a sense of distance. Tilda was lying in bed, looking as if she was having a nightmare, with a little scarlet light falling on her face and body."
Another night interior scene was motivated by a neon sign flashing outside of a window. McGarvey also describes a night scene with Swinton in a car. There is a close-up shot of her eyes reflected in the rear view mirror. He panned the camera and shot a Halloween party taking place on the street through a window. Children were dressed in costumes playing trick or treat. They were lit by headlights and flashlights some of them were carrying. McGarvey had hid a few lights behind bushes in gardens and had them tilted up at houses in backgrounds.
There was a video village on the shoot, but Ramsay was usually next to the camera with a handheld monitor. She rarely called for more than three or four takes.
Ramsay and Kinnear had a rented house outside of Stamford with a spare room that McGarvey also called home while they were shooting in Connecticut. Reilly and Swinton were living nearby. Deluxe, in New York, did the front-end lab work and provided DVD dailies.
"We watched dailies together every night on a big TV screen in the house," McGarvey says. "It was very familial, but I really miss film dailies. The last time I had film dailies was on Atonement (in 2007). We had a special dailies tent, and the whole crew would watch dailies together with me and the director every lunchtime. I really think it affected the success of that film and how we shot it. It absolutely bonded everyone together."
McGarvey timed the digital intermediate of We Need To Talk About Kevin in collaboration with colorist Stuart Fyvie at Lipsync, in London, which also invested in the production via Lipsync Productions. "He is a terrific colorist," McGarvey volunteers. Deluxe Lab in London is providing release prints.