WORLD-CHANGING POWERS
When Seamus McGarvey BSC ASC was approached to lens the first two episodes of HBO fantasy series The Nevers, it was a no-brainer to collaborate once again with filmmaker Joss Whedon on the timely production.
Dealing with superhumans is familiar territory for Seamus McGarvey BSC ASC (Atonement) and filmmaker Joss Whedon (Serenity) as they previously collaborated on The Avengers. The creative duo reunited for the first two episodes of The Nevers, an HBO fantasy series set in Victorian London where an alien encounter has resulted in 'The Touched', an ostracised segment of the population that has developed abnormal abilities.
"It was fantastic to return with Joss Whedon," says McGarvey. "Joss called me and said, 'I'm doing this series and here is a brief synopsis. I was like, 'I am in. This sounds absolutely extraordinary.' There were elements of that Marvel Studios style stunt action. But what distinguishes The Nevers is the between-the-lines feminist undertone. I felt it was a timely piece that needed to be told. I also liked the fact that it's not on the nose.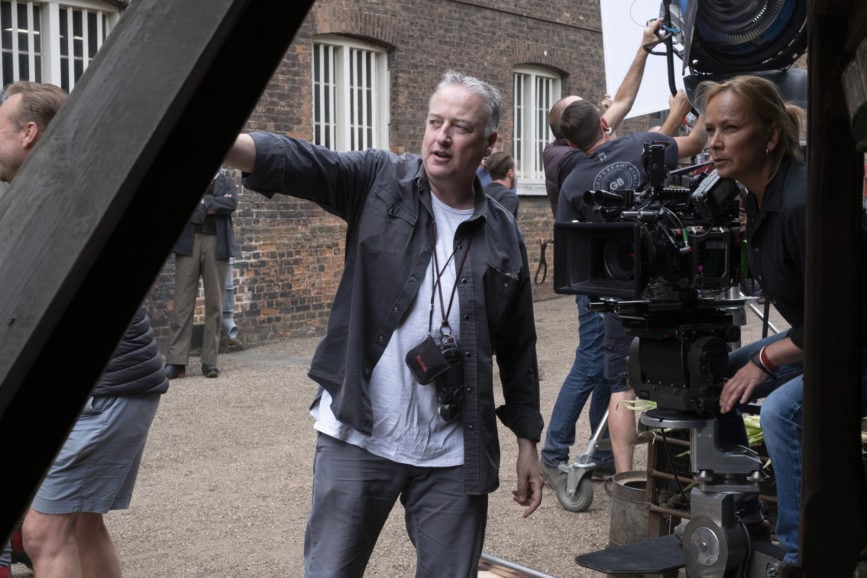 Most of the show was as you see it. It is about 60 percent studio and 40 percent locations. The theatre was a real one in Wimbledon.

Seamus McGarvey BSC ASC
"The other episodes were shot by Kate Reid BSC (Hanna), Ben Smithard BSC (Cranford) and Richard Donnelly (Game of Thrones). When I finally got to read the script, I was like, 'I cannot wait to see this because it's out there.'"
Principal photography for the pilot and second episode wrapped just before the lockdown. "This is crazy to say, but it was probably the best job I ever did because I prepped for a year for eight weeks of shooting," says McGarvey. "We went straight from one into the other. We didn't do any previs as we had done on The Avengers which was more elaborate in terms of visual effects. There were certainly extensive storyboards that Joss and I did. Although Joss does not like improvisation with dialogue, he is interested in the discovery of chance on set. As long as you have the initial structure you can go with the flow."
Minimal greenscreen was utilised. "Most of the show was as you see it. It is about 60 percent studio and 40 percent locations. The theatre was a real one in Wimbledon. We had to work with the balloon lights, footlights, and practicals. We had big sets for the opening shot where Laura Donnelly's character Amelia True is walking down towards the river and then jumps into the Thames. The police station and doctor's surgery were sets and the orphanage was an amalgamation of a real location with set elements built into it."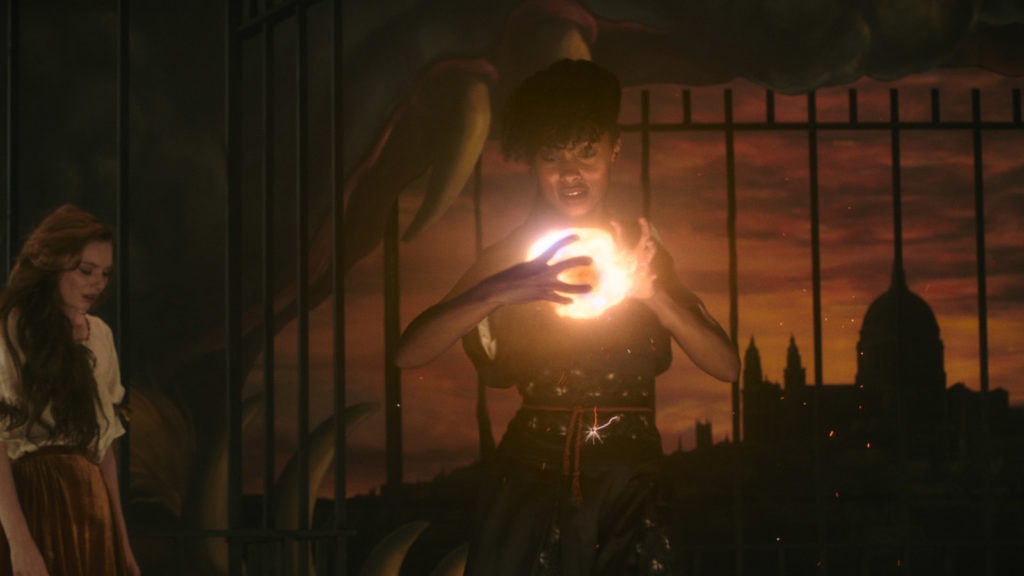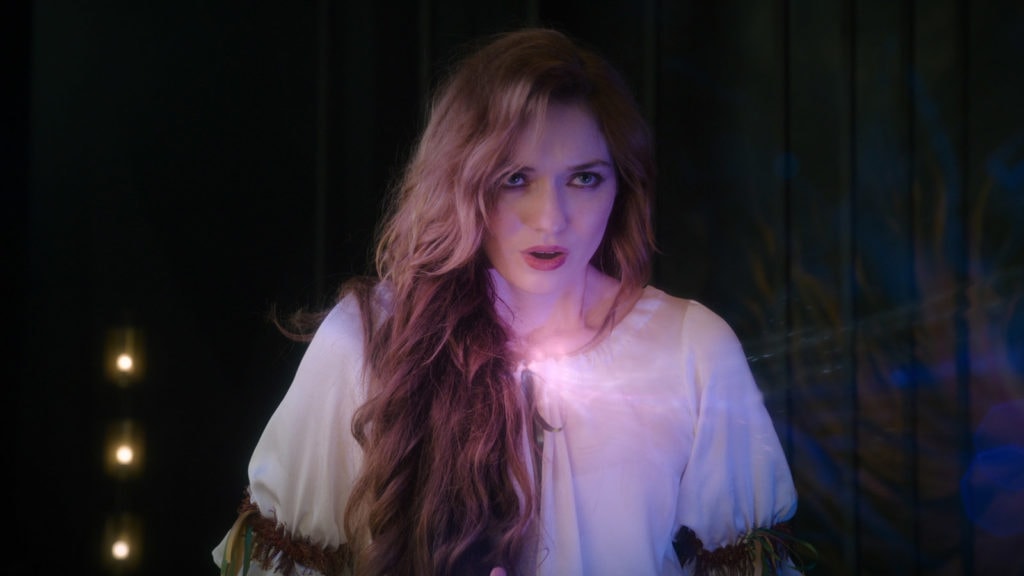 A pleasant surprise was the construction of a functional electric car. "That was the coolest thing ever!" laughs McGarvey. "From Joss's initial sketches on a piece of paper to watching the special effects team [led by Michael Dawson] build that thing. It was quite a nippy little device. We all got a chance to have a go in it. It's always good to have physical things on set in terms of the framing of it and the excitement that you see in the actors' faces because they're actually driving. There is a real head-on of speed and chutzpah. Elements of CG were involved in the revelation of the car when it jumps out of the back carriage in midst of that chase. Our visual effects supervisor Johnny Han [One Night in Miami] built that sequence. Once the car is on terra firma and they're driving along the road; that's the real deal."
Even though he is intrinsically drawn to naturalistic photography, McGarvey begins every project with a fresh perspective. "I don't really have a style as such. I like the script to inform me. I wanted to lure the audience in by using some diffusion such as Glimmerglass filters. I knew further down the line that the other DPs were going to get rid of the diffusion. They were going to move into the more modern elements. Episode 106 is in the future. Each DP would put their own visual stamp on it and the script certainly allowed for that as The Nevers becomes more kaleidoscopic and different."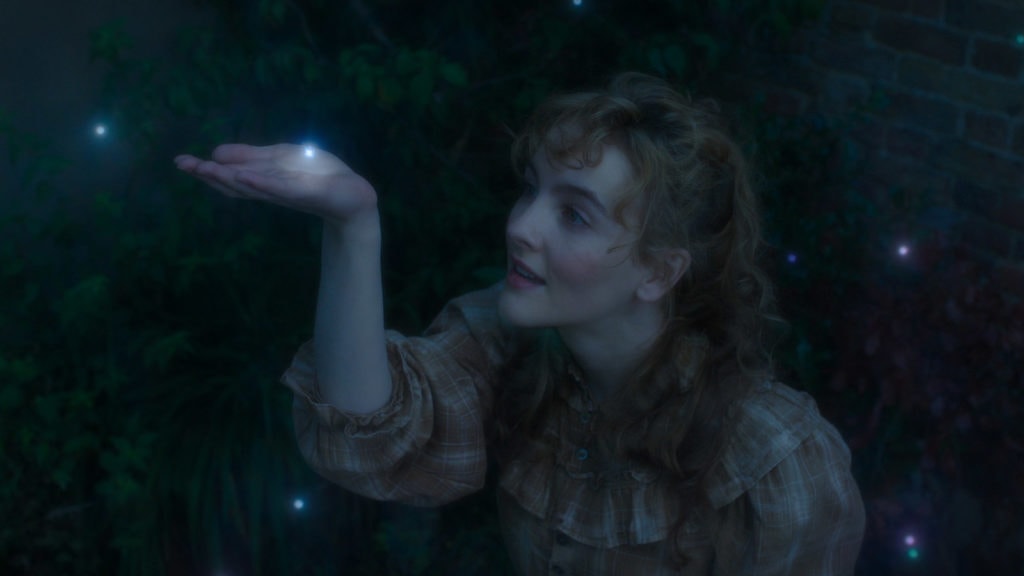 The three ARRI Alexa Minis and one ARRI Alexa SXT camera were supplied by Panavision, often used concurrently. "There was a splinter unit and stunt coordinator Rowley Irlam [Jack the Giant Slayer] was doing stunt work. Pete Robertson, who I have worked with many times, was A camera and Steadicam. Rodrigo Gutierrez was the B camera, and I would take the C camera. Chris Menges' BSC ASC (The Killing Fields) daughter Oona Menges was operating the D camera. Normally, I'm a one-camera type of DP, but this was different because we had to shoot fast."
The crew shot with Primo Spherical Primes from Panavision in addition to two Primo zooms, including a 24-275mm. "What was also really handy when working at speed was a set of three lightweight Angénieux zooms," says McGarvey. "We used them mostly on the Steadicam – 15-40mm. I could change focal lengths quickly without rebalancing because those five or 10 minutes of rebalancing can kill you if you change the lens six times in a day."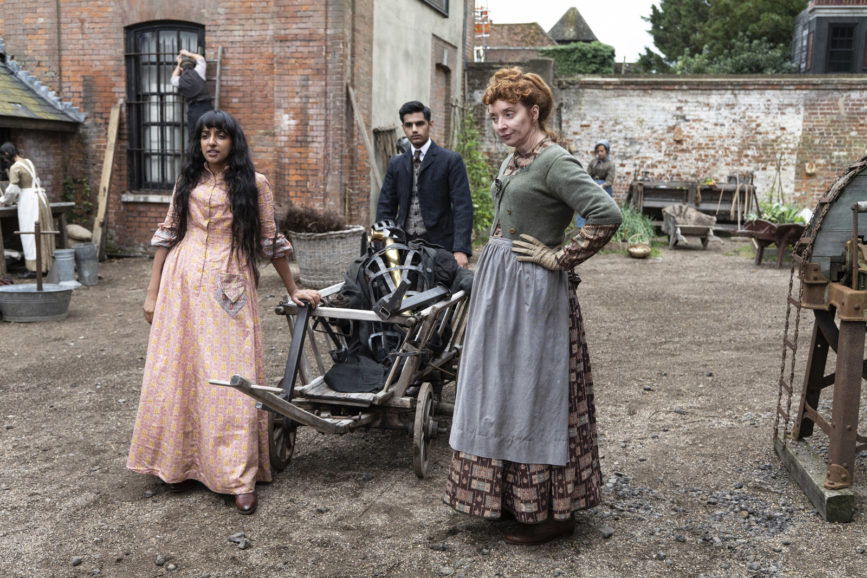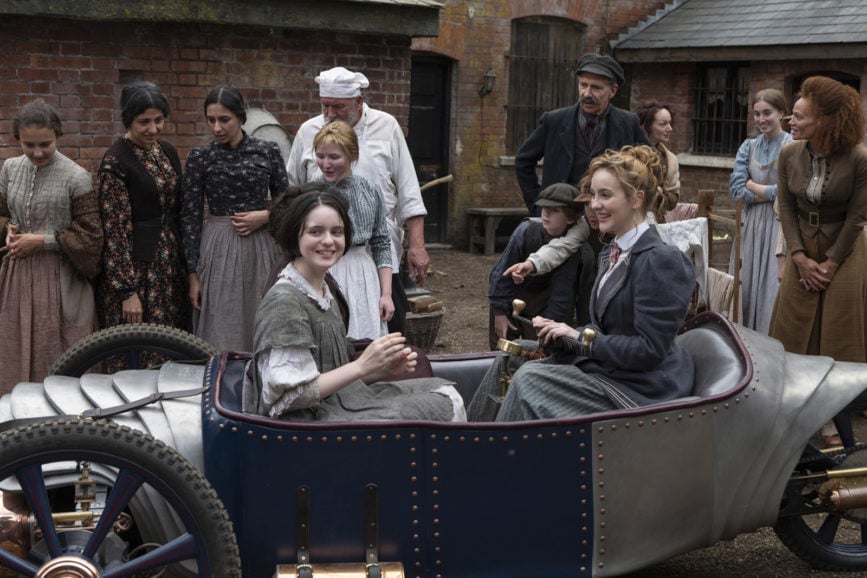 Panalux provided the lighting equipment, with LED favoured over tungsten. "Our big sources for exteriors were the usual package of HMIs, 18Ks, M90s," he says. "For interiors we went predominately with LEDs. The ARRI SkyPanel S60 were lovely LEDs that we were able to change from daylight to nighttime. It gave us a lot of flexibility. We went with what was the most efficient because were going to be shooting 20 setups a day. There was no messing around."
To provide interactive light for the blue spores falling from the alien spaceship an overhead rig was constructed with 12 ARRI SkyPanel S60 on a chase controlled by dimmer board operator Chris Gilbertson. An ethereal atmospheric emanates from Mary Brighton (Eleanor Tomlinson) as she sings an otherworldly song. "We had a moving interactive effect which was nuanced with CGI," says McGarvey. "The close-ups were lit with LED whereas the wide shots of the audience were lit with MAC 2000 moving lights to pick out the individuals who were touched."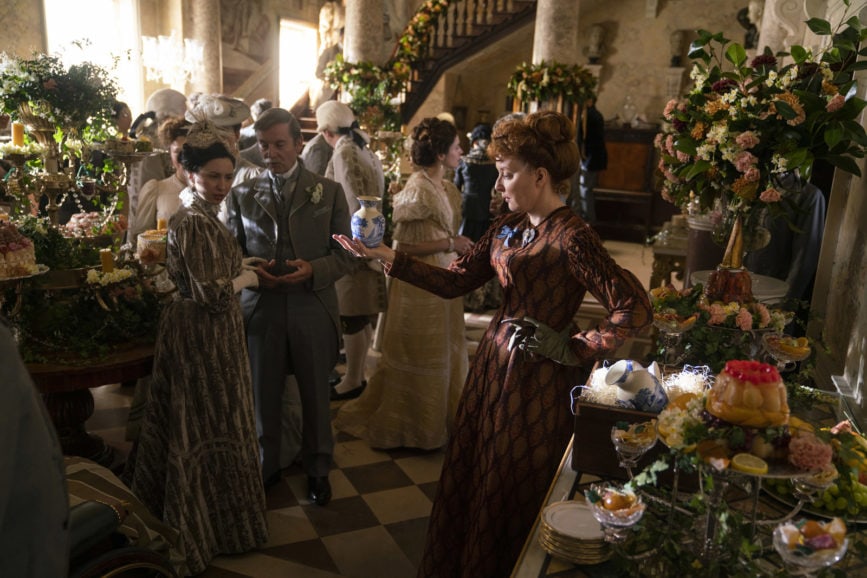 It was a given from HBO that the aspect ratio would be 16:9, with the footage captured as ARRIRAW. A basic LUT was established with DIT Francesco Giardiello that was later determined to be too dark and altered by colourist Stephen Nakamura at Company 3. "Initially, when Francesco and I developed the LUT, there was a 20 percent desaturation. In the end, we went the opposite way, and pushed back skin tone into the flesh tone and brought in more colour. I know that production designer Gemma Jackson [Finding Neverland] was happier about that because the subtle colours in the set sang a bit more."
No major custom camera or light rigs were needed. "There are quite a few little bits and pieces such as when the horses chased the carriage, we were running with a tracking vehicle with 30-foot Technocranes with Libras, so we were able to move the camera around and have it stabilised. That was fun to play with," says McGarvey.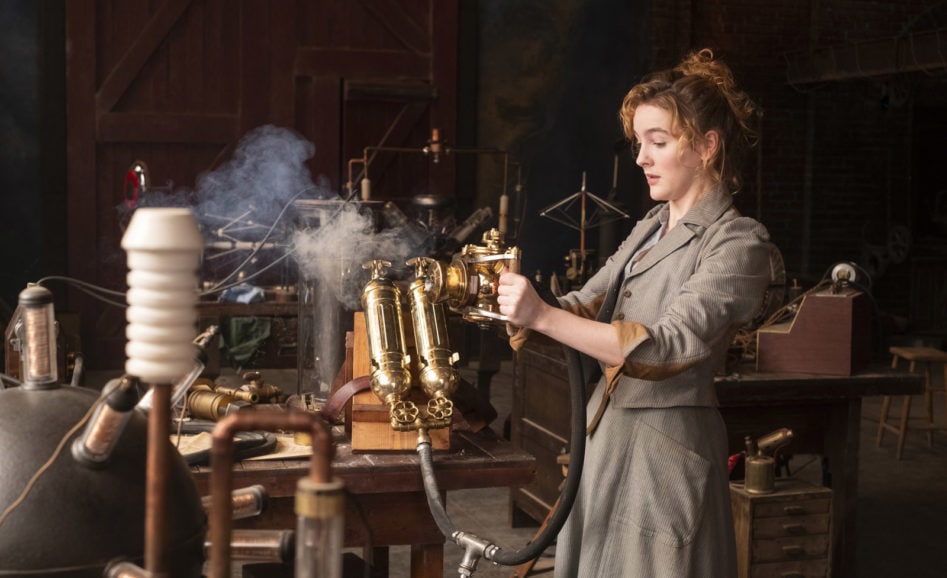 Key crew members included gaffer Tom Gates, key grip Gary Hutchings, A camera operator Pete Robertson, B camera operator Rodrigo Guiterrez, D camera operator Oona Menges, A camera 1st AC Alan Hall, B camera 1st AC Harry Gamble, A camera 2nd AC Max MacGechan, and B camera 2nd AC Hannah Jell. "Tom Gates was amazing," says McGarvey. "I have done 13 or 14 films with Gary Hutchings and he's absolutely brilliant. Peter Robertson and I have done a similar number of films together and Alan Hall is a great focus puller."
To maintain the visual language into post-production it was important to develop an open communication with the visual effects team. "They would probably throw me out of the British Society of Cinematographers for saying this but my relationship with the visual effects supervisor was like working with a co-DP, especially on a show like this," he says. "With any visual effects-heavy production, its imperative to have that collaboration and dialogue which starts in prep and continues throughout. Johnny Han is such a great communicator and a lovely man."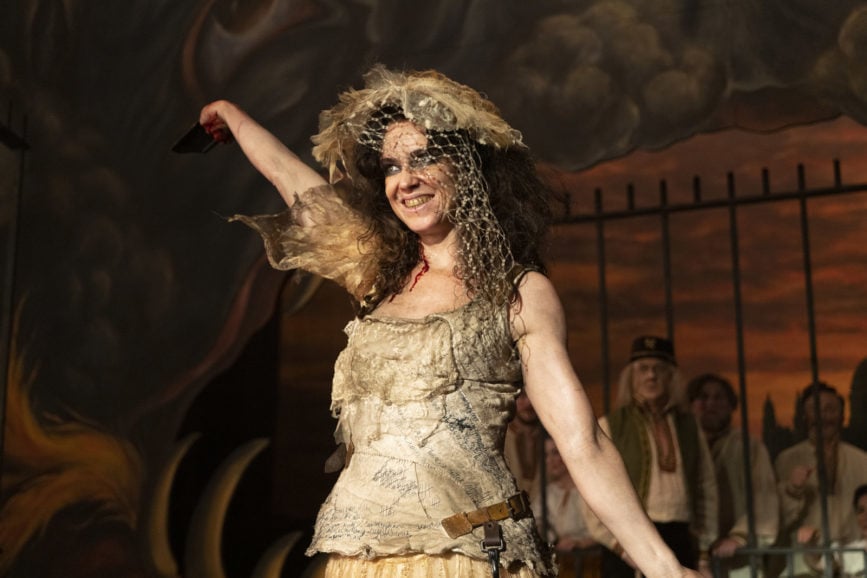 Stunt coordinator Rowley Irlam was another critical partner in retaining the overall aesthetic. "Rowley's understanding of cinematography and the style of the show was crucial. Sometimes you get a second unit director or stunt person who has all the formulas of action photography, and Rowley knew that wasn't what Joss and I wanted. He imbued his sequences with a lovely artful look," says McGarvey.
"The Nevers was for me, a real eye-opener when it comes to the collaboration and the speed of working because I haven't done that much TV work before. I was fearful that the speed would eliminate or diminish our creative attention, but it created a dynamism that I fed off. I hope to do more TV in the future."