The New Standard

Across The Pond / Mark London Williams
The New Standard

Across The Pond / Mark London Williams
"When I first joined SIM Group, the trend really was to use the Arri Alexa. This was the case until the growth of Netflix, as they now require 4K capture at the sensor. This has opened the door for many other cameras, such as the Sony F55, the RED Helium Camera, and the Panasonic Varicam 35."
The speaker is Ann Deguire, Managing Director, Camera Sales for Sim Group, a Toronto-spawned company providing service (and gear) for all phases of production and post, including support for projects like Deadpool, OJ: Made in America, Game of Thrones, Mr. Robot, Stranger Things and Handmaid's Tale, among many others. Since they now have outlets not only in Vancouver, but LA, NY and Atlanta as well, we were curious if Deguire had seen any trendlines particular to location: Was one kind of camera favored more in Hollywood than in the Peach State, for example? Was film favored on the East Coast while digits ruled the West?
As it turns out, in an age of digital delivery, where one might say "everything is everywhere," it is not a matter of "location, location, location," as the real estate folks say, but rather, in Deguire's words, "segment driven. Features are still utilizing some film, whereas series have all but gone digital, with the small exception of a few shows. The trends are being determined by the networks. We're seeing other studios now following the request for 4K."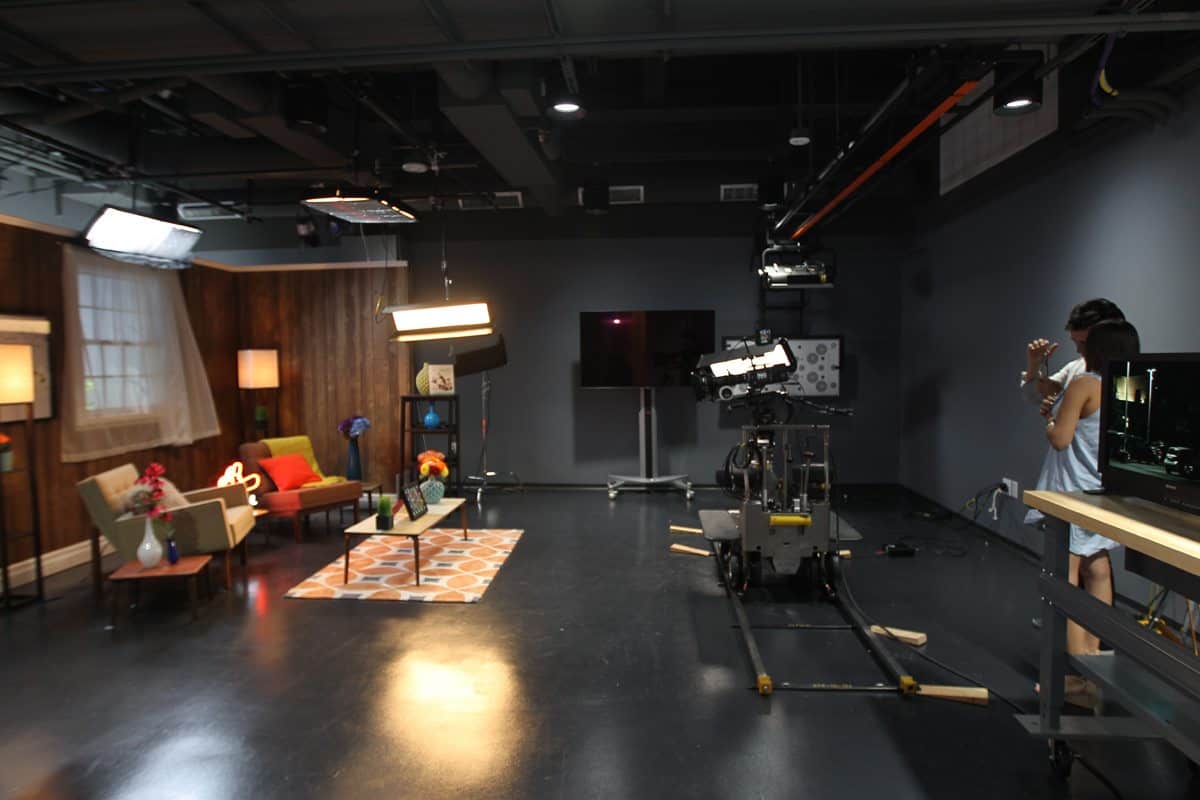 Of course how and why something becomes the new "standard" is part of the alchemy of "Hollywood" (in its broadest sense, wherever productions are being filmed). That's the case with another, multi-hemispheric outfit, Digital Sputnik, the spunky innovative lighting firm with a storefront showcase and outfitting space along Ventura Boulevard in Sherman Oaks, just east of where the famed Galleria was. Or is. (There's still a "Galleria," but it's been completely remade since its Valley Girl days.) Their manufacturing, however, remains in Estonia, and their two principals, CEO Kaur Kallas, and his partner, Per Fasmer, do a lot of moving around in-between.
They launched with their modular DS lighting system-- kind of like the LED version of Legos, with their stackability and easy configurations. DP Greig Fraser was enamored of them when shooting Rogue One. After initial success with the DS, they're now are launching their new Voyager light module.
The Voyager comes in 2 and 4-ft. lengths, the shape of fluorescent tubes, but instead is an LED-based "smart lighting source" that will offer "pixel-level control" (and a way to animate changes, undulations, etc.) all along the lightower, to paraphrase both Bob Dylan and Jimi Hendrix.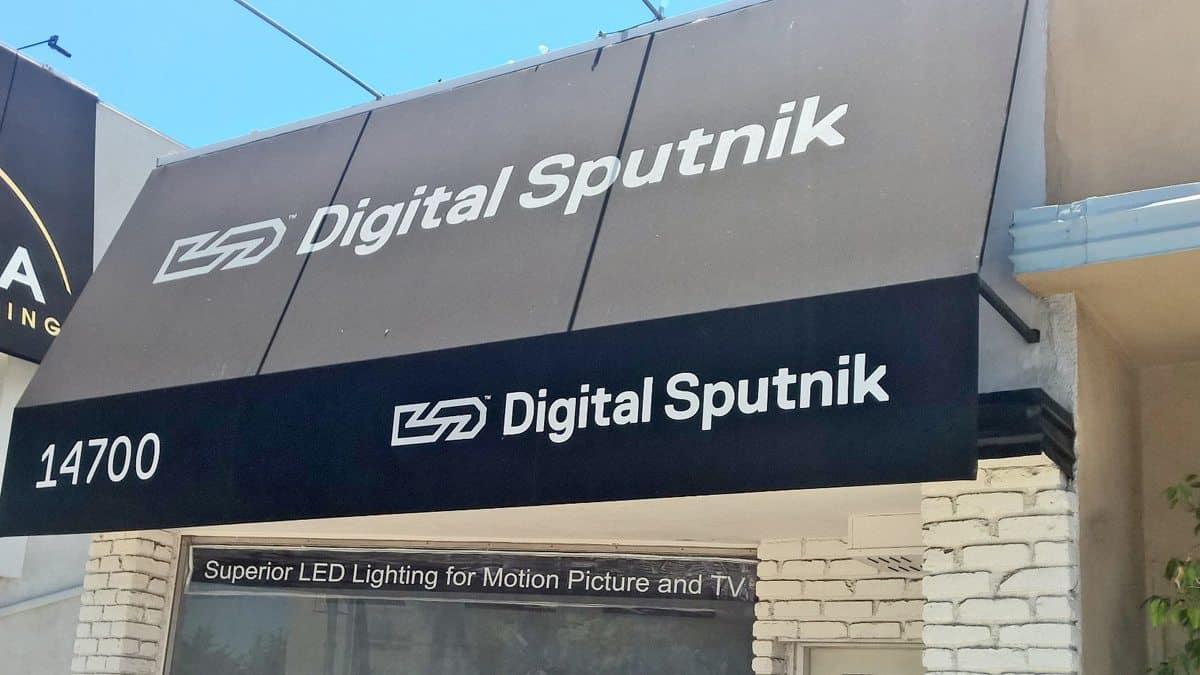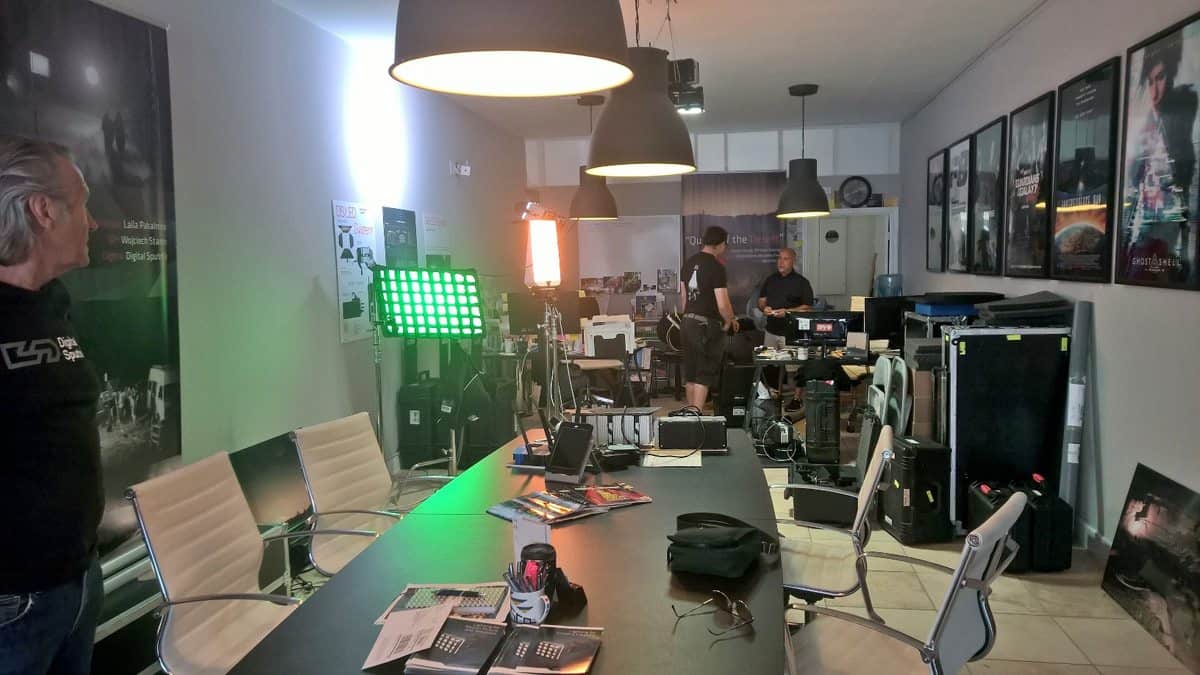 Digital Sputnik's lights -- as others in the industry increasingly are -- are controlled through apps, in this case, for iOS, through iPhone and iPad, though Kallas told us that Android versions are coming soon. He also noted that the ultimate goal was to offer up "control of both sides" of the lighting equation -- hardware and software. In the case of the former, they originally intended those "Legos" to be affordable enough for studios and DPs to own outright, but demand has compelled them to offer up units to rental houses like MBS, particularly in Atlanta.
On the software side, Kallas notes that further goals are to offer up an entire "virtual set," with 3-D lighting visible on phone-or-tablet, which can then be saved prior to the real lights being installed on the actual set, helping to streamline production (and perhaps even crew sizes) for productions both large, and in particular, small.
But, he also notes, Digital Sputnik tries to "introduce one feature at a time," so everyone can acclimate, and eventually, standardize, like they're doing with 4k and TV.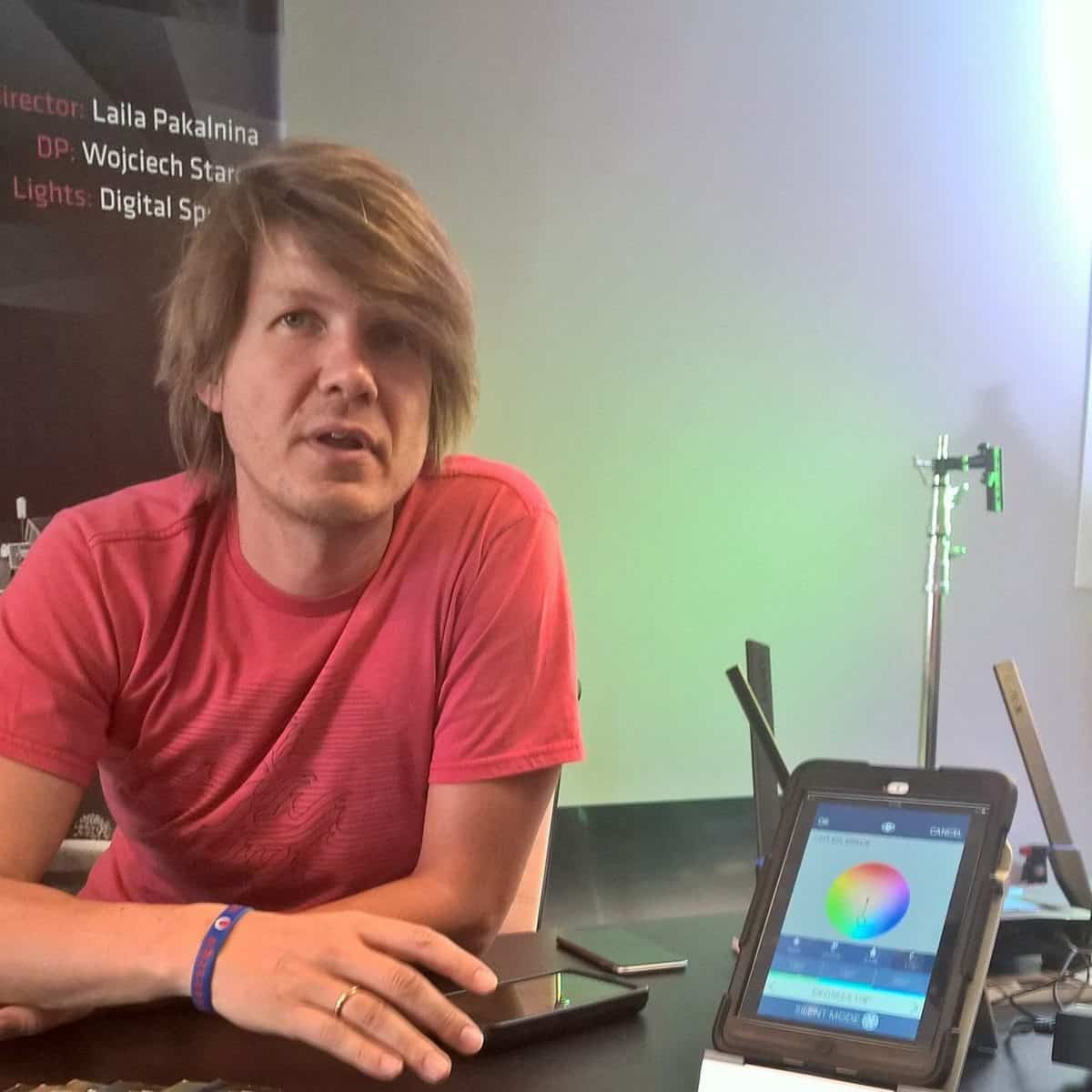 Paradigms shifting and changing is also the very metier of the Emergence program, a new initiative started last year by a collective of companies to support and actively promote diversity in Hollywood - providing chances to those from certain groups for whom the hinges on film biz entrance doors remain a bit… sticky. Among those sponsoring groups are longtime friends of this space like Chapman/Leonard Studio Equipment and LiteGear, and while Emergence works by calling for scripts (this year's spotlit emerging group is women, though each year, a different demographic - whether by religion, age, life experience, etc. -- will be focused on).
However, it's not simply a script contest, but in a way, a "cohort contest," the goal being to put people with other people based on those selected scripts -- DPs, gaffers, costume designers, et al. -- so that crews with different levels of experience can start to work together on projects telling stories that might not otherwise see the light of screen.
Which is how Women Who Score came to our attention. Directed by Sara Nesson, it boasts a female DP, Eve Cohen, along with Camera Operator Sherri Kauk and Operator Luisa Conlon who helped on the day of the concert.
Concert, you ask? Why yes, for Women Who Score is about female composers in the biz -- who only scored 3% of 2016's box office films -- and whose centerpiece is a concert sponsored by the Alliance for Women Film Composers, featuring the work of Julia Newmann (composer on the series Bones), Laura Karpman (The Beguiled,etc.), Rachel Portman (Chocolat, Cider House Rules) and many others.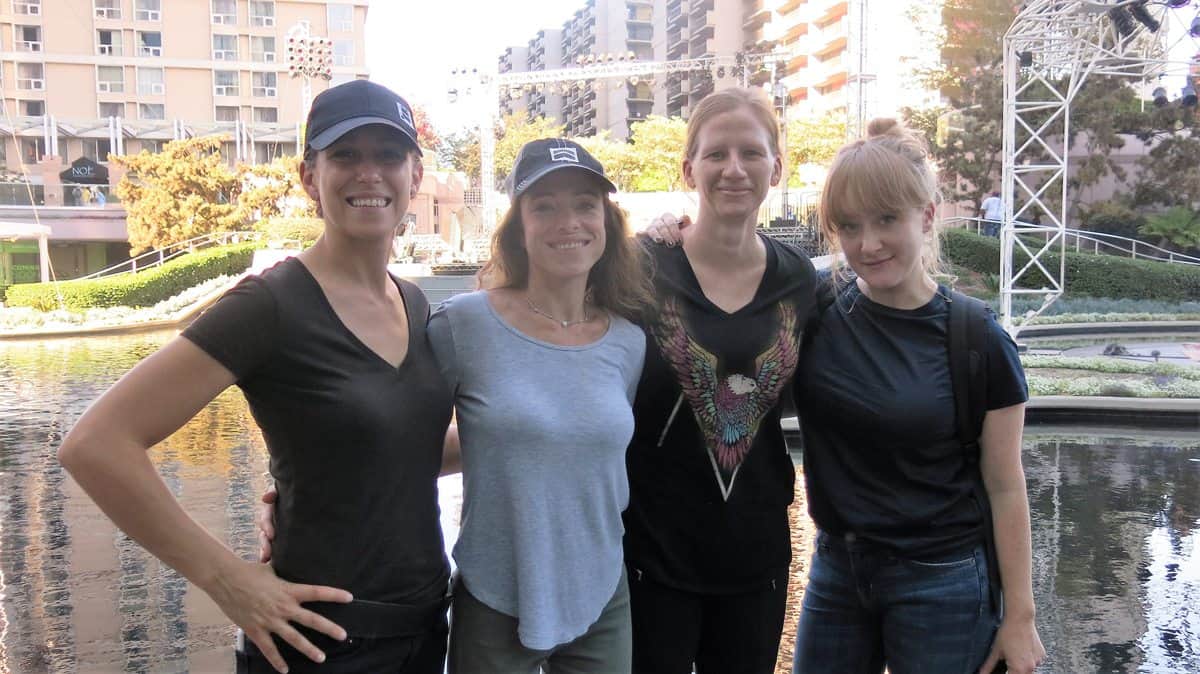 In the short doc, (which you can watch here on Vimeo), composer Kathryn Bostic (Dear White People) calls the concert "not just a game changer, but a reflection about us all coming together to speak about who we are, and what we do."
True enough, though reflection can also imply "glass," and the glass, and lenses, and cameras, used to capture this game changer came when producer Naida Albright got both The Camera Division and Canon USA to equip the production with, variously, C300Mark II's, Canon C100s, and their CN-E 30-300 zoom, all of which made a fairly seamless ensemble of their own.
And as for seamless ensembles, we also talked with Quyen Tran recently, cinematographer on current buzzy indie film The Hours, an anachronistic riff on The Decameron (particularly the 14th-century original, as opposed to the storied --pun?-- Pasolini film from the mid-70's).
She shot with an Alexa Amira with a set of Cooke S4 primes and two zooms, and, she told us, "used a microforce with the zooms because we actually employed many in-camera zooms during moving masters. We did not shoot a lot of traditional coverage.. and had a very tight prep and shooting schedule (10 day prep, 20 day shoot) and no dolly grip so I put a lot of pressure on myself as the operator to try to be as flawless as possible to preserve these incredible performances from our stellar cast. So, when you're on a Dana Dolly zooming from a 100mm to a 32mm and back to a 300mm while dollying backwards high stepping over stands and panning 180 degrees, it becomes an acrobatic feat you can't really prepare enough for!"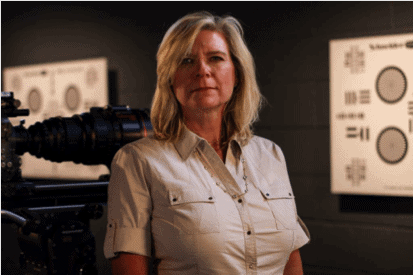 "HDR really is the buzzword now, with there currently being very little (talk) of 8K."
- Ann Deguire, Managing Director, Camera Sales for Sim Group
Though in terms of prep, while she and director Jeff Baena steered away from Pasolini's movie, they somewhat surprisingly took a look at films from the also late, great Robert Altman, while gearing up for their own bawdy comedy, which stars Aubrey Plaza (who also produced), Alison Brie, John C. Reilly, and others.
In particular, they looked at "3 Women, which employs zooms and long takes. I had a strong interest in art history and painting growing up, so I am very familiar with art from the 14th century, some of which has a very flat, compressed, 2D feel, even a proscenium like composition. In designing the look of this film, I wanted to shoot very wide moving masters with little coverage to allow the actors to really improvise as well as to give the film a very specific look."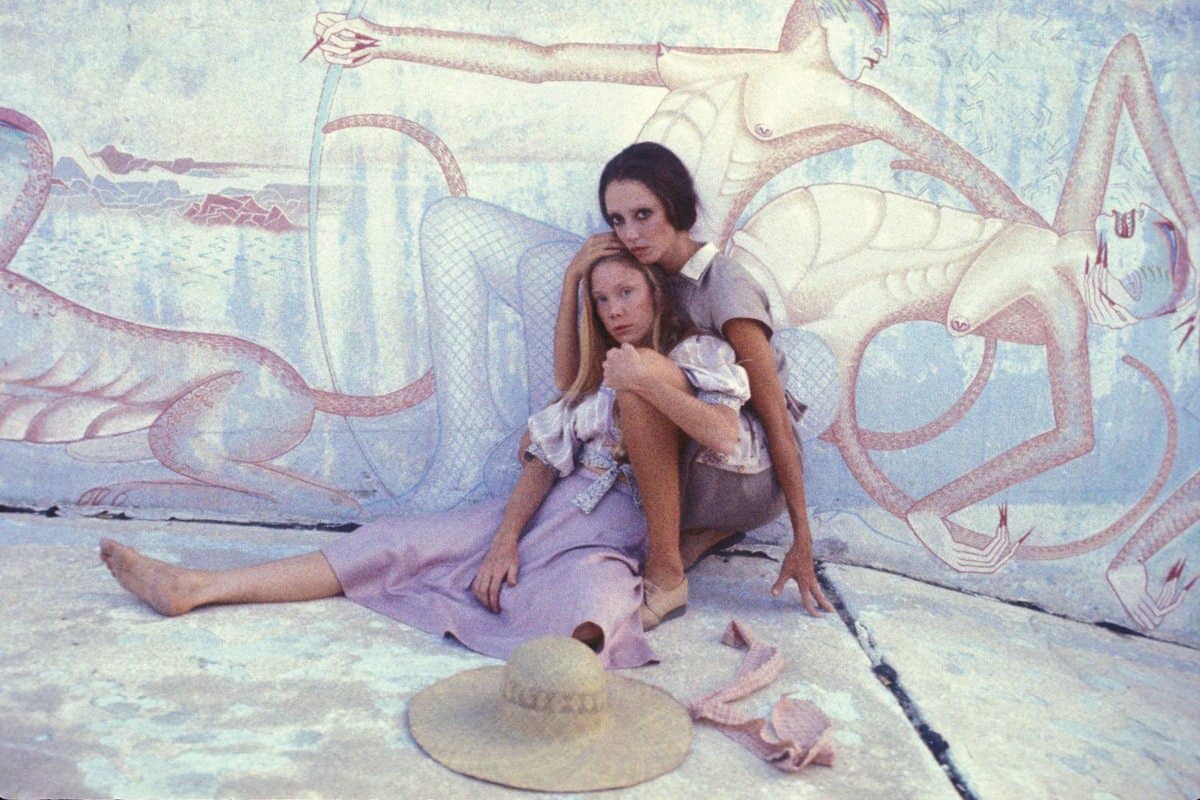 As for trends in shooting, Deguire says that along with the standardization of 4K, "HDR (High Dynamic Range) is now the new buzz word. Networks are turning to us at the Sim Group for our strategic counsel on this—for pricing and advice for taking SDR footage and remastering it to HDR. HDR really is the buzzword now, with there currently being very little (talk) of 8K."
And yet another buzzword we're hearing -- both in terms of the kinds of glass being made, or certainly "rehoused" -- is "zoom lens."
Hence Tran and Baena's revisiting the Altman oeuvre (if you recall some of the zoom work in MASH or Nashville): "Jeff loves the zoom," Tran told us, "and I wanted to make sure we used it to further the story during specific moments as opposed to just randomly zooming in and out. It really became the primary camera movement in the film, and it was refreshing for me since I have never shot anything quite like this, both visually and narratively!"
So while the future remains as unknowable as ever at this juncture in history, it would seem that it will certainly contain more high-definition zoom shots than it did before. Dizzying, indeed, in stark 4k. Perhaps even -- like those naughty nuns in The Little Hours sneaking out that communion wine -- intoxicating.
We'll see you here next month, but meanwhile, write us: AcrossthePondBC@gmail.com