Lead Image: Filmmaker Erin Vassilopoulos (middle) and cinematographer Mia Cioffi Henry (left) (Credit: Matt Borowick)
SECOND COMING
Life has gone full circle for filmmaker Erin Vassilopoulos and cinematographer Mia Cioffi Henry at Sundance as they were nominated for the Short Film Grand Jury Prize in 2015 for Superior and have returned with a feature version.
Vassilopoulos shares writing duties with Alessandra Mesa who along with her sister Ani Mesa reprise their roles of identical twin siblings. The story centres on Marian (Alessandra) arriving back in her hometown to hideout and upending the life of Vivian (Ani).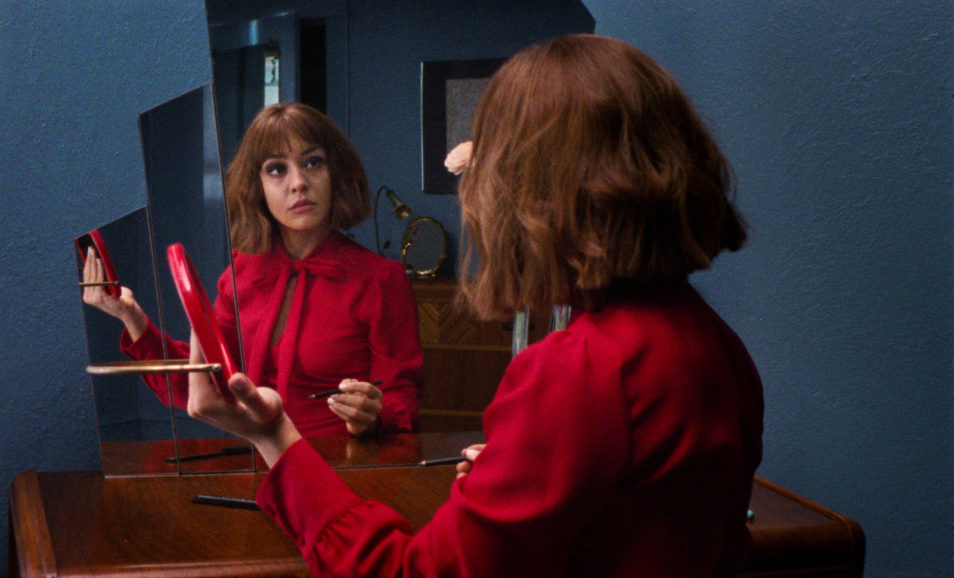 "I have grown so much in between the short and feature of Superior," says Cioffi Henry who is an Assistant Arts Professor of Cinematography at NYU Tisch where she first met Vassilopoulos. The classmates went on to forge a creative partnership that began by creating a series of shorts. "I trust myself more. I know how to tell somebody what I want in terms of my crew. However, while making the feature we were mourning our raw selves. Our ability to say, 'Let's throw a gib in the pool!' And being able to be hopeful and optimistic that we were going to get results. You get more fear and expectation, especially after working in the professional world."
"There are just a few moments where we directly reference visually the short," reveals Cioffi Henry. "One in particular is a direct matching shot of Marian watching television. In our short Walking and Falling, we have this big jib shot of a swimming pool. We wanted to recreate that same shot but realised in regard to safety and conventional wisdom we couldn't go for it in the same way. Josh Elam, my key grip, rigged this big truss to get the camera out into the middle of the pool; it had to be able to do this big pan and see below so we couldn't have stands and ladders. It was quite a production, but we were able to do it."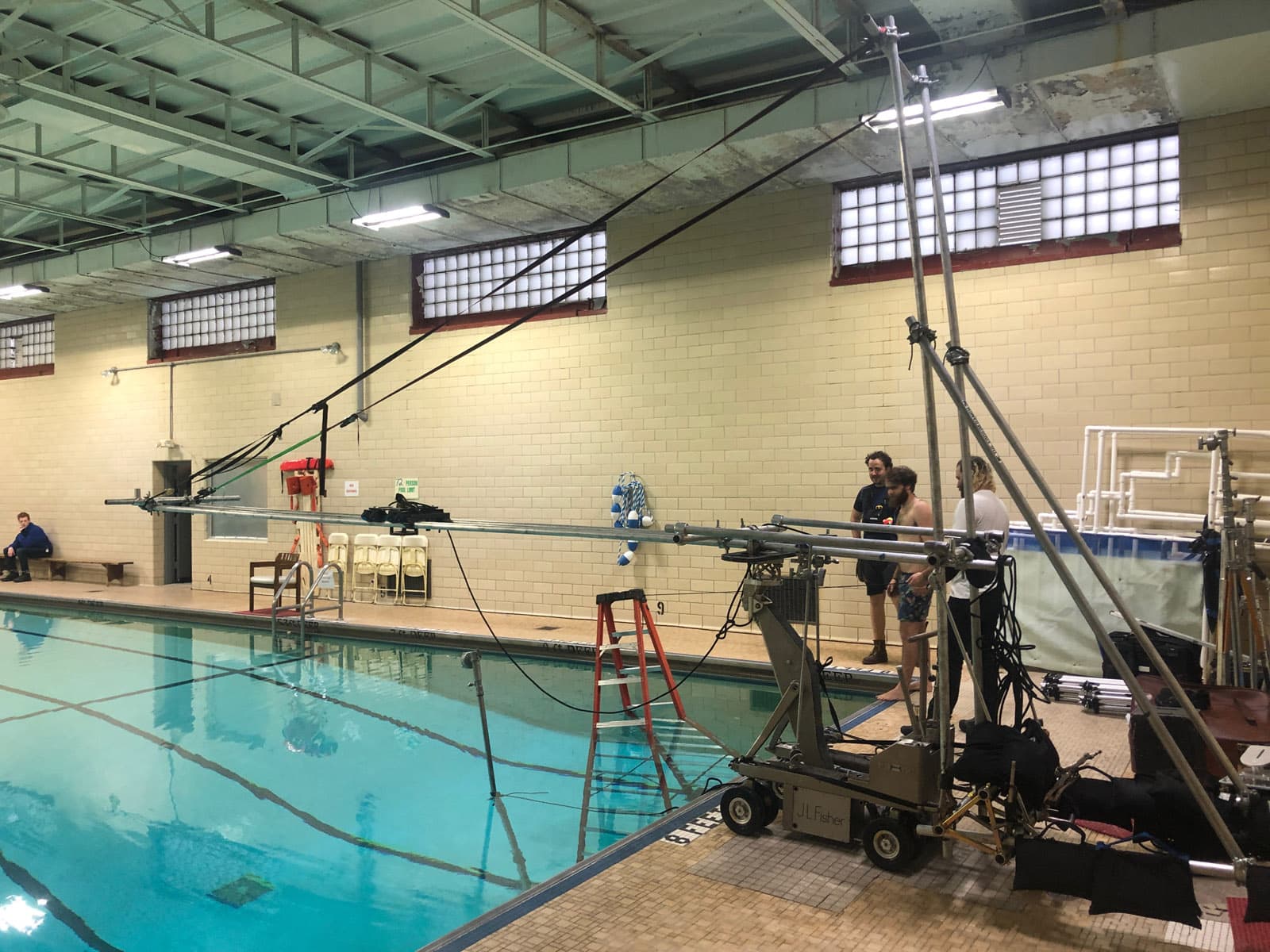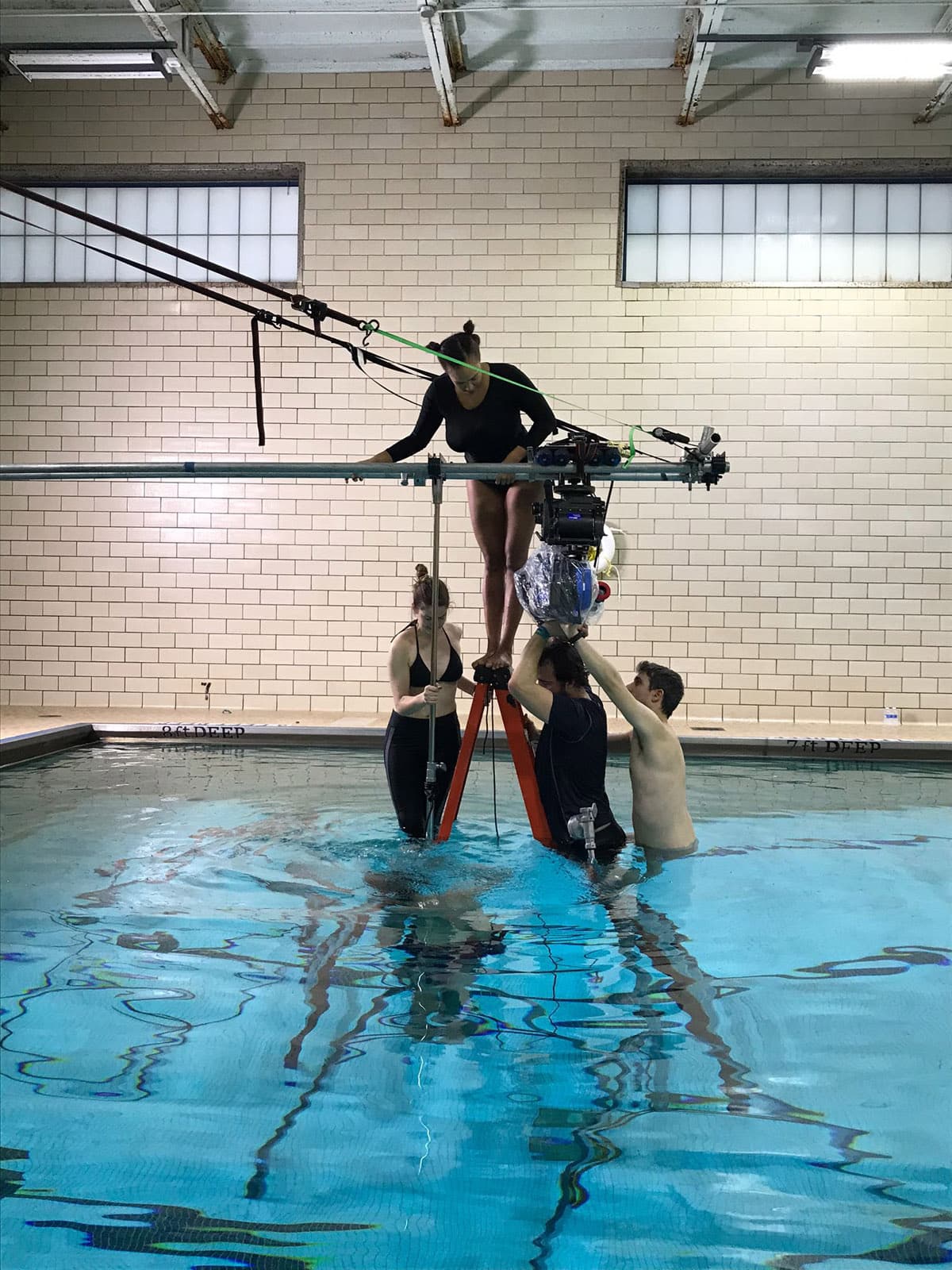 While the time period is not defined in the short, the feature is set in 1987. "We didn't want to tell the same story as there was an evolution in the characters just as with us as people and creators," says Cioffi Henry. "Alessandra and Erin started with what would the sisters' lives looked like six years later. There is a clear divide that happens at the end of the short film. The question is left, 'Are they individuals or still a pair?' We pick up the film where Marian and Vivian haven't seen each other in six years. This is a story about the two sisters coming back together, having to reconnect, re-establishing the trust in one another, and what their identity is as a pair of twins.
"The short takes place mostly inside one house whereas in this there are lots of location and exterior scenes. We couldn't afford a lot of picture cars and backgrounds, so we had to be strategic in terms of what was shown and how we did our driving shots. We knew there would be some painting things out, like modern cars and signs."
Erin [Vassilipoulos] would often say, 'Let's light this like we did on the short.' And I was like, 'No! We've really learned since then! We can be more nuanced in our lighting and techniques.'

DP Mia Cioffi Henry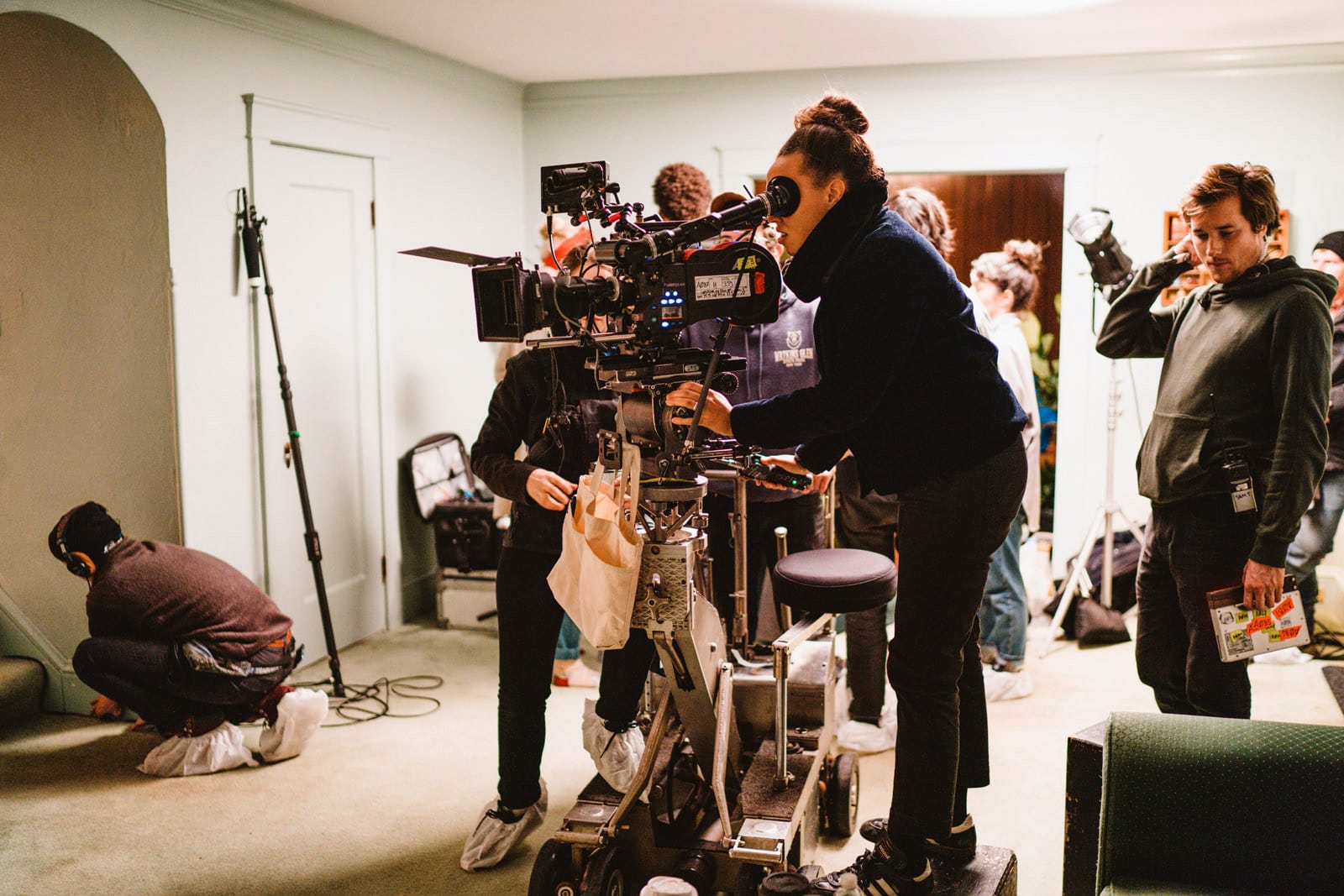 COVID-19 almost had an impact on the twice delayed production as there was talk about shooting in Spring 2020. However, principal photography went ahead in November and December of 2019 despite concerns about the weather.
"The film occurs around Halloween, and we were shooting in Upstate New York around Elmira," says Cioffi Henry. "We didn't want snow and Christmas lights in the film but we had the funding and casting and the locations were lined up so we went ahead with it. Like any film, it could have benefitted from a few extra weeks of preproduction. However, as soon as February and March hit in the US, we were thankful to get the film in the can, and spend this last year editing and doing colour."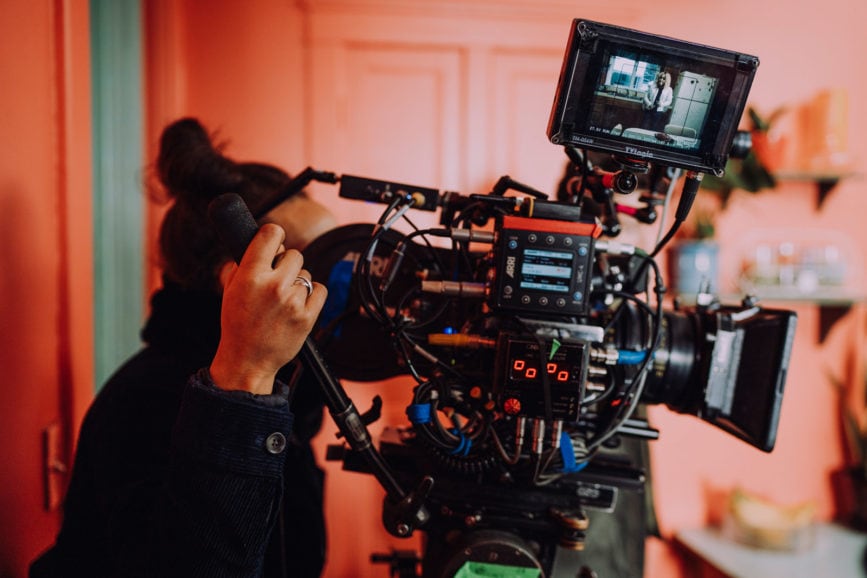 Superior was captured on Super 16mm filmstock. "We shot with the same camera, the Arriflex 416 from ARRI Rental NY and Kodak VISION3 [7219, 7207] stock, so in regards to look we started from the same place technically speaking. We used Cooke S4i 12mm, 14mm, 16mm, 18mm and 27mm rather than the Master Primes on the short as well as a Canon 6.6-66mm. The zoom was utilised in specific moments."
Lighting equipment was a mixture of HMIs, SkyPanels, tungsten units, LiteMates and Astera tubes. "Our aesthetic was an evolution," says Cioffi Henry. "Erin would often say, 'Let's light this like we did on the short.' And I was like, 'No! We've really learned since then! We can be more nuanced in our lighting and techniques.'
"My general approach towards lighting is to understand how the light naturally falls. I walk into a space, turn off all the practical lights and see where the light is coming from. Our hero house had green walls, carpeting, and a sofa. We went with a strong monochromatic look that was inspired by Italian neorealism, Red Desert starring Monica Vitti was a big touchpoint both for the lighting and set dressing."
The mid-century European cinema references influenced the decision to go with an aspect ratio of 1.85:1. "That's how we shot the short and how we envisioned the interior spaces." Superior opens with Marian fleeing down a two-lane highway at night. "I knew we needed car rigs, stunts, and to light up and lockdown a country road in Upstate New York. "We only had one day in the budget to do all of that. I asked our UPM Joshua Gonzales, 'Can you find me a trestle bridge?' We were able to rig our lighting not just for the moment when we're driving over the bridge, but we could then motivate with that lighting. It allowed us more creative freedom later. The lights were pre-rigged and set during the day so I could take that out of my shooting schedule."
There is this license of freedom in the style and approach that you get when you're shooting horror. I love doing things that are dark, colourful or textural in that way. This is definitely one of them.

DP Mia Cioffi Henry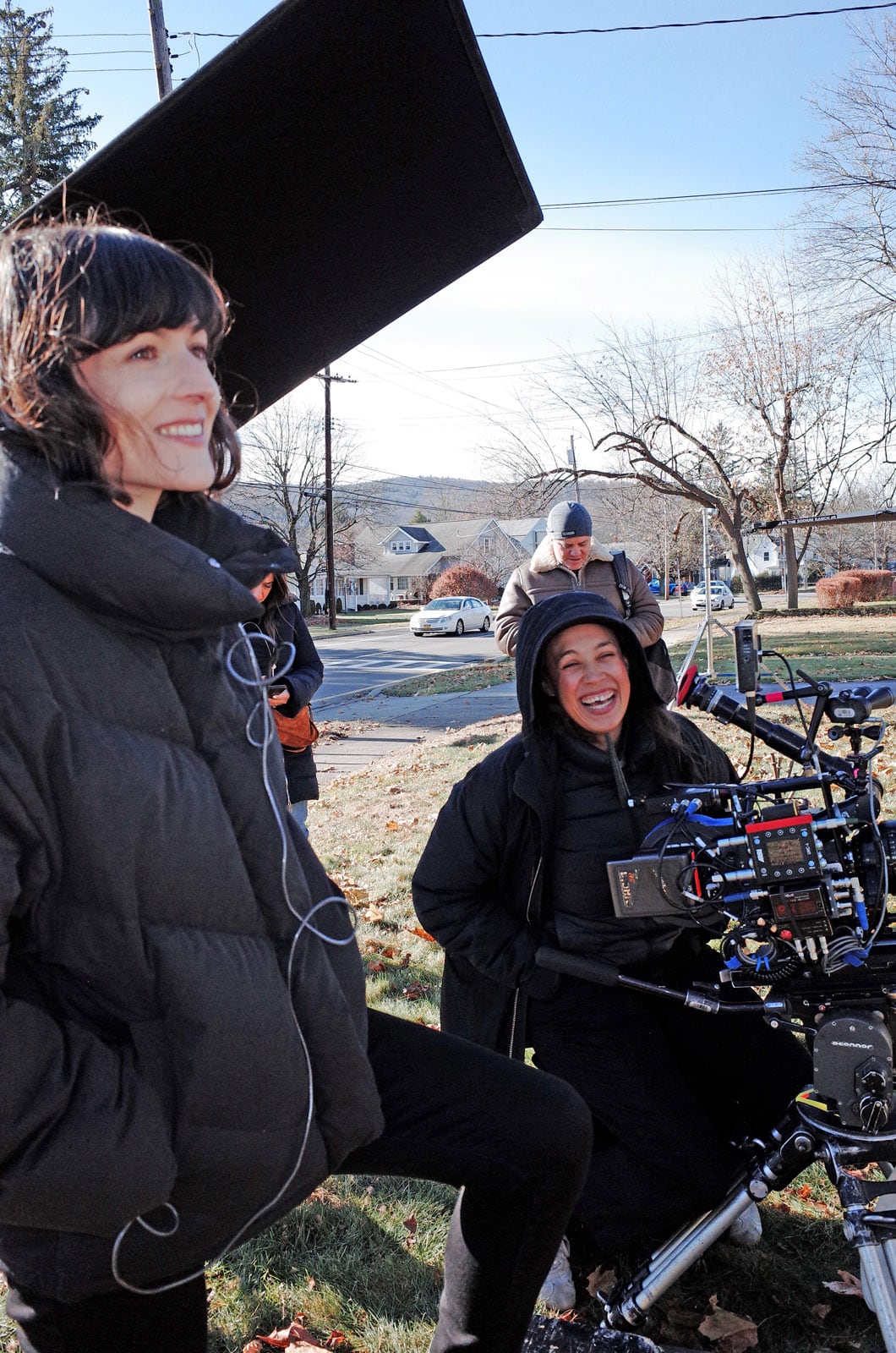 A dailies LUT was created by Marcy Robinson at Goldcrest NY with the grade being more neutral to avoid a warm nostalgic look or being too cool. "We wanted something with contrast," says Cioffi Henry. "There is a lot of red in the film. We had to make sure we favoured the tone of red we were looking for."
A number of the heads of departments were female, including production designer Maite Perez-Nievas, editor Jennifer Ruff, and costume designer Allie Pearce. Key crew members included key grip Josh Elam, gaffer Zachary Erwin, first AC Alice Boucherie, and colourist Roman Hankewycz at Harbor.
"I don't watch horror films for fun but I really like making them!" reveals Cioffi Henry. "There is this license of freedom in the style and approach that you get when you're shooting horror. I love doing things that are dark, colourful or textural in that way. This is definitely one of them. The themes in all our work together are so rooted in the female experience. The short is focused on coming of age as a teenager while this is that second moment. There are themes of motherhood and independence. Any sex or violence in the film comes from that place. The plot points are ingrained in real-life character moments. We're talking about domestic violence and infertility from a female perspective. You don't see that often in genre or thriller films."