Anything is possible
Meet the New Wave / Kate Reid
Anything is possible
Meet the New Wave / Kate Reid
Filmography (so far):
Blooded (2011), Africa United (2010) 2nd Unit DP and B-camera operator.
When did you discover you wanted to be a cinematographer?
I was about 20 and attending an event at the Edinburgh Film Festival, where Seamus McGarvey BSC ASC was in conversation with Darius Khondji about his work. Previously I had thought that the director was responsible for what I now understand to be the DPs role, so it was quite a revelation to hear these inspirational DPs discussing their craft and it opened up a new world to me.
Where did you train?
I studied cinematography at the NFTS in Beaconsfield, having worked on features as a camera assistant in the UK industry before that. I also spent a year studying Film & Photography at the University of California, Santa Cruz, as part of my undergraduate degree.
What are you favourite films?
My Name Is Joe by Ken Loach, shot by Barry Ackroyd BSC – I was blown away by the realism of the performances and dialogue, and the incredibly powerful storytelling.
Ratcatcher by Lynne Ramsay, shot by Alwin Kuchler BSC – also made a strong impression on me, for capturing the details that often go unnoticed in such a beautiful, raw and poetic way.
The Diving Bell And The Butterfly by Julian Schnabel, shot by Janusz Kaminski – I love this for the visceral, sensory experience it gives the audience as well as it being such a life affirming film.
2001: A Space Odyssey by Stanley Kubrick, shot by Geoffrey Unsworth – epic every sense. I love the wide angles used here, as in all of Kubrick's films, to such wonderful effect. Truly a film for the cinema, and one that I see more in each time I watch it.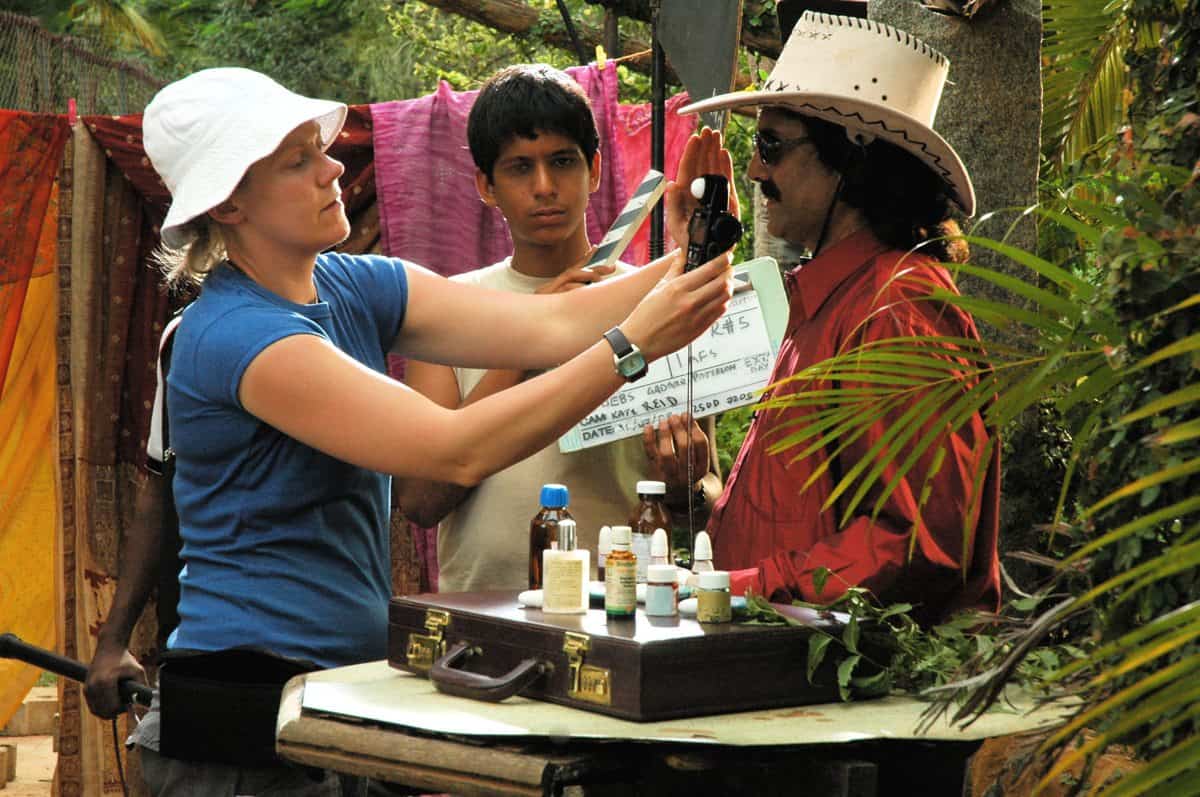 What's the best advice you were ever given?
"Anything is possible", and "Do what makes you happy", both from my Mum.
Who are industry heroes?
Seamus McGarvey – as my introduction to cinematography, and for hearing him talk with such passion and humour about the craft. And similarly, discovering that Darius Khondji was the eye behind many of my favourite films, particularly his stunning work on Se7en. Alwin Kuchler BSC – someone I greatly admire and who has been something of mentor to me. His cinematography is bold and innovative, and I have been inspired by his collaboration with Lynne Ramsay and the visual style they developed together. Roger Deakins – for his beautiful naturalistic lighting, amazing versatility and making it look so effortless.
Have you won any awards?
A short film I shot, Home, was nominated for Best Cinematography at the 168 Film Festival in Los Angeles.
What's you proudest moment?
Seeing Blooded on the big screen in Leicester Square with the cast and crew.
What's the worst knock-back/rejection you ever had?
When I applied to the NFTS straight after completing my undergrad degree and didn't get an interview. Retrospectively, it was the best decision ever made for me and I'm very grateful for the interim years I had working as a professional 2nd AC before getting into the NFTS when I re-applied a few years later.
Tell us your best and worst moments on set:
The best is when all the elements of a shot combine with an amazing performance, that alchemy is special to witness. And also the satisfaction at the end of a successful day when everything is in the can; the mixture of excitement, exhaustion and sweet relief is blissful.
Worst moment was working with a period car which looked fantastic, but wasn't the most reliable, and having spent about 30 minutes rigging the camera and lights for a travelling shot, the engine wouldn't start. The disappointment of having to drop the shot was only compounded by the fact we then had to push the car back to the production base.
Tell us your most hilarious faux pas?
Whilst assisting on a feature where the DP was using a lot of filters, I put a soft edge grad in the matte box the wrong way. Thankfully it was very soft and the DP graciously joked that it had helped with some unwanted over exposure on the right hand side of the frame. Lesson learnt.
Away from work, what are your greatest passions?
Great open spaces, singing and dancing (but not all at the same time)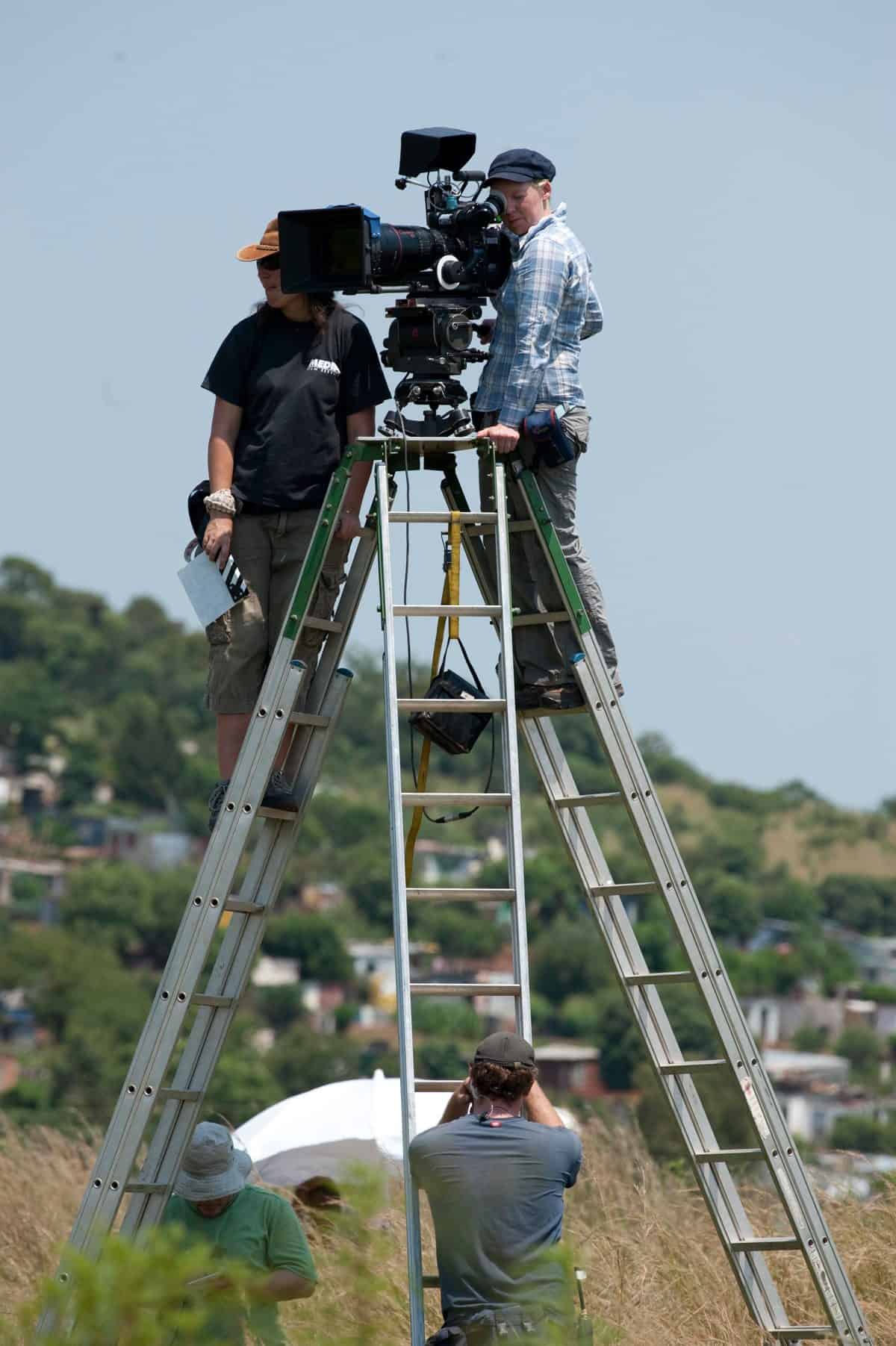 "[Industry heroes] Alwin Kuchler BSC – someone I greatly admire and who has been something of mentor to me. His cinematography is bold and innovative, and I have been inspired by his collaboration with Lynne Ramsay and the visual style they developed together."
- Kate Reid
What one piece of kit could you not live without?
My lightmeter.
Which films are you most proud of to date?
Blooded as it was my first feature and was made with a lot of love and a healthy degree of naivety. Also a short film called All In Good Time, which is currently in post production. We tried a few interesting things, which payed off in terms of the story.
What's weirdest place you've ever shot in?
The centre of the pitch at Soccer City in Johannesburg during a dress rehearsal for the World Cup opening ceremony - complete with R Kelly singing in my left ear. That was quite unusual.
What's the hardest shot/thing you've had to light/frame?
Rare beetles, in slow motion, under hot lights.
Tell us your hidden talent/party trick?
When cajoled, or near a karaoke, I'll sing.
In the entire history of filmmaking, which film would you love to have shot?
2001: A Space Odyssey, and I Am Cuba.
What are your current top albums?
Tourist History by Two Door Cinema Club, Phoenix by Wolfgang Amadeus and Hearts On Hold by Tu Fawning.
What's your greatest extravagance?
More than eight hours sleep at once.
What's the best thing about being a DP?
The variety. I love the contrast of people, places and projects and that no two experiences are ever the same. Creating and being part of a creative process is also immensely satisfying.
What's the worst thing about being a DP?
Time is never on your side.
Give us three adjectives that best describe you and your approach to cinematography?
Open. Creative. Intuitive.
If you weren't a DP, what job would you be doing now?
I always enjoyed drawing and painting when I was younger, so possibly some kind of design work.
What are your aspirations for the future?
To create great films which are interesting and inspiring, both to watch and to work on.