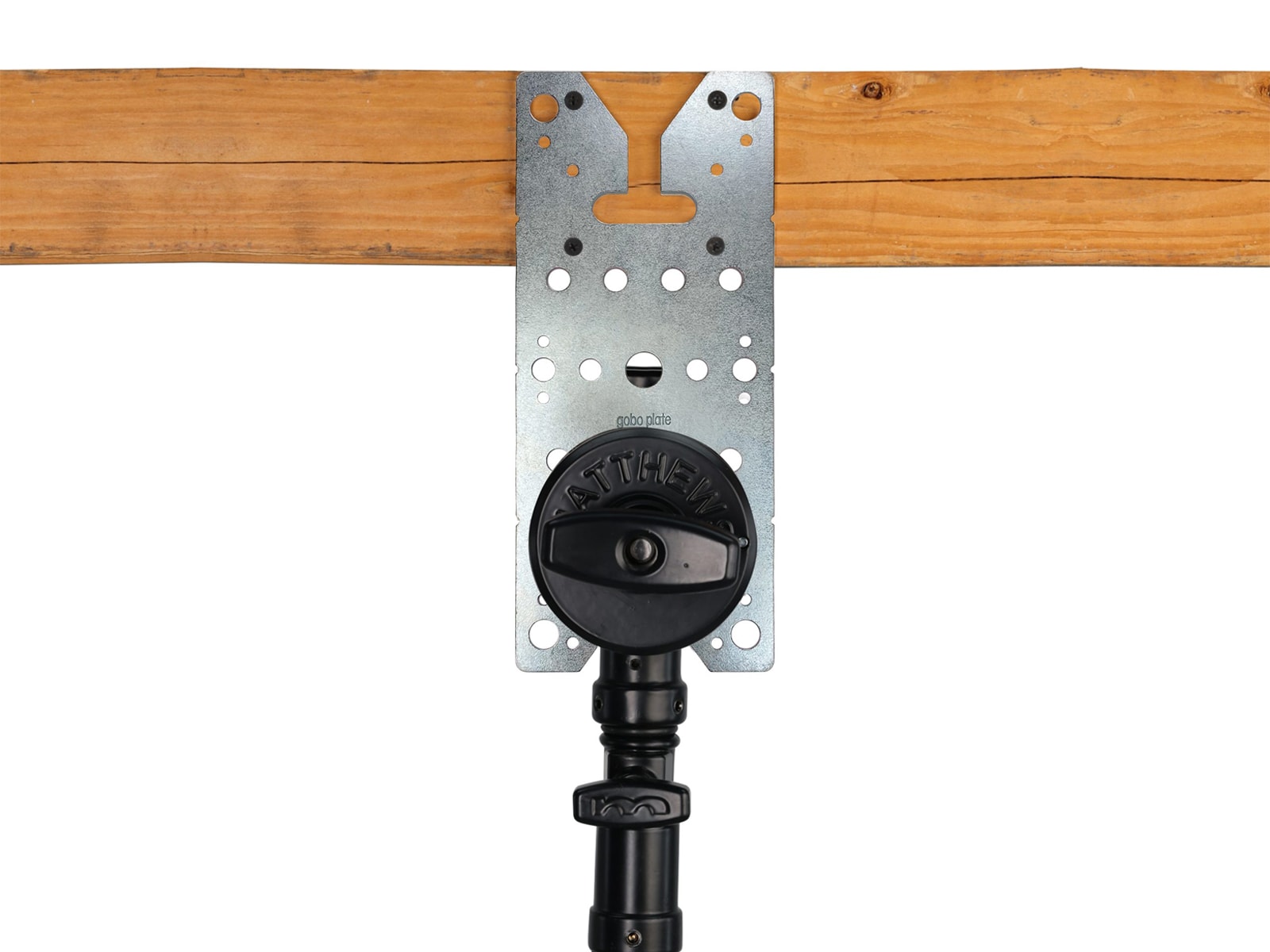 Due to the popularity of the Gobo Plate line of versatile mounting plates, Matthews introduces the new Gobo Plate XL, a problem-solver offering robust rigging options.
Like its smartly-designed sister products, this mounting essential is made to support an array of gear, from camera rigs, set pieces, lighting and grip modifiers to building materials like lumber and pipe. Built to receive 4.5" Grip heads, the XL is the largest of the family – designed to couple heavier duty gear found on the rigging side of production that requires versatile support options and above all, safety.
Gobo Plate XL is one of the strongest tools in the workbox, ready to stand up to the daily abuse of the rigging world. Machined out of a single sheet of 9-gauge thick steel, it measures 4.5"/11.4cm by 10.5"/26.67cm, and weighs 31.4-oz/890g. Ready for rigging serious grip ware, it offers 37 cut-outs including: two T-slots with V-centering, twelve 3/8" Bolt Pin holes and four safety cable attachment holes.
Matthews has designed familiar and intuitive features into this seemingly simple plate. T-slots with quick entry V-centering at each end of the Gobo Plate XL are built-in for a variety of uses including connecting of (2) 4.5" Grip Heads. When mounted into the Gobo Plate XL, a 4.5" Grip Head can be securely captured in the T-Slot receiver by clipping the pear snap from a standard safely cable into the ½" safety holes located on corners of the plate. Because there's no predicting what situation might arise, the XL plate offers no less than 20 cut-outs to accept a nail or screw.
In addition, six smartly positioned perimeter notches provide easy line up marks. This can be a real time-saver when trying to achieve specific angles while mounting the Gobo Plate XL to lumber and beams.
Matthews Gobo Plate XL, along with the standard Gobo Plate, Gobo Plate Media Mount and Gobo Plate Baby Pin, are available through the company's worldwide dealer network.