WILD THINGS
As natural history production explodes, programmers are looking to connect audiences with wildlife in new ways. Three wildlife cinematographers shooting with RED cameras share the techniques and technology they use to capture the natural world.
It just might be the golden age of natural history programming. BBC, PBS, National Geographic, and Discovery, the traditional homes of wildlife documentaries, are being joined by streaming services like Netflix, Disney+ and AppleTV+. Series like Blue Planet spun away from presenting earth as a perfect Eden to confront issues of animal and human preservation. Advances in technology, including drones, UHD cameras and infra-red imaging have also enabled new stories to be told in a more cinematic way. On the frontlines of this still growing genre are the cinematographers who are shooting incredibly compelling wildlife imagery while embedded in natural habitats. 
Matthew Goodman
The Emmy-nominated Serengeti series follows the interconnected stories of a cast of savannah animals in a bold new dramatised natural history format produced for Discovery and the BBC. The intimacy established between viewers and animals is the result of some virtuoso camera work by producer John Downer and his team, which includes cinematographer Matthew Goodman.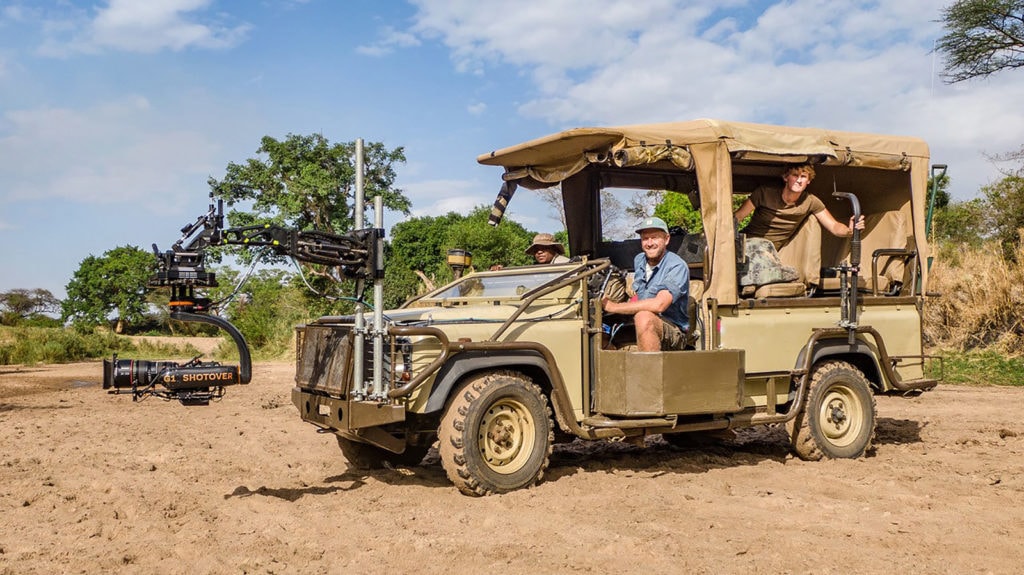 "The idea is to engage people who wouldn't normally watch nature docs by trying to capture more intimate, emotionally driven stories," Goodman says. "We're bringing the imaging tools and storytelling techniques of a conventional drama into the domain of wildlife."  
The New Zealand-based cinematographer pairs the RED DRAGON with a Canon 50-1000 lens which is becoming the standard for filming wildlife. "There is such a wide range of focal lengths with this lens that you can get wide landscape scenes yet also zoom right in to get full faces of the subjects while maintaining a distance from them that doesn't disturb them. The last thing you want to be doing in environments where it's this dusty, or in heavy rain is to be exposing the camera to the elements.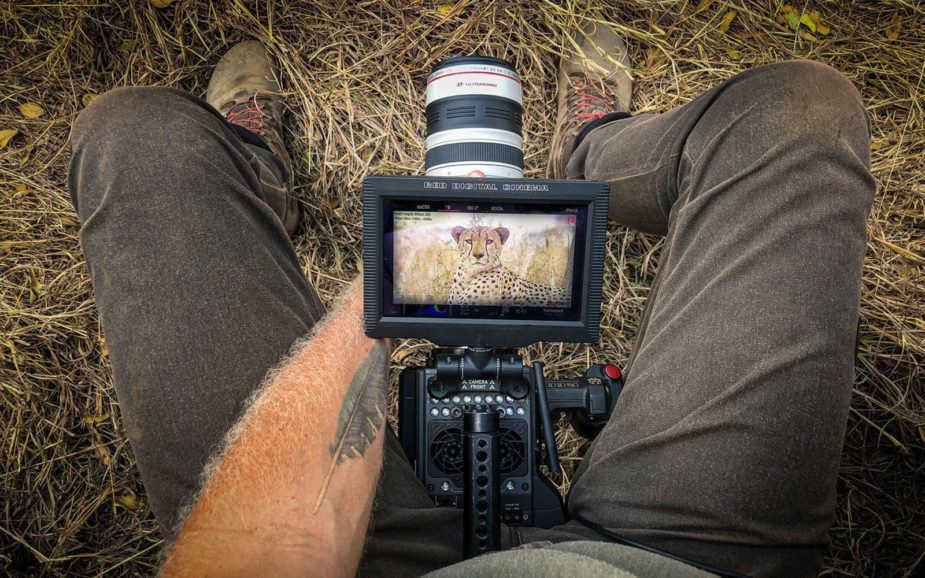 "It's also important to streamline what you take," adds Goodman. "Most of the filming in the Serengeti was vehicle based but the style is often run and gun. You need to be ready to always capture behavior which is why I use a Shotover F1 [a 6-axis gyro stabilised rig] to film when the vehicle is moving. With a Shotover you can film as you approach and pass something and keep the shot stable." 
When shooting for months on end in remote regions, as Goodman did in the Serengeti National Park, he needed gear that was going to hold up in extreme conditions. "The more experience you get, the more you can identify what kit is going to work and whether you can troubleshoot it if something goes wrong. You'll be waiting weeks if you have to fly something back for repair. With RED I've never had a problem."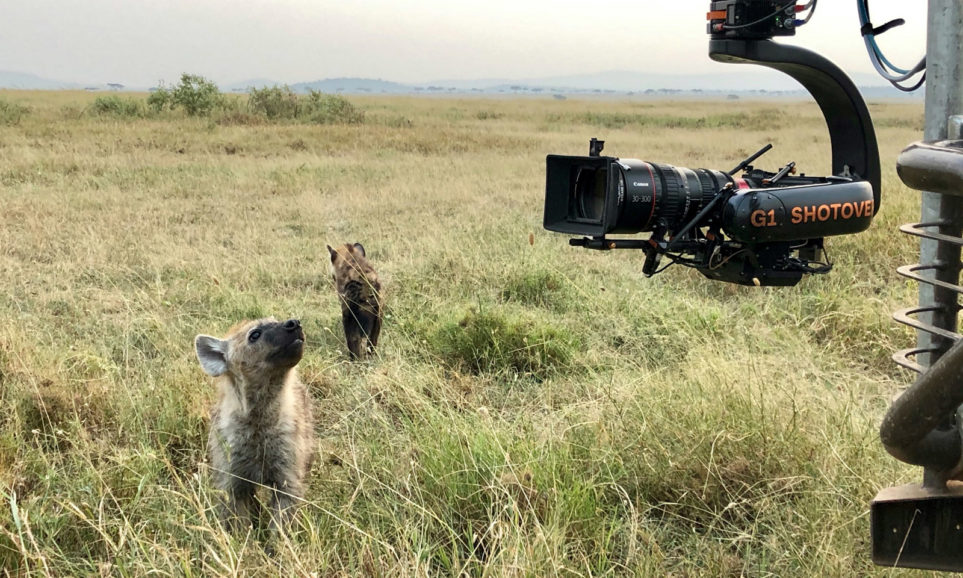 Erin Ranney  
Erin Ranney is based in both Alaska and Washington state. While she gets sent on location all over the world, a lot of the time she is filming in the remote landscapes of Northern America. Ranney, who completed a master's in Wildlife Documentary Production in England, is also a trained guide and naturalist in Alaska's bear country.
"If you're looking for really specific behavior with wildlife, it can mean months of waiting for it to happen," says Ranney. "When it does, you need to be ready so the pre-record is really handy for those few extra seconds before you can hit the trigger. It took a lot of trial and error to combine my field skills with my developing camera skills, but nothing replaces actually working through problems yourself," she says. "I don't come from a technical background but there are great user guides online and I found the EPIC-W easy to use."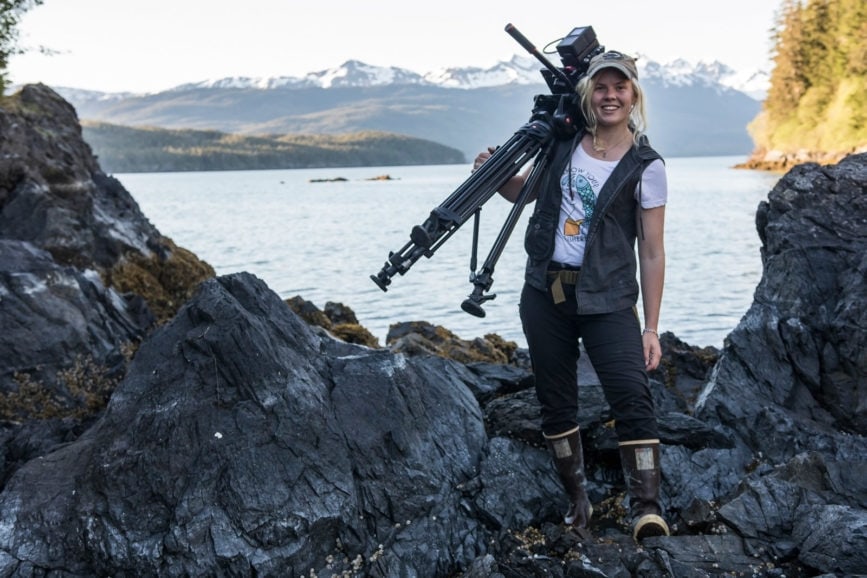 Supplementing the RED with a A7Sii and drone, Ranney's work has appeared in shows for BBC, PBS, Smithsonian, and National Geographic. "I tend to shoot 6K and push the frame rate off-speed, especially when going close up with bears. You want the detail because they move a lot quicker than people expect. When they're going after fish it's nice to have that grand slow-motion shot but keep it high resolution." 

A Canon 50-1000mm CINE-SERVO is her go-to lens for achieving both wider shots and intimate moments without having to take her focus away from eyepiece. "Shooting from a distance means you are able to let the animal act more naturally. Having that range allows you to peek inside a world you wouldn't normally get to see without disturbing the animals."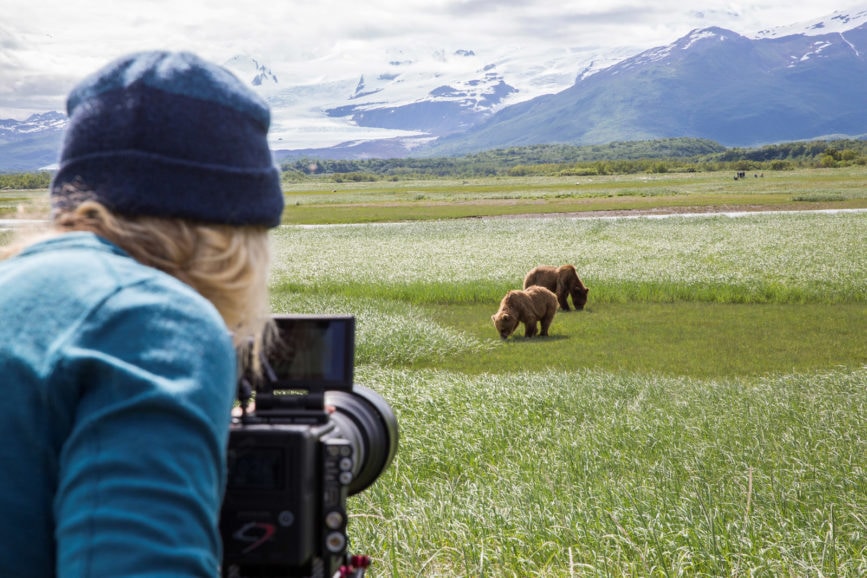 Mark Sharman 
"The approach to filming wildlife is now more akin to feature film production, but with far fewer people involved," says cameraman Mark Sharman. "My role is multi-faceted and covers cinematographer, operator, grip and sometimes even the gaffer. We're always thinking about how we can cover the behaviour effectively, whilst also trying to make the sequence as cinematic as possible with both the underwater and topside visuals." 
Sharman studied Television Production at Bournemouth University and qualified as an HSE commercial scuba diver before going on to specialise in filming wildlife and people in marine environments for high-end natural history productions. He has filmed across the globe with credits including Night on Earth (Netflix), Blue Planet Live (BBC One), Chasing Ocean Giants (Discovery+) One Strange Rock (National Geographic) and Jago: A Life Underwater (BBC and Netflix).
Underwater camerawork requires specialised equipment alongside the main camera, often a RED DSMC2 GEMINI 5K S35 in a Gates Pro Explore underwater housing. Sharman uses a range of additional kit to capture full sequences in a beautiful and dynamic way. This could include using underwater optical (Nikonos) lenses manufactured for analogue SLR use in the 1990s, which together with an adaptor can be used in combination with the latest digital cinema cameras in the DSMC2 range. He also employs a powerful zoom lens (50-1000mm) housed in a Shot Over M1 that he positions on a jib arm off a boat to smoothly track fast moving wildlife at the surface. A Diver Propulsion Vehicle (DVP) with an underwater camera attached is used to help track marine life at speed.
"The big advantage for underwater use of the GEMINI is the dual ISO sensor and fantastic dynamic range. Even on a bright sunny day the natural light levels drop the further you descend and being able to use the native 3200 ISO low-light sensor is a massive advantage, as it gives me a couple of extra stops. We're often filming macro subjects and you need to let in as much light as possible whilst reducing any unwanted noise.
"The other issue is when pointing the camera upwards the light will be extremely bright with blazing shards of sun hitting the surface but when you tilt the camera down, it's a very dark sea below. The wide dynamic range of the GEMINI really helps because you can't usually open up or close down the iris during a shot." 
Another essential function of the RED DSMC2 range is the pre-record, which gives a minimum of 4 seconds (up to 20 seconds) for insurance. "That is one of the key advantages of shooting on RED cameras for wildlife. You haven't got unlimited card space and often you're waiting with your finger on the trigger for a particular action or behaviour to happen. You can't keep rolling for minutes on end, so to have the ability to set the pre-roll even when shooting high frame rate off-speed is a big advantage and it has helped capture some big moments!"