Shining a light on...

Gaffers 'R' Us / Martin Smith
Shining a light on...

Gaffers 'R' Us / Martin Smith
BY: David Wood
Fact file
Age: 43
Born: Brighton, Sussex
Training: City & Guilds Electrical Apprenticeship
Early career: Electrician at Sovereign Electrical
Lives: Shoreham-by-Sea
Hobbies: Flying
Selected filmography (as gaffer, unless otherwise stated):
6 Underground (2019)
Mission: Impossible – Fallout (2018)
Transformers: The Last Knight (2017)
Rogue One (2016) (second unit)
Doctor Strange (2016) (second unit)
Grimsby (2016) (second unit)
13 Hours (2016)
Mission: Impossible - Rogue Nation (2015) (second unit)
Queen Of The Desert (electrician) (2015)
Ex Machina (2014) (rigging electrician - uncredited)
Kingsman: The Secret Service (2014) (second unit)
Edge Of Tomorrow (2014) (second unit)
Maleficent (2014) (second unit)
47 Ronin (2013) (second unit)
Last Passenger (2013) (second gaffer)
Snow White And The Huntsman (2012) (gaffer: insert unit)
Pirates of the Caribbean: On Stranger Tides (2011) (gaffer: VFX)
Unknown (2011) (gaffer: UK)
The Wolfman (2010) (electrician: second unit/action unit)
London Dreams (2009)
Quantum Of Solace (2008) (electrician)
Casino Royale (2006) (electrician)
V For Vendetta (2005) (electrician)
Charlie And The Chocolate Factory (2005) (electrician)
Vera Drake (2004) (best boy)
Die Another Day (2002) (electrician)
Harry Potter And The Sorcerer's Stone (2001) (electrician)
Working my way up
I left school at 15 and worked with my uncle's firm training to be an electrician. My then girlfriend's dad was a gaffer – Steve Costello – he called himself an electrician and was going off to these glamorous places, whereas I was working in dirty building sites, offices and hospitals.
After a few years I decided to get into film and went for a traineeship with AFM Lighting where I spent two years learning about lights, generators, lighting control systems and maintaining and delivering kit. I started meeting gaffers and building up a network. One of my first films was Harry Potter And The Sorcerer's Stone, working on the rigging crew with the talented Dave Ridout. I would recommend getting on the rigging crew of a big feature to anyone who wants to make it in film lighting. Rigging is the best place to learn the correct way of installing and maintaining an electrical distribution and lighting network and to also meet talented crew.
How to become a gaffer
It took a long time – probably would have been quicker to have become a rocket scientist – but my advice is to take it slow, you'll end up being much more respected. One experienced gaffer told me, "Don't run before you can walk" and it was good advice. I worked as an electrician on many features and commercials before accepting gaffer positions. An opportunity came up to work with DP Fraser Taggart – one of the biggest names in action units – and we hit it off straight away. Fraser is such a talented DP and working together was always a pleasure. We made many films together and I learnt so much about major motion picture cinematography.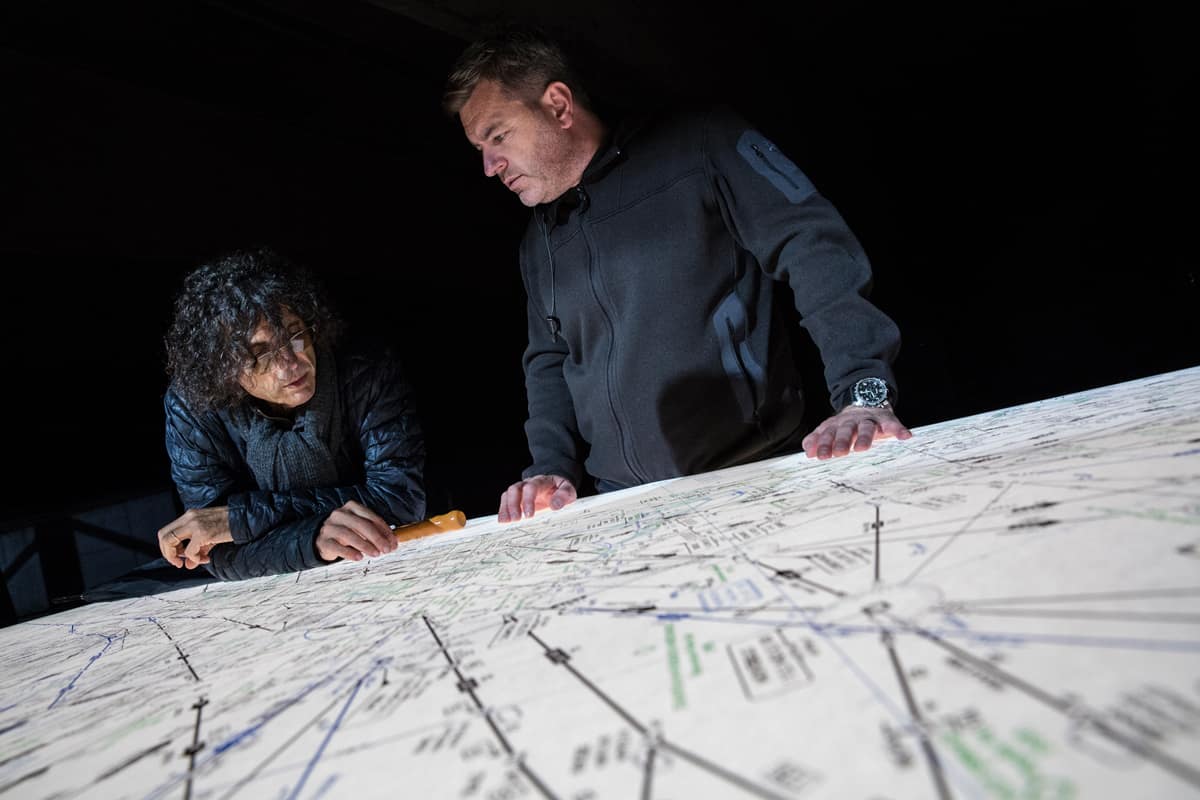 Working with Michael Bay
Opportunities still kept coming up. I got asked to gaffer on Michael Bay's 13 Hours, where the DP was Dion Beebe ACS ASC. Working with Michael has become bit of a niche of mine – I've just come back from a six-month stint in Italy and Abu Dhabi on his latest 6 Underground with the talented DP Bojan Bazelli. Michael's films are a challenge and extremely demanding. We get on well – but there is often a bit of shouting. Michael has said that I am the only crewmember that shouts louder than him. First and foremost I have to look after my crew including the DP– if anybody's getting beat-up I'll protect them, and sometimes giving as good as you get is the last resort.
The gaffer/DP relationship
I am very collaborative and don't want to work on films where I am told just what to do. I like to discuss the director and DP's vision and how to achieve it given the budget, available tools and the usually ridiculous timescale. I would always talk to a DP before accepting a job to find out how they see it working. That's how it works with Rob Hardy BSC, and with Bojan on 6 Underground. It's not just one-way traffic but a collaborative relationship. Working like that is a benefit to everyone, particularly the DP as it can take the pressure off them.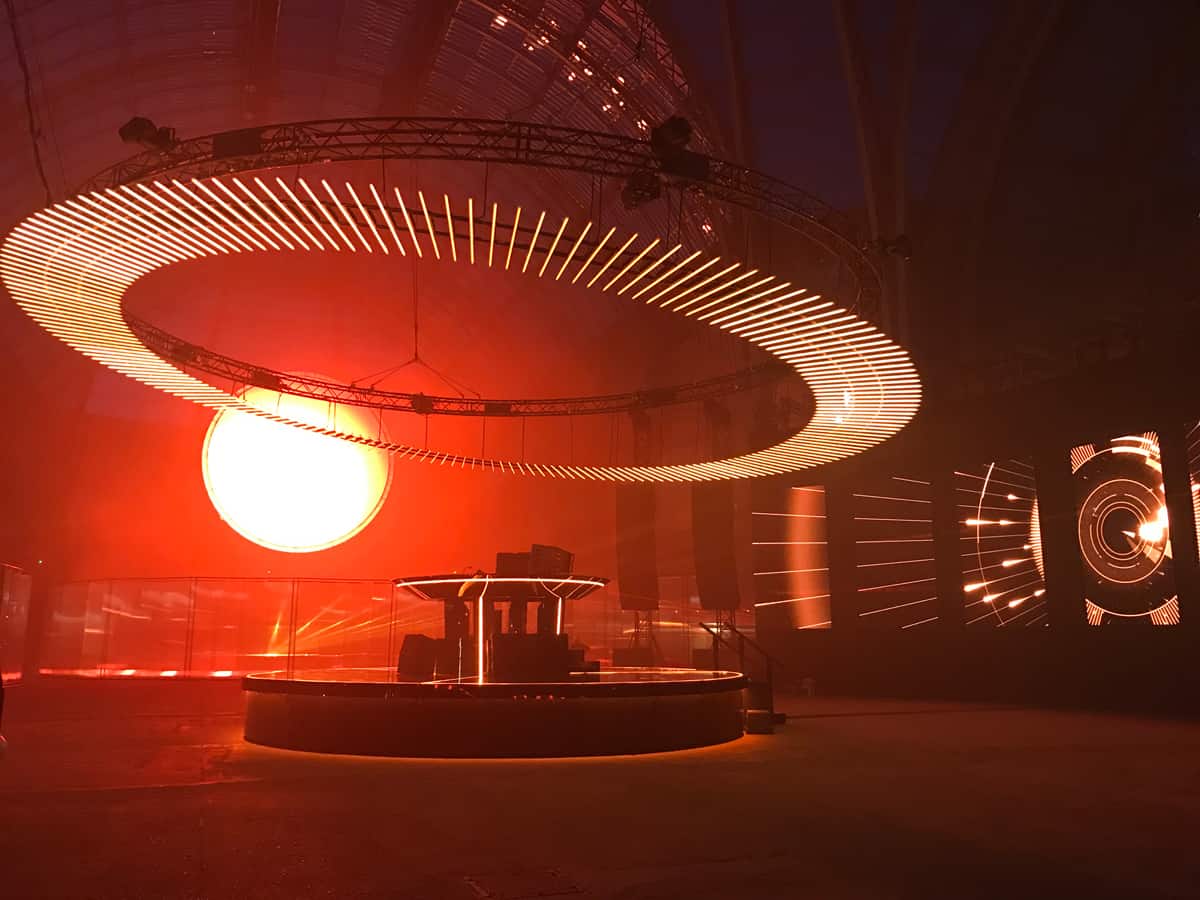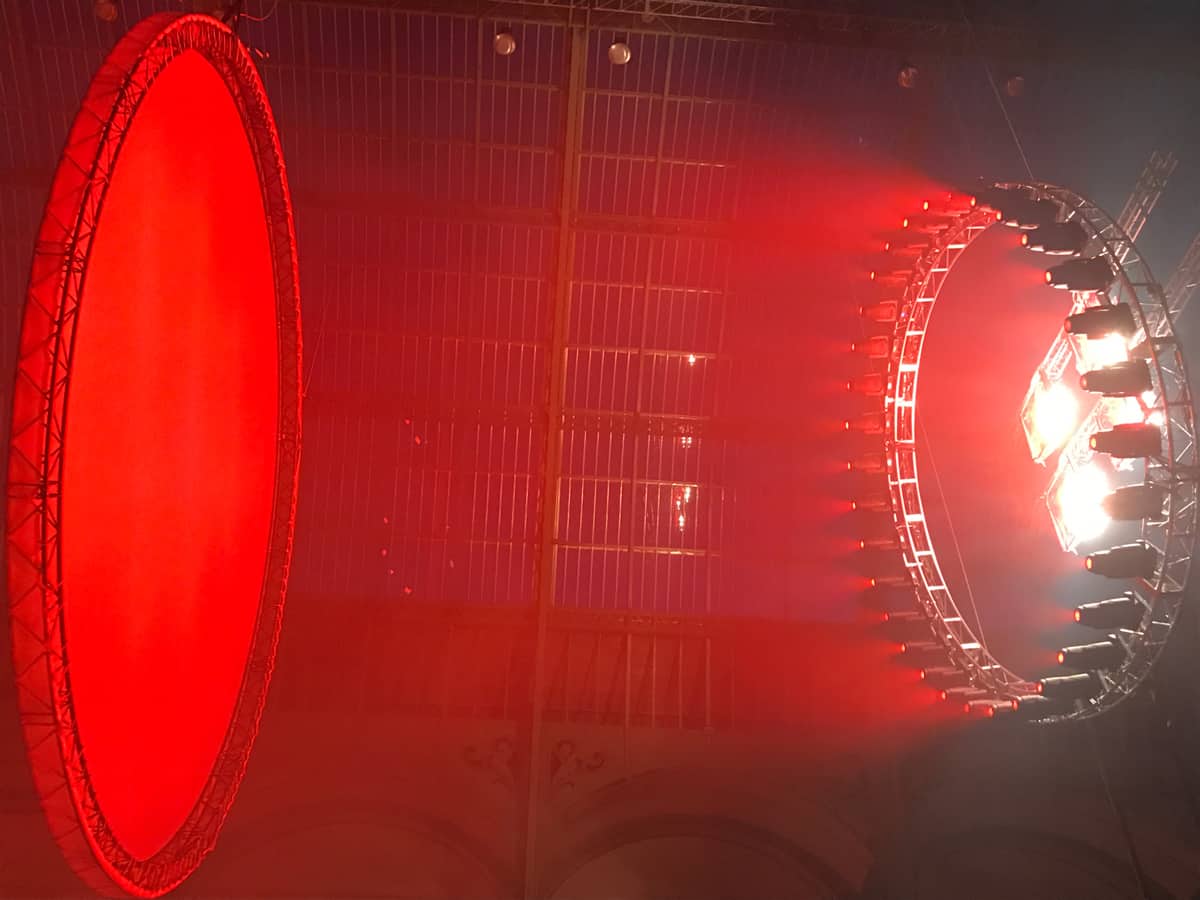 Huge challenges
If I have a reputation, it's for being a gaffer who can take on big challenges in different countries. On Mission: Impossible – Fallout, Rob wanted a lighting solution for the Grand Palais party scene in Paris – a huge 240m long glass space, which needed something big to fill it. Rob was inspired by Olafur Eliasson's dazzling sun installation in Tate Modern's Turbine Hall in 2003, where the ceiling of the turbine hall was mirror-tiled and a semi-circular disc was back lit with sodium vapour lamps to produce an orange light to look like the sun. It took a year to design and a month to install.
We had to make a much bigger one for the party sequence in Mission: Impossible – Fallout and had to rig it in 48 hours. I sourced a cinema screen manufacturer that made me a 50ft diameter screen with a creamy texture. We stretched this over a bespoke 50ft circular truss. We backlit it with over 40 BFML blade moving lights, rigged vertically around a slightly smaller truss, which hung 40ft away and projected onto the screen to get the maximum available beam angle. We also used 4 x 30KW scorpion remote Wendys with double full amber in the middle of the rig to give the sun power and saturation to travel the distance all the way throughout the Palais. At the press of a button my desk op, Dan Walters, could control the moving lights to focus around the face as sun rays. The biggest challenge was spreading the weight of over four tonnes from over 40m above on the delicate building roof.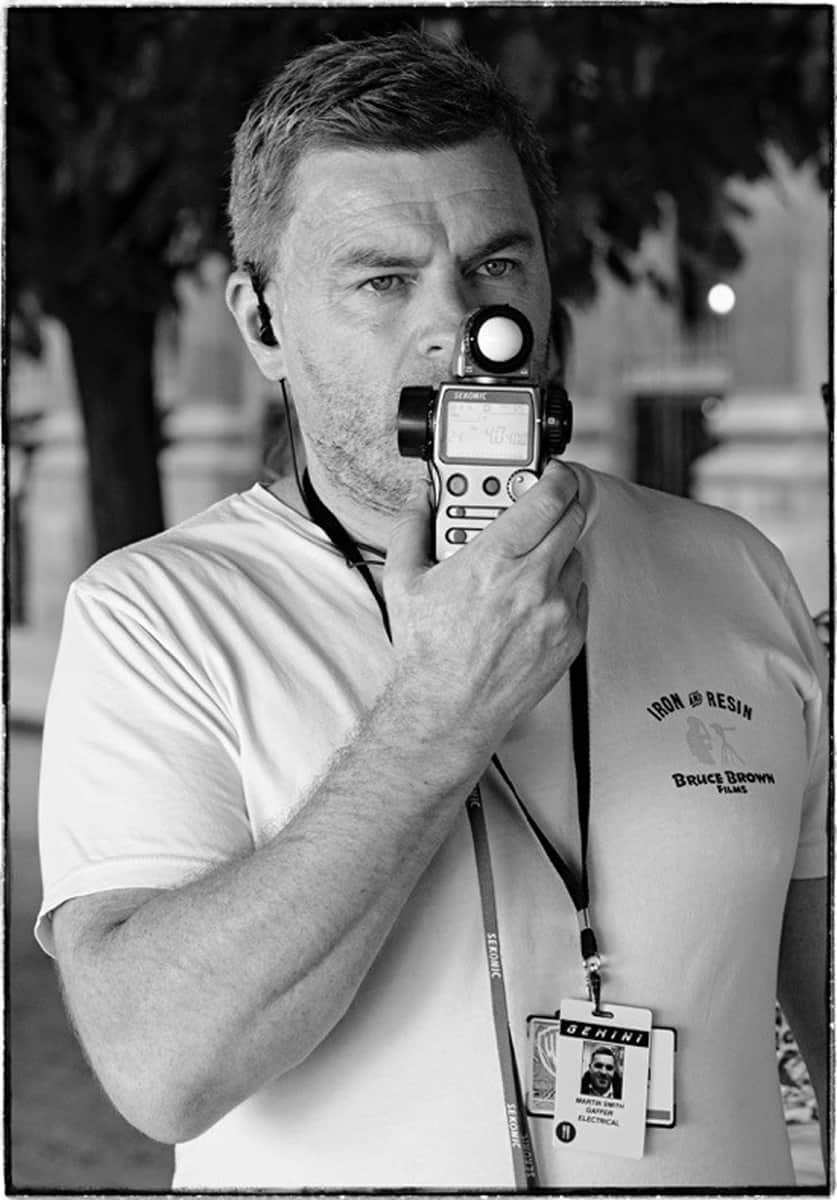 "It took a long time – probably would have been quicker to have become a rocket scientist – but my advice is to take it slow, you'll end up being much more respected. One experienced gaffer told me, 'Don't run before you can walk' and it was good advice."
- Martin Smith
New solutions
Part of the fun is finding new solutions to lighting problems. We have just used the new LED Wendy lights from MBS Lighting. We had ten Chroma-Q Brute Force made for 6 Underground and supplied through Panalight in Rome. These are the first Brute Force Wendy's used on a feature. We needed a solution to lighting a vast area but also wanted to add colours and effects. I suggested we use the units I had discovered at the BSC Expo event nearly a year before. Although they are heavy (180Kg each 1/4), you can plug them into a 32 Amp supply, rather than a 120 Amp supply for a tungsten equivalent. We had full control of the units' colours and effects from over 700m away.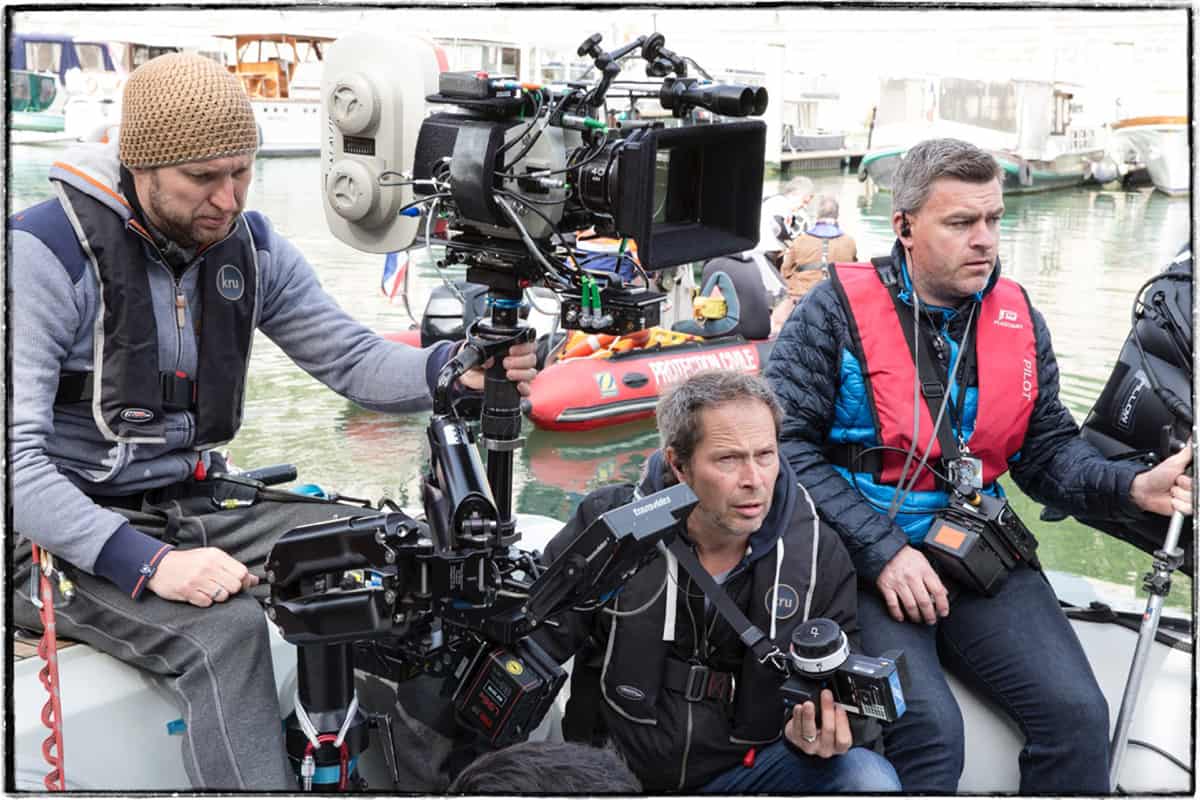 Teamwork
I learned early on to appreciate the people you work with. My crew are my backbone, I'm proud of them all. This includes the lighting companies who supply the kit. I have the utmost respect for the staff and the extreme demands we place on them. I met my best boy, Lee Eldred, on that first Harry Potter film and he's the best in the industry. Best boy is one of the hardest jobs on any crew – at times a thankless task when keeping the balance between gaffer, crew and production. The rest of my regulars are floor charge hand Garry Owen, who is a talented gaffer in his own right. We poached him from commercials and he's in charge when I have to leave the set. I have a young and talented desk op in Dan Walters, and there's rigging gaffer Greg Thomas and our new rigging HOD Steve Fell. We have also built a solid team of regular electricians. We are a very tight crew and although I demand the best, my crew are treated like a family. We make even the toughest movies fun.
Family
Working on major motion pictures requires me to be away from home for long periods. I'm lucky to have made it as a gaffer, but I couldn't have done it without the support of my family – you have to be prepared to take six months away from home and it's toughest on those left behind – my wife Tara who is amazingly supportive and young kids, Dylan and Harriet, who have been without a daddy. They are the ones who suffer the most.
Cinematographer Rob Hardy BSC says:
As a DP you need confidence that you have that the support of your crew, no matter how big or small the situation. You want somebody who understands the nuances of an intimate scene, but who can also work with scale.
Mission: Impossible – Fallout was the perfect exercise in scale. We were able to really flex our muscles on it. For the Grand Palais scene, I had this idea to create one huge single-source to light the space, enabling us to move around 360º and to shoot from any angle. It was a huge construct that nobody had ever done before. Martin had the opportunity to say it was going to be too much of a problem, and to offer an alternative. But he didn't. He's always up for the challenges of doing new, untried and difficult things in lighting.
His attitude is exactly what a DP wants. For example, he would indulge my desire to use all Tungsten (which means a lot of extra work for the lighting team) without batting an eyelid.
At the same time, he gets on really well with everyone. He understands the sensitivities of any given situation and the cast love interacting with him.
Cinematographer Fraser Taggart says:
As an up-coming DP, keen to establish my own style, I didn't want a gaffer telling me, "This is the way we do it". I wanted to try new stuff. Knowing that Martin is great at bringing new ideas in lighting to my attention is a real help. Take LED lighting for example. A few years ago there were problems with some LEDs, and Martin looked into it in real depth – he really covered my arse. He's such lovely bloke to be with too. In film you spend more time with your crew than with your family, so it's important to get the relationships right and he ticks that box 100%. He can always get a great crew together as everybody loves working for him. He's good fun, but can still maintain the discipline on-set because people respect him. So everyone works to their full capacity.