Road Rage 
John Seale ACS ASC / Mad Max: Fury Road
Road Rage 
John Seale ACS ASC / Mad Max: Fury Road
BY: Adrian Pennington
Mad Max: Fury Road  is the much-anticipated, fourth instalment in writer/director George Miller's post-apocalyptic, high-octane, action franchise. It is also the first digital film for cinematographer John Seale ACS ASC, whose storied career spans more than 30 years and such iconic titles as Mosquito Coast, Witness, Gorillas In The Mist, Dead Poets Society and The English Patient, for which he won the 1997 Academy Award, writes Adrian Pennington.
The project has had an arduous trek to screen since first being mooted 25 years ago. It was close to shooting in 2001 with original star Mel Gibson. Security concerns at the time of the Iraq war halted another attempt in 2003. With Warner Bros' backing, and a $100m budget, the Village Road Show Pictures sequel got back on track in 2009/10, with lead actors Tom Hardy and Charlize Theron.
Riding the crest of the 3D wave, the production was conceived in native stereo with Dean Semler ACS ASC, who lensed Mad Max 2: The Road Warrior and Mad Max Beyond Thunderdome. Spool forward three years, and in January 2012 with little more than two months until principal photography, John Seale received a phone call at his home in Sydney from producer Doug Mitchell.
"He rings out of the blue. Tells me Dean has amicably parted from the show and asks me if I would step in," recalls Seale, who had worked with Miller on Lorenzo's Oil (1992). "I suppose I was the only one available," he suggests modestly. "I had an evening to think about it."
In truth, Seale had enjoyed the experience of working with Miller and was friends with Mitchell. While Semler's reasons for leaving at the eleventh hour are a little sketchy, the film could not have found a more experienced talent to take over the reigns.
With the decision made, Seale was thrust into the white heat of pre-production. The crew and technical decisions were already locked-in, so the main challenge was grasping the stereo 3D system, which stereographer and VFX producer Paul Nichola had spent three years trying to perfect.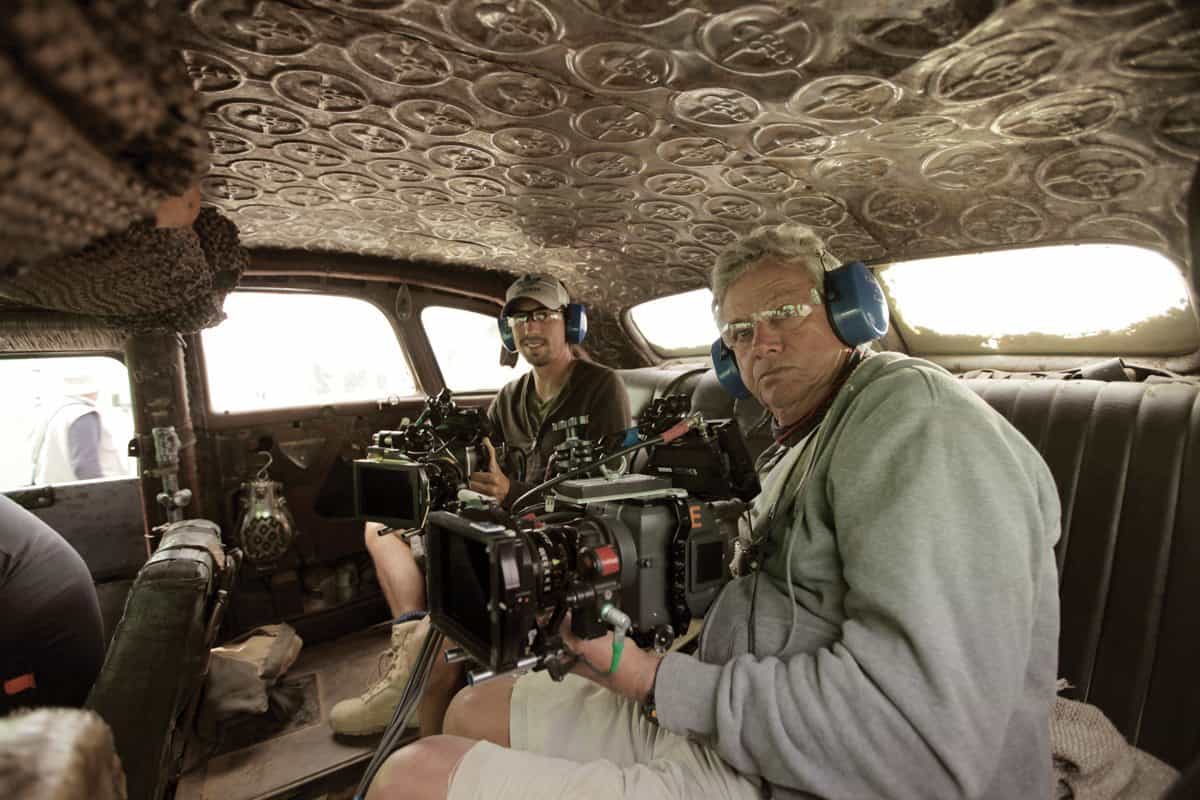 Planning in 3D
Since 45% of the script was to be filmed in the confines of the War Rig – an armoured oil tanker driven by a group of female warriors led by Theron's character Furiosa – the 3D cameras had to be small and portable, characteristics which none of the existing stereo rigs were able to fulfil.
Using sensors acquired from discontinued optical system Dalsa, the project's 3D team custom-built cameras from scratch. The plan was to have at least twenty camera bodies fitted with different sets of paired lenses, which the production would simply swap over rather than have to stop, change and realign, thereby slowing the shooting schedule.
"It was a headlong flight into digital, which I had not done before, and into 3D which was new to me," explains Seale. "In addition, coverage was planned with one camera, which was a little alien to me after 15 years of using multiple cameras."
Nor was there a script until shooting began, in part because the film's dialogue is so sparse. Pre-production was designed from 3,500 storyboards.
In a week of changeover in Sydney, Semler walked Seale through the tests and technical parameters, but no sooner had Seale got himself familiar with the challenge than Miller announced the show would shoot in 2D.
"That was in front of 30 people one morning and he promptly asked me what camera I was going to use," says Seale. "I was a little l staggered, but I knew enough about the Alexa to know it was a battle-hardened camera with a good contrast ratio. So that's what I said we'd use."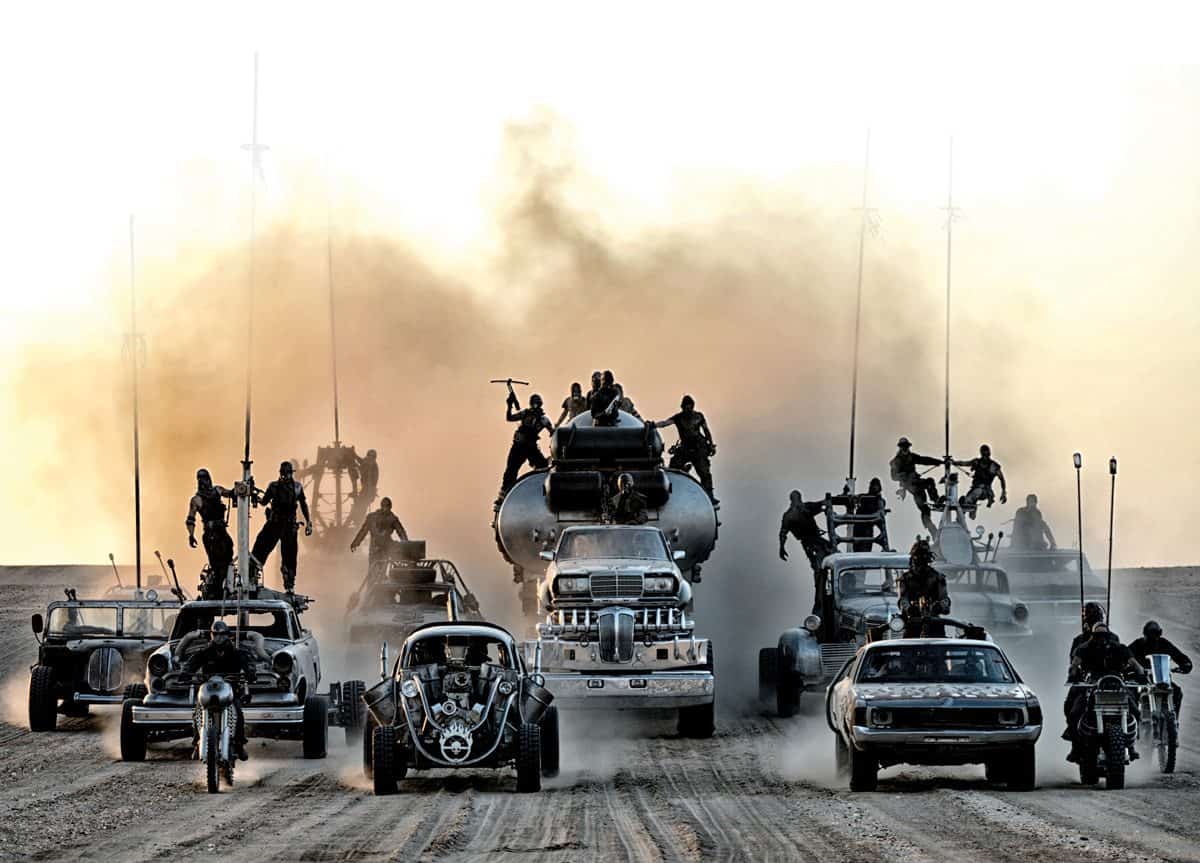 Switching to 2D
A quick call to Panavision Sydney and Seale secured six ARRI Alexa Plus' (for standard sound shooting) and four Alexa Ms (for truck interiors) a pair of which were hot from Roger Deakins BSC ASC's use on Skyfall.
With principal photography less than five weeks away, Seale briefed first AC Ricky Schamburg and co-ordinating camera assistant Michelle Pizanis to visit Panavision LA, procure glass and ship it back to Australia. The inventory: 17 PV mounted zooms, 4 x 19-90mm, 5 x 15-40mm, 2 x 11; 1 24-275mm, 2 x 4; 1 17.5 – 75mm, 2 x LWZ2 17.5-34mm and 2 X LWZ 127-68mm.
The show didn't carry any primes, standard for any John Seale film, apart from two mini 16mm T2 and 15mm T4 lenses, which Panavision's Dan Sasaki reconfigured especially for Seale.
"The elements of the 16mm primes had a hyper-focal distance from the front of the glass to about 10ft at T5.6/8 stops, which gave us fantastic focus range on the Alexa M's for the interior of the truck," explains Seale. "Thanks to Bob Harvey and Paul Jackson [Panavision] and Stephan Ukas Bradley [ARRI] we had the amazing back-up service that is required for a film of this size at remote and distance locations."
Each camera was pre-built and dedicated to a rig. Two Steadicams were used consecutively with Alexa Pluses, riding with a 15-40mm lens most of the time or a LWZ.
"I could see in Dean's tests that he was struggling a bit to find a balance between the interiors and desert exteriors, particularly at the beginning of the movie when the vehicle is intact (with the Dalsa chip)," reports Seale. "The truck had a sunroof in it for daylight, which mainly lit the driver and front passenger, but we had five beautiful girls in the back seat to cover too."
The Alexa's range helped balance interiors and exteriors as did a change in lighting package from HMI to LED in the switch from 3D to 2D. Cool, dimmable Creamsource LEDs were hidden inside the cab and on a roof-mounted rig ready to be shifted into position. They could also be handheld making multi-camera work more feasible.
As the War Rig suffers damage during the course of the film, the light became less of an issue. By the final scenes the camera crew were able to work handheld with available light.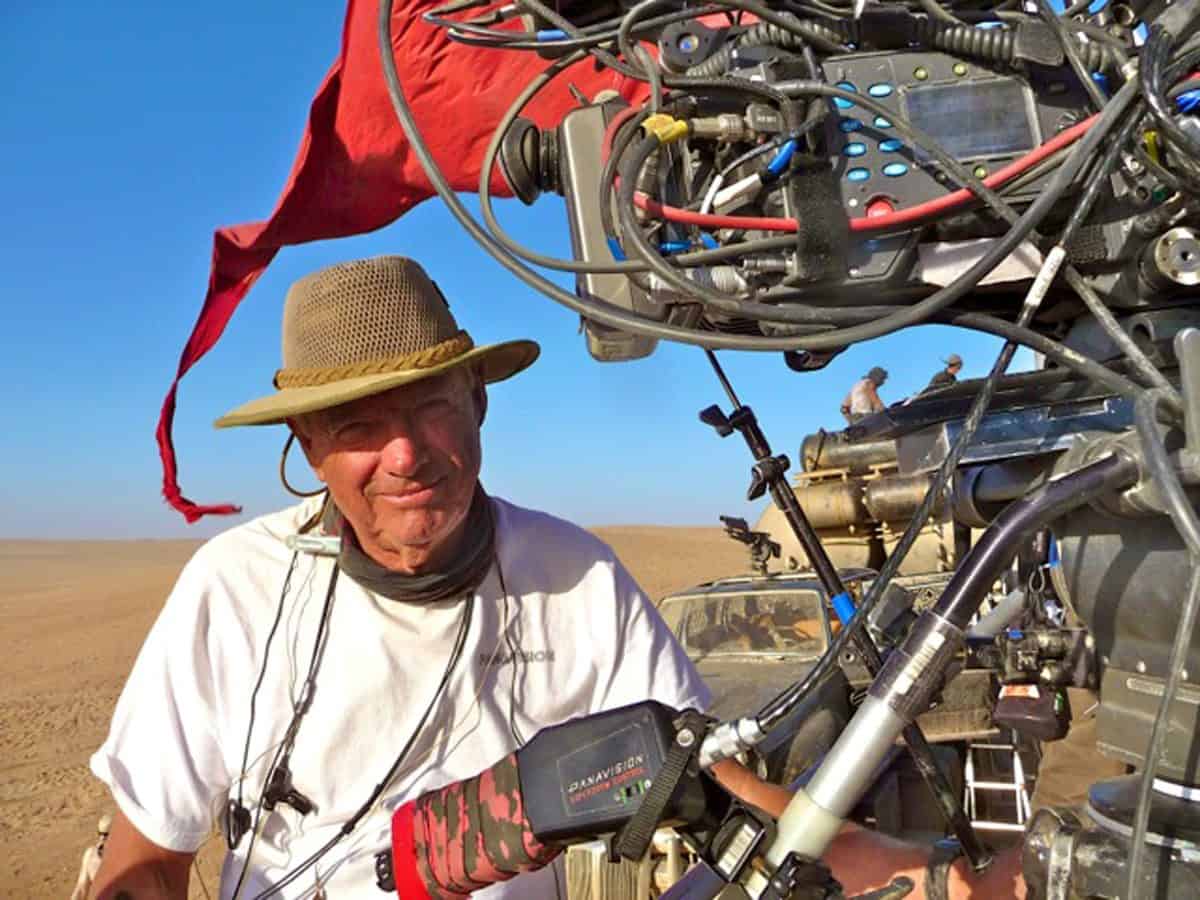 "Much as I have shot plenty of film negative films in desert or jungles, I had never shot digital under severe conditions."
- John Seale ACS ASC 
On location in Namibia
Fury Road was originally to be shot near Broken Hill in New South Wales, Australia. "Two years of heavy rainfall rendered it more like an alpine meadow than a desert when the whole premise of the movie is that the world has no water and no plant life," explains Iain Smith, who boarded as executive producer in 2012 to assuage studio nerves about the location change.
Relocating to the Dorob National Park in the Namib Desert, along southern Africa's Atlantic coast, provided the fantastically barren wasteland and coincidentally fulfilled a creative ambition of Miller who had wanted to shoot there in 2003.
"We had 120 vehicles running at high-speed in the park, but we were very careful to make sure everything we did was environmentally correct," stresses Smith.
Frequent sandstorms and intense heat required special precautions by the camera crew. "Much as I have shot plenty of film negative films in desert or jungles, I had never shot digital under severe conditions," says Seale.
Time was too tight to perform many tests on the Alexa before the units were shipped to Africa, but Seale quickly learned that its contrast was as proximate to film negative as he'd experienced. "Once I knew that I settled in quite happily."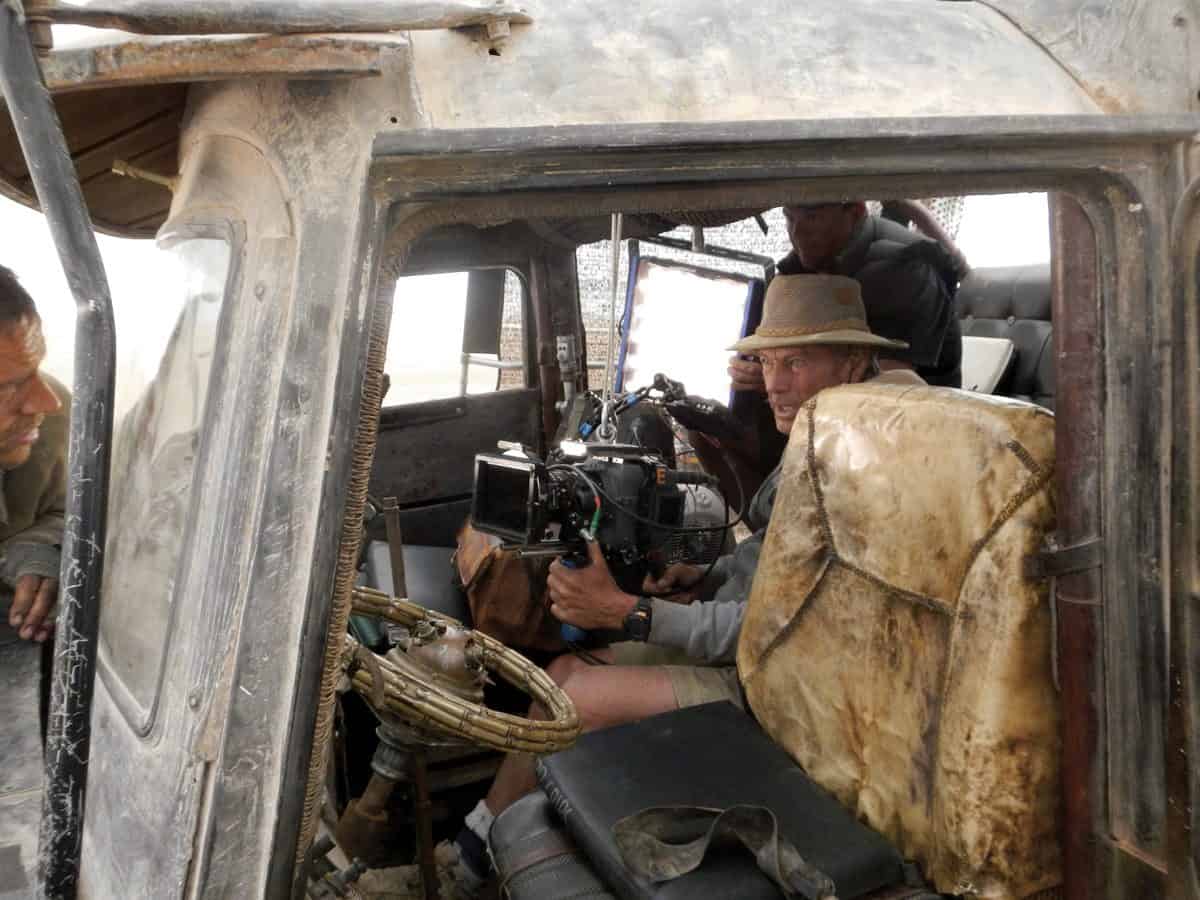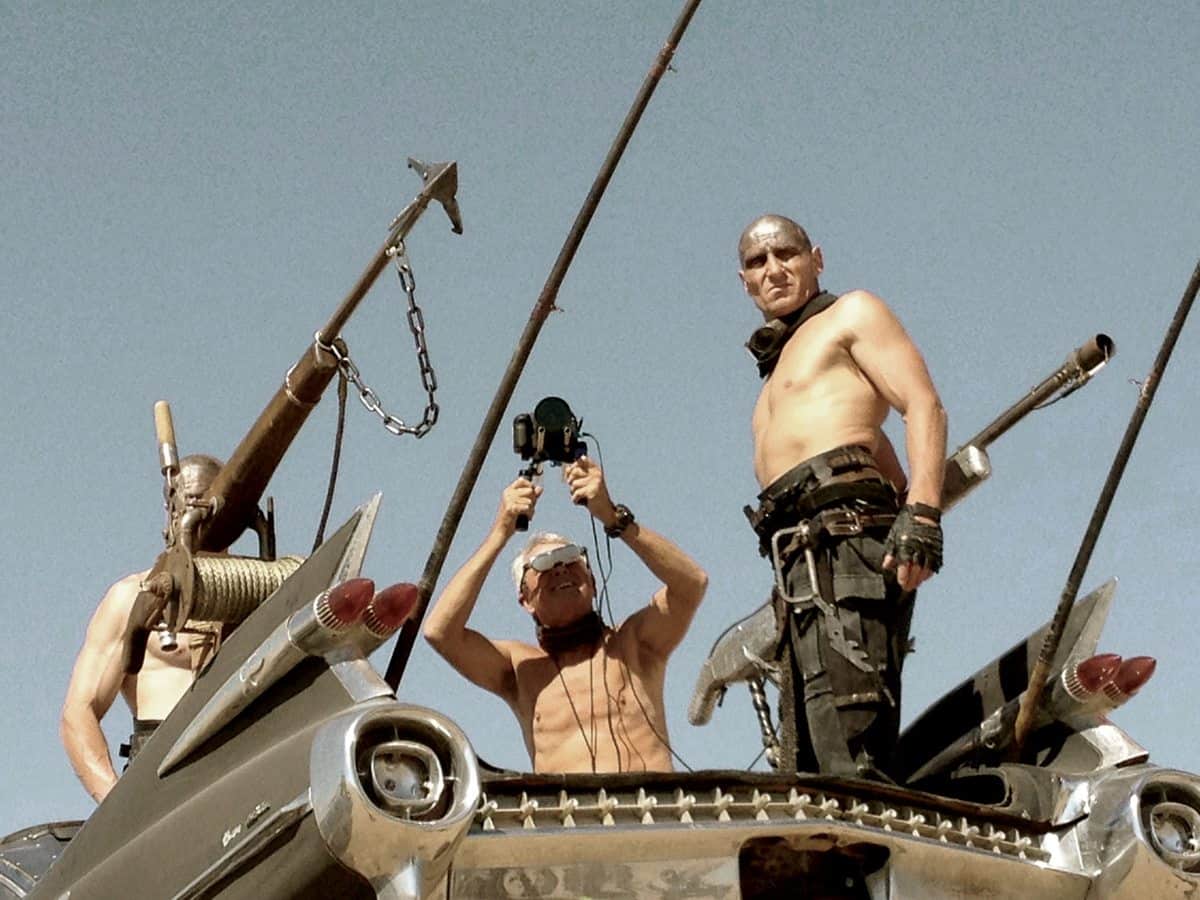 The Alexa's were supported by Codex Onboard recorders and backed-up to SXS cards in Pro Res. The Codex assigned to the Alexa Ms were protected in sealed Pelican cases to which the crew added motorised fans to keep the kit cool with a hole for cables to the camera.
Leaf blowers from a local hardware store were adapted to fit to camera matte boxes to blow dust away from the lens when mounted on two specially built dune buggies fitted with Libra Head mounts, front and back.
The camera arsenal supplied by Pizanis included ten Canon 5D Mark 11, with cinestyle software applied to desaturate the image, and six Olympus OM 5 (as 'crash' cameras). "All the crash cameras had a set working film speed, filtration and shutter speed by the time we were ready to roll," says Seale.
Two Ultimate Arm Edges (tracking, stabilised cranes on a Toyota Tundra and a Mercedes 4WD supplied by Performance Film Works) were deployed in over 40% of the action sequences. Each needed its own camera package: Alexa Plus with a 19-90 or/ a 4:1. These would go to and from main unit and action unit, which was shot by second unit stunt action specialist David Burr ACS.
"We would try and supply David with as much gear as possible from main unit when extras cameras were required. When they needed the additional Edge Vehicle, or Steadicam shot, the crew would follow with its own dedicated gear," he explains. "This worked a treat and really the hardest thing was that everyone wanted a 15-40mm. We got another one in the end as I spent most of the day policing gear and lenses, whilst rigging or de-rigging cameras."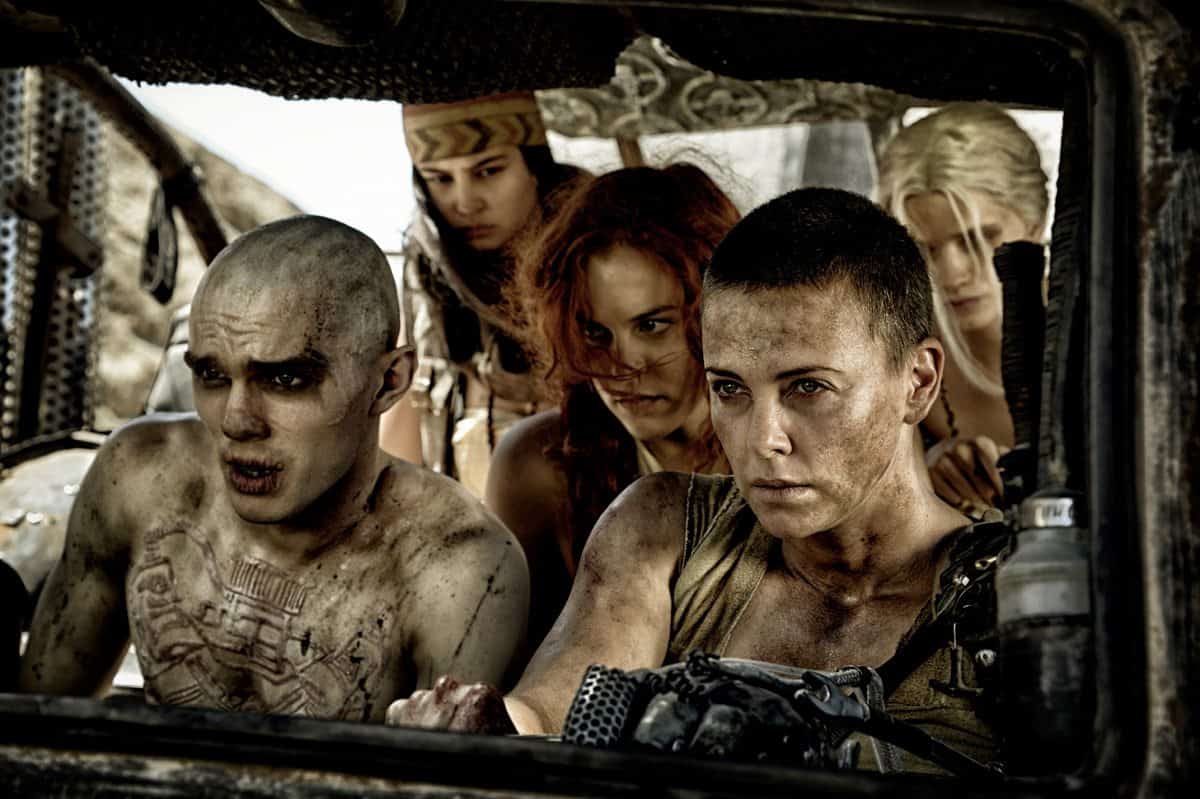 The 3D R&D was put to good use by the grip department, led by Adam Kuiper, which devised a harken rig and track system using yacht fittings and bungee cords to allow three camera cross shooting. "It gave extreme mobility to the cameras," says Seale.
RF interfaces were used with the Alexas to transmit images to a command vehicle for monitoring by the director. Miller was not only able to review shots, he could edit material to determine what further coverage was needed.
"He was adamant that all the operators keep the point of interest of the shot in the centre of the frame," says Seale. "That was very difficult for most of us who had spent all our life framing for Anamorphic. George is saying 'put Charlize' or 'put the car into the centre of the frame, it doesn't matter what's on the edge'. He wanted the audience's eye to go straight to that point of interest."
He continues: "There is conventional continuity of lighting and continuity of scene, but George was getting us to frame as such and he would reframe again in post to achieve a continually smoother flow of images so that there are is no eye travel on the cuts. There is a boldness to that kind of process."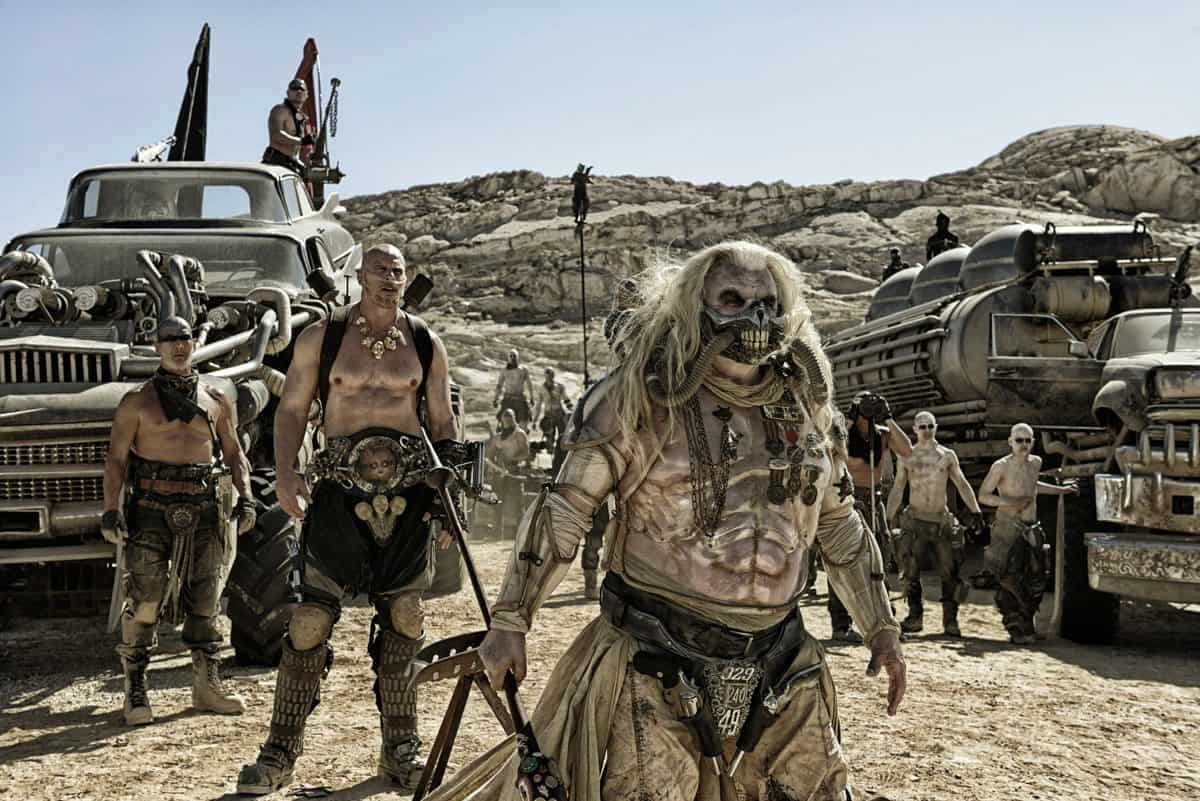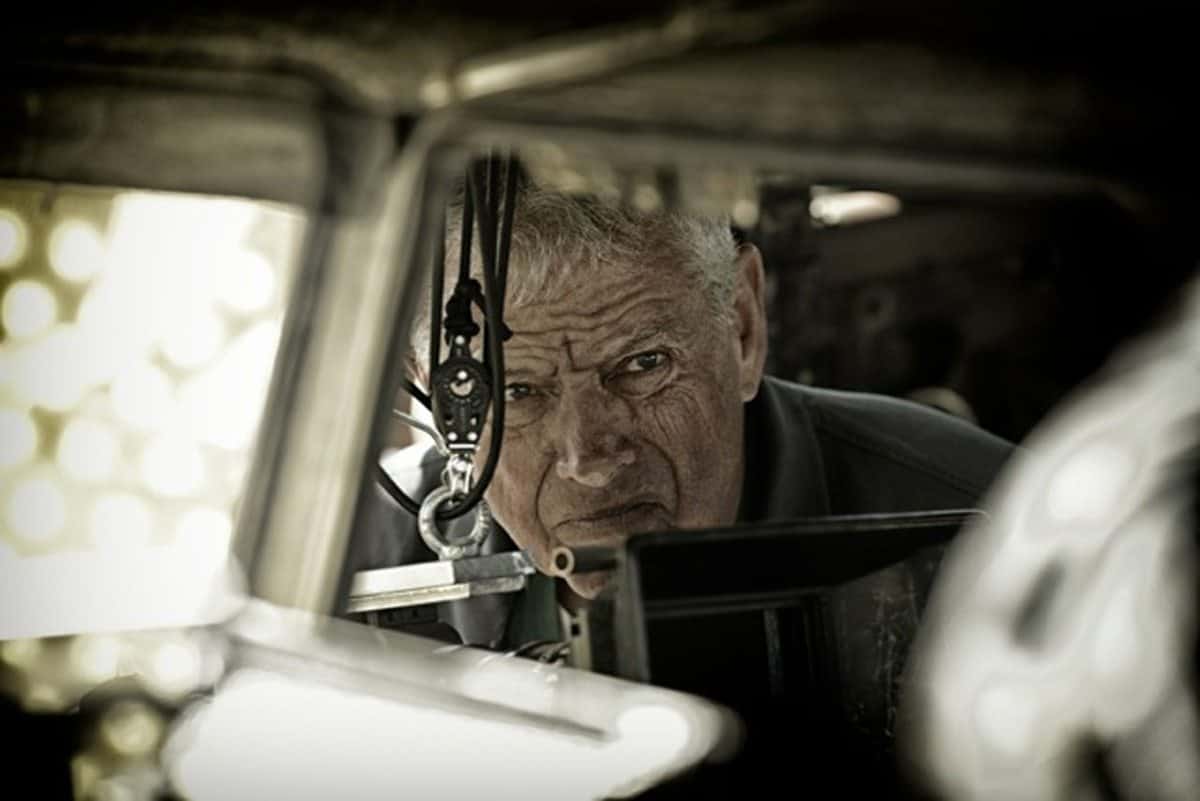 Having worked with Miller before, Seale was prepared for the director's determination not to waste time on set and to mould the film through post. "He might not know how to get there, but he knows where he is going. On this film, the end result controlled the execution."
To provide maximum image quality and flexibility for post-production manipulation, Seale operated the Alexas in ARRIRAW. Heads of department viewed dailies on iPads. "They had a LUT on them just so that the image looked reasonable but really we were watching the action," he explains.
"This show was always going to be made in post. George didn't talk about a look and neither did Dean pass on anything. George spent a lot of time convincing me I didn't have to worry about continuity of colour, of lighting or weather. We'd fix it in post. That was fine with me. I'm a great advocate of the DI and tend not to use grads or filters because you can add them in post, and if you do lock them in on the digital neg you can have a nightmare trying to alter it later."
At least 80% of the film has been manipulated in some fashion. With a script spare on dialogue, few if any shots were run at 24fps. There are numerous VFX shots and colourist Eric Whipp went to work crunching the focus, tuning colour or replacing skies for eight months on Miller's Baselight.
"I could never deny that this film has the image impact it has without the collaboration of those departments. Let's be honest, some of the ARRIRAW negatives were pretty boring, but in the final grade it just looks great."
The seven-month shoot wrapped before Christmas 2012 and required a month of reshoots in Sydney a year later. The additional photography made use of two Blackmagic Design Cinema Cameras and four Nikon D800s recording Pro Res to the Atomos Ninja 2.
"This is more than a wham bam smash-up derby," says Seale. "Having a female road warrior brings a whole new light to what might have caused the apocalyptic event, how that has impacted the planet and how that would influence the character's actions. It gives the piece a much deeper and broader emotional palette than the previous Mad Max films."