Evolving The Visuals

Si Bell / Peaky Blinders 5

Evolving The Visuals

Si Bell / Peaky Blinders 5
Header image: Photographer - Matt Squire © Caryn Mandabach Productions Ltd. 2019
The period gangster epic Peaky Blinders is an established global hit drama and not one that showrunner Steven Knight is going to alter lightly. Yet as season five pushes the saga into darker territory, the show's lead creatives felt the time was ripe for a subtle shift in visual storytelling.
"There was a lot of pressure we put on ourselves to make this as good as it's ever been and also to try and elevate it," says DP Si Bell, who previously worked with series director Anthony Byrne on TV projects such as Ripper Street and the feature thriller In Darkness. "We both wanted to stay true to what has made Peaky such a success but also bring a different energy to the story."
Principally, this involved moving away from fast cuts in favour of devising a number of single developing shots in which the camera is choreographed to move around and with the actors according to the motivation in the scene. Bell likens it to a ballet - which was literally the case in one set-piece scene.
Season 5 picks up in the aftermath of the 1929 stock market crash. The world is thrown into turmoil with opportunity and misfortune - perfect for the Shelby family led by Tommy Shelby (Cillian Murphy) who is now an MP, but also for the forces of fascism, represented by the leader of the British fascist movement Oswald Mosley (Sam Claflin). Mainly set in 1930s Birmingham, the six-hour drama was shot in studios in Manchester with location work in Manchester, Stoke, Rochdale, Bradford and Liverpool.
"The story has moved on, so we needed to reflect that," says Bell, "but we also wanted our version of Peaky to retain the stylised lighting set by George Steel in the original series. We watched all the previous episodes and worked out the lighting choices, including the slightly OTT style of large beams of light, lots of atmosphere, fire, explosions, and ramped-up speed. We weren't going to change those elements.
"We did, though, want to cover more scenes in a progressive shot," he continues. "It's all about the energy of camera movement and having the ability to move the camera with the actors to try and tell the story in the most economical and interesting way. Plus, we wanted to use zooms and anamorphic lenses which are both new stylistic choices for this show."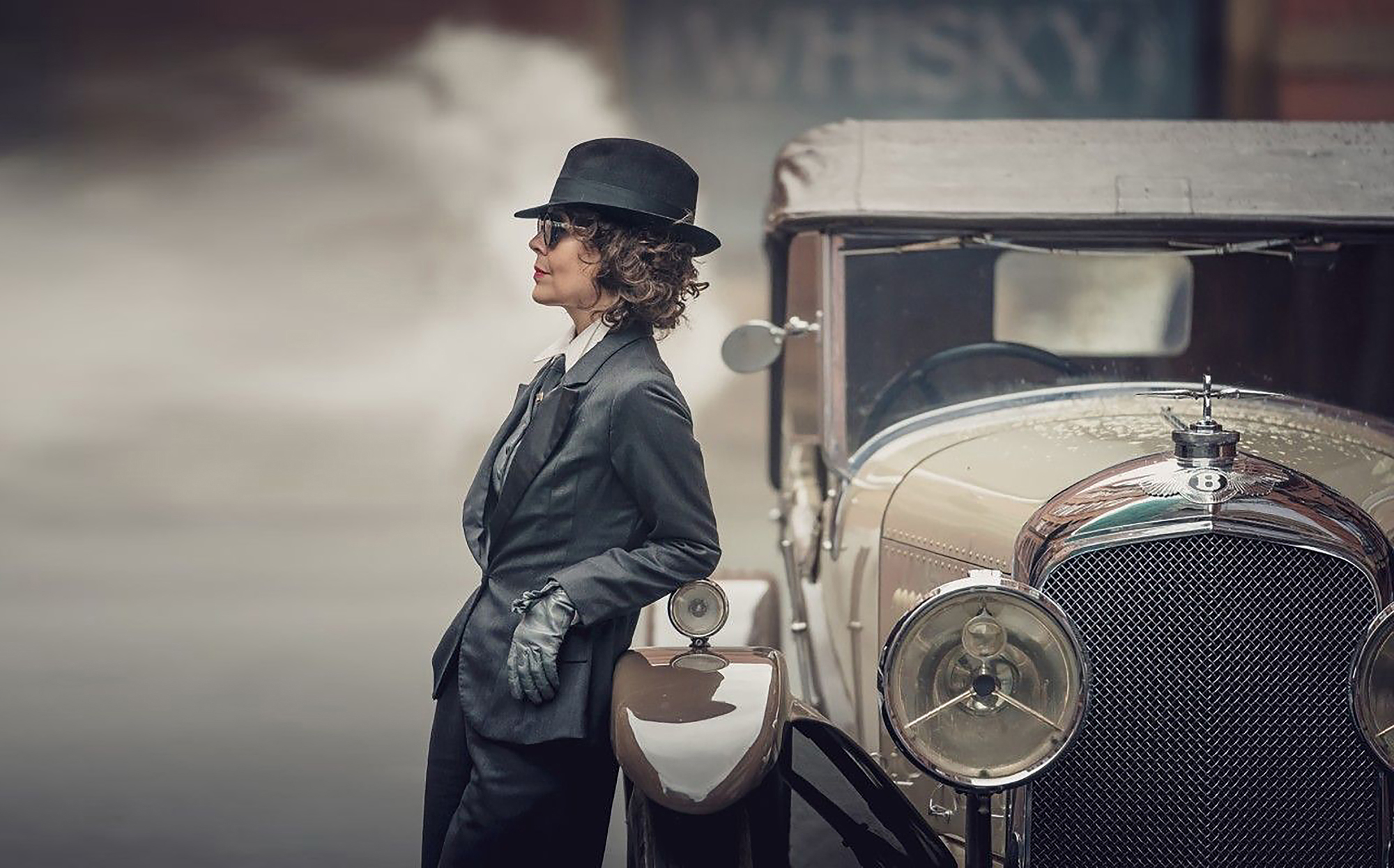 All previous Peaky Blinders were shot with ARRI cameras but Netflix was asking for "a true 4K deliverable," reports Bell. "To me that meant only one thing: Red."
Bell sought the advice of Sam McCurdy BSC, who at the time was shooting the Netflix drama Lost in Space on Red's Monstro sensor.
"I totally respect Sam. He's a friend and we discuss things quite a bit. He said his experience with Helium, which I first asked about, was good but he urged me to test the Monstro. I was sceptical, since I didn't think that shooting Anamorphic would work with such a large sensor, but I trust Sam's judgement, so I set up some tests."
Bell went back to the lab - actually, his home - and shot side-by-side tests with the same lens on Red camera bodies housing Helium, Monstro and Gemini sensors.
"I was already impressed with the Helium sensor from previous tests and knew that the Red camera body would give us the flexibility we needed for operating. What I didn't know, until I did some super low-light tests with candles, was just how much I could push the Monstro sensor and see how it would hold up. To be honest, I was blown away. It was really impressive how clean the image was in low light. Its quality of skin tones and colour detail are really mind blowing."
The conundrum remained: how to fit an Anamorphic lens onto a full-frame (40.96 mm x 21.60 mm) sensor. "We tested this further and found a mode perfect for us. If we shot 4K at 1:1 aspect ratio, we could use the maximum amount of the image circle of the lens. We shot the full height of the sensor and this allowed us to get a square anamorphic picture from the sensor. We'd de-squeeze the anamorphic to the 2:1 delivery aspect ratio and outputted an 8K x 4000 image."
He adds, "This was perfect for us in every way, creatively and operationally."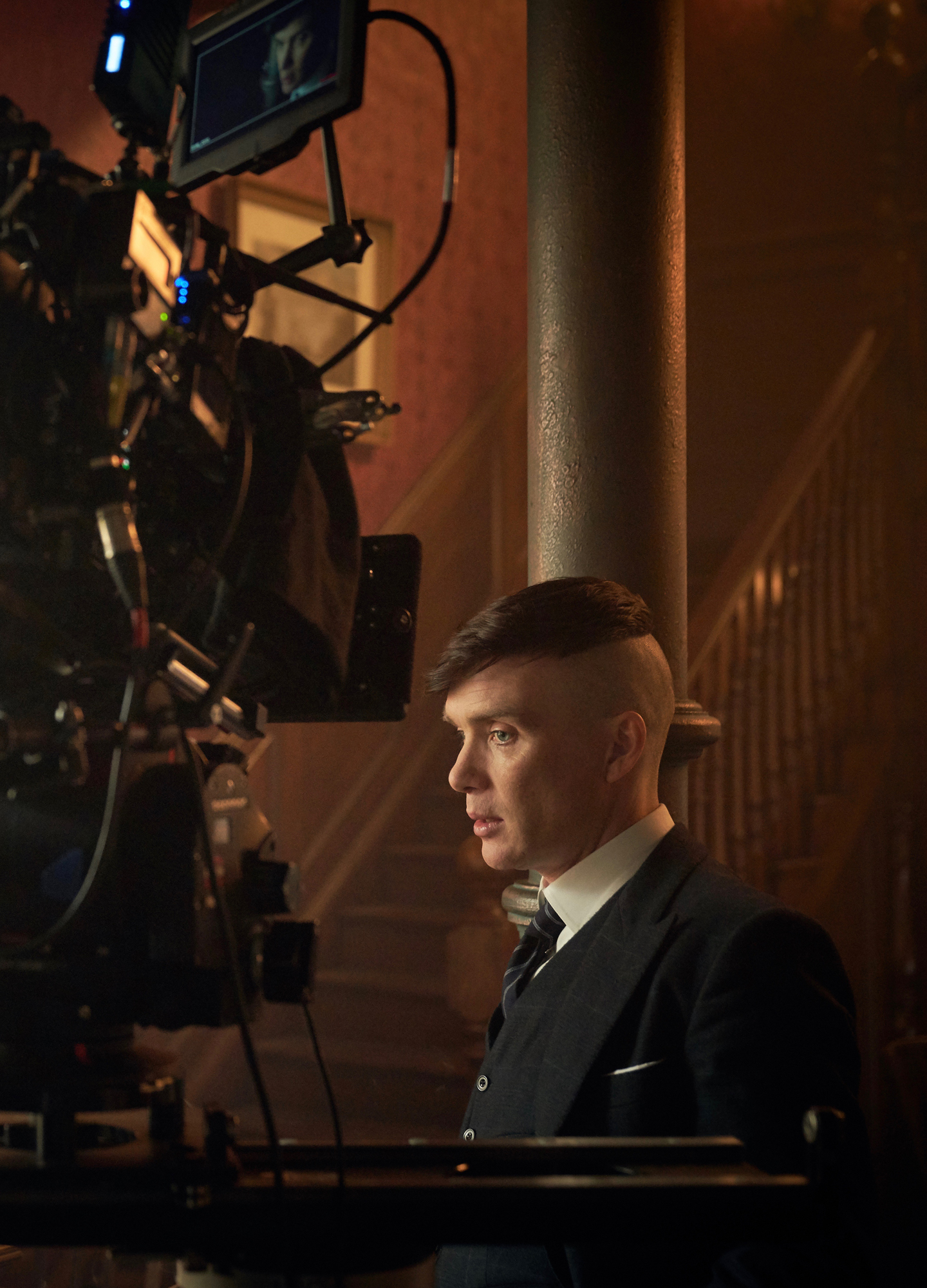 "What I didn't know, until I did some super low-light tests with candles, was just how much I could push the Monstro sensor and see how it would hold up. To be honest, I was blown away. It was really impressive how clean the image was in low light. Its quality of skin tones and colour detail are really mind blowing."
- DP Si Bell
Initially, Bell was less keen than the director about switching from spherical to Anamorphic glass. "I've never shot anything on anamorphic before and I was a little worried how this would work in combination with developing shots. We went through a crazy amount of lens tests in pre-production testing Canon K35, Leica, Lumilux, Panavision C Series and old Cooke lenses. Once we'd done that, I was much more confident that we could get the look we wanted and shoot it on schedule."
The crunch was finding a macro lens that could capture an extreme close-up moving to a wide and back to a close-up in a single shot. In the end, Bell landed on a Cooke anamorphic /i Look 65mm T2.6 along with a full set of Cooke primes (25, 32, 40, 50, 75, 100 and 135mm).
"We used the 25mm for certain sequences but the lenses we lived on were 32 and 40, with the 65 macro for developing shots," notes the DP. For more stylised moments using contra zooms and slow motion he selected an Angénieux Optimo 24-290mm spherical glass and Angénieux Optimo Anamorphic 56-152mm Zoom.
Bell teamed with regular Peaky Blinders colourist Simone Grattarola at Time Based Arts to maintain the show's continuity of look with the Red rushes. He worked with DIT James Shovlar to test shoot different looks for various series' locations and used these as reference for Grattarola to work from in the grade. Colour space was managed from camera to post within Red's image processing pipeline (IPP2) recorded in RedCode 5:1.
"IPP2 worked extremely smoothly, protecting the highlights and allowing us more latitude to tweak the image in post," says Bell. "I really enjoyed the workflow with Simone. We were all blown away by how great it looked."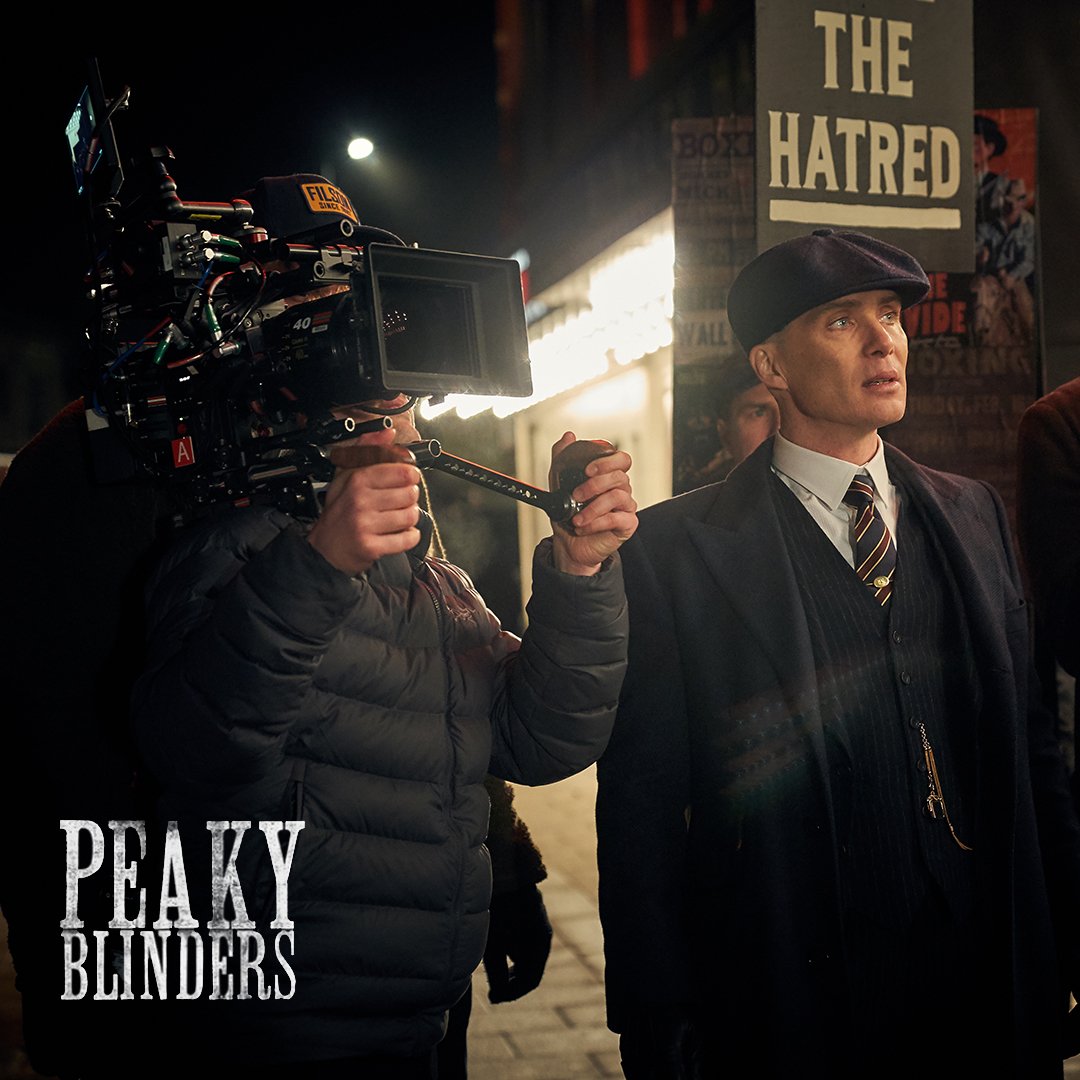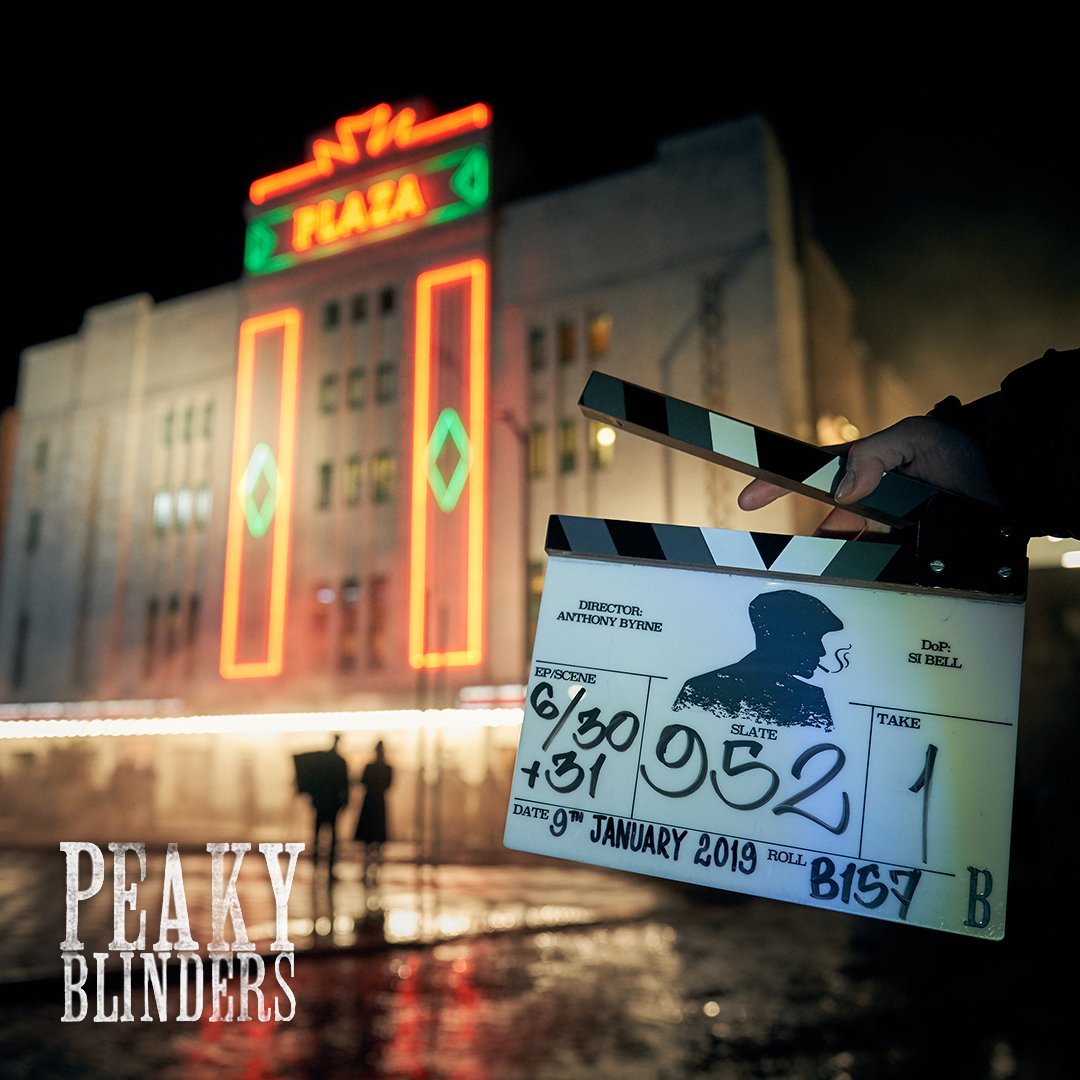 A Tiffen 1/4 black satin filter was deployed most of the time with NDs and rotating polarisers "just to take the shine and reflections off certain things."
For Bell and Bryne, the proof of what they were trying to achieve lay in creating the developing shots. Much of these were moved on ARRI's Trinity rig on a Garfield mount or dolly executed by Steadicam operator Andrew Fletcher with Bell on the wheels controlling the tilt.
"With (grip) Paul Kemp we worked a way of getting the camera from floor level to 11 feet in the air, moving the rig around the set without needing to put down any boards. Basically, we could move the camera where we wanted to. I'd control tilt from the monitor, Andrew controlled the movement up and down, and Paul moved the dolly and jib arm so it was a real team effort," explains Bell.
Audiences won't have to wait long for one of the series' signature shots since the opening sequence of episode one does just this by establishing the Shelby clan in the iconic Garrison Pub.
"We enter the bar from the point of view of a messenger boy and move past the bar up and over the top of the snug (where the gang wheels and deals)," describes Bell. "We see people scattering from snug and then we see Tommy approach from below. We move up to his eyeline, then to his hand and back to Tommy's face, then out to a wide and it develops 180-degrees to follow Tommy moving toward the windows of the pub where we end on a group shot of all the family. It's one shot covering eight pages of script and it was really challenging to choreograph and particularly to light. There was nowhere to hide lights apart from the ceiling where we put softboxes and flags.
"Since I wasn't used to the Monstro, I was cautious at first about how well it would really capture the details in the shadows of locations like the Garrison Pub," Bell adds. "As we saw dailies, I started to push more and more, and push the ISO more and eventually I got really confident with it and became braver in my choices. I pushed it as far as I dared, and I wasn't let down."