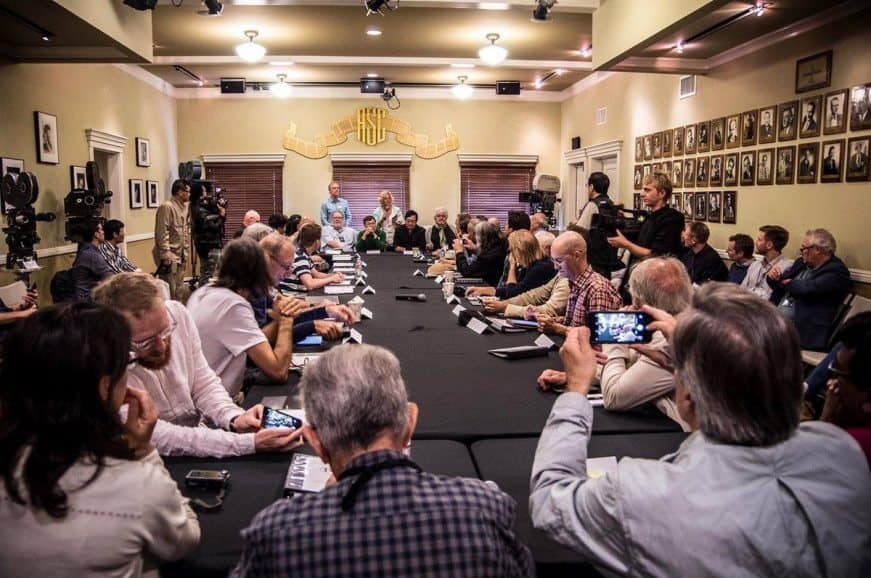 The second International Cinematography Summit took place under the auspices of the American Society of Cinematographers from June 6-9th 2016.
Approximately 75 cinematographers from 25 countries, some of whom had attended the first ICS five years ago, gathered at the ASC's historic Hollywood clubhouse on the first day to hear opening remarks from ASC president Richard Crudo, international committee chair/event coordinator Frederic Goodich ASC, Michael Goi ASC ICS and Kees Van Oostrum ASC NSC.
The theme of the week, entitled "The Future Of The Cinematographer: Models Of Collaboration", was apparent in the many countries represented, noted Goodich. The first session of the summit was on "The Future Of Cinematography", with the conversation – begun by Richard Andry AFC, David Mullen ASC and Australian Cinematographers Society president Ron Johanson ACS – quickly drawing comments from all the cinematographers in attendance.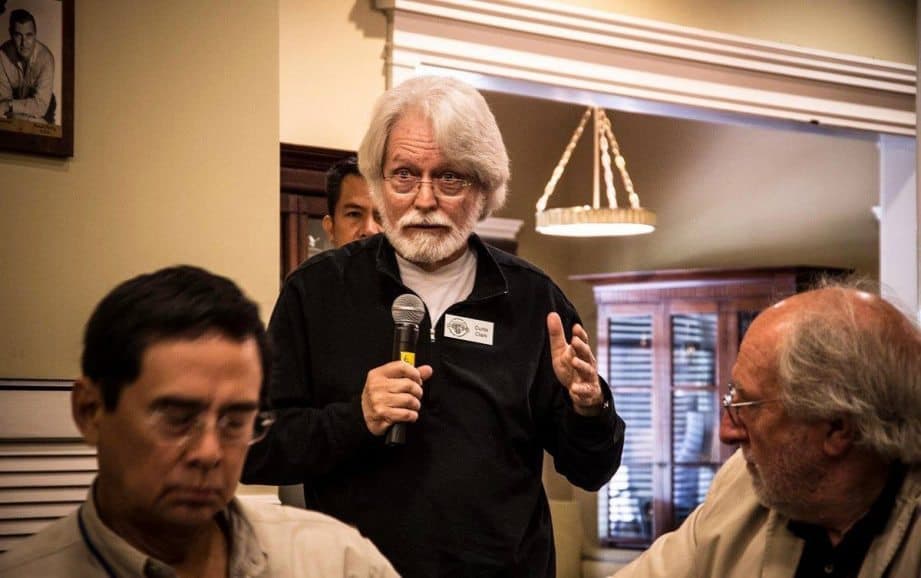 Cinematographers shared experiences of recent changes that have made their jobs more difficult – from being asked to accomplish 50 to 70 set-ups a day, to editors who reframe shots from 4K or 8K cameras. Curtis Clark ASC, chair of the ASC's Technology Committee, summed up many of the concerns, adding that the Academy Color Encoding (ACES) system has "been a huge godsend to protect creative intent." The solution to re-establishing control on-set, concluded many participants, mainly rests on education.
"Democratisation of the process is not to be confused with vulgarisation of the process run by ignorance," said Guillermo Navarro ASC. "We were focussed on film language, and it's our responsibility to recover that." Johanson later commented that, "Guillermo's quest… to make us all understand that we must preserve the disciplines and the language of film, especially in this time of digital capture, where there are many values being left behind and not enough care is taken to educate those beginning their journey … continues to resonate with me."
Attendees also discussed the hot-button issue of authorship of the images. Venezuelan Society of Cinematographers president Ricardo Matamoros SVC, described the newly-formed Federation of Latin American Cinematographers, of which he is secretary general, and their efforts to pass laws giving cinematographers ownership of their images. The German Society of Cinematographers' Rolf Coulanges BVK, an IMAGO board member, reported on the German high-court ruling in favour of cinematographer Jost Vacano ASC, who has battled distributors for the best part of ten years over his contribution to the German hit Das Boot.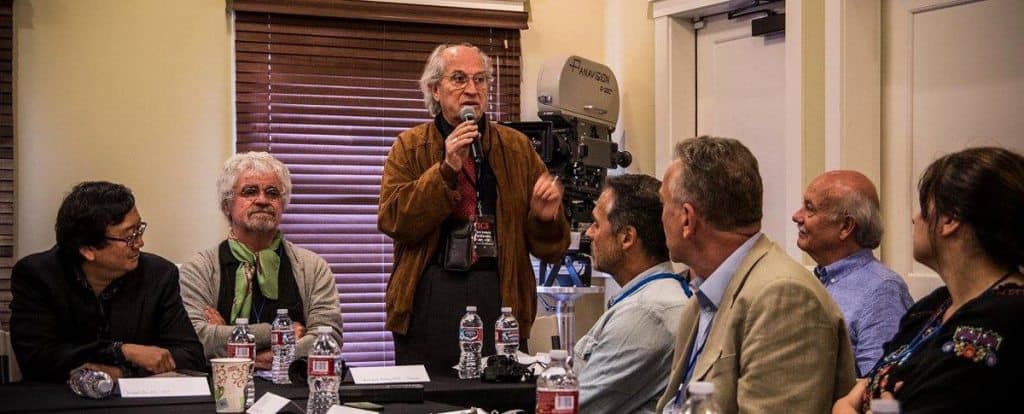 The highlight of the day for many in attendance was the afternoon spent examining the imagery in The Revenant and The Jungle Book, in a programme dubbed "Models Of Collaboration." The event took place at a prototype Dolby Cinema built inside an abandoned movie house on Hollywood Blvd, boasting state-of-the-art Dolby Vision HDR laser projection and 38 Dolby Atmos speakers. The Revenant was presented by Emmanuel "Chivo" Lubezki AMC ASC, DIT Arthur To, and supervising finishing artist Steve Scott, whilst The Jungle Book was presented by cinematographer Bill Pope ASC, director Jon Favreau, visual effects supervisor Rob Legato ASC, producer Brigham Taylor and also Scott.
"It was a visually stunning and informative presentation at the Dolby Cinema," said cinematographer Nina Kellgren BSC, who is also IMAGO vice president. "It was fascinating to see how Chivo worked with his DIT and colourist." Goodich agreed. "Chivo and Steve Scott broke down shots that were actually composed of sections filmed on different days but tied together to form what appeared to be single shots," he says. "And The Jungle Book was a simultaneous on-stage process of pre-viz, shoot and composite. Two 'models of collaboration, two vastly different films employing some of the most cutting-edge tools."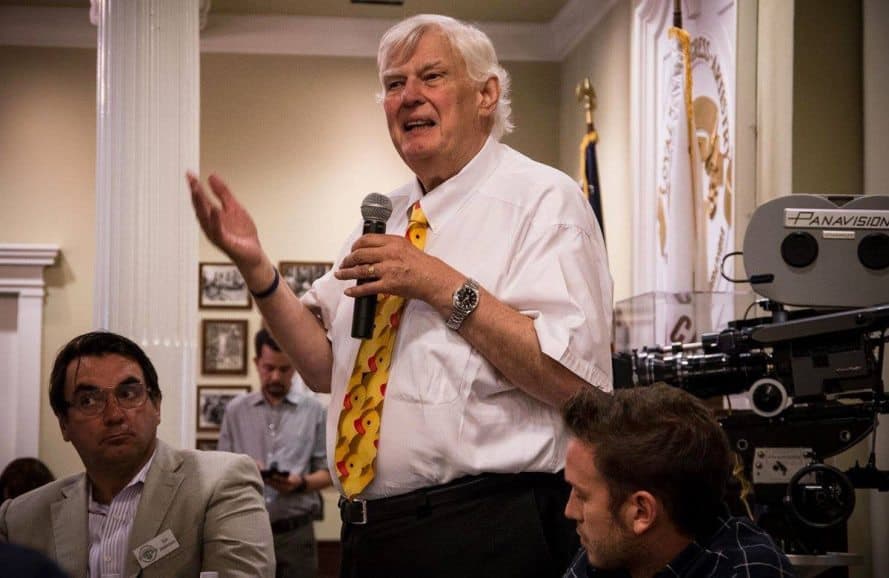 Another day was spent at the Academy of Motion Picture Arts & Sciences' Linwood Dun Theatre, where attendees heard presentations on solid-state lighting, ACES and next-generation cinema technology. Cinematographers were able to take a tour of the AMPAS vault, and later engage in a conversation about digital archiving, including viewing a clip on the restoration of The Apu Trilogy.
The rest of the conference covered such topics as the continuing relevance of film, cinematography and virtual reality, and visits to Panavision and Technicolor. Goodich was inspired by learning that, "some of the work the ASC does in our community could inspire change in other countries," and said it was "a particular thrill" to see clips by attending cinematographers "that embodied different visual styles and stories."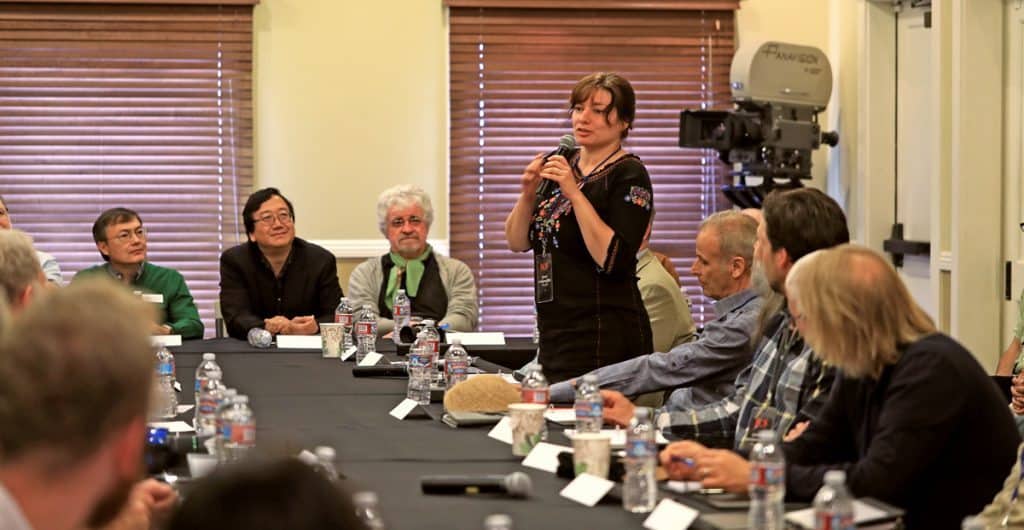 Kellgren said she enjoyed meeting Goodich, Richard Crudo and Bill Bennett ASC, "The ASC is particularly clear and open about sharing information and very welcoming," she said. "The passion and will amongst cinematographers to communicate and collaborate internationally on the state-of-the-art and the role of the DP is both heartening and inspiring."
For Johanson, the highlight was, "the real feeling of camaraderie among those attending. It truly was a collaborative umbrella, and many friendships were made in those four days we were together. It was truly inspirational!"