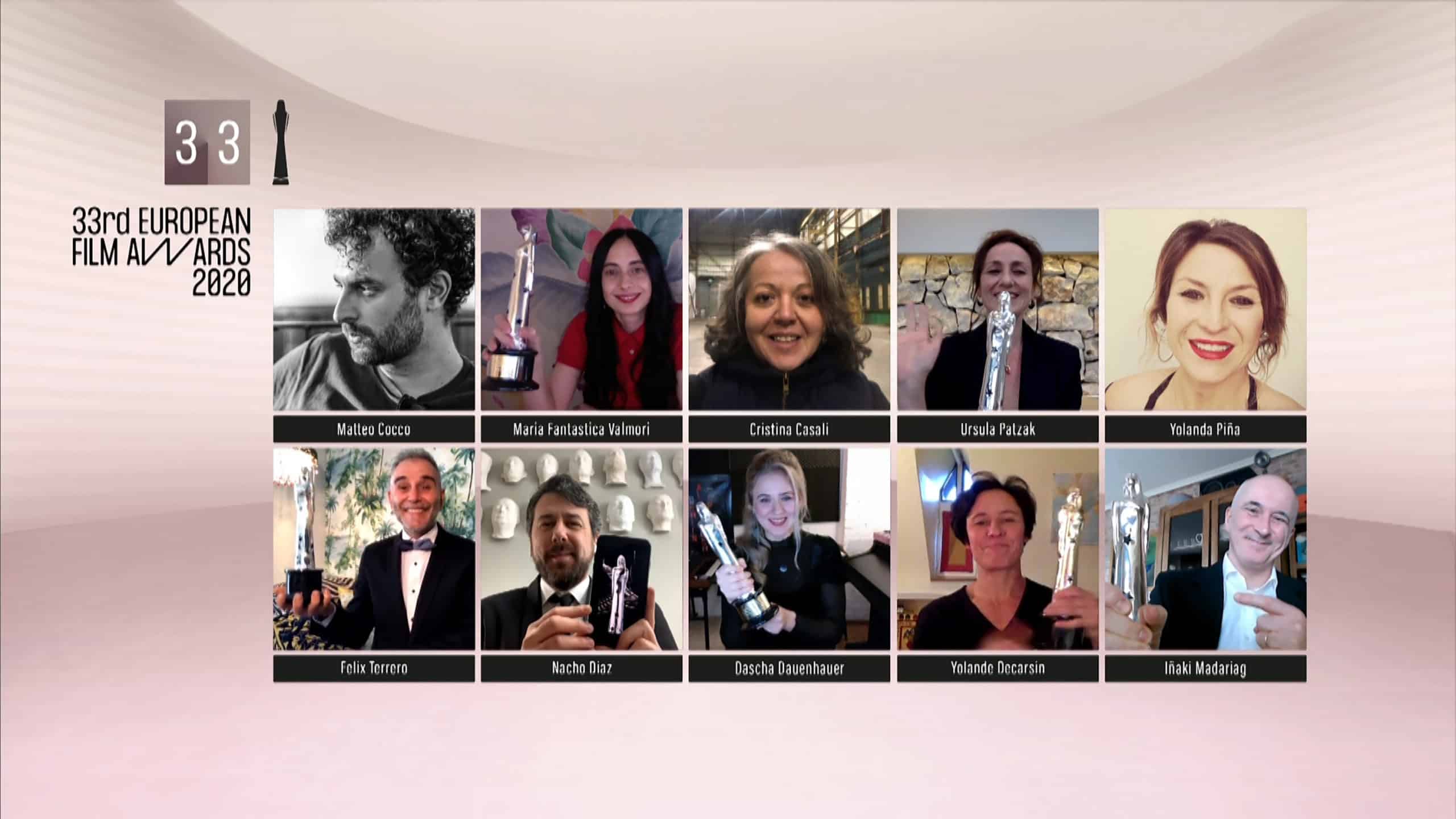 For the first time, the European Film Awards (EFAs) are presented as a series of virtual events. The first "EFAs at Eight" was moderated by EFA president Wim Wenders and EFA director Marion Döring and saw the announcement of the Excellence Awards winners 2020.
A special eight-member jury had convened online to decide on the winners in the categories European Cinematography, Editing, Production Design, Costume Design, Make-up & Hair, Original Score, Sound, and Visual Effects. They based their decisions on the EFA Feature Film Selection and individual recommendations from the selection committee for the EFA Documentary Selection.
Congratulations to the following Excellence Awards winners:
EUROPEAN CINEMATOGRAPHY:
Matteo Cocco for Hidden Away
Using light, colour and composition, Matteo Cocco builds up the unique world of Italy's celebrated Naive painter and sculptor Antonio Ligabue. The beauty and originality of the film's tender images lead us into Antonio's instinctual and raw emotional world. In this atmospheric film, Matteo combines amazing impressionistic landscape and architecture shots with incredibly haptic and sensual portraits of the protagonist as he leans into a horse's soft fur, follows a cockroach running across the earthen floor or dances with a turkey to an audience of country kids.
EUROPEAN EDITING:
Maria Fantastica Valmori for Once More Unto the Beach
This documentary is considerably indebted to the editing. It consists almost entirely of grainy black and white archive film and each shot has been chosen with great care. Maria Fantastica Valmori skilfully edits the images of a train travelling across Europe towards the frontline and pictures of comrades-in-arms with scenes of past happiness but also death and destruction in a war-torn Europe. The archive used, no doubt chosen from many hours of material both amateur and professional, is absolutely vital in telling the film's story.
EUROPEAN PRODUCTION DESIGN:
Cristina Casali for The Personal History of David Copperfield
The world of David Copperfield is not an ordinary period film. It's a modern approach filled with textures, colours and infinite details that mingle with both the costume and make-up department, creating a solid and consistent visual experience that feels realistic and believable although splashed with fantasy.
EUROPEAN COSTUME DESIGN:
Ursula Patzak for Hidden Away
There is a lot of detail in the costumes in Hidden Away. Ursula Patzak has created realistic and creative costumes that support and carry the plot but never draw your attention away. That's the art of costume design. Efficient yet discreet, her costumes leave all the room that is necessary for the story to unfold.
EUROPEAN MAKE-UP & HAIR:
Yolanda Piña, Félix Terrero & Nacho Diaz for The Endless Trench
Some of the finest heavy hair- and make-up work can serve to tell a story without the viewer even noticing it. That takes skills, patience and precise ideas. Such make-up and hair work is made by Yolanda Piña, Felix Terrero and Nacho Diaz in The Endless Trench.
In the movie, we accompany Higino and Rosa more than three decades – the aging of the characters is fluid, impressive and highly believable. Not once does it interrupt your viewing experience and you really feel time passing in the narrow space.
EUROPEAN ORIGINAL SCORE:
Dascha Dauenhauer for Berlin Alexanderplatz
The score in Berlin Alexanderplatz makes use of the entire spectrum of film music – from big orchestral arrangements to chamber-like strings, electronic and immersive sounds to pop music. Dascha Dauenhauer's impressive score blends perfectly with the sound design and continuously propels the story forwards.
EUROPEAN SOUND:
Yolande Decarsin for Little Girl
Yolande Decarsin's sound design in the documentary Little Girl achieves something that is almost impossible: Very gently and delicately, it takes you into the life of little Sasha and her family. You no longer feel as if you are watching something from the outside but as if you were there as the kids get ready for school, sitting with them in their garden, or joining them for lunch.
EUROPEAN VISUAL EFFECTS:
Iñaki Madariaga for The Platform
The well-crafted visual effects in The Platform create a very dark and immersive environment. They help the story just like the central platform that goes into infinity above and below. Thanks to the visual effects by Iñaki Madariaga, the platform becomes an entity of its own. The creativity of the solution is simple yet astonishing in its minimalistic expression which creates an unforgettable emotional and visual experience.
The members of the jury were:
Marta Billingsley, sound editor, Italy
John Gürtler, composer, Germany
Rein Kotov, cinematographer, Estonia
Catherine Marchand, costume designer, Belgium
Jonathan Morris, editor, UK
Anne Cathrine Sauerberg, make-up designer, Denmark
Andraž Sedmak, visual effects, Slovenia
Sylvia Steinbrecht, production designer, Andorra.
For more information about the jury click here.