Grizzly Adventure
Emmanuel Lubezki AMC ASC / The Revenant
Grizzly Adventure
Emmanuel Lubezki AMC ASC / The Revenant
A "revenant" is a spirit that returns seemingly from the dead. Whilst exploring the snowy wilderness of Wyoming during the 1820s, fabled frontiersman and trapper Hugh Glass (Leonardo DiCaprio) sustains terrible injuries during a brutal assault by a grizzly bear.
When his hunting team leave him for dead, more than 200 miles from the nearest American settlement, Glass must summon his survival skills to overcome suppurating sores, a broken leg and gashes on his back that expose bare ribs, and find his way back to safety. Grief-stricken and fuelled by vengeance, Glass toils through the wintry terrain to track down John Fitzgerald (Tom Hardy), the former confidant who betrayed and abandoned him to die.
Directed by multi-Oscar winning Alejandro G. Iñárritu, from a screenplay by Mark L. Smith, The Revenant movie is based on Michael Punke's 2002 eponymous fictional retelling of Glass' incredible odyssey. Lensed by double Oscar-winning cinematographer Emmanuel "Chivo" Lubezki AMC ASC, with whom Iñárritu also collaborated on Birdman Or (The Unexpected Virtue Of Ignorance), the $135m, 20th Century Fox production was shot using natural light, in chronological order at 12 different locations in three countries, including Canada, United States, Argentina, and is one of the first to harness the new Alexa 65 large format camera system.
Ron Prince caught up with Chivo to discover more about the movie described by the critics as the "consummate cinematic experience", where painful cold of the survivalist ordeal has catapulted The Revenant as one of the hottest contenders during Awards season.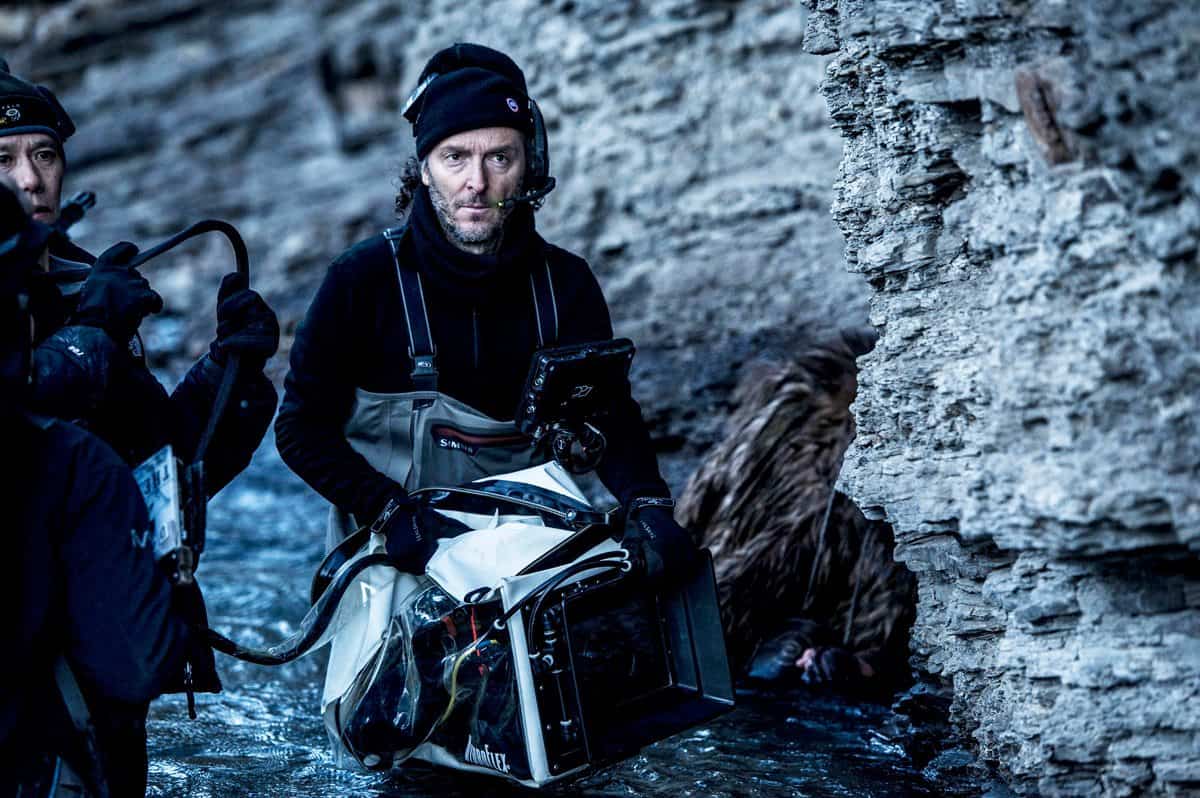 How and why did you get involved with the production of The Revenant?
EL: I was invited to shoot the movie by Alejandro, before we did Birdman together, in 2013. His DP Rodrigo Prieto AMC ASC was not available, and so I got the call. I am a great admirer of their work, and was hugely excited. I liked it that Alejandro had made the story so much more complex than a straight revenge movie, and that it's also a story about survival. I had never done this type of adventure movie before, and I like very much productions that follow the journey of a character, such as Werner Herzog's Aguirre, Wrath Of God (1972, DP Thomas Mauch). Also, as I am approaching middle age, I thought this might be my last chance to shoot out in the wild, facing the challenges of nature and the elements with a cast and crew.
What were your very first creative discussions with Alejandro the director?
EL: The Revenant is a story about trappers, pioneers in a huge, harsh landscape. We both wanted to make it in the wild, with no stages or bluescreen, no Burbank methodology. We wanted a strong, visceral, immersive and naturalistic experience for the audience – not just to follow the journey of the central character, but to make it feel as if it was actually happening in front of their eyes. We wanted the audience to feel the sheer cold, to see the breath of the actors on the lens, and experience the powerful emotions in the story. We were also determined to shoot the movie in order of the story, which we did.
What creative references did you research?
EL: For the last five or six productions I have shot, I have not watched any movies as references. I find that if you want to create an original look and feel, you need to get deep into the world of your own movie and keep focused on that. So, rather than research, we did a lot of scouting and walking. Watching the light, the weather conditions and the moods at our locations was far more important than watching other movies. Actually, music was a much more important reference and way for us to communicate.
"With the digital cameras, we discovered there was a mystery and intrigue, in tone and mood, to images shot at different times of day, that just did not appear on film."
- Emmanuel Lubezki AMC ASC
Cinematographers sometime cite music as an inspiration. Tell us about its effects and influence on you?
EL: During prep and pre-production Alejandro and I used music to imagine the visual atmospheres and emotional tempos of the movie we wanted to create. We listened to all sorts – classical, pop, jazz, Mexican and Cuban music – Bach, John Coltrane, Tom Waits, Pink Floyd, Led Zeppelin – but the most important music that prevailed was that of the American composer John Luther Adams. His work is inspired by nature, especially the landscapes of places such as Alaska. It is very atmospheric, like going on a journey, and is very close the spirit we wanted to express in our visuals. We listened a lot to his music during the hours, days and weeks that we were on recces in the cold.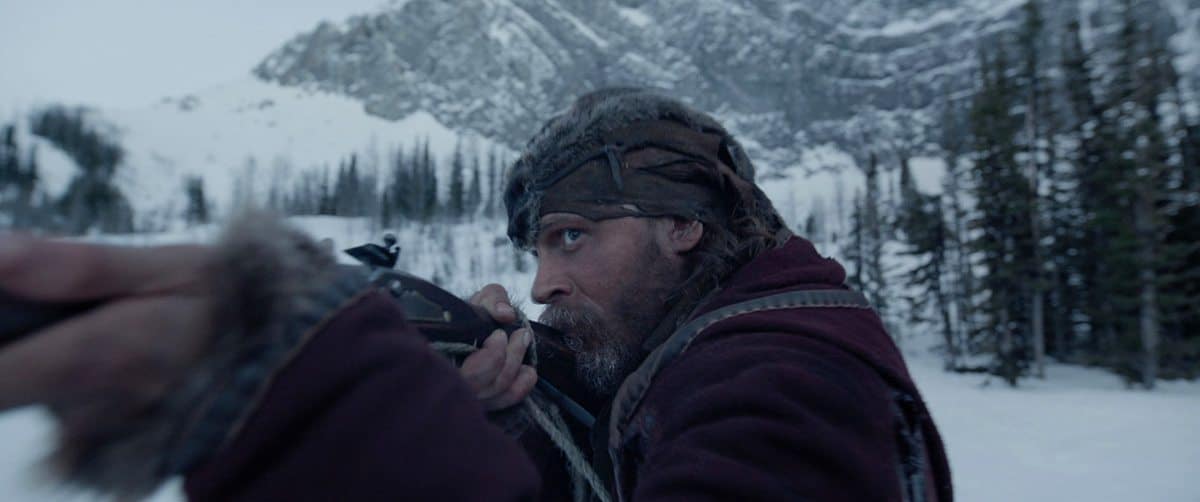 How did you decide on shooting between film versus digital?
EL: Alejandro loves film as I do, and we're comfortable with filmic tools and processes. Film has a greater dynamic range than digital that can capture the brightest of highlights, such as the sun, and details in deep shadows all in the same frame. The thing that I don't like about film, and have never liked, is grain. Some people call it texture, but for me, when you start seeing grain the movie becomes a representation. It's almost like putting a veil between you and the subject. I expect to be criticised by other cinematographers, but that's my view. What I like about good digital cameras is that they have decent dynamic range and do not have noise – there's no grain.
After shooting lots of tests in California, we decided to shoot film for the daytime sequences and digital at dusk and a night. But when we moved in October 2014 to Canada, which is much further north, where the sun is closer to the horizon, and there are longer periods of dark, the film was not looking the way we wanted at all. The digital cameras – ARRI Alexa M and XTs – were outperforming the film cameras by a wide margin. With the digital cameras, we discovered there was a mystery and intrigue, in tone and mood, to images shot at different times of day, that just did not appear on film. The grain was a big, big issue too. So it was with some pain and regret that we sent all of the film equipment back to Los Angeles and went completely digital.
However, at the same time, ARRI called me to tell me that the Alexa 65 was ready. From the very moment I got it, I was sure I wanted only to use digital cameras, and to use the Alexa 65 as much as possible on the movie. The images had the immersive and experiential qualities we had imagined at the very start. Not a representation of the story, but reality – as if you are there, looking through a clean window.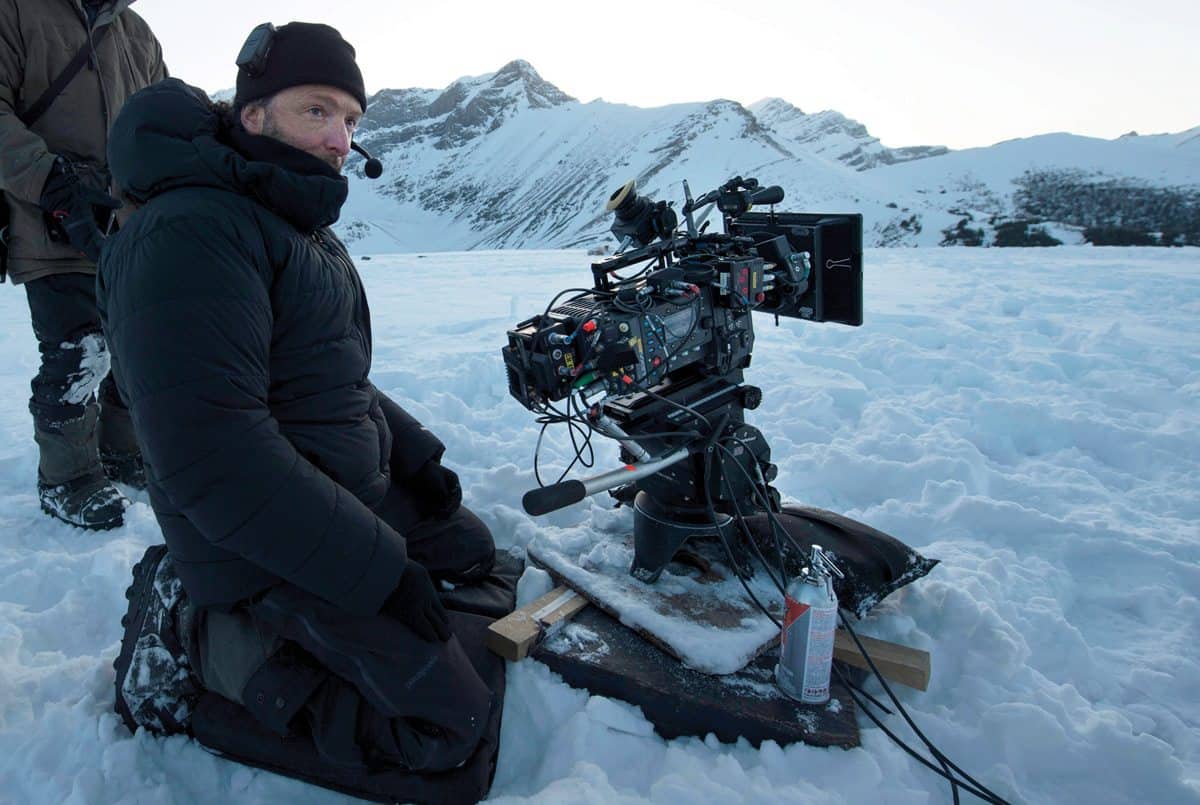 What was you strategy for moving the camera?
EL: It very much depended on the scene and the emotion of what was happening at that moment. We generally knew what we wanted to do during our testing and rehearsal phase, but there was still an element of improvisation. We wanted to be in-tune with the characters and the light and what happening. Alejandro likes the camera to look slightly accidental, as if you have maybe missed something, or your arrive slightly late – it gives the audience a feeling of the suddenness of events. It's very different to the style in a Terry Malick movie, where the camera is  more lyrical, conscious and descriptive. To outline what I wanted and the reasoning on The Revenant I moved camera handheld for almost every shot then we went from there – perhaps a third of the movie was Steadicam/handheld, and the rest on a crane or dolly.
This movie was shot before the invention of the Alexa Mini. As I operate and do so much handheld, the best camera for me at the time was the a Alexa M. I could hold the lighter part of the camera, move freely and get close to the actors. Scott Sakamoto used the Alexa XT on the Steadicam.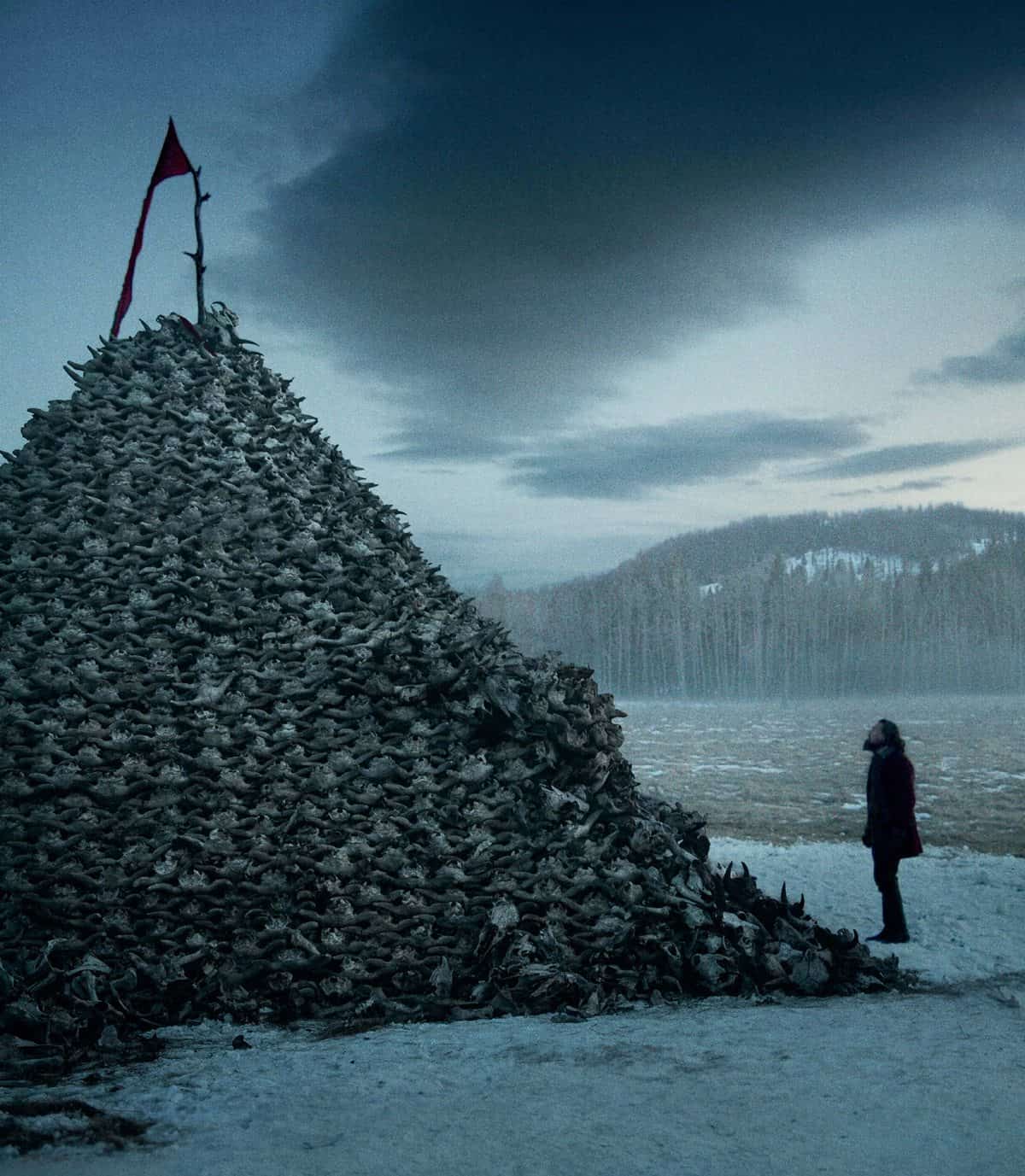 How about you lighting strategy and colour palette?
EL: We used natural light for vast majority of the movie, and the colour palette was determined by the time of day at each location. At 1pm in bright sunshine there would not be anything of any interest in terms of atmosphere, but at 4.30pm, when the sun disappeared behind a mountain, the same location would then look mysterious – the light was bluer and colder, the leaves would lose their colour, moss would turn from yellow to green, the trees would become darkened,  and whole environment had a sense of terror or fear.
As we were using natural light, it was important to have wardrobe that was homogenic and not lighter in tone than an actor's face, and working with Jacqui West, the costume designer, was of vital importance.
Regarding the lighting, there were two incidents that I have never encountered before. We were shoot around a campfire at night and I wanted to use the natural flicker of the firelight as illumination. However, the wind was so strong that the light became too distracting. So I created a cushion of constant light on a dimmer and then let the fire flicker as normal in the wind. The second was more bizarre. Again we were shooting at night around a campfire, but a strange light kept appearing on the actor's faces and destroying the shots. I asked over the intercom for the offending light to be switched off completely, only to realise it was the full moon coming out from behind the clouds, and the digital cameras were picking up on the effect. We had to build a 40ft x 30ft wall behind the camera to block out the moonlight.
As we were in a place without urban light contamination, sometimes we used the silvery light of the moon, and you will see stars in the movie. One night, we also captured the green shaft of light of an aurora borealis. It it's one of the most mysterious, moving and beautiful things I have ever shot.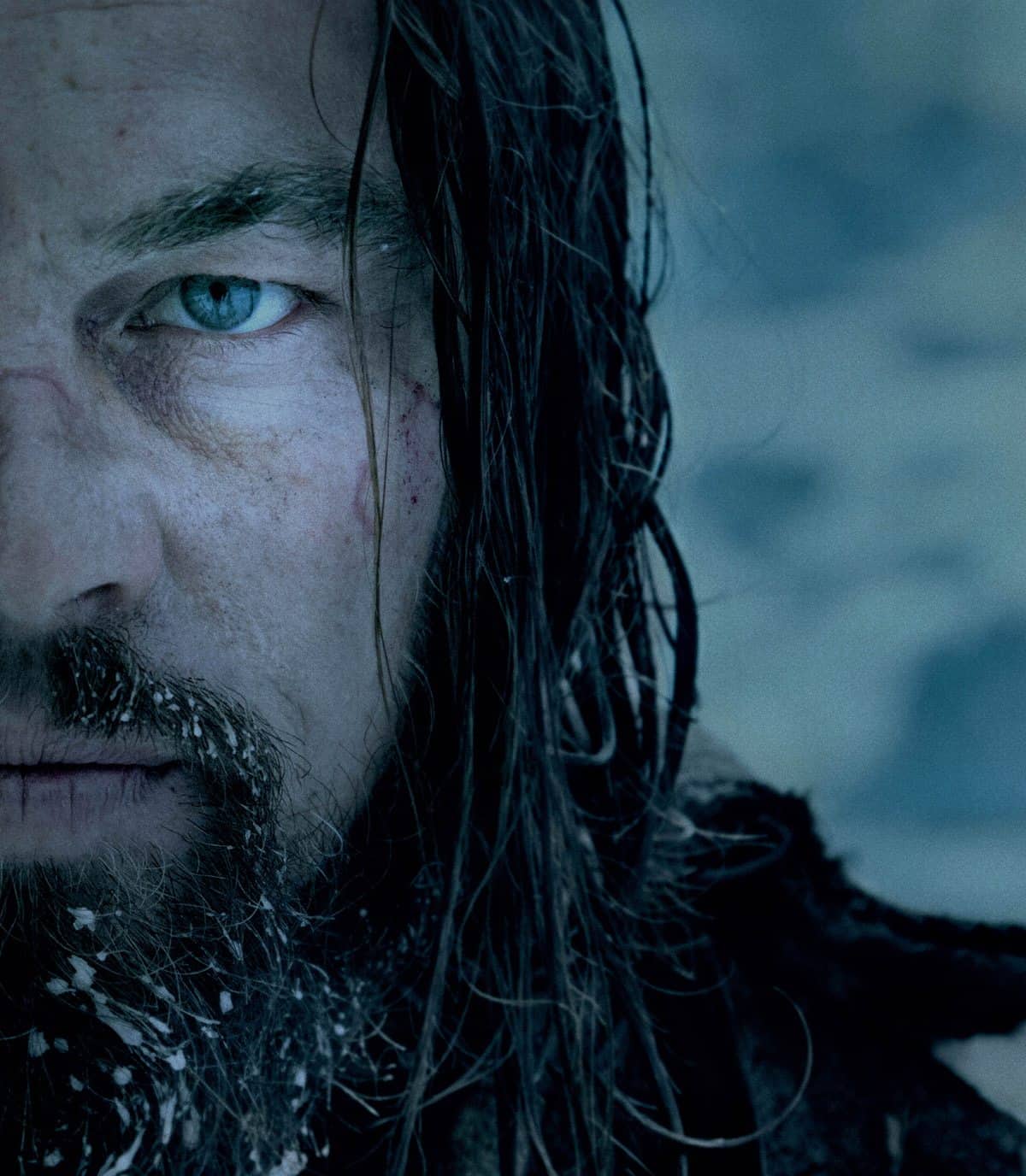 What can you tell us about the DI?
EL: I did the DI with Steve Scott at Technicolor. I have worked with him over many years on many different projects – such as Children Of Men (2006) and Gravity (2013). The great thing about Steve is his background in art. He has a unique knowledge of light as, before moving into composting then the grading, he was a very great painter. Because we shot with natural light and had little control on-set, I knew exactly what I wanted to do in the DI – to darken backgrounds, lighten a face, change a sky. It was a complex DI in that respect, but I love this collaborative part of the cinematographic process.
We had to create four different deliverables – a normal DCP, a DCP for Dolby Laser Projection, normal IMAX and IMAX Laser – and I spent around eight weeks doing these different DIs. The Dolby Laser is one of the most beautiful things I have ever seen, and it's the first time that DPs can project black. Until now most projection systems have rendered dark and black as a mushy guacamole of greys, but now you have ten more tones to work with and its beautiful. If this system proliferates, I expect we'll see a big change in the way DPs light and shoot.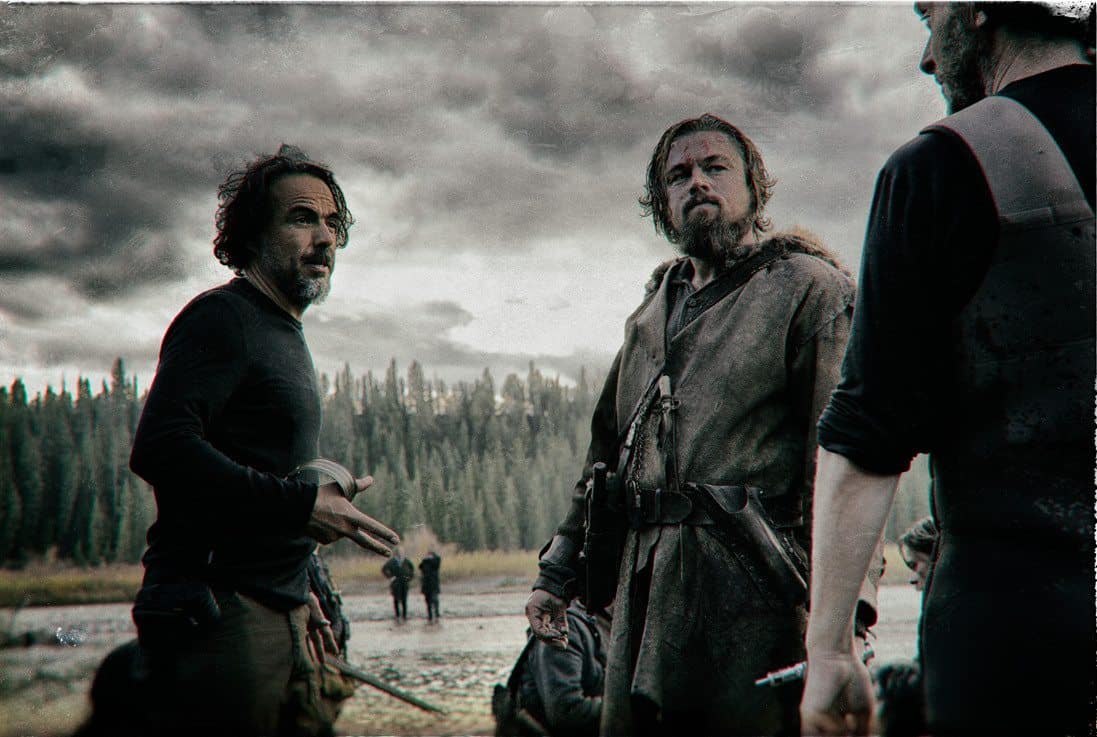 What thoughts do you want to share about your crew?
EL: Because of the journey involved in the making of this movie, the strong connections that you need with your crew were more important than any other production I have ever shot. I was very lucky to have not just technicians, but incredible artistic collaborators at the top of their game around me. I valued the sincere feedback of my key grip Ray Garcia, especially on long takes about the tempo of my camera moves. My camera assistant John Conner was miraculous in pulling focus with no marks, and in having the innate rhythm to pull focus with actors and crew often moving wildly around. Same thing with Scott Sakamoto on Steadicam with his rhythm, composition and understanding of what I wanted to achieve. One of the best keep secrets is Ryan Monro, the dolly grip who can operate the telescopic crane arm and the crane move in balletic style all by himself, where normally it would take two people.  I also want to give a special shout out to our DIT, Arthur To, who's ability to operate the iris, was indispensible in the ever-changing natural lighting conditions we faced.
A lot of the time the cinematographer takes the credits, but without any of these guys, and their teams, as collaborators, The Revenant would not be the same, or nearly as good as it has turned out to be, and I am hugely thankful to them.