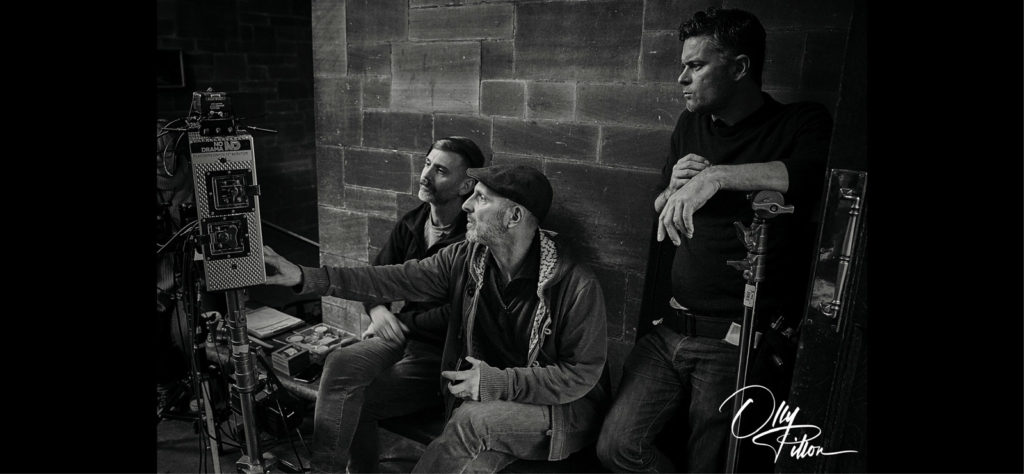 Cinematographer David Katznelson reminisces about his time shooting It's a Sin. The series – which was written and created by Russell T Davies and directed by Peter Hoar – chronicles four friends' experiences in London in the '80s and the impact the AIDS crisis has on their lives.
Initial impressions…
It was one of those scripts you just can't put down. I knew and loved Russell T Davies' previous work; he is a genius writer. This story was clearly very personal to him – he had created so many vivid characters and such powerful emotional events. I was a teenager in the '80s and remember the Aids crisis well. But revisiting it through the eyes of this group of young people who lost so many of their friends was heart breaking. This is such an important story to tell.
Collaborating with director Peter Hoar…
Director Peter Hoar and I hadn't worked together before, but we got on instantly. He has this incredibly positive approach and is a very generous character. We didn't always have long shot lists for each day, instead we took our cue from the scene and the energy of the characters and let that inform us on how to shoot each scenario.
The core team…
I worked with a superb camera operator (Dan Nightingale) and two amazing focus pullers (Stephen Smith and Mike Richardson). Two brilliant loaders (Amber Osborne and Mitchell Payne), and two good trainees. We had two cameras running a lot of the time, and a fairly big camera package, and we had busy days, so I relied heavily on the team. They were all new to me except my gaffer, Martin Taylor, with whom I have worked together a number of times. We have a shorthand.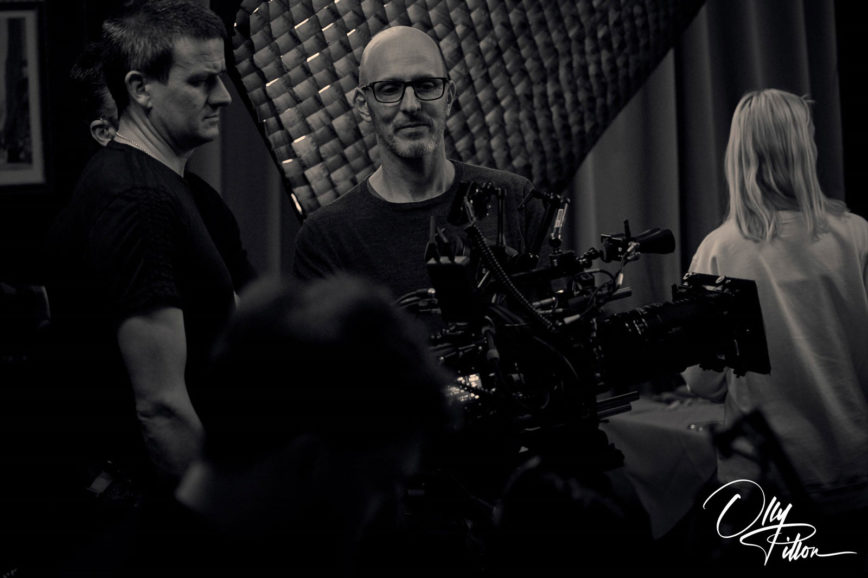 References, inspiration and research…
A big inspiration was MILK by Gus Van Sant. The coverage is so simple and clever, and yet it's so visual, and of course thematically there are overlaps. We also looked at some of the iconic '80s aids victims stills, for example the work of photographer, Nan Golding. In terms of research, Russell was our source! He was in constant dialogue with us about how he saw locations and scenes, and we took our steer from him.
Creative discussions and bringing the vision to life…
The script revolved around the world of the young characters who have this incredible lust for life. As a counter point to them, we have the older generation who are more set in their ways. We decided to shoot with two types of lenses to mark different elements of the story. We used anamorphic lenses for the scenes set in Richie's home with his parents, and spherical lenses for the scenes in the Pink Palace where the young people live. We also moved the camera in different ways depending on where we were in the story. Lots of movement for the scenes with the young, and slower and more considered for those revolving around the older generation. Russell wrote these incredible monologues for Richie Tozer, the main character, where he is constantly on the move, and travels between different locations as he speaks. The camera would travel down a street at night, go in through a bar, back out to another bar and so on – a bit of a challenge but exciting to do.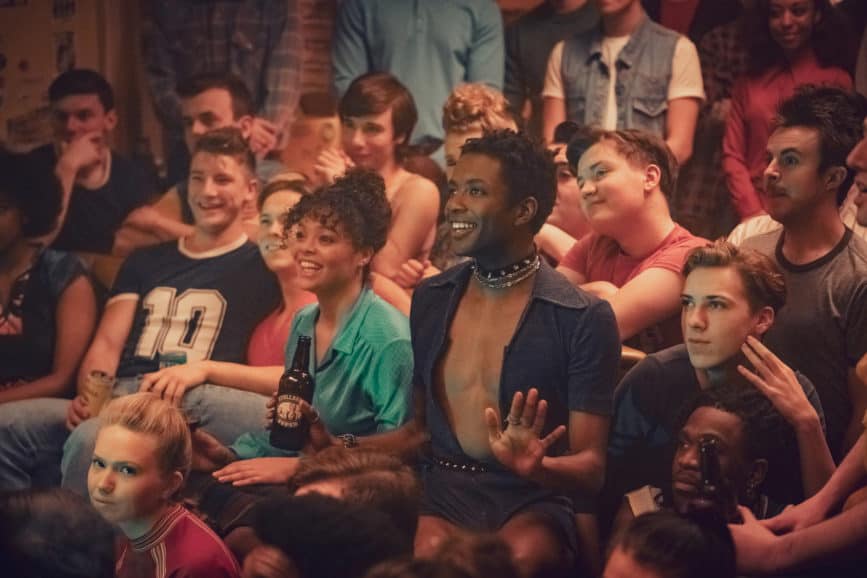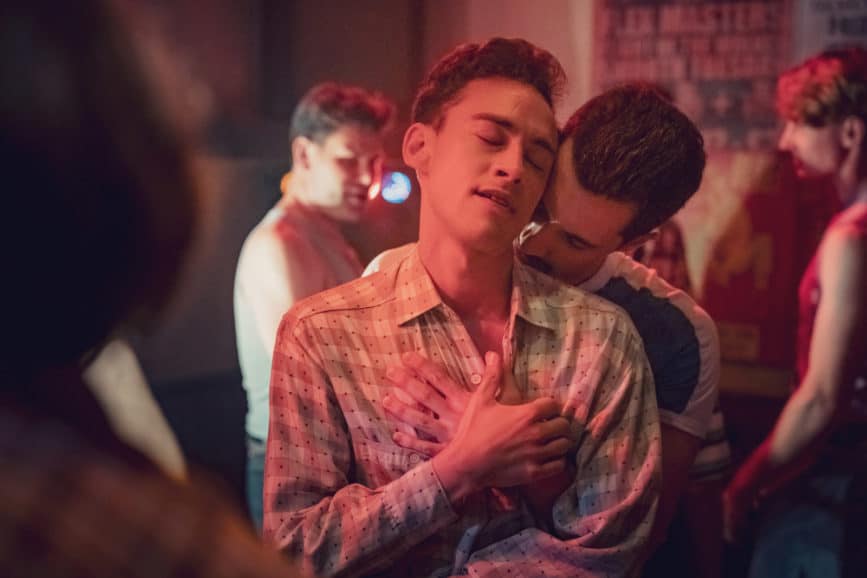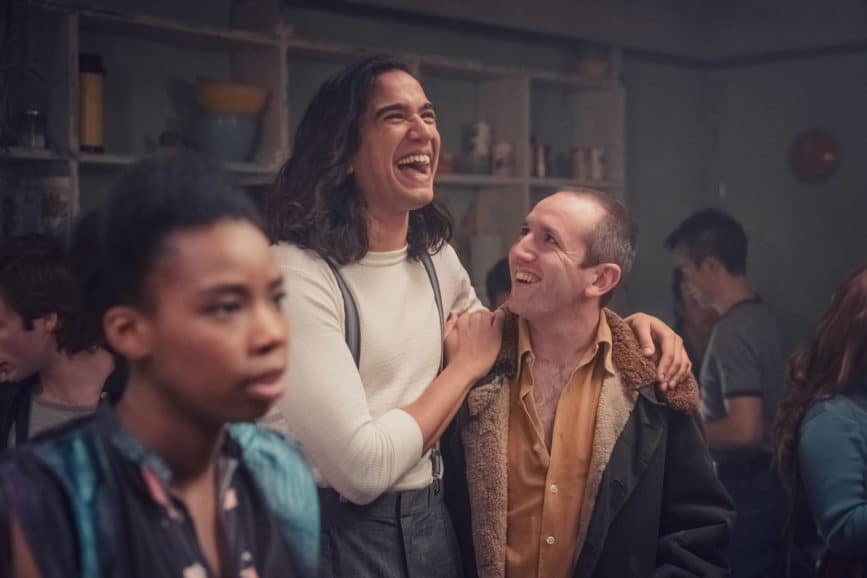 Colour choice…
Very early on Peter Hoar, Russell T Davies, Luana Hanson (production designer) and I, decided that we didn't want to make the '80s drab, grey and colourless, although subject matter of course has it's dark sides. Instead, we wanted to reflect the joy and fun the characters went through. As Russell says about his journey through the '80s, much of it was fun-filled.
Using framing and composition to tell the story…
Peter and I pushed to shoot in the aspect ratio of 1:2.00 to create a slightly wider frame, which I really like for TV. It's just that little bit more cinematic, without being too dominant. It also works really well when you have more characters in frame, which we had a lot of the time as the story is in many ways an ensemble piece. We very rarely used really big close ups and tried to keep the camera fluid.
Shooting locations and sets…
The production was based in Manchester, although the story was set in London. Shooting the 1980s in Manchester for London was a little challenging, but Luana did an amazing job. I think we had something like 150 different locations and sets, which was daunting. Much was location but there were some key sets – one being The Pink Palace, which is the place in which all the young people live and have parties. Luana created the whole flat with the living room at one end, and the kitchen in the other, so when we had one of our many party scenes, the camera could travel between these rooms through a long corridor to give the parties some scale. It also served the story because these young people, who have just moved away from home, are like family to each other and constantly moving between each other's rooms and through the flat.
Camera package selection…
We got the camera gear from No Drama in Manchester and had a great package. We shot on the Sony Venice camera, which I love. One camera was rigged as the main A camera, which was also used for Steadicam work. The other camera was rigged in a slightly peculiar way where we had an extra-long base plate it could sit on, and the camera was split in two with a three metre cable between the sensor part of the camera and the recording part. That way we could always quickly split the camera in two and fit the small sensor part of the camera into a tight space, while the recorder was out of the way. We used the Cooke anamorphic lenses, for the more conventional scenes, and the K35 lenses for parties and handheld work.
Telling the story through camera movement…
With the young characters we wanted to match the energy that they brought to the screen by moving the camera much of the time and selectively using handheld cameras. They were quite often on the move, and we would follow them and sometimes do whip pans between them to amplify the energy. We would either be handheld or on a Steadicam chasing after them or leading them. For scenes with parents and the establishment, movement was used to create mood with slow push ins to highlight certain lines.
Camera tricks and techniques…
It's not a brand-new technique, but we used Rosco soft drop back grounds for our studio, which you can light for both day and night. I think they worked well. Another new thing for me was the challenge of recreating some '80s TV dramas that are a part of the story. We got hold of three amazingly well-preserved Ikegami studio tube cameras on pedestals, and some old lights. In my mind the '80s was not that long ago, but when we shot on the Ikegami tube cameras it was obvious of course that the equipment has come a long way! Those cameras had absolutely no latitude, and the 1980s lights were three times the size of current lights, with hardly any output and possibility of control compared with modern day lights.
Lighting approach…
My gaffer, Martin Taylor, introduced me to a few new lights. For example, the Astera Titans, which I feel completely in love with. But we ended up using mainly tungsten lights like Octodomes and Rifa lights. I really like natural light, so that's what we tried to recreate most of the time. Usually as soft as possible with extra diffusion close to the actors. Although the Sony Venice has two ASA settings, we ended up pretty much only using the 2500 asa setting. It gave me a good stop and flexibility on terms of relying on natural daylight for some interior scenes, even though we were shooting in November, December, and January with very little daylight.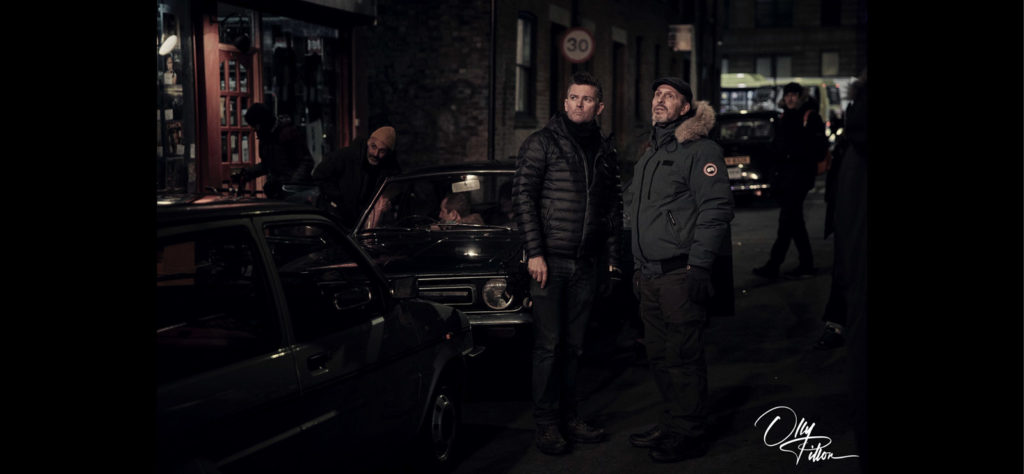 DI, workflow, and the final grade…
We did the grade with Jodie Davidson at Technicolor. Grading during the pandemic was a new experience. Our first grading session was a remote session. I was at home with an iPad, and Jodie was in Soho. Having never worked together before, or even met in person, we were to grade five episodes over eight weeks. However, I had a very good set of stills that our brilliant DIT Olly Pillon has made for me by the end of each shooting day and looking at them occasionally during the grade reminded about what we had tried to achieve on the day.
Ever since Peter Hoar and I talked to Jodie for the first time, from a recce bus in Manchester, we knew she was the right person for the job. She had absolutely the right approach to the story. She is a brilliant collaborator and very visual. Within the first grading session she had gained my complete trust. When lockdown eased and I was able to go to Soho and sit by a proper monitor, seeing the image for the first time in HDR, I was blown away. It looked like I had imagined – but better. All thanks to Jodie, who with a brilliant eye for detail, colour, and contrast.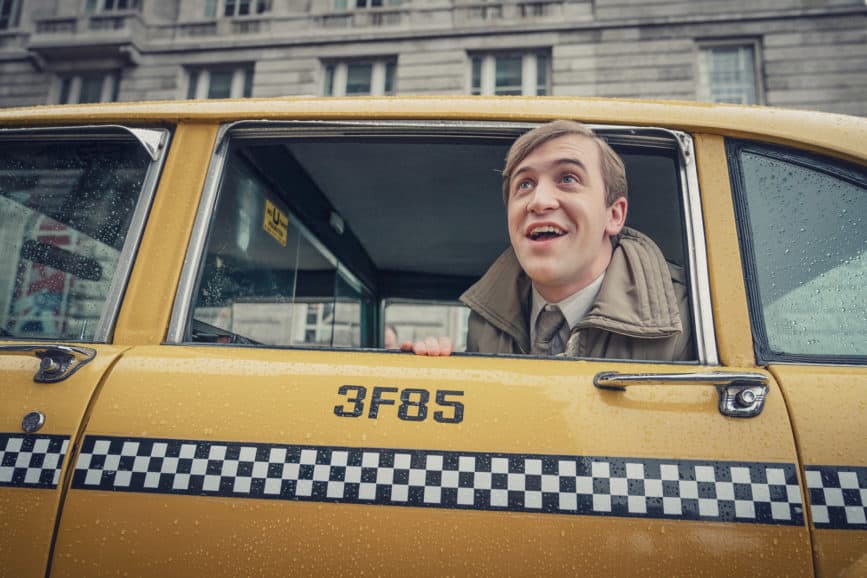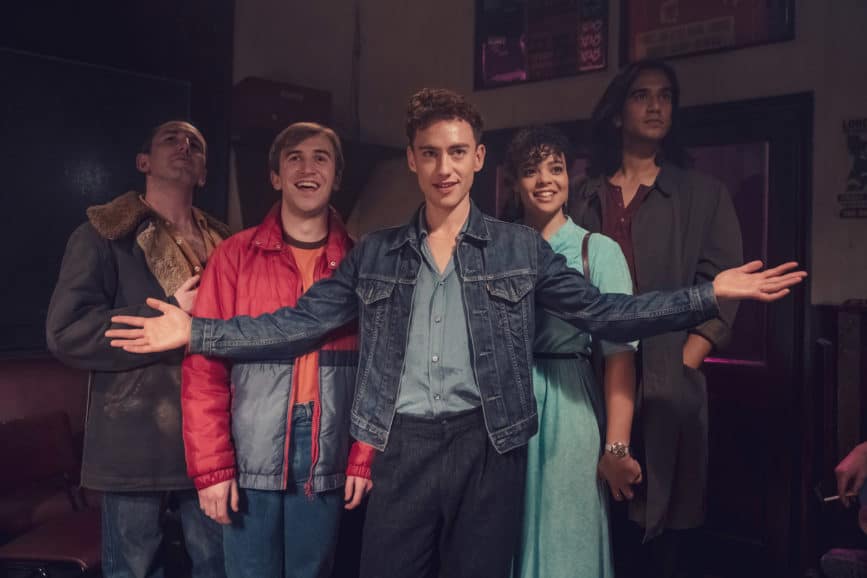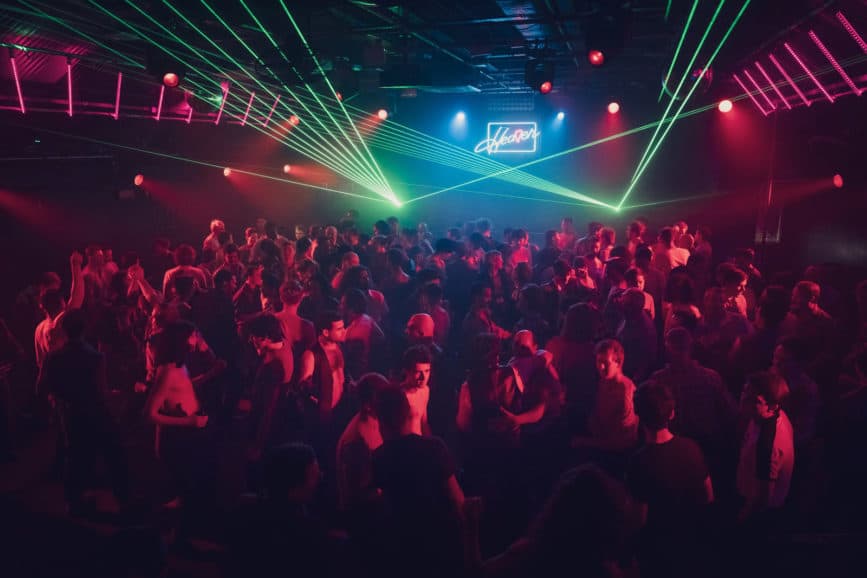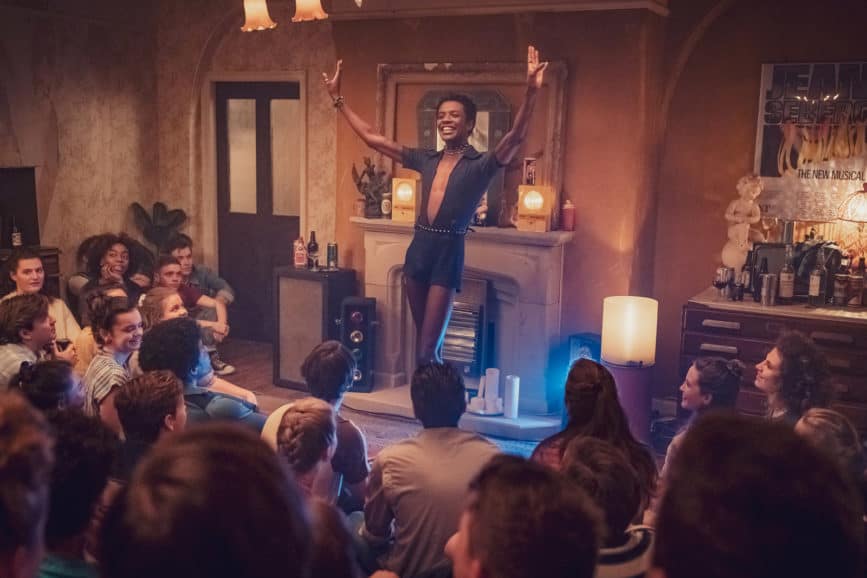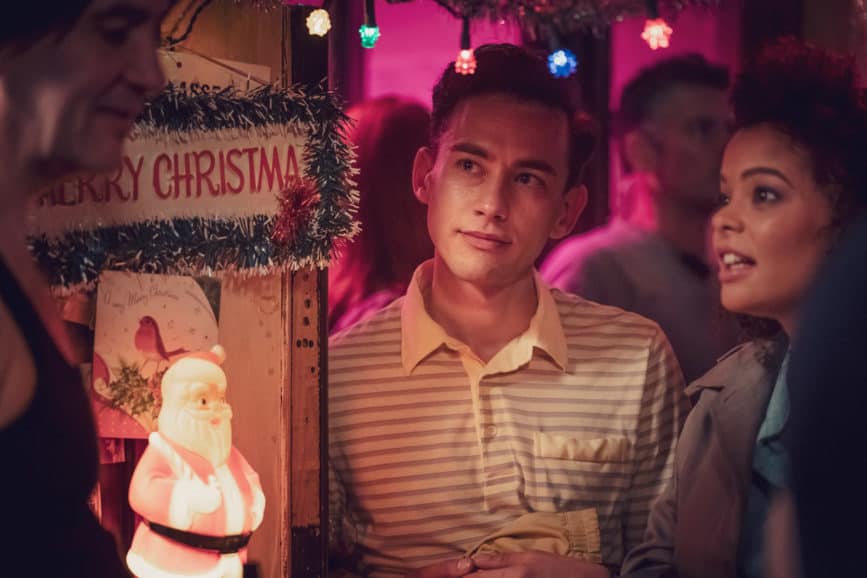 Overcoming obstacles…
As is common, the schedule was the biggest challenge. Not only did we have more locations and sets than most shoots of this length, but we also had to factor the daylight in for our exterior and interior day scenes. And that is really tricky in the winter months. We also had to shoot a scene set at summer in Primrose Hill. We shot it on a very dull and wet day in December and created sunlight with a large amount of Dino lights from a crane. With a little help in the grade, I think the scene ended up with nice special summer look.
Production highlight…
I can honestly say that I the proudest moment was when I watched the rough cut of the series with my wife, before the grade. She laughed and cried more than I can ever remember her doing for any film or TV series we have ever watched together.
Lessons learnt…
It was probably one of the happiest shoots I have ever been on. To me a good atmosphere on set is really important. You spend so many hours together so you might as well have a good time. The cast were such great fun, and the entire crew were so supportive of one other and lifted the task together of telling an incredibly important story, and that will stay with me.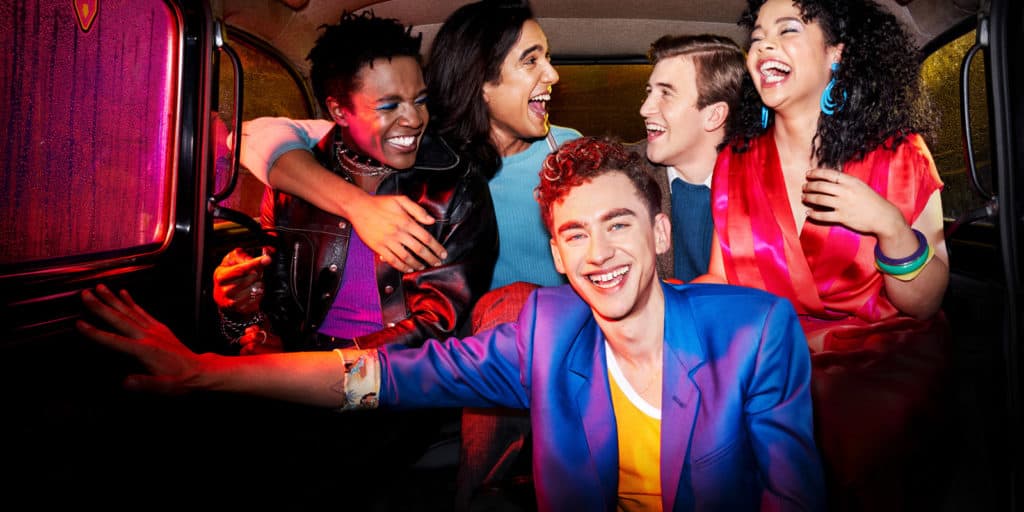 David Katznelson is represented by Casarotto Ramsay
It's A Sin starts Friday 22nd Jan, 9pm on Channel 4. All episodes will be available on All4 after the first episode has broadcast.