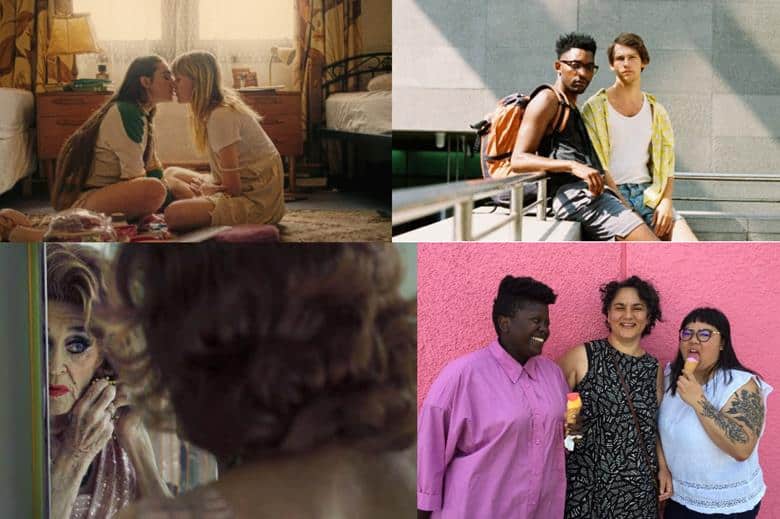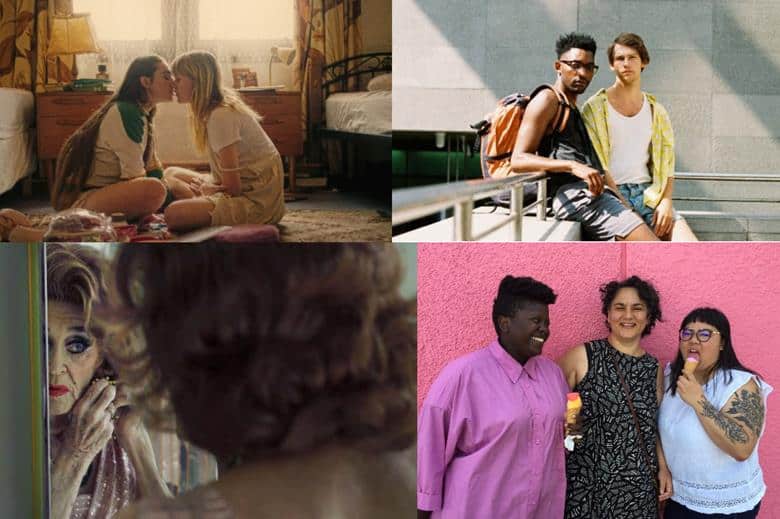 The 35th edition of BFI Flare: London LGBTIQ+ Film Festival (17-28 March) unveiled its full programme with a launch event on BFI Flare Facebook and BFI YouTube. One of the world's most significant and long-standing queer film events, this year's BFI Flare will deliver virtual festival premieres of the best new LGBTIQ+ cinema from around the world via BFI Player to UK-wide audiences.
The most accessible version of the festival yet will include 26 features and 38 free shorts from 23 countries, with closed captioning (supported by Mishcon de Reya) and audio description on English-language films. Tickets go on sale via bfi.org.uk/flare on the 2nd of March.
As previously announced, BFI Flare will screen the International premiere of Jump, Darling. Phil Connell's directorial debut, a heartfelt family drama about a drag queen reconnecting with his aging grandmother, features a stunning performance from the late Hollywood legend Cloris Leachman in her final starring role.
Additional early announcements included two exciting world premieres from the UK: Peeter Rebane's lavishly told feature debut Firebird, a touching love story set at the height of the Cold War, where a troubled soldier (Tom Prior) forms a forbidden love triangle with a daring fighter pilot (Oleg Zagorodnii) and his female comrade (Diana Pozharskaya) amid the dangerous surroundings of a Soviet Air Force Base. Harri
Shanahan and Sian A. Williams' rousing feature documentary Rebel Dykes is a joyful and colourful history of post-punk dyke culture in the UK. Harnessing the anarchic energy and creativity of London in the early 1980s, Rebel Dykes mixes first person testimonies, animation and unseen archive to tell the stories of those artists, performers, musicians, sex workers and activists who lived it, and together, found their chosen family. Also from the UK is Marley Morrison's smart and funny debut feature Sweetheart.
One of the key themes emerging from this year's programme is strong representation of significant individuals and communities whose lives and work have had an impact on queer history and the ongoing fight for change and equality. This year's programme celebrates and elevates individuals whose lives and accomplishments are perhaps less well known but who deserve to be championed, such as Gloria Allen, Connie Norman and Billy Tipton. Activists and campaigners Dr. Frank Kameny and Barbara Gittings are also featured, as well as queer icons including ground breaking German Director Rainer Werner Fassbinder and Moomin's creator Tove Jansson.
Highlights that celebrate the legacy of these trailblazers include:
• A Los Angeles Act-Up organiser is remembered for her fierce resistance to both transphobia and the AIDS virus in Aids Diva: The Legend of Connie Norman (Dir. Dante Alencastre).
• Cured (Dirs. Patrick Sammon, Bennett Singer) – This astonishingly rich documentary explores the campaign by key U.S. activists to remove homosexuality from the American Psychiatric Association's definition of mental illness.
• Mama Gloria, Director Luchina Fisher's endearing documentary portrait shows how fighter, organiser and survivor Gloria Allen has become a local hero to younger Chicagoan trans women.
• The fascinating story of pioneering trans jazz musician Billy Tipton is brought thrillingly to life in No Ordinary Man (Dirs. Aisling Chin-Yee, Chase Joynt), a celebratory documentary portrait.
Michael Blyth, BFI Flare's senior programmer says: "From snappy shorts to sprawling features, BFI Flare is a true celebration of the best in contemporary queer cinema, here to showcase extraordinary filmmaking talent, and to entertain and inspire audiences. In amongst the many stories on offer, this year's programme shines an essential spotlight on a host of pioneering LGBTIQ+ icons that have come before, reminding us all that we must understand our past if we are to change our future."
Tricia Tuttle, BFI Festivals Director says: "Facing the first lockdown last Spring, and with days until launch, we moved BFI Flare online – one of the first Festivals around the world to do so. Now, a year on, we are launching our second digital edition and Flare's spirit of community, solidarity, defiance and celebration is more precious than ever, and we're excited to be able to share that with audiences everywhere in the UK."
Now in its seventh year, the BFI Flare x BAFTA Crew Mentoring programme in partnership with BFI NETWORK offers a group of emerging LGBTIQ+ filmmakers an opportunity to strengthen and develop their industry knowledge and professional connections, providing mentoring from a senior industry figure, alongside a bespoke programme of masterclasses and discussions, and access to BAFTA's year-round events programme.
Previous mentors for the programme have included Luca Guadagnino, Oliver Hermanus, Isaac Julien, Desiree Akhavan and Russell T Davies.
For professionals working in the film and screen industries, this year's BFI Flare Industry Programme moves online and will focus on delegate networking with dedicated events and a new industry networking platform supported by the High Commission of Canada in the U.K.
Once again, BFI Flare will be in partnership with the British Council for Five Films For Freedom, which makes five LGBTIQ+ themed short films available for the world to watch online for free for the duration of the festival. Available internationally via the British Council's YouTube channel, Five Films For Freedom has been running since 2015 and the programme has seen nearly 15 million people viewing the films in more than 200 countries and principalities, including many parts of the world where homosexuality is criminalised, and in some cases, punishable by the death penalty.
BFI Flare is divided into three thematic strands: Hearts, Bodies and Minds. The full programme, please click here.
HEARTS includes films about love, romance and friendship. Two young men fall for each other over the course of a single day in Boy Meets Boy, a disarmingly tender debut from director Daniel Sánchez López. Jonathan Wysocki's 90s-set teen dramedy Dramarama is a delightful throwback to those most awkward of years, while in Thomas Wilson-White's The Greenhouse, a woman discovers that traveling back in time may help her come to terms with her present. Cultures clash and family secrets are revealed when Shira brings home her new girlfriend in the delightful first feature Kiss Me Before it Blows Up, from director Shirel Peleg; and amidst the grief of losing her mother, sheltered teen Claudia discovers friendship and love for the first time in Katie Found's beautiful and sublime debut, My First Summer. Rurangi, the hit New Zealand episodic drama from Max Currie is a moving and entertaining account of a trans man's attempts to reconnect with his Māori roots and to rebuild the relationships he had left behind; BFI Flare favourite Eytan Fox returns with Sublet, an entertaining and heart-warming film about the encounter of a middle-aged gay man (The Normal Heart's John Benjamin Hickey) with a young, aspiring filmmaker (stunning newcomer Niv Nissim); and AJ discovers it's not so bad being on a family holiday when she meets flirtatious lifeguard Isla in Sweetheart, a smart and funny first feature from director Marley Morrison. Peeter Rebane's Firebird will also screen in the Hearts strand.
BODIES includes stories of sex, identity and transformation. A mesmerising portrait of a family grappling with teenage gender dysphoria, Alexa Bakony's Colors of Tobi is an uplifting documentary that exudes the defiant message that love is all you need; in Anna Kerrigan's gripping thriller Cowboys, a father (Steve Zahn) and son attempt to escape a mother who is unwilling to accept her child's gender dysphoria; while a nurse questions the intentions of his handsome new colleague in The Dose, a taut and chilling psychological thriller from Martín Kraut. Having screened to great success at last year's BFI London Film Festival, I Am Samuel, Pete Murimi's moving documentary portrait of a Kenyan gay couple facing danger and hardship, will be co-presented with the Human Rights Watch Film Festival. A young African-American man is forced to repeatedly endure the fatal day of his shooting in Ali LeRoi's riveting drama, The Obituary of Tunde Johnson; young trans activist and Brazilian YouTube star Thiessa Woinbackk leads a superb cast in Valentina, the impressive debut feature from Cássio Pereira dos Santos that sees a tough transgender teen demand her rights; and body positivity, race, activism and queerness harmonise with full fat ferocity in Shana Myara's documentary Well Rounded. Phil Connell's Jump, Darling and Aisling Chin-Yee and Chase Joynt's No Ordinary Man will also screen in the Bodies strand.
MINDS features reflections on art, politics and community. The life and loves of celebrated filmmaker Rainer Werner Fassbinder are laid bare in Oskar Roehler's Enfant Terrible, an engrossing, unconventional biopic starring Oliver Masucci (Look Who's Back). Recommended viewing, the Rainer Werner Fassbinder collection is available to subscribers on BFI Player featuring eight films including the recent inclusion of his final film Querelle. Based on a true story, Poppy Field, Eugen Jebeleanu's probing Bucharest-set drama, weighs up the professional demands on a closeted police officer when his work clashes with his personal life. When a cache of letters written by 1950s New York drag queens was discovered in 2014, filmmakers Michael Seligman and Jennifer Tiexiera tracked down the authors to hear their story in P.S Burn This Letter Please, while Tove is a lyrical and romantic biopic of beloved Moomins creator Tove Jansson, directed by Zaida Bergroth and featuring an incredible central performance by Alma Pöysti. Dante Alencastre's Aids Diva: The Legend of Connie Norman, Patrick Sammon and Bennett Singer's Cured, Luchina Fisher's Mama Gloria and Harri Shanahan and Sian A. Williams' Rebel Dykeswill also screen in the Minds strand.