Hope Springs 
Benoît Delhomme / The Theory of Everything
Hope Springs
Benoît Delhomme / The Theory of Everything
Physicist Stephen Hawking has had a colourful life, one of triumph over adversity, romance and at times, the deepest isolation. Since meeting his first wife Jane at Cambridge University, being diagnosed with Motor Neurone disease, becoming a father and explaining the general theory of relativity and quantum mechanics, he has remained positive, charismatic and never given up hope.
It is these strong emotions that cinematographer Benoît Delhomme has captured so poignantly in $15million production of The Theory Of Everything, starring Eddie Redmayne as Stephen Hawking and Felicity Jones as his wife Jane.
Delhomme is a widely-admired cinematographer, with more than 35 features to his credit, including Breaking And Entering (2006) for director Anthony Minghella, The Proposition (2005) and Lawless (2012) for John Hillcoat, plus A Most Wanted Man (2014), directed by Anton Corbijn. Here he tells British Cinematographer Magazine how he moved the character-driven film along with subtle effects of lighting and vivid colours, his collaboration with the digital dailies team from Mission Digital, and the way he used the sun as a metaphor for Hawking's best friend while shooting.
"My last three films were all shot digitally on ARRI's Alexa, so it was no surprise I used digital over film in the production for The Theory Of Everything," says Delhomme. "I felt more relaxed, and it gave me more time to work with director, James Marsh. From the beginning James and I made decisions together; and worked closely to ensure each scene was as emotional as possible."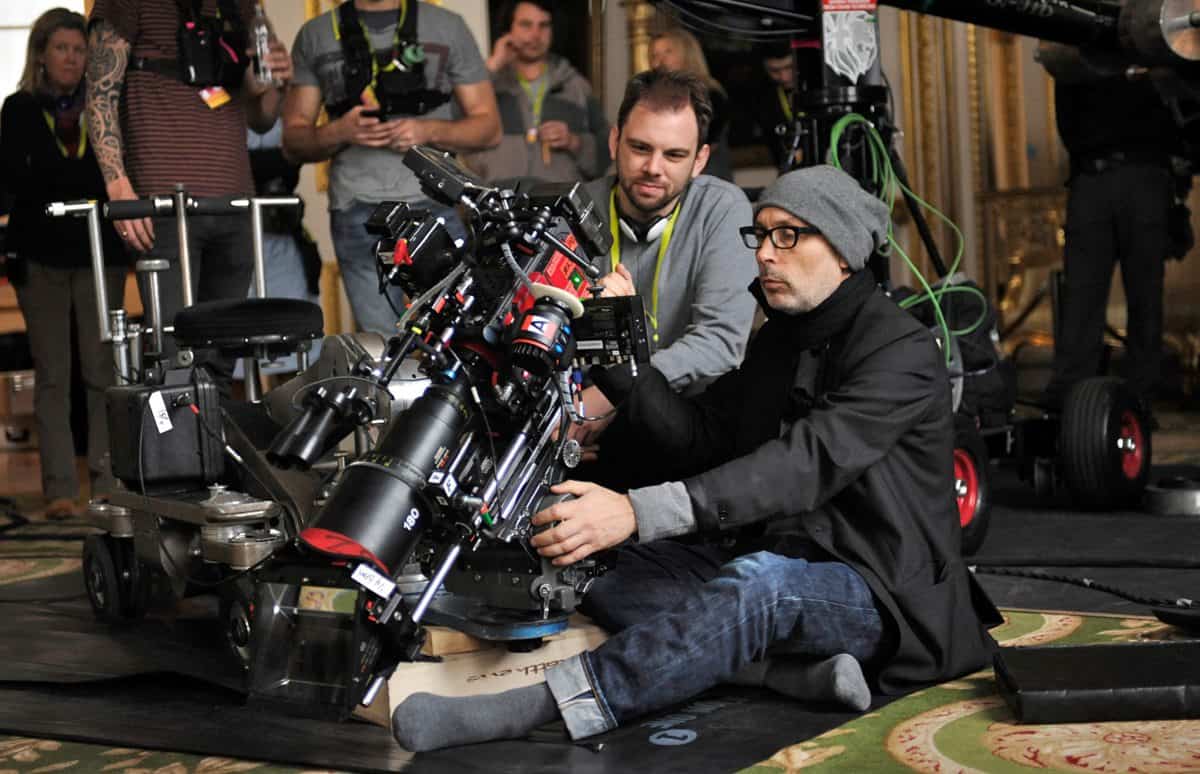 Delhomme says he was attracted to the production because of the extraordinary contradiction in Hawking's physical condition. "Stephen cannot move anymore or talk without a computer. But he is able to think about the speed of the light, and he is able to understand and visualise how the universe was created. We used visual metaphors throughout the film to explain his most important intuitions and theories rather than showing equations on a blackboard.
"This movie is about a cosmologist, so I wanted the light of the Universe to be a real character following Stephen's emotional journey. He is able to conceive how the Universe was created, so I thought the sun should be his best friend. Stephen is the sun of this film, he is a very charismatic man, and the rest of the characters are pulled towards him, like planets."
He adds, "Shooting The Theory Of Everything in a typical BBC-style could have resulted in a very subdued and grey, depressing film. This certainly works on Ken Loach's films because his themes and stories would lose their incredible authenticity without that specific look. I often wanted to use strong lights to contrast with the sadness of the scene. The day Stephen gets diagnosed, it should be raining. But the sun is shining that day and it gives a happy edge to it. There's an interesting conflict of emotions."
In the past, before working digitally with a DIT and digital dailies team like Mission Digital, Delhomme recalls spending a lot of time reassuring directors they needed to trust him that the final result will be exactly what they expected; that, for example, the light looked brighter on-set than how he was going to make it look on film. He explains why it is different now.
"As a DP the relationships on-set are changing; a colour technician and DIT team are just as important to me as a gaffer. In the past the lab was so disconnected from the shoot itself that it was really difficult to get dailies, which reflected what I had in mind when I was shooting. On-set DITs changed this process completely."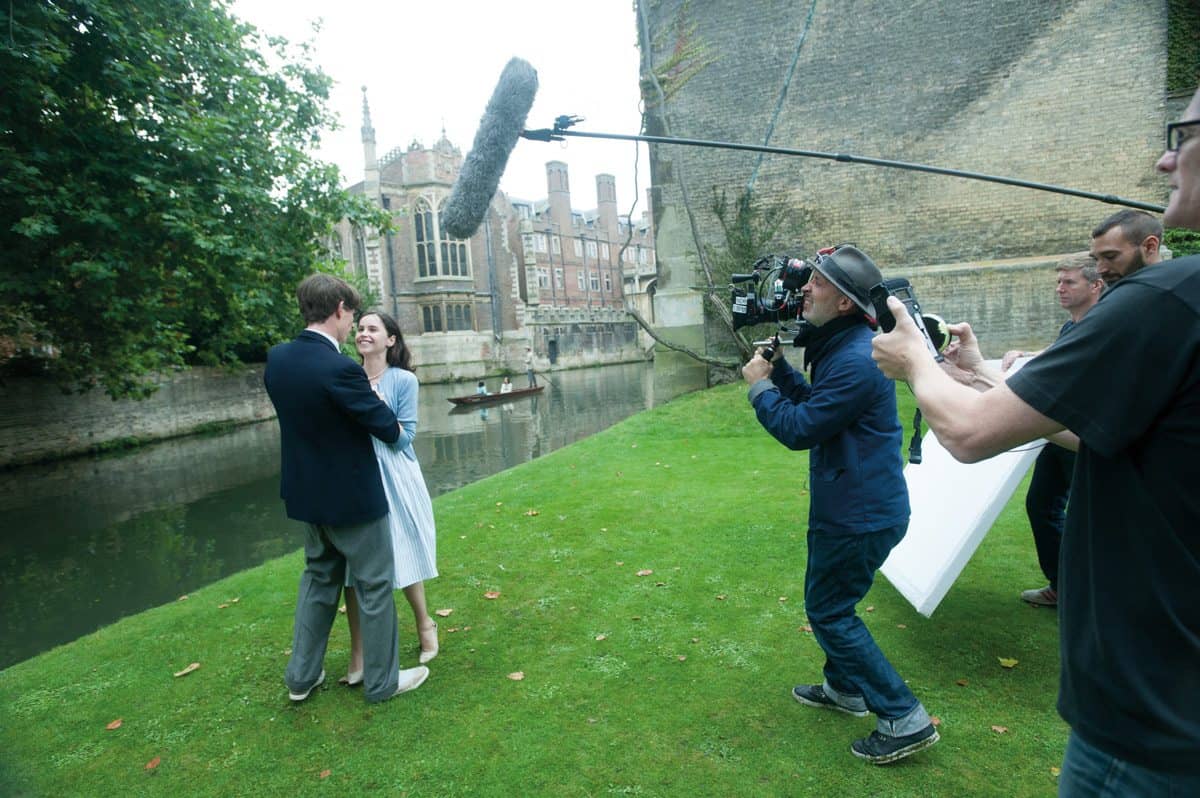 Delhomme shot the first part of The Theory Of Everything using spherical lenses, but switched to Anamorphics when Hawking is diagnosed with ALS disease to give a different perspective and optical quality. A range of Leica Summilux C and Hawk Anamorphic glass, plus the lighting package, was supplied by ARRIMedia. He explains: "We wanted to change the perception of space and give the audience a slight feeling of distortion. It was an idea I had early on and James jumped on it with me."
Speaking further about his lighting and colour-making decisions for the movie, Delhomme says, "During shooting I felt free to make the light stronger, the sun more powerful than it should be and the colours more saturated. I often flicked from strong monochromatic ambiances for symbolic reasons and meanings, like in a scene when Stephen watches television after being diagnosed. The sun shining through red curtains is 'bathing' the whole scene in a strange red glow, as if Stephen was trying to hide in a womb.
"Pre-grading and colouring on-set is super-important to me and working with Mission Digital's digital dailies colourist, Christopher Nunn, enabled me to weave vivid colours with a simplicity to capture the true emotion. I would spend several times a day with Chris to choose the right colours and make sure the shots were how I wanted them. He was very intuitive with colour matches. He had a good eye for colour – and a clever DIT will call you at the right moment to tell you the shots are ready. Building up rapport early-on helped. He was never surprised by my bold colour choices."
Knowing he had the look he wanted to achieve on-set enabled Delhomme to relax technically, freeing-up more time to be creative and work with the director. "It's a huge freedom to know you have got what you want. Nothing kills my energy more than viewing my own images with the wrong colour settings applied on them. So it is really important to have a guy like Chris on set. Working together to choose the right hues was a dream for me."
"I wanted to make the images look vivid and anti-depressing. I don't know about you, but colours are stronger in my memory that they are in reality and that's what I wanted to express."
- Benoît Delhomme
Delhomme wanted to work on getting a soft texture and flares in the film, instead of crisp and sharp images, to reflect the emotional context of memories within the story. Consequently, he played with the lighting to be in sync with Hawking's energy. "I did not want the film to have a monotonous grey look, like a film shot in Cambridge could become very easily. So why not create a Californian sun in English territory? I wanted to make the images look vivid and anti-depressing. I don't know about you, but colours are stronger in my memory that they are in reality and that's what I wanted to express.
"My job as a DP is to create the lighting and mood for the emotion. The way you frame a shot is part of the emotion. It is not just about how good the actor is, it's about the angles you use and the lens you choose. I have to be in the right place at the right time."
In the shot where Jane gives Hawking his wheelchair for the first time, Delhomme used afternoon light. "This was a crucial scene because Hawking knew that once he was going to get in that chair, he would never get out," he says. "The blocking of this scene took some time to work out - the way the chair is brought in, the time it takes for Stephen to get into the chair. I wanted to shoot this scene with extreme simplicity. I wanted to compensate the sadness with this warm afternoon sun."
Delhomme operated A-camera himself, with Mark Milsome on B-camera, and Dermot Hickey performing the 1st AC duties. Pat Sweeney was the gaffer and Jim Philpott the grip. 
Whilst Delhomme regards the production as very special, two poignant scenes stands out – the dinner with Jonathan Hellyar Jones, the choir director who became intimately involved with the Hawking family, and the farewell scene between Hawking and his wife Jane.
"The first is a normal kitchen scene, but because of the situation and the way Stephen struggles to talk, it is incredible," says Delhomme. "You learn so much about his courage and the way he expresses himself. Miracles occur in very small details. When Stephen says goodbye to Jane - and goodbye scenes are fairly normal in films – Stephen says it with his computer. His monitor light splits the space in two, putting Stephen on another planet. The way he moves and speaks is just so incredible."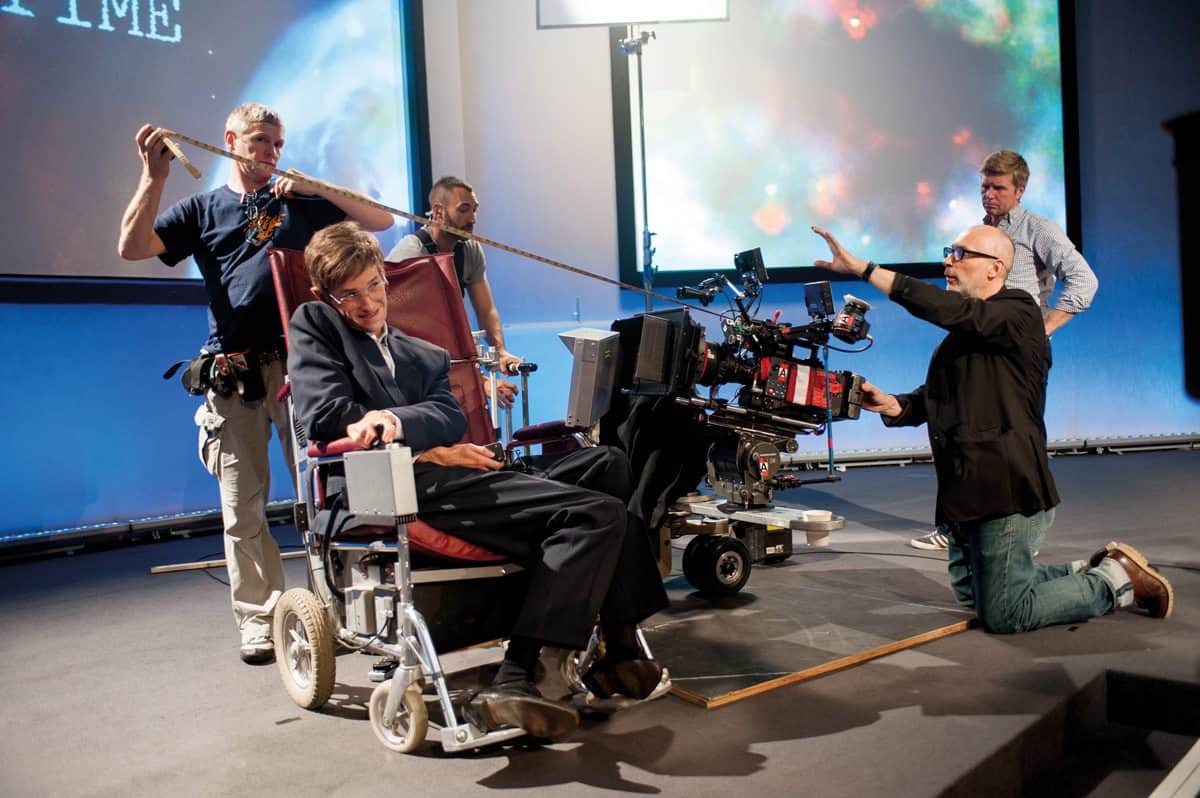 Speaking about his cinematographic reasoning behind the May Ball scene, when Hawking and Jane cement their relationship, Delhomme says, "When we watched the May Ball archives it was dark, you could not see people's faces really. Everyone was in total darkness. The producers wanted to highlight the powerful chemistry between Jane and Stephen.
"We had a big pressure and only two nights to shoot it. During the technical scout we arrived at night to this big space that was like a black hole. It could have been a very expensive project to light it conventionally, but I did not want to deploy huge lighting rigs or cherry pickers. I don't like fake moon lighting so instead I used a few miles of festoon lights, which allowed the actors and actresses to walk freely in that space and interact intimately."
To make The Theory Of Everything as emotional as possible, Delhomme says he worked very closely with the cast. "I do not like using long lenses because I prefer to be physically inside the scene with actors. That way, you can understand and foresee those precious improvised moments that talented actors can offer without even knowing it. I personally think that actors prefer to have the crew close to them and not hiding far away, spying on them with long lenses because they like to feel the crew. The crew is their first audience. Good actors use the direct feedback they get from the crew's emotional reaction after a take very well. It's an organic process and it is always a work-in-progress until the very last shot of the last shooting day.
"Stephen never lost hope he never got really depressed, so therefore I wanted to reflect his courage and energy by using light to depict hope instead of a depression. I never try to make things too perfect. I like to make films, like The Theory Of Everything, in a very instinctive way, capturing the frailness and the emotion."