Signs of the Times
Ben Davis BSC / Three Billboards Outside Ebbing, Missouri

Signs of the Times
Ben Davis BSC / Three Billboards Outside Ebbing, Missouri
By Trevor Hogg
Combining dark subject matter with a sense a humour is a trademark of filmmaker and playwright Martin McDonagh who, in his third cinematic effort, explores the societal impact of a grieving and combative mother seeking justice for her brutally murdered daughter in Three Billboards Outside Ebbing, Missouri.
The source of all of the commotion is Mildred Hayes portrayed by Frances McDormand; other cast members in the independent production distributed by Fox Searchlight Pictures includes Woody Harrelson, Sam Rockwell, Abbie Cornish, Lucas Hedges, John Hawkes, Peter Dinklage, and Caleb Landry Jones. After collaborating with McDonagh on Seven Psychopaths cinematographer Ben Davis BSC returns with a deep admiration for his friend and colleague.
"Working with Martin is a joy and his scripts are always brilliant," notes Ben Davis. "What happens, particularly on the independent films during the preproduction period, is the DP will be asked to come and sit down to let the financiers know what your goal is and what you're trying to do. I remember saying to them, 'The thing about Martin is I can't pick a particular film.' I try to explain to them that with Martin's scripts it is difficult to do that because his work is of its own. It doesn't particularly fit into genre or style."
Points of reference for Three Billboards Outside Ebbing, Missouri were Don't Look Now, Paris, Texas and Americana. The biggest influence on the visual look was the principal setting of Sylva, North Carolina which took over a year to find as Martin McDonagh wanted everything to fit geographically, from the house that Mildred lives in overlooking the town, to the placement of the police station. "What was extraordinary about it was that all of our places were in the one town or within a stone's throw. It never really happens. The town was very much in his head and Sylva was exactly what he was looking for."
Principal photography took place from May and June of 2016. "I came straight from another film so we did about five weeks of prep and a seven-week shoot," notes Davis.
"Martin draws storyboards for the entire movie for what you could understand of them! They were there like stick drawings. Some of them I would look at and go, 'What's that supposed to be? Is that a rabbit?' 'It's a deer.' 'Oh, right.' Martin and I talked through every scene. Even though we may not refer to the storyboards on the day, they were pretty much what we shot for the entire film."
There was room to improvise when shooting scenes. "It was organic in that way although we weren't bashing the script around. We used a traditional style. We go in, block the scene, Martin had a good idea of how he wanted to shoot it, and we would end up doing that. It was well-planned. The whole film was in Martin's head before we began the process."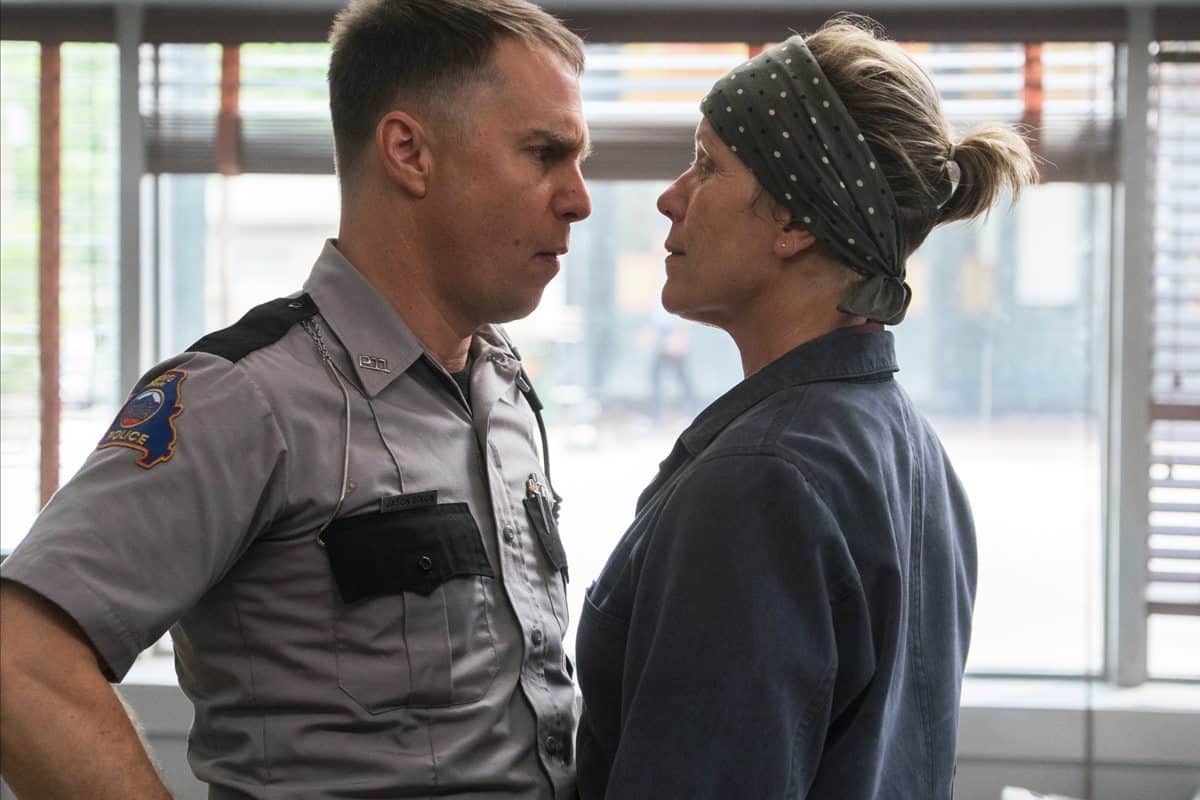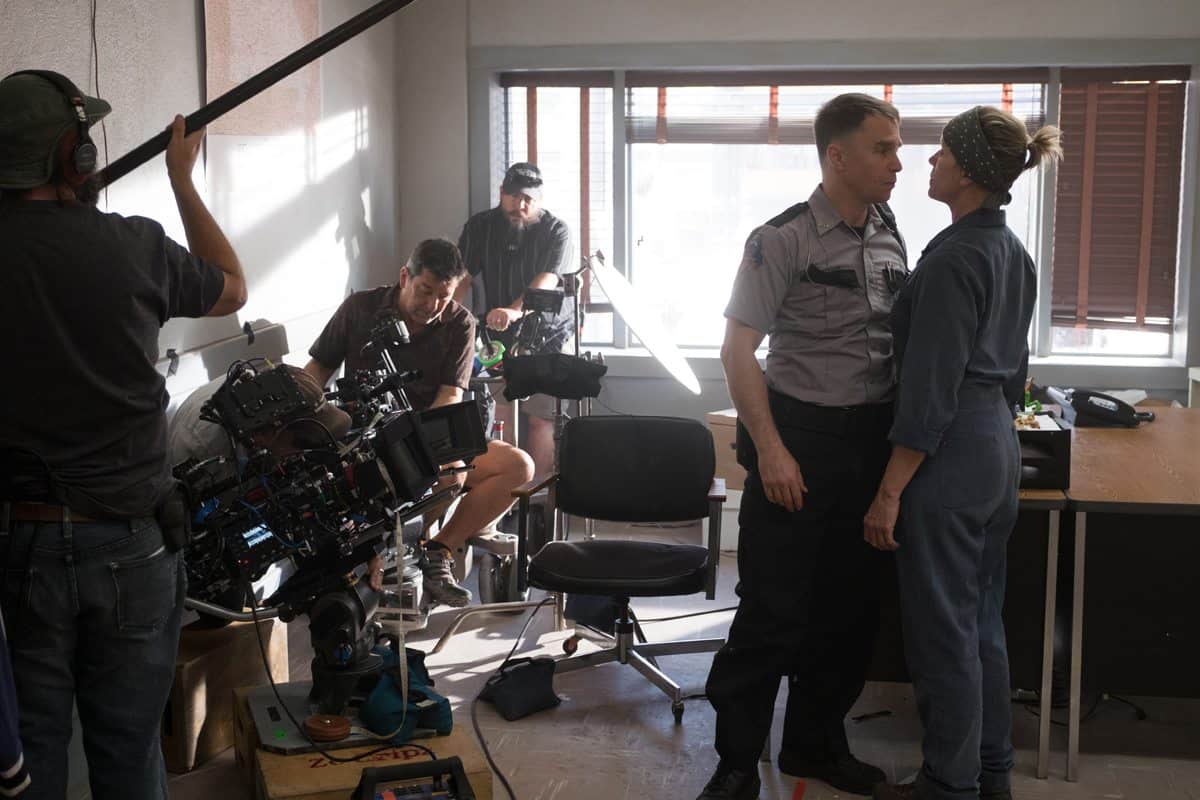 "I had a lot of the same crew from Seven Psychopaths," states Davis. "My AC was William Coe who I adore and is great, Stephen Campanelli was the operator and Ross Dunkerley was the gaffer." Panavision supplied two ALEXA XT cameras along with E and C series anamorphic lenses which have imperfections that help to break down the digital image. One truck of lights was utilized that consisted of a lot of LEDs, 4x4 Cine panels to create moonlight, and a single generator. "What you learn as you go on as a DP is to use fewer lights and to put them in the right place."
"We never did a huge amount of takes," states Davis who shot the crime comedy drama in the 2.35:1 aspect ratio. "The coverage was what was necessary. For me, the cinematography was purely about delivering the script. When the words are so good there's a temptation to shoot your actors in the close-ups. We made sure not to do that."
The use of handheld camerawork is limited. "You could have gone down that approach with it but Martin is more classical than that and he wanted it to be a piece of cinema and his base point is 1970s filmmaking. He wants that type of approach than a more contemporary handheld approach."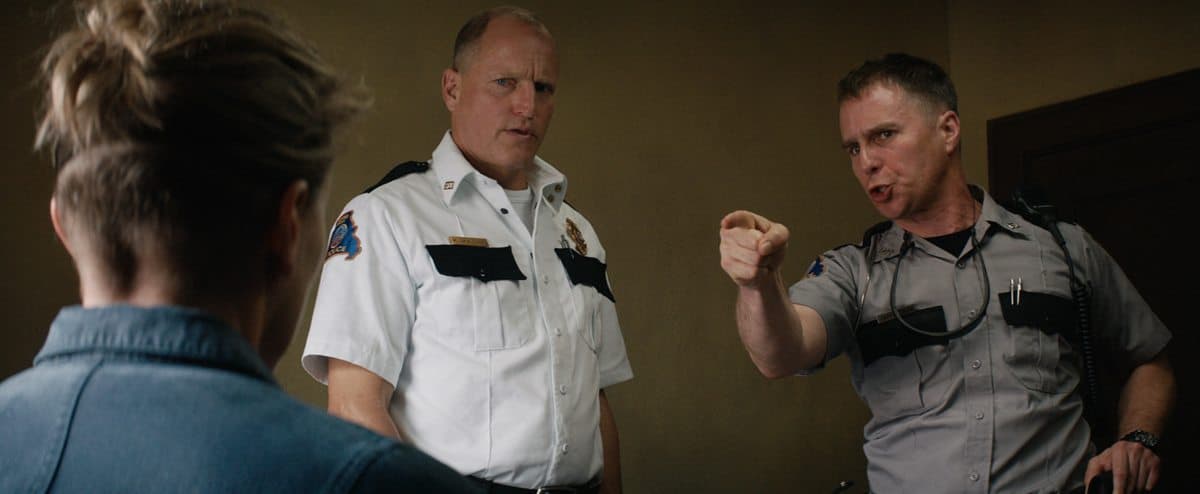 An exception to the handheld rule was a single two-minute shot where Officer Jason Dixon (Sam Rockwell) crosses the street, heads up a flight of stairs, throws adman Red (Caleb Landry Jones) out a window, and walks back to the police station. "We didn't have a budget for visual effects but had a great stunt coordinator named Doug Coleman," explains Davis. "Sam goes to the door and smashes the glass with his truncheon. As he is going up the stairs a flatbed truck pulls up outside the building with boxes and mattresses. Sam goes up to the first floor and hits Caleb in the face with a gun. Caleb has a blood thing in his mouth and as he goes down Sam smashes the window. While Sam is smashing the window, Caleb crawls out of the frame and the stunt double goes in. Sam then bends down and throws the stunt double out of the window who rolls off of the roof into the truck which drives away with him in it. While that's happening, Caleb is going down the stairs, having makeup applied to him and lays on the road. Sam continues on, hits the secretary, goes down to the road, picks Caleb up, hits him again, and then walks into the police station. We got it on take three."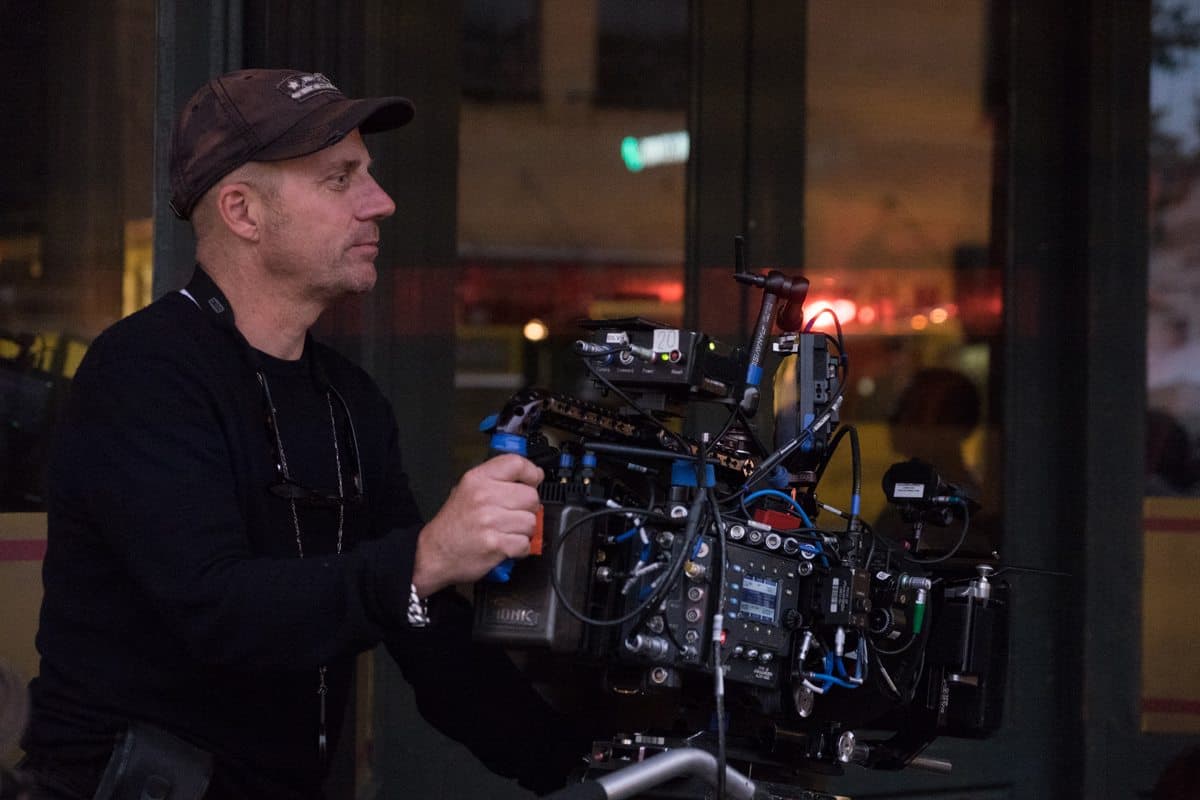 "The thing about location shooting for me is it's all about planning. If you plan it well it will go well. In terms of lighting it's about being in the right place at the right time."
- Ben Davis BSC
"Frances drives the film," observes Davis. "They always say in cinema that your lead character has to change in some way but Frances doesn't. She's picked a route that she's going down and stays with it. Whereas Sam's character is the one who changes. In cinema we tend to have structures where there is a clearly defined good and bad guy. But in Martin's films he presents characters and says, 'People aren't like that. There is good and bad in people. Things are cut and dry like that. This is the way life is. People are complex. They change and the way you perceive them changes.' Although Martin's words are complex and poetic, the characters he delivers are real."
The presentation of the three billboards was not treated lightly. "Oddly enough, there was a lot of discussion about what size and colour they were going to be; it went on for weeks. In the end Martin wanted them to be red with black writing which I didn't expect. But when we put them against this lush green landscape they looked fantastic. I thought, 'He's bang on.' We went down, taped them out and put pieces of wood where they were all going to be."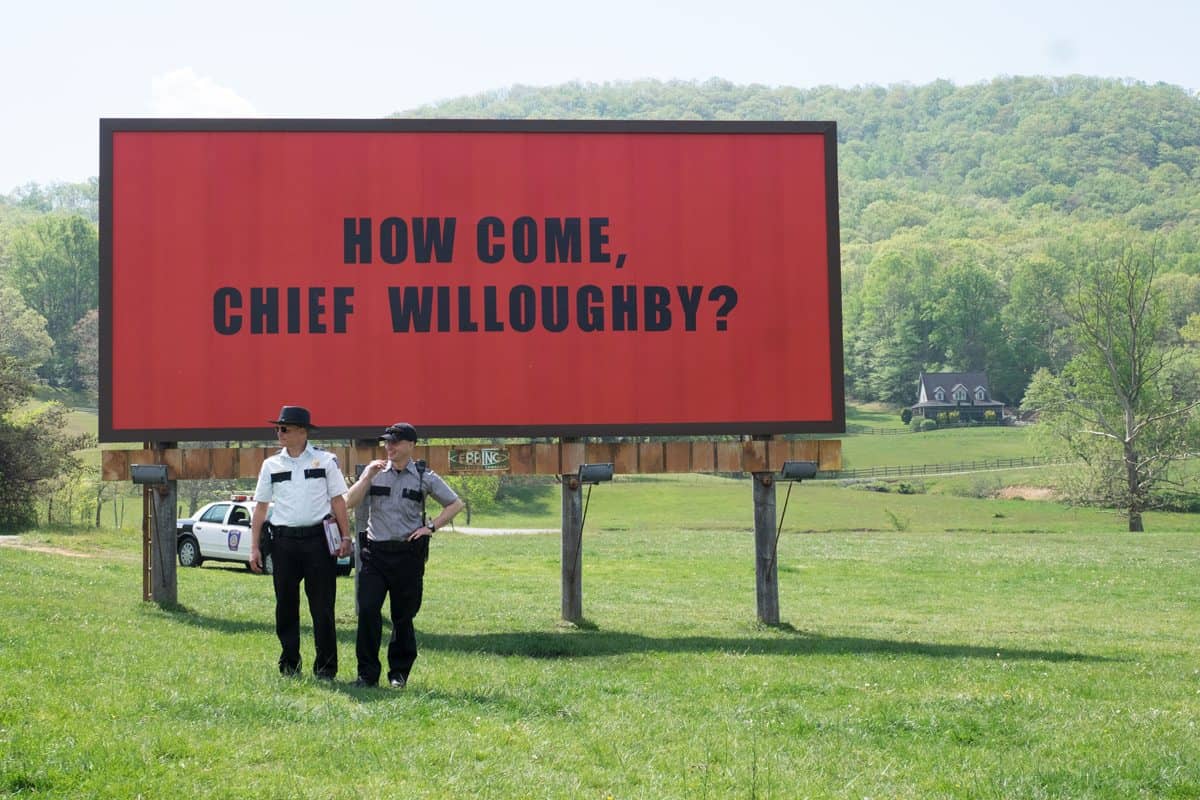 "The complexities of independent filmmaking are about time, whereas on the larger films it's about how do you make this great," observes Davis. "The thing about location shooting for me is it's all about planning. If you plan it well, it will go well. In terms of lighting it's about being in the right place at the right time. What I would do in prep, I'd spend my time at the locations as much as I can. I'll sit there and say, 'This is the best time of day to shoot this scene.' We had a great first assistant director named Peter Kohn and we would work out when to do certain scenes and what they should be. There were certain scenes that I wanted to do at dusk and they were slightly tricky with Martin. A particular one was a key emotional scene with Frances. I worked a plan with Peter to leave room in the schedule so if needed we could go back and shoot it on another day. We got it within the 40 minutes because Frances was brilliant straightaway. But it was good that we could give Martin reassurance that if this doesn't work out we'll have another go. We'll come up with another idea."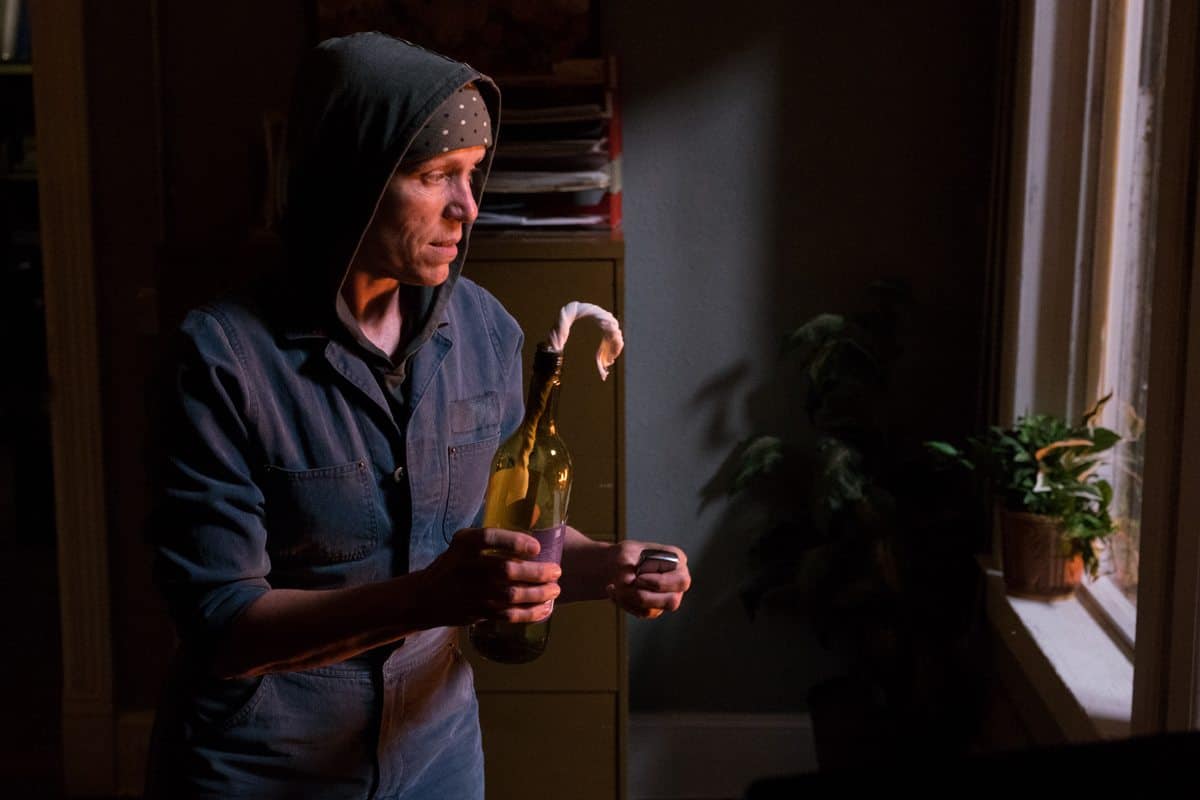 A particular location suited a character nicely. "I liked Dixon's house which is a rundown old house above Sylva but had a beautiful charm about it," notes Davis. "It seemed to fit him perfectly." Scene transitions were kept in mind. "Martin and I talked through what was going to be the last shot of one scene and the first shot of another. I didn't want to do any complex transitions but we were aware of what the cuts were going to be. We didn't want any contrived devices that made you aware of the cinematography because Three Billboards isn't that sort of film. Adam Glasman at Goldcrest in the UK served as the colourist. "The DI was straight. We shot with a basic film emulation LUT. I stuck with that. I don't necessarily light digital the same way because I don't think that you do. In terms of workflow if I want things darker I'll expose them darker and if I want things warmer I'll light them warmer or expose them warmer rather than go into a complex colour timing CDLs onset. I haven't got time to be colour timing things onset."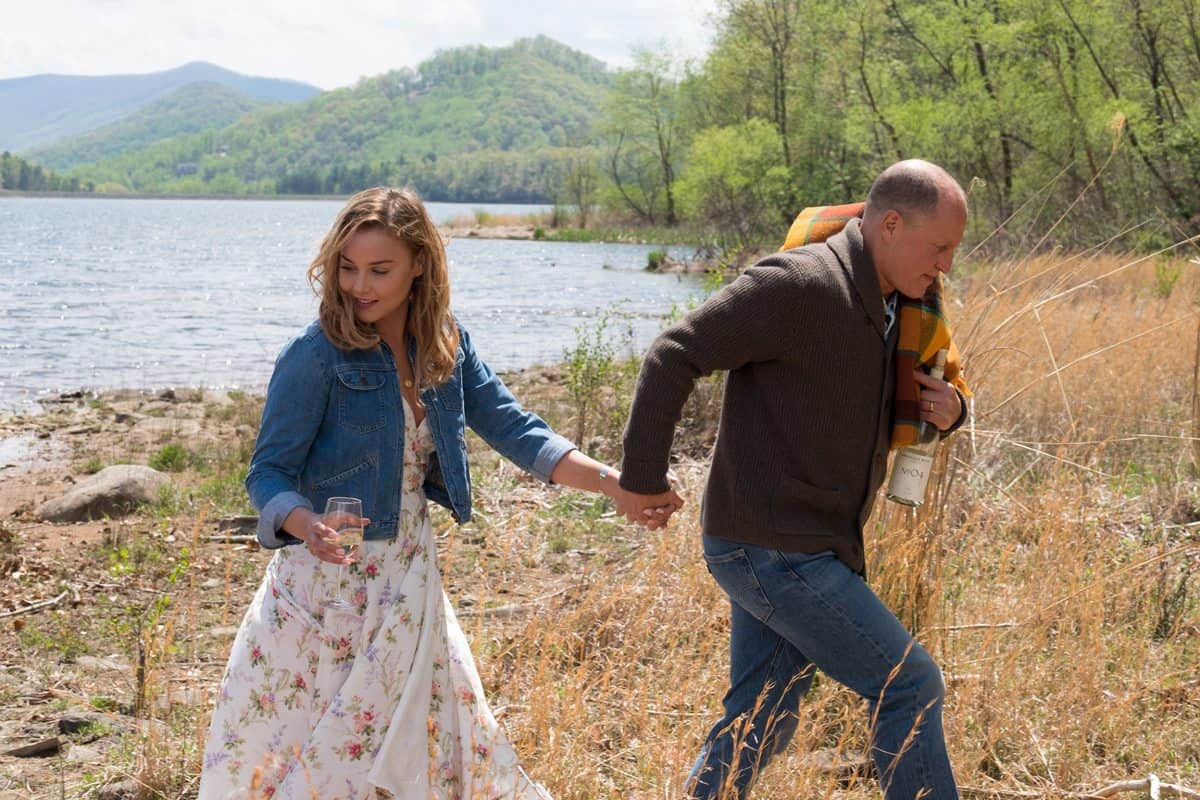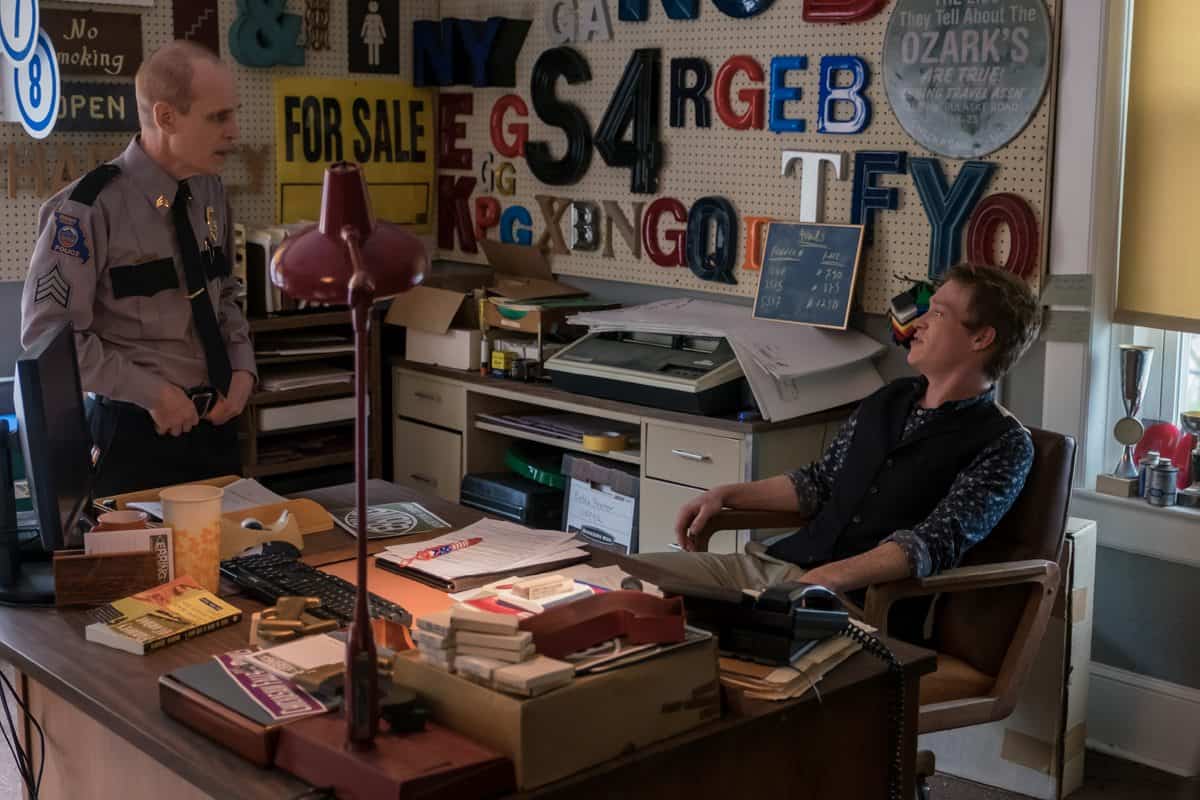 "My favourite scene in the film is when Frances comes home from a club at night and the local priest is around visiting her," reveals Davis. "It was such fun to shoot. Frances and the dialogue were so brilliant."
It was great collaborating with Frances McDormand, Woody Harrelson and Sam Rockwell. "They all share the film equally and are a joy to work with. The thing about doing a film with Martin is after reading the script page you'd go, 'I can't wait to do this.' You also knew on top of that you had Sam, Frances and Woody performing these lines. It was a pleasure to look through the eyepiece. It doesn't get better than that. The anticipation each day was a wonderful thing."
Three Billboards Outside Ebbing, Missouri won the People's Choice Award at 2017 Toronto International Film Festival. "I like the fact that the audience voted for it; that's a great thing because that's who you make the film for."
Currently, the native of London is shooting the live-action version of Dumbo with Tim Burton. "Each film has a different personality. That's why I do a range of work. I don't have a specific style that I use. Every film has its own merit and should be approached in a different way."