Gun and run
Barry Ackroyd BSC / Jason Bourne
Gun and run
Barry Ackroyd BSC / Jason Bourne
Jason Bourne  is the fifth film in the successful Bourne spy thriller series, and the sequel to The Bourne Ultimatum  (2007) and The Bourne Legacy  (2012).
The title of the film was officially revealed to the world on February 7th, 2016, during Super Bowl 50, although the exact plot has been kept a closely guarded secret. What is known is that the story starts several years after Bourne's disappearance in The Bourne Ultimatum, as he unexpectedly resurfaces in a post-Snowden world facing unprecedented danger and instability. At the same time, a new programme has been created to hunt down Bourne whilst he is trying to find answers to his past and his family.
Starring Matt Damon in the lead, alongside Julia Stiles, Alicia Vikander, Vincent Cassel and Tommy Lee Jones, the $120million Universal Pictures production is directed by Paul Greengrass, co-written by Greengrass and Christopher Rouse,
with Damon and Greengrass amongst the producers. It is the director's third outing on the Bourne franchise, having previously directed The Bourne Supremacy (2004) and The Bourne Ultimatum. Jason Bourne also marks the fourth collaboration between the director and cinematographer Barry Ackroyd BSC, renowned for the freedom of his framing style, the pair having collaborated on United 93 (2006), Green Zone (2010) and Captain Phillips (2013).
Ackroyd spent a year working on the production, beginning prep in May 2015 and starting principal photography in September following extensive scouting. Filming took place at multiple locations including Tenerife, which doubled for scenes set in Greece, the Aria resort and casino in Las Vegas, Constitution Gardens in Washington DC, in London at Paddington and Woolwich train stations, the Kreuzberg area of Berlin, as well as Rome and Iceland. Most interiors were shot on stages at Warner Bros. Studios Leavesden. After various pick-ups were completed, production on the movie wrapped towards the end of April 2016, following which the cinematographer immersed himself in the final DI grade.
Ron Prince caught up with Ackroyd as he was preparing to head off on his next assignment in the US with Kathryn Bigelow.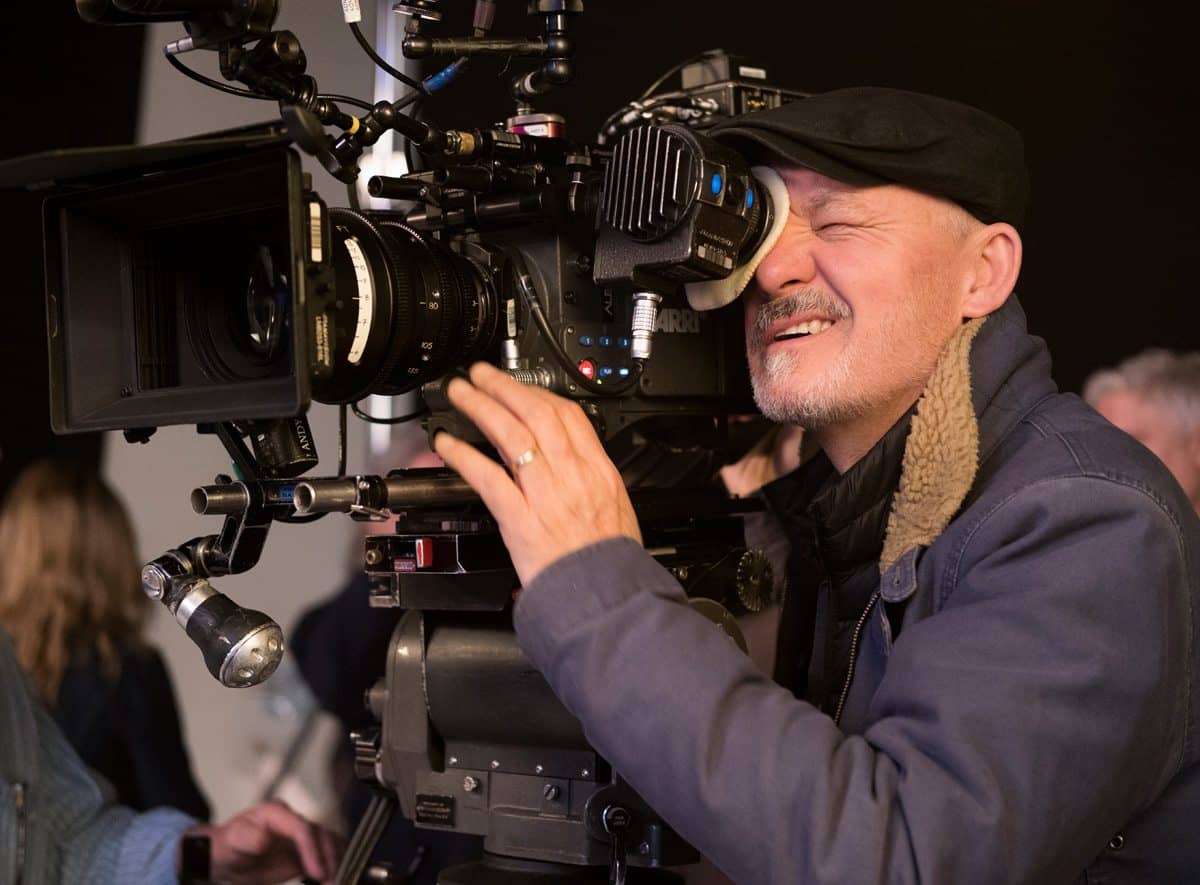 What were your first thoughts on reading the script of Jason Bourne?
BA: It's a film where Bourne rediscovers his roots, so it's a new chapter in the story rather than being a reboot. I thought that it was an intelligent film aimed at an intelligent audience, made by intelligent people – by whom I mean Matt and Paul – and that's a big part of its appeal. I also reflected on how Paul's Bourne movies are the essence of the Bourne brand. It was an automatic "yes" from me when Paul asked if I was interested in shooting the next movie in the franchise.
What were your initial discussions with Paul about shooting the movie?
BA: I believe Paul and I share a filmmaking vocabulary, built on working together on other movies over many years. We both have an observational style of filmmaking, and he likes the particular way I achieve this for him. It's a style that exists in all my films, so it was the obvious salutation to suit this film.
I wrote a briefing document for the studio – that was also later given to the camera crew – to outline our cinematographic style. I described documentaries from the 1960s made by revolutionary directors – including D.A. Pennebaker, Richard Leacock and Robert Drew – who changed the way we could look at the world. I wrote about how the camera should be loose and free, and used Leacock's famous quote where he says, "Just shoot and shoot and shoot. Screw the tripod."
Our plan was simple: to shoot what was there in front of us, from multiple camera positions and with a freedom of movement, until we captured the essence of the story. To me all of this seems absolutely natural and completely obvious, even if it's slightly haphazard. This inquisitive and observational style in fact came from Canada and the US, yet strangely the studios don't realise it. But for me it's now a British style. I hope they think that it's revolutionary, perhaps because they don't connect documentary and features in the same way that we do. Ultimately, it gives this type of action thriller an edge, and contributes to a seat-of-the-pants experience.
What creative references did you investigate?
BA: Along with the documentaries, we obviously watched The Bourne Supremacy and The Bourne Ultimatum, as well as some great films of the 1970s, such as The French Connection (1971, dir. William Friedkin, DP Owen Roizman ASC), The Parallax View (1976, dir. Alan J Pakula, DP Gordon Willis ASC) and All The President's Men (1976, dir. Alan J Pakula, DP Gordon Willis ASC). These were the filmmakers and cinematographers who were first influenced by the same documentaries, and although the styles are different, the drama really does impact on you. They were unafraid to have multiple perspectives on a scene and to interweave action and story to create a truth.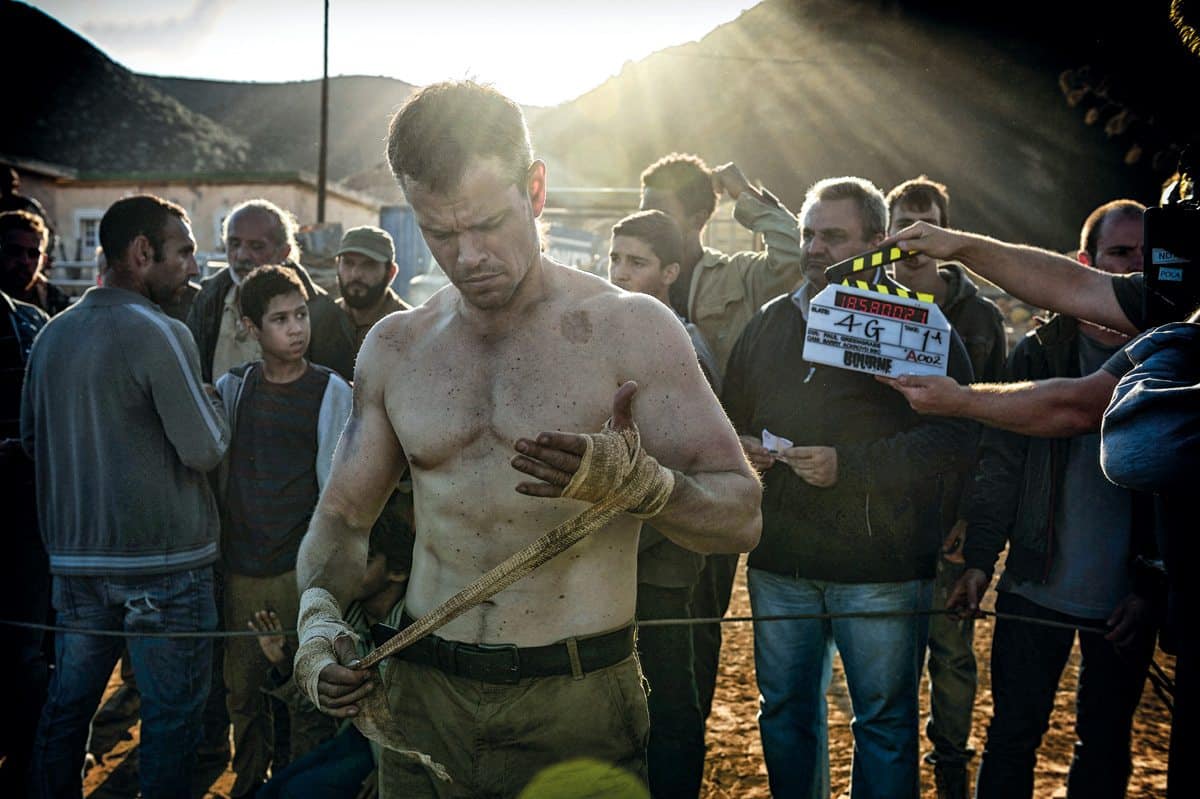 So how did you go about creating the freeform, multi-perspective documentary style for Jason Bourne?
BA: It's all about being simple, conscious, skilled and well-prepared. We decided to have three or sometimes four cameras on each scene, shooting from different perspectives, with individual but complementary framing. The plan was to shoot long takes, to make it feel real and believable – as though you are there too. It feels like a gun-and-run style, although we were actually hugely prepared for it. I think actors like this way of capturing the action from multiple simultaneous perspectives, and it ensures that nothing is missed, it's always on-camera.
Who were the camera crew that supported your modus operandus?
BA: I picked camera operators who have the same sensibility as me, and who also have the flexibility to change their approach during production. They were all great: Ollie Driscoll, with whom I have worked for decades; Josh Medak who worked with me on The Big Short; and Chris McGuire, who shot the renowned seven-minute Steadicam one-shot in HBO's True Detective. With me included, we had four operators, but there was no traditional demarcation of A, B, C or D-camera roles. Rather, we looked at each scene and discussed which angles and perspectives suited each operator, and then swapped between the different camera and lens combinations. For any one scene we might have had a trio of 35mm cameras – one with a long zoom on a monopod, one with a Steadicam, and one handheld with a short zoom – plus a 16mm camera. We each have slight variations in how we frame, and it was a combination of eyes – mine, Chris, Josh or Ollie's – that interpreted what Paul wanted.
How did you decide on shooting film versus digital?
BA: We shoot on film because that's what we do. Film is always the first choice. Along with having the finest image quality, and properties such as beautiful motion blur, film is also UHD by default, giving it a futureproof element. The principle format of Jason Bourne is 35mm, with some super 16mm used for the more observational-style camera. We decided to use digital because the second unit had complicated stunts to shoot at night, with car crashes and multiple cameras, and they needed to know that they were getting the shots there and then. Because of this we, on main unit, decided to make these sequences flow together using the Alexa digital format. It also helped shooting digital when some of the locations, such as inside the casino, just couldn't be altered. I'd say the ratio of the movie is about 60% film and 40% digital, and everything we shot digitally ultimately had to fit with the filmic look we had already established.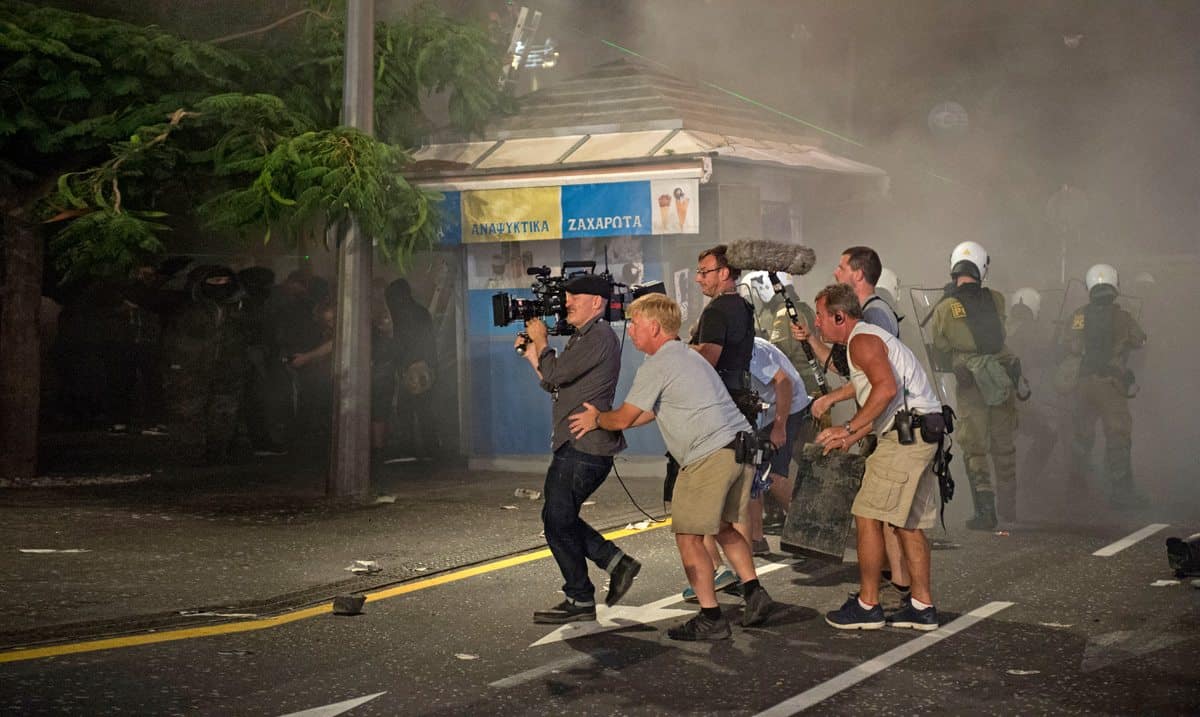 "We decided to have three or four cameras on each scene, shooting from different perspectives, with individual but complementary framing. The plan was to shoot long takes, to make it feel real and believable – as though you are there too."
- Barry Ackroyd BSC
Which cameras and lenses did you select?
BA: We used Aaton Penelope 35mm and Aaton XTR 16mm film cameras, plus ARRI Alexa XTs shooting ARRIRAW. These were variously fitted with my regular, preferred selection of strong telephoto zooms and wide-angle lenses. The 35mm zooms included: Fujinon 19-90mm (T2.9), Angenieux 24-290mm (T2.8), Angenieux 15-40mm (T2.6), TLS 80-200mm (T2.8) and Panavision Primo (3-1) 135-420mm (T2.8). We also had a dozen Ultra Primes ranging from 20mm to 180mm, plus several Super Speeds (T1.3) from 18mm to 85mm. The 16mm zooms we used were Canon 8-64mm (T2.4) and 11-165mm (T2.5). Panavision supplied and shipped the camera and lens packages for us.
Which film stocks did you select and why?
BA: For the 35mm I went with Kodak 5219 (500T) and Kodak 5207 (250D). The 16mm stocks were Kodak 7219 (500T) and Kodak 7207 (250D). I used the Tungsten stocks for night and interior scenes, and the 250 ASA daylight for exterior shots. These are stocks I've used on many films. They are familiar and give a level of grain and texture that let you know that this was shot on celluloid. We processed everything through iDailies in London, and we reviewed dailies via Pix, or on a pre-loaded iPad whenever the WiFi connection was not fast enough.
Tell us about your lighting strategy?
BA: I have to applaud Harry Wiggins, my chief lighting gaffer, and Jay Kemp, my US gaffer, and their great teams of electricians, for understanding the broad brushstrokes of what I wanted. Both Harry and Jay would accurately pre-light up-and-coming scenes to my precise instructions, and then be ready to help me finesse the lighting on the day of the shoot. We never tried to impose a look, rather it was more about creating an atmosphere and letting the drama come from the reality of the performances.
Jason Bourne is a very colourful yet dark film. I accentuated the blue militaristic light of the CIA hub by building-in blue fluorescent fittings, and embraced the yellow of the sodium street lighting in the Greece scenes using LRX Scorpions with Lee Filters' 013 Straw Tint.
We used ARRI M-series lights with LRX Singles to punch daylight into the Aldermaston interiors, and when the action went down into storm drains we deployed ARRI S60C Skypanels with a strongly saturated colour to create an ambient, below-the-streets look. We tried to build lights into sets as much as possible, and used all manner of battery-operated lights – Kinoflo Celeb 200 & 400s, BBS's Area 48 and LED Flyer, plus TheLight's Velvet 1x1 – to wrap the light in a natural way around the actors, which helped to keep our camera set-ups fluid and moving fast.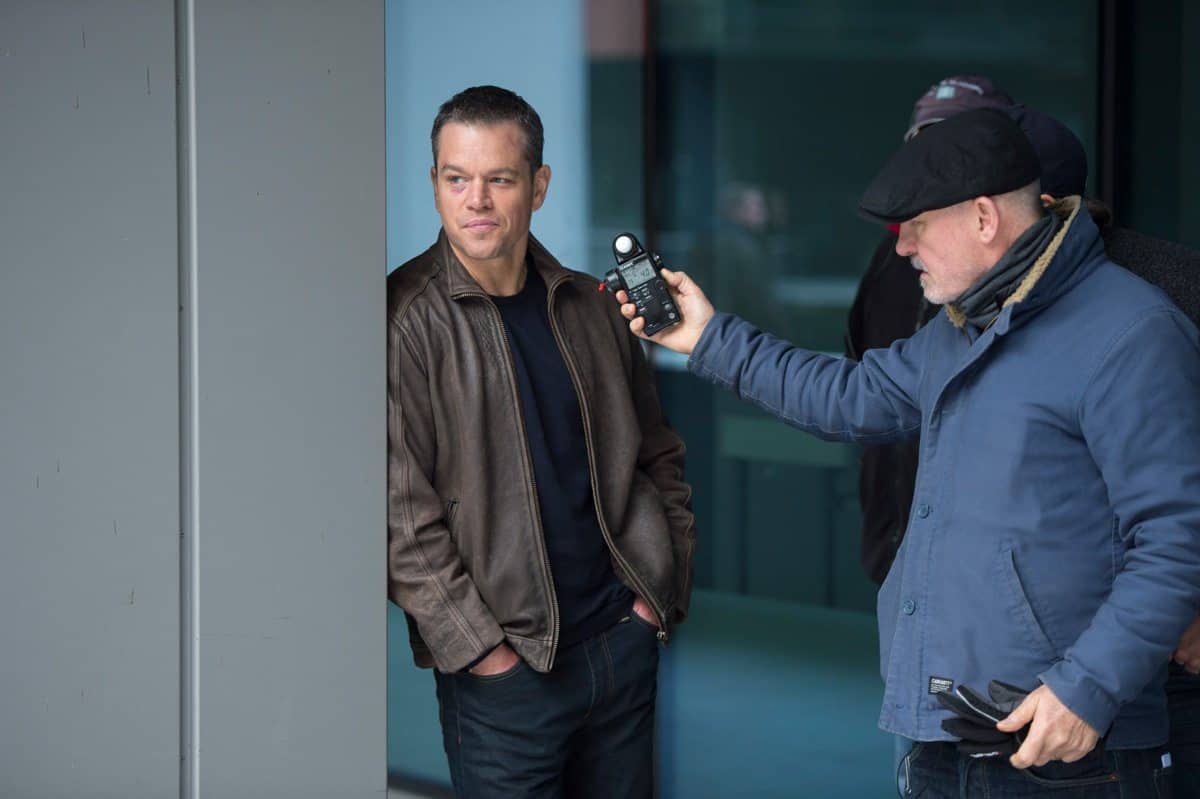 Tell us about the DI?
BA: The DI is a very important part of the filmmaking process. Now it's necessary to have the final grade at both 2K and 4K for HD and UHD deliverables, plus a HDR (High Dynamic Range) pass to add deeper blacks, etc.. For this I have to credit Rob Pizzey, colourist at Goldcrest, for his invaluable input, with whom I had previously work on Green Zone and Captain Philips.
A lot of the DI work on Jason Bourne seemed to be mainly about streamlining the look taken from the multiple cameras, corralling the film and the digital footage and making them sit comfortably shot-by-shot. Only occasionally did we have to add or reduce the grain. The other big job in the DI is, of course, adding the visual effects shots as they get finished. Double Negative gave us great VFX that are invisible yet vital to the finished film. Overall, I feel we managed a beautiful, coherent look and one that is very Bourne.
How did this production push you?
BA: I'm too close to it to mention anything specific right now, but ask me again in a couple of years and I'll give you a better idea. Generally, I would say that none of it was easy. It was a year in the making, and this one production took me to more locations than I have probably ever been on before during a single production. Cinematographers have to make critical decisions under pressure, and that's the norm. But these decisions perhaps are not as fraught, nor as difficult, as they were 20 years ago. Experience is the key, there are no short cuts when it comes to deciding which is the best route to take, when anything is possible. I'm not saying we got everything right, but we did enough to survive. That's possibly why cinematographers' careers go on for such a long time.
What's your overall feeling after completing the movie?
BA: I had the good fortune to work with a great crew, who did an amazing job, and who made Paul and me endlessly happy. I think the film reflects that in some ways. We have a particular way of working, and some of my methods are pretty crude, but thankfully the crew keep coming back and that's reward enough. I start shooting on a new Kathryn Bigelow film very soon, and it's good to know that some of the same crew are going to be there. So perhaps I must be doing something right.