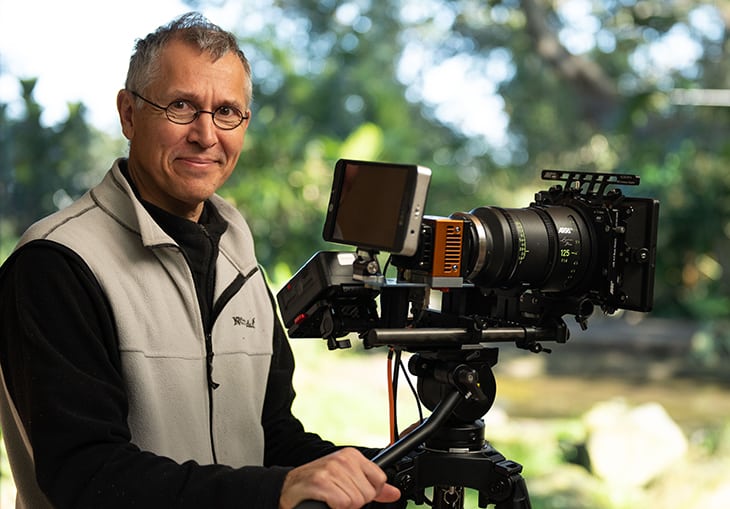 The camera features a back-side illuminated APS-H sized 65 Megapixel resolution sensor and records uncompressed RAW footage up to 10GB/s – approximately 30 times more than other high-end digital cinema cameras. It is capable of frame rates up to 70 fps at full resolution.
"Think of it as a 'thick negative'," explains its inventor Pawel Achtel, ACS.
He calls compression a compromise that cinematographers have come to expect and live with since the advent of digital. Consequently, the 9×7 is uncompressed.
"The concept of the camera is quite simple. Get the sensor data stream and dump it with as little processing as possible to the disk through a 'big pipe'. All the processing that is usually done on the camera is left to post during conversion to a DNG file format that can be directly used in most editing systems. No details are lost. The gradations of colour and luminance are as smooth as technically possible."
According to Achtel the camera "significantly" exceeds Large Format 15 perf 70mm IMAX film in all aspects of image quality, from sharpness, contrast and colour fidelity to noise and dynamic range. However, like IMAX film, 9×7 also offers a 4:3 aspect ratio.
He says, "Shooting natively in the 4:3 aspect ratio of the giant screen industry [means] it is no longer necessary to compromise image quality, and significantly increase post-production costs, with 'shot extensions' or by stitching together multiple shots in order to create full-sized images of the necessary proportions."
The data throughput is quite an achievement: currently there is no interface that can carry this amount of data at nearly zero latency. The recording bandwidth is about twice as much as Thunderbolt 3 at full capacity. The processing bandwidth is even higher and exceeds 30 GB/s, all of which to preserve the image fidelity that 9×7 has been designed for. Achtel says the camera can reliably record data at up to 10GB/s.
An exchangeable, large aperture lens mount system brings lens mounts for LPL, PL, Nikon F, Canon EF, Leica M into play as well as underwater Nikonos and Nikonos RS.
The camera head measures 80mm x 80mm x 70mm and the recording unit is 136 x 166 x 66mm, making it easy to mount on drones and inside underwater housings. Further facilitating such integration is open GPIO interface allowing remote operation of all functions of the camera.
Achtel advises that the camera runs very cool in stand-by mode but, because of its high performance and data rates, requires extreme cooling during operation, especially when shooting at maximum frame and data rates. To counter this, the unit houses five fans including a removable cooler module to cool the solid- state storage.