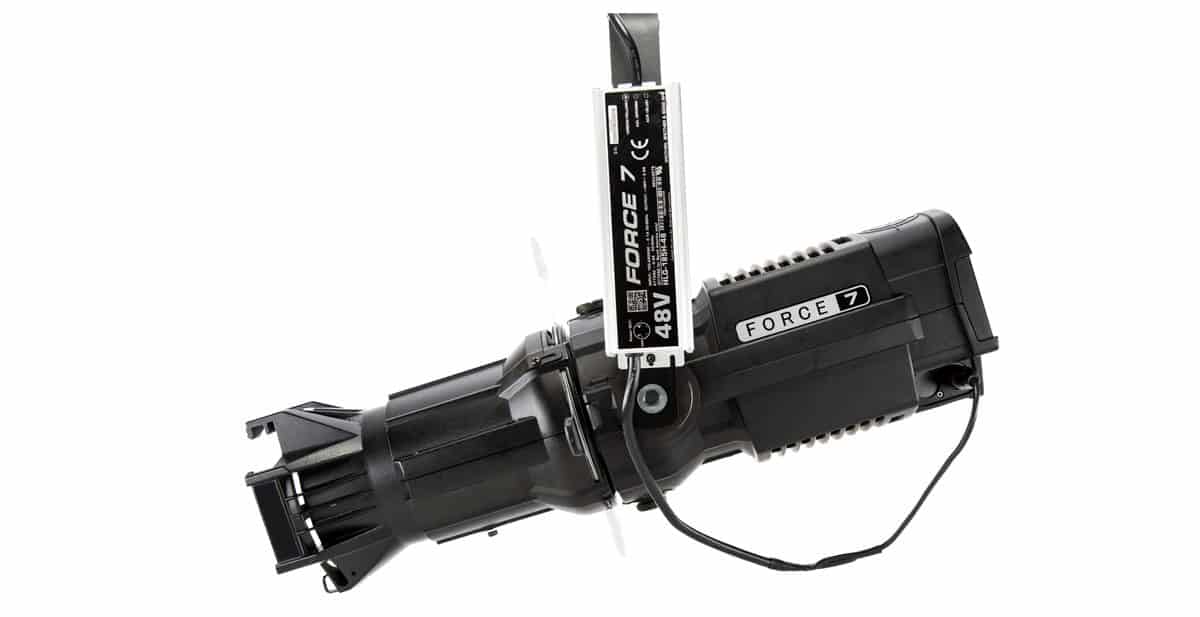 BB&S Lighting introduces the Force 7 LED LEKO. It delivers more light output than a traditional light engine, while drawing just 180W at maximum output.
The Force 7 is a complete LED Ellipsoidal head for third party optics that sets new standards for white light LED with CRI 97 color accuracy. It features an external, yoke-mounted 48V power supply that provides smooth dimming down through the final few steps to zero.
The new LEKO provides perfect focus, crisp gobo projection and clean straight cuts with shutters. This is achieved by using a high quality condenser optical system in conjunction with a single point LED light source, and superior drive electronics. The fixture is beneficial for lighting talent for broadcast, motion pictures and live events and is also ideal when using gobos or cut-to-shape forms. Force 7 delivers smooth even light edge to edge without hot spots or double shadows when using a gobo.
Force 7's even field allows a single fixture to light two to three anchors at a news desk placing an equal light level on each of them. Force 7 is the first extremely bright LED LEKO to offer a single point source that does not create mis-colorations or multiple shadows either with or without gobos.
The sharp focus of this fixture can also create a very soft edge when going out of focus, with no image ghosting. It operates silently (under 18db), and gives smooth, totally flicker free dimming all the way to zero without color shift (CCT) when dimmed.
The Force 7 LEDLEKO is available in either 3000°K, 5600°K and 6500°K color temperatures.
Power is supplied via a PowerCon TrueOne locking AC cable. The fixture features 512 DMX / RDM control. Due to this system's heatless operation, users get extended gel and cookie (cucoloris) life.
See BB&S at IBC 2017 this week at Stand # 12.B52.