More monkey business
Michael Seresin BSC NZSC / War For The Planet OF The Apes
More monkey business
Michael Seresin BSC NZSC / War For The Planet OF The Apes
War For The Planet Of The Apes  is the sequel to 20th Century Fox and Chernin Entertainment's 2014 feature Dawn Of The Planet Of The Apes, and is the third instalment in the rebooted Planet Of The Apes  franchise.
When Dawn took well-over $700m at the box office worldwide, its director Matt Reeves and screenwriter Mark Bomback were asked to return for the next episode in the franchise. Cinematographer Michael Seresin BSC NZSC, who shot Dawn in native 3D stereo, was lured once more into the fray, with production designer James Chinlund, plus first AD Matthew Dunne, also making a return.
The $245m summer blockbuster, releasing in 2D and 3D stereo, is set two years after Dawn Of The Planet Of The Apes. Caesar (Andy Serkis), an intelligent common chimpanzee, and his tribe of genetically enhanced apes have been constantly at war against humans. When the apes start suffering heavy losses, and Caesar's wife Cornelia and son Blue Eyes are killed, Caesar wrestles with his darker instincts to face the Colonel (Woody Harrelson), the iron-fisted leader of the humans, who is obsessed with wiping out Caesar and his tribe to defend his people from destruction. The impending conflict will determine the fate of both species on the planet.
When Reeves and Bomback initially came on board to helm Dawn, the film already had a release date, which led to an accelerated production schedule. However, with this third instalment, Fox gave the duo plenty of time to write and shoot the film.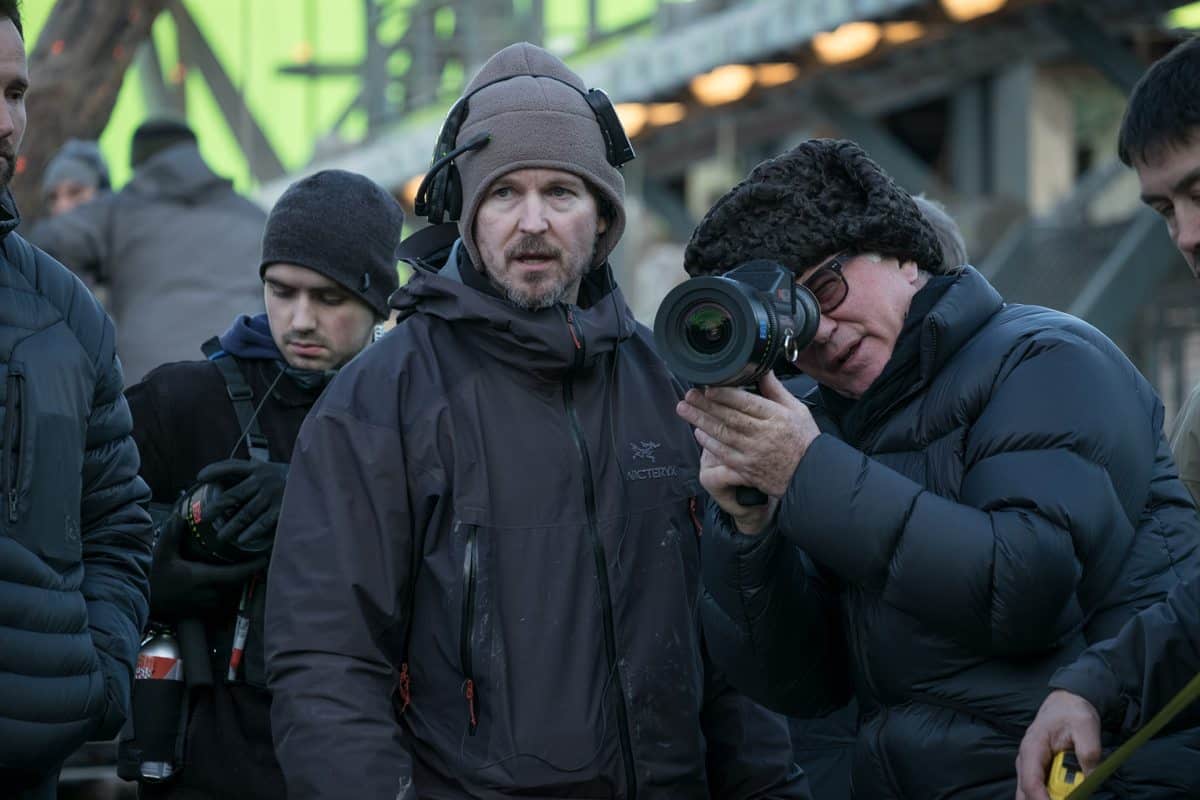 Principal photography, including a 50-day stint shooting at night, started in mid-October 2015, in a vast open-air, specially-built location in Lower Mainland near Vancouver, under the working title 'Hidden Fortress'. The production wrapped around 130 shooting days later in March 2016. Parts of the movie were also shot in the Kananaskis mountain range in the Canadian Rockies, the desert around Las Vegas, and in a cavernous, Fox-owned studio near Vancouver.
"Following the success of Dawn, Matt was signed early-on for this new production, and was given more time and more creative freedom," says Seresin, who was overseeing the final HDR grade on War at the time of this interview.
"These types of productions are super-complex – working out what's straight live action, what's VFX, what's greenscreen, etc. – and you always welcome more time before you shoot. The same key people who made Dawn were on this film and, although nearly everyone else was new, this high-level continuum – in terms of trust, taste and knowing what to do – was a distinct advantage. We had been here before: we all knew the score."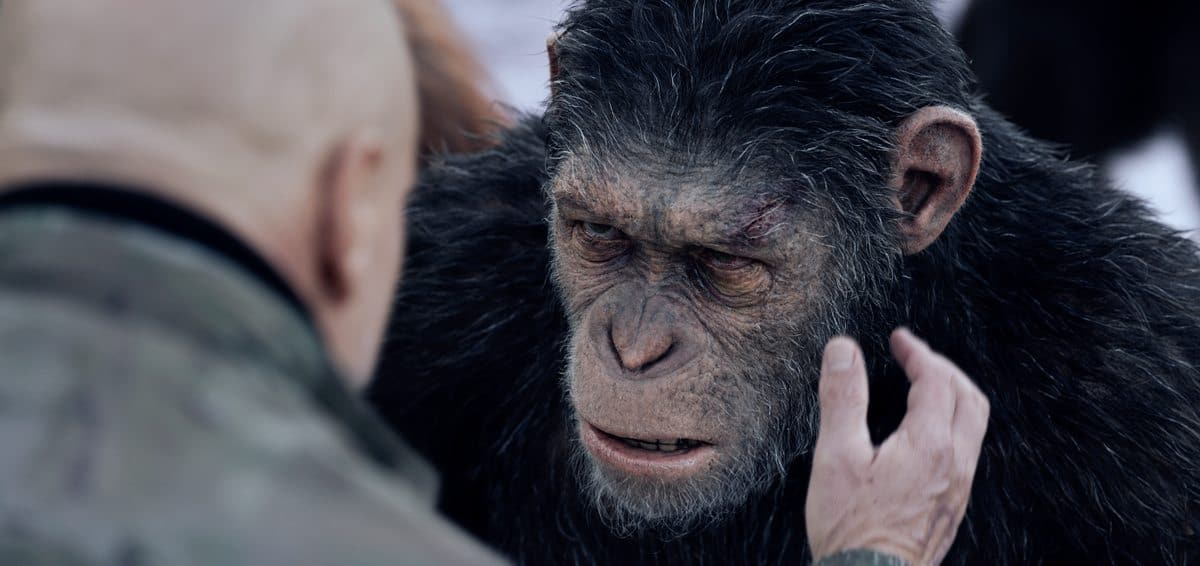 Whilst Reeves took inspiration for the relationship between Caesar and the Colonel from classic war films, such as Bridge On The River Kwai, and sought to imbue the new production with Biblical themes and elements from epics such as Ben-Hur and The Ten Commandments, Seresin says the previous Apes movie was really the visual starting point for their new endeavour.
"War is a more sinister and threatening story than Dawn, not so urban, and with more CG apes than humans. Consequently, we chose to make it a darker and more menacing visual experience," Seresin says. "I like the dark side of images and the dark side of life too. So that aesthetic choice suited me fine."
Moving the visual experience on aesthetically, Seresin suggested capturing War in large format, using the then officially-unreleased ARRI Alexa 65 camera.
"Historically I have tended to work with ARRI," he remarks. "I like the rigour of the company: they never do things by halves. I love their film cameras and I love their digital cameras. Although I would have liked to have shot in native 3D again, as I enjoyed it first time around, the plan was to dimensionalise War in post, and I knew I would have a good degree of control over this part of the process. I would not work on a movie if I did not have that. It's part of my job."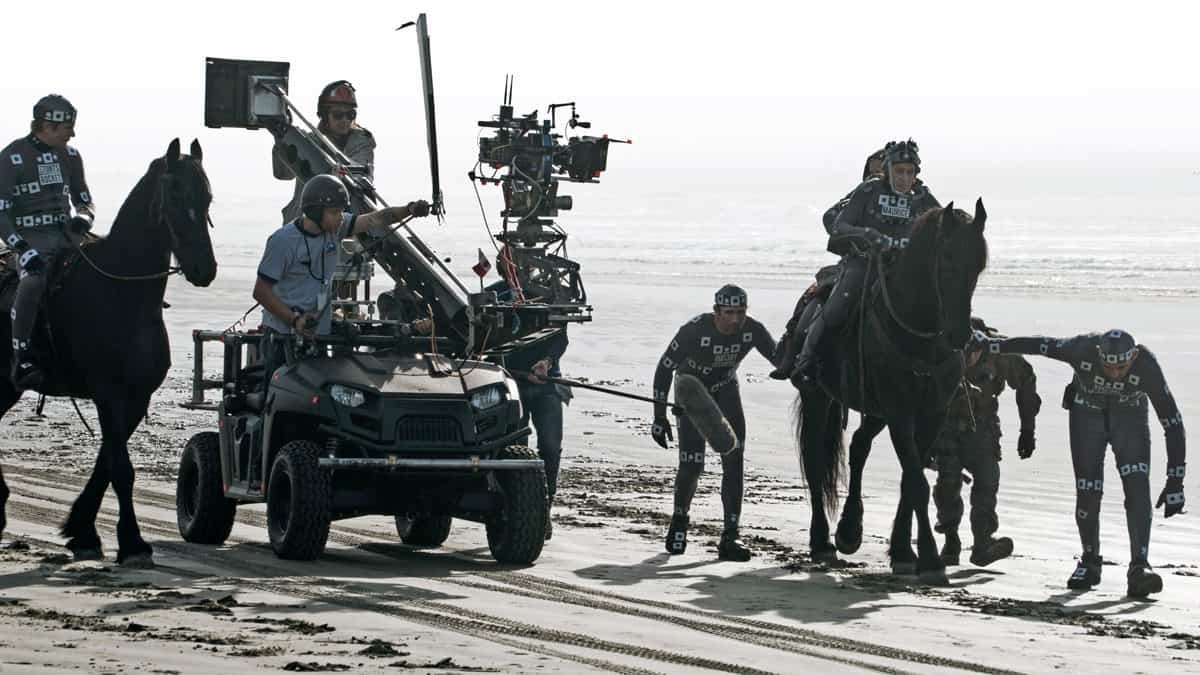 He continues: "Matt and I kept using the word 'epic', and I wanted to explore the possibilities of scale using the Alexa 65. What's more, the 6.5K resolution, the ability to create a deep and rich digital negative, and the option it gave the VFX teams to manipulate the images in post - to zoom and reframe – were all very good reasons to go for the Alexa 65. That said, my chief concerns are the lighting and composition of the image, and I let much smarter people take care of the technical stuff."
This included a LUT designed for Seresin during prep by colourist Matt Watson at LA post house Shed, and Vancouver-based on-set DIT Simon Jori, that would deliver a suitably drained, post-apocalyptic feel at the darker end of the aesthetic spectrum.
After conducting a series of tests in Los Angeles and London to convince the studio about his choice of camera, Seresin selected the ARRI-optimised Hasselblad lenses (HBs), since re-branded as ARRI Prime 65s, for the shoot.
"They are modern photographic stills lenses, with high-performance optics, that allow you to use wide lenses without the same distortion that you'd get on a smaller sensor. The Alexa 65 chip is 3.7 times larger than a regular Alexa. The HBs are relatively slow, compared to more recent lenses, but I still shot wide open, lens-dependent, between T2.8 to T4.5.
"Furthermore, whilst focus pulling can be very technical, and is especially tough when shooting on the Alexa 65, I wanted to use focus emotionally and technically to enhance the disturbing nature of certain shots, or enhance the visual harmony. That said, the cameras and lenses were a bit thin on the ground at the time, but ARRI New Jersey scoured around and were able to provide the package I needed."
"Although I would have liked to have shot in native 3D again, as I enjoyed it first time around, the plan was to dimensionalise War in post, and I knew I would have a good degree of control over this part of the process. I would not work on a movie if I did not have that. It's part of my job."
- Michael Seresin BSC NZSC
Up to eight Alexa 65s were used during the production of War, with combinations of three, four or five cameras capturing the stunts and explosive action on main unit – variously motivated via Libra remote heads, Techno-cranes or Techno-dollies – with the remainder deployed on second unit photography. At the time, this volume of cameras accounted for a quarter of ARRI's total inventory of Alexa 65s, although the company has since upped the total to 70.
"Every morning on our first shot, the Alexa 65 gave Matt and me the confidence go wider, just to remind ourselves that we were shooting on 65mm. Having seen the results in the DI in LA, the scale is epic. It really does look and feel huge."
Seresin says most of the production had been either storyboarded or pre-visualised before shooting began. Whilst he did not have a hand in developing these, they proved helpful references on-set, but he remarks "production is a constantly shifting endeavour. When you see the dynamics of the set, what actors are doing, plus minor changes to the screenplay, it's a bit different. You might want to drop the camera lower, or go wider, which has a knock-on effect to things like the size of the greenscreen and the VFX. So there was plenty of horse-trading that went on between me, Matt, Dan Lemon, the VFX supervisor, and the producers, to find the best and most affordable way to shoot a good many scenes. But that's the nature of filmmaking, and you have to get-on and make it work."
Making the best of what you're given is the cinematographer's stock-in-trade. Happy accidents can play a role too. Never was this more true, than during the first few days of production on Vancouver Island.
As Seresin explains: "I was given to believe that the weather at our location would be naturally rainy, miserable, overcast and dark. And that is what we experienced during the location scouts. But, for the shoot, we had clear, brilliant sunlight for ten days – no crashing waves or brooding skies – which would give the footage a completely different look to the one we had intended. But we made it work.
"For me cinematography is about how the characters move and interact in shapes and shadow play. So by dropping the colour down, and shooting wide open, I went for a more abstract approach to these scenes. It actually worked out really well, because these scenes have quite a different overall aesthetic to the rest of the movie, and Matt liked the result."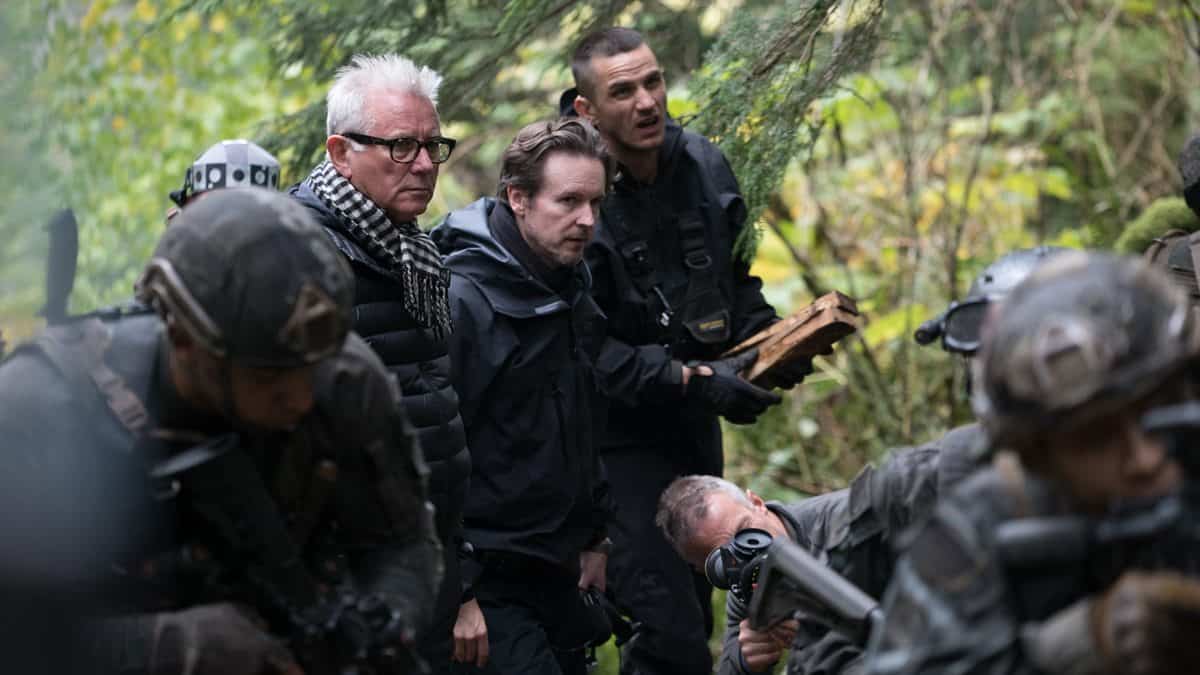 As for lighting the actors, Seresin kept to his shape-shifting motif, keeping the look appropriately dark by often half-lighting or silhouetting the characters. The vast prison set was lit using a combination of practicals and other fixtures incorporated into the set, along with the traditional array film lighting, plus a huge Wendy to create the effect of moonlight.
However, to ramp up the dramatic tension via the lighting, Seresin also implemented a set of powerful roving searchlights, operated remotely and firing random, rather than predictable, shafts of light around the set.
"They were so powerful they would fry your face if you weren't careful," he says. "Whilst they were expensive, they certainly had the desired effect. Steve Mathis was my gaffer on War, it was the first time we have worked together, and it proved a very good experience."
To ensure his lighting translated correctly to the CG-animated apes, Seresin worked closely with VFX supervisor Dan Lemon and his team, who were permanently on-set, taking high-resolution reference stills and keeping assiduous notes and measurements of the different lighting set-ups.
"Knowing that VFX had to replicate in the computer what we were shooting on-set, Dan and I kept up an on-going dialogue throughout production, about what they needed, especially as we were shooting super low-key."
Seresin also made a point of visiting Weta Digital in Wellington, the key VFX vendor on the production. "Digital lighting on VFX shots is not easy, and I was reassured to find they were very well organised, doing a great job and the images, even completely CG-generated shots, were looking really good."
Regarding the working regime, Seresin says working a Canadian version of French hours (a continuous 12-hour day) six days a week, was "pretty tough, but the food was quite good, Vancouver is a lovely city, and the heads of department and my camera crew are great people. So you just get on with it and make it work. But shows like this are demanding. We were only able to do four to six shots per day. A great deal of care was spent on every camera and lighting set-up."
As for the night shoots, he says it was planned and agreed in advance to shoot the night scenes in one 50-day stint, before production paused briefly for a Christmas break, rather than have these interspersed through the production cycle.
"I can't say I liked shooting eight weeks of nights, but ultimately we got used to it: a sort of permanent nightshift. I didn't mind it. It soon becomes the norm. You get used to living odd hours, and you miss the rush hour traffic."
Whilst the need for collaboration is a given, one of the most important ingredients in making any workload more tolerable is maintaining healthy working relationships, especially with one's director.
"Matt and I have great rapport," Seresin concludes. "He's a lovely, lovely man, very even tempered. Despite the brutal hours, he made production a real pleasure."